Updated September, 2023.
Fall is a very special time in the mountains as it signals a change; not only in the seasons, the temperature and the colours but also in a change of pace and focus.
We perhaps slow down a touch, as we start to prepare for winter days ahead. Whether that means waxing skis, increasing the morning squats, and switching from salads to soups; but one thing doesn't change, and that's the sense of adventure and exploration that inhabits the mountains whatever the season.
We've compiled a list of 15 things to do in Whistler in the fall, but it's by no means exhaustive; these are just leaping off points for you to carve out your own path while you're here.
1. Follow the Fall Colours
As the seasons change Whistler's lush, green valley begins to be peppered with yellows, golds, oranges and reds. It's not only the foliage that brings a change of colour, it's also the snow line that creeps down the mountainside bit by bit until it's settled a thick, sparkling white blanket over everything.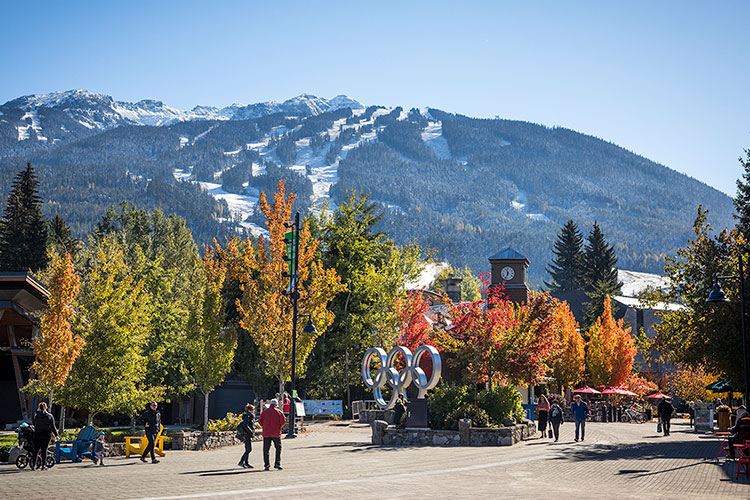 This is the perfect time to go for a stroll in Whistler, but make sure you pack both your warm layers and your sunglasses, as you never quite know what Mother Nature will throw your way in the mountains.
Take a read of our Insider's Guide: Finding Fall Colours on Whistler's Trails for some walking suggestions, and if you're sticking close to Whistler Village, Lost Lake Park and the Fitzsimmons Trail are two places to explore. The free Go Whistler Tours app highlights some self-guided tour options in these areas including nature, heritage, and arts and culture-themed routes.
Another way to see Whistler's fall colours is from a birds-eye-view. Ziplining over the valley as it begins its transition is stunning, but if that's a bit too much wind in your hair, then another option for high alpine views is a 4X4 guided tour up Blackcomb Mountain.
Be aware that Whistler Blackcomb closes for annual maintenance in the fall, but this is one way you can still access that incredible terrain. From the water is another option, although we don't recommend any mid-paddle dips as our lakes are glacially-fed!
2. Ride Hero Dirt
Hero dirt is what mountain bikers love about fall riding. The wetter weather gets rid of the dust and we say hello to tacky trails that honour us with a well-earned coating of mud. The Whistler Mountain Bike Park is typically open until the start of October for lift-accessed biking fun, but Whistler also has hundreds of cross-country biking trails that weave their way throughout the Whistler Valley so you can ride until the snow begins to fall.
We have the Insider's Guide to Cross-Country Biking in Whistler to demystify the different areas and give you some trail pointers, and it's worth downloading the Trailforks app to help you navigate. Whistler's Off-Road Cycling Association (WORCA) are the ones behind most of the building and maintenance of these trails, so if you do use them consider buying a membership to help them keep doing what they're doing because whether you're a biker, hiker, trail runner, or dog walker, these trails are simply an awesome way to get into the forest and find adventure.
The fall is also a time for a lot of biking events and races, which you can read all about in 10 Heart Pumping Bike and Running Race Events in Whistler.
3. Devour the Fall Dining Deals
It's foodie heaven in Whistler come the fall, with many of the restaurants coming out with some epic dining deals. This could be your chance to try some of the fine dining options like Araxi, Bearfoot Bistro, Wild Blue, The Rimrock Cafe, or Red Door Bistro; a hidden gem like Brickworks, The Raven Room, or Alta Bistro; or a different type of cuisine at The Mexican Corner, Teppan Village or Tandoori Grill.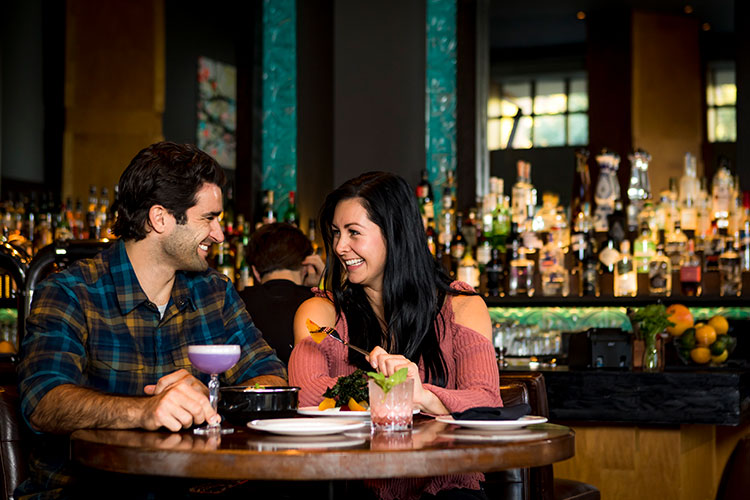 Take a look at the Whistler Dining and Restaurant Guide and use the filters at the top to find what you're looking for. We also suggest keeping your eye on the Pique Newsmagazine, which comes out every Thursday or taking a look at the social channels of some of your Whistler favourites to see what deals you're going to go for. Happy noshing!
4. Visit the Squamish Lil'wat Cultural Centre
Whistler is located on the shared territories of the Sk̲wx̲wú7mesh Úxumixw (Squamish) Nation and L̓il̓wat7úl (Lil'wat) Nation, and you can find out more about their living culture, stories and history at the Squamish Lil'wat Cultural Centre (SLCC), located in Whistler.
Their history is interwoven with the natural world, and at the SLCC you have the opportunity to connect with ambassadors from both Indigenous Nations during a tour of the galleries and buildings, video presentation and drumming performance.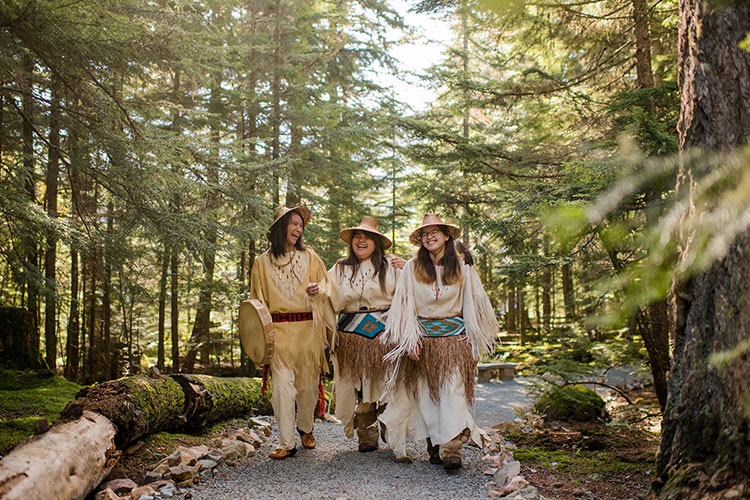 It's worth timing your visit over lunch, as their Thunderbird Cafe has some tasty Indigenous-inspired options with a modern twist, like their bannock tacos and venison chilli. And if you're looking for a keepsake or gift, their shop has some beautifully crafted carvings, jewelry and kitchen items.
They often have a rotating exhibit in the upper gallery and for a broader way to connect while you're here take a read of How to Experience Indigenous Culture In and Around Whistler.
5. Hike in the Rain(forest)
Unless you're a wicked witch of some kind you don't melt in the rain. Grab some waterproofs and brave the elements; the fall views and the fresh air will make it worth your while.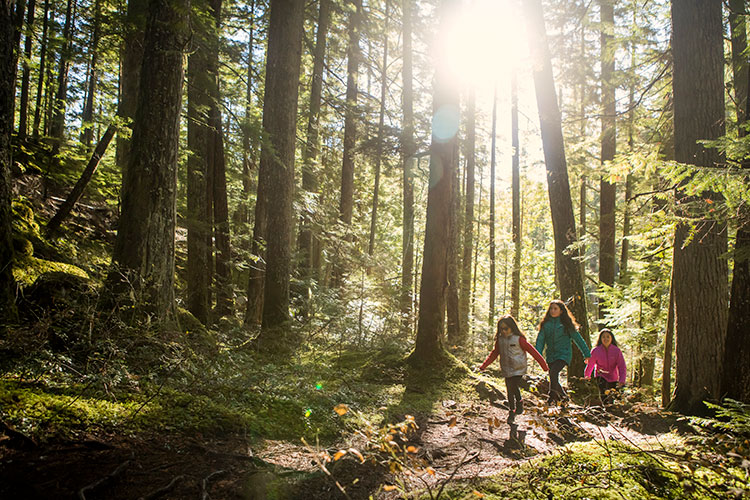 We collated some of our favourite fall viewpoints last year in The Best Fall Views in Whistler and of course, some of them require a hike to get to them. We also have some tips for when it drips in Hiking in the Rain.
6. Escape a Pirate Ship
It's a little-known fact that there's actually a pirate ship underneath Skiers Plaza in Whistler Village; currently, there's also an underwater lair, gold mine and a buried cabin there too. We are of course referring to Escape! Whistler, a great indoor activity for rainy days, date nights, or a family bonding session.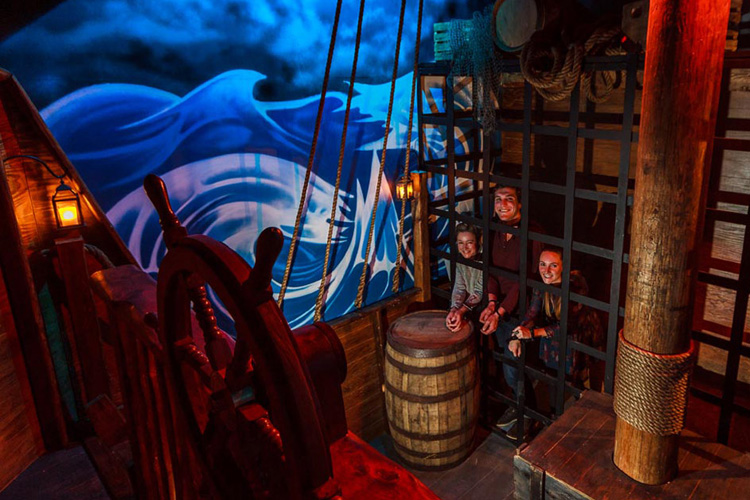 If you enjoy a good puzzle and get amped when there's a time crunch, this is for you. Great for groups of two to six people, you've got 45 minutes to answer the clues and get out of any of the adventures on offer.
7. E-bike the Whistler Valley Trail
One of Whistler's biggest gems, in my humble opinion, is the 45-kilometre Valley Trail, which weaves in and out of Whistler's neighbourhoods, taking you through lakes, parks, beaches and stunning viewpoints. With the rise of the e-bike, more and more people are opting to explore via pedal power with an extra boost. It means you can travel further and for longer, so it's a great way to do a deeper dive into what Whistler has to offer.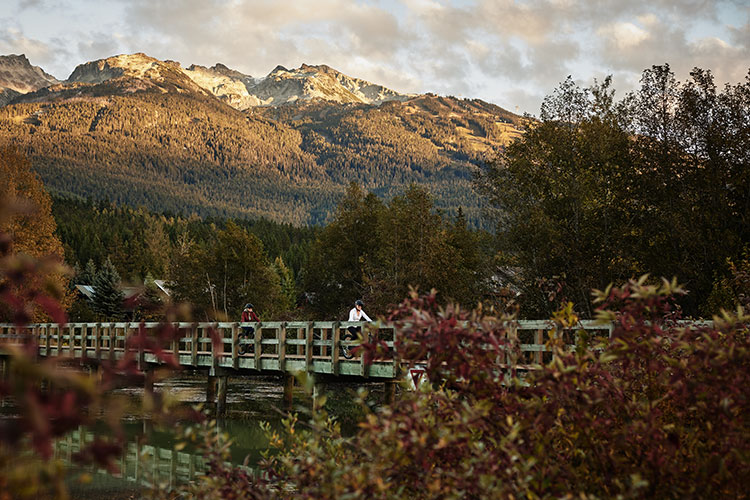 We'd suggest taking the Valley Trail to Creekside Village, read what's on offer there in Insider's Guide to Creekside. If you fancy going a bit further, then Function Junction has breweries and bakeries for you to refuel in. Heading out around the back of Alta Lake will take you to Rainbow Park, where some of Whistler's first tourism initiatives began. Take a look at the self-guided biking tours on the free, Go Whistler Tours app.
For more route suggestions take a read of Whistler Via E-Bike: 3 Routes to Explore.
8. Ogle Inside the Audain Art Museum
The Audain Art Museum is a work of art itself, created by the award-winning Patkau Architects. Its permanent collection showcases BC art, from the 18th century to the present day. Take in the work of Canadian greats like Emily Carr, E.J. Hughes and Dana Claxton, as well as an incredible collection of Northwest Coast First Nations masks.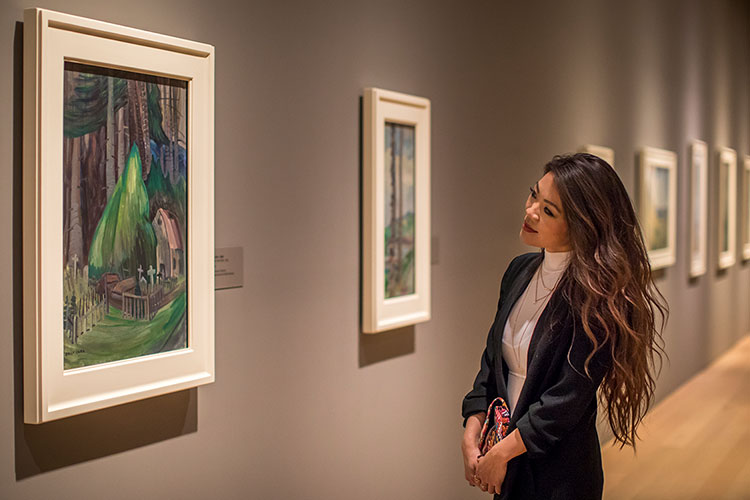 They also have special exhibitions throughout the year bringing in art from all over the world. It's quite incredible to be hiking, biking or skiing in the mountains in the morning, and then taking in world-class historical and contemporary art come the afternoon.
9. Throw Axes Like a Canadian
If you'd like to experience a little Canadiana while you're here, we suggest visiting Forged Axe Throwing in Function Junction. With a little instruction, you'll be hitting the bull's eye and attempting some trick shots in no time. If you're competitive by nature, this is a must. It's quickly addictive, and the team there set you up with a few games to stoke the competitive fires.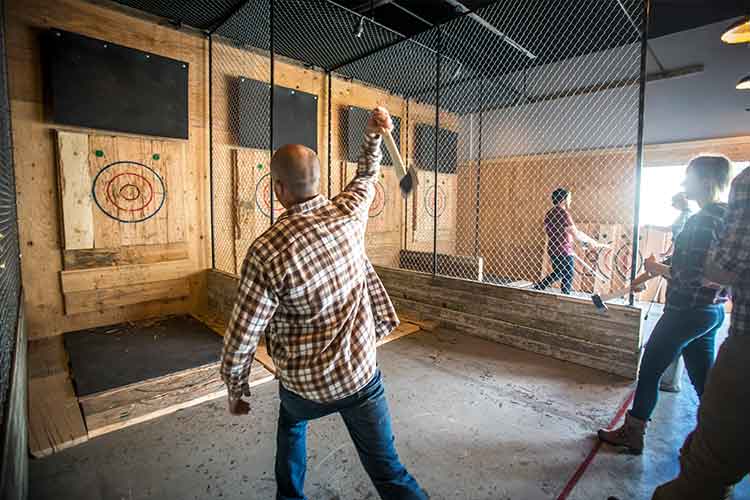 It's also good to note that Coast Mountain Brewing is right next door, in case you want to bet a pint on your next throw. Read what it's like to hurl an axe in Fear of Flinging: How I Conquered the Axe Throwing Challenge.
10. Get Inspired at the Whistler Writers Festival
The fall brings on images of sipping hot cocoa by the fire with a nice, thick novel in hand and if you're looking for some material check out the reading list for this year's Whistler Writers Festival. This grassroots event has been going on for 20 years, growing from a small group of literary lovers in a living room to packed ballrooms in the Fairmont Chateau Whistler.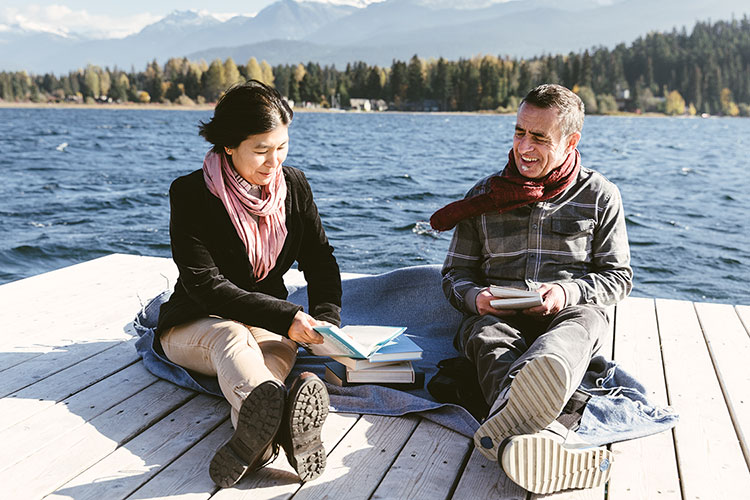 The schedule includes reading events with authors and writing workshops covering a range of mediums, so even if you're not a writer yourself but you love a good book, this festival is for you.
11. Cruise to Creekside
Creekside Village is a six-minute drive, 15-minute bike or 60-minute walk south of Whistler Village. It's actually the location of the original village (you can see some great archival photos that explain this at the Whistler Museum) and it's where the athletes competed in the downhill ski events during the 2010 Winter Olympic and Paralympic Games.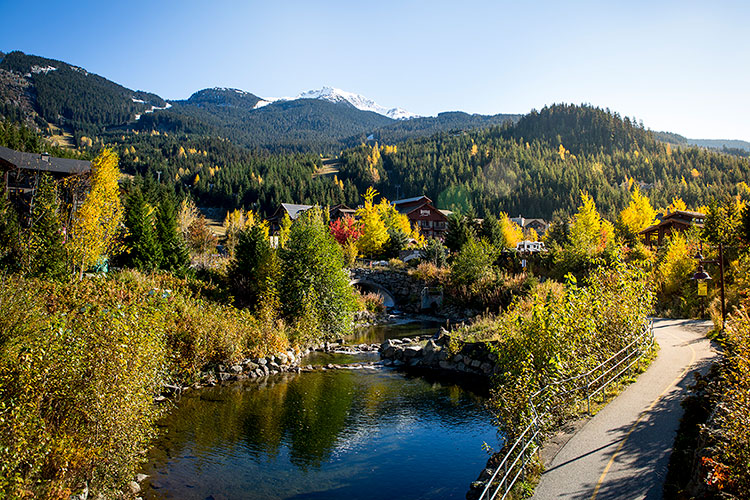 It's definitely worth a trip here to check out the locally-owned shops like Get the Goods, 122 West and Bach & Co., grab a loaf and coffee at the award-winning, vegan bakery BReD. If you head to the Creekside Gondola area (not running in the fall and under construction for the 2022 season), you can look up at the Olympic Rings and if you're feeling fit, you can hike up to them for a great photo.
Across the highway, there's access to Alpha Lake Park and Nita Lake Lodge, whose restaurant and bar overlook Nita Lake.
12. Bid the Bears Sweet Dreams
The early fall is a great time to spot bears as they are busy fuelling up for their winter slumber. The best and safest way to view bears in Whistler is on a bear-viewing tour. Not only do the guides know where the bears like to go, but they are passionate experts on this iconic, Canadian creature and can answer all your bear-related questions.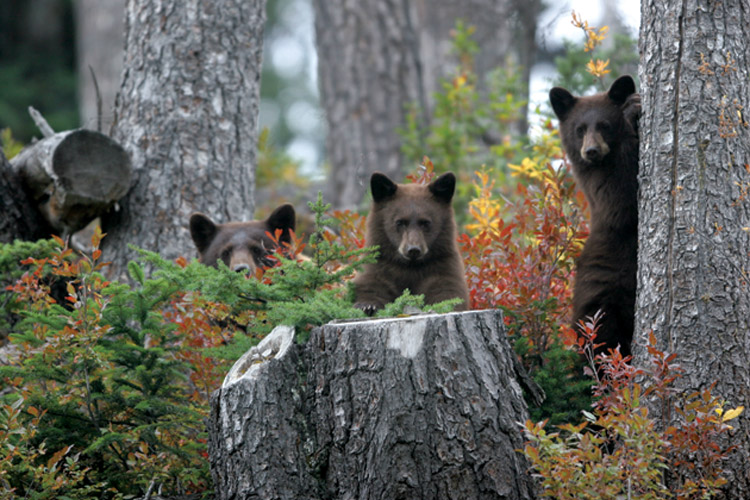 Bear viewing tours typically run until October, book yours before they head off for a nap! If you're intrigued to what a tour's like take a read of Whistler Bear Viewing Safari Experience, and to find out what it's like to build your life around Whistler's furry friends read, A Life With Whistler's Bears.
13. Quaff Craft Beer and Wine
The Whistler Village Beer Festival is a week-long event in September, with the Main Event taking over Whistler Olympic Plaza for one epic day of brew-based tastings, food trucks and lawn games. You can also do a self-guided tour of Whistler's craft beer scene using the free Go Whistler Tours app at any time of the year.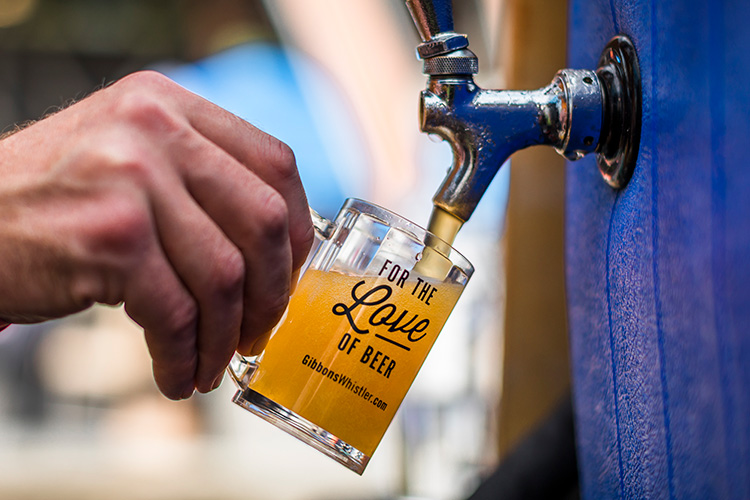 November sees Whistler celebrating all things food and drink during Cornucopia. Details for this year's event are TBD, so check back as tickets to the signature festivities go quickly!
14. Splash in Muddy Puddles
It's not only Peppa Pig and small children who enjoy a muddy puddle, up the ante by gunning it through one in a side x side (mountain buggy / RZR / UTA) or off-road ATV. This activity is awesome in the fall, as you're dressed head to toe in waterproof gear (provided) so that you can enjoy the elements in all their wonderfully wet glory.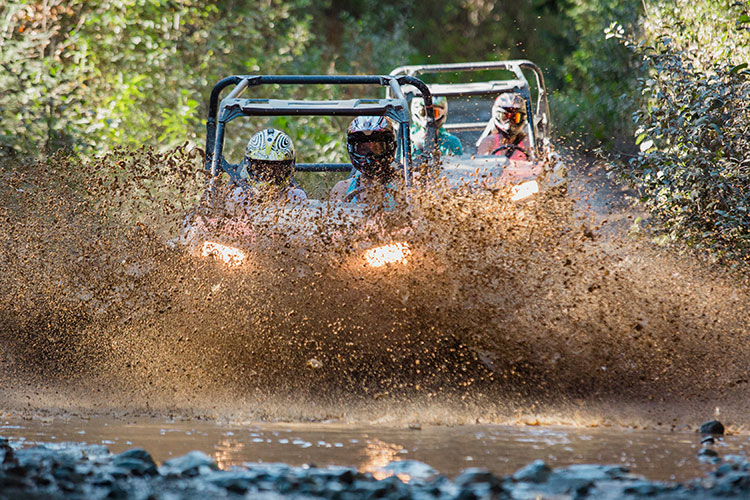 Read more about these experiences in Side-by-Each: A Whistler Off-Road Adventure.
15. Gear Grab
Most stores undergo seasonal change, but in Whistler, it seems more dramatic as we switch sports as well. The bikes and sneakers get packed away and out come the skis and snowboards, and all the winter paraphernalia that comes with them. This is where you could get a great deal on summer stock, as well as last year's winter gear.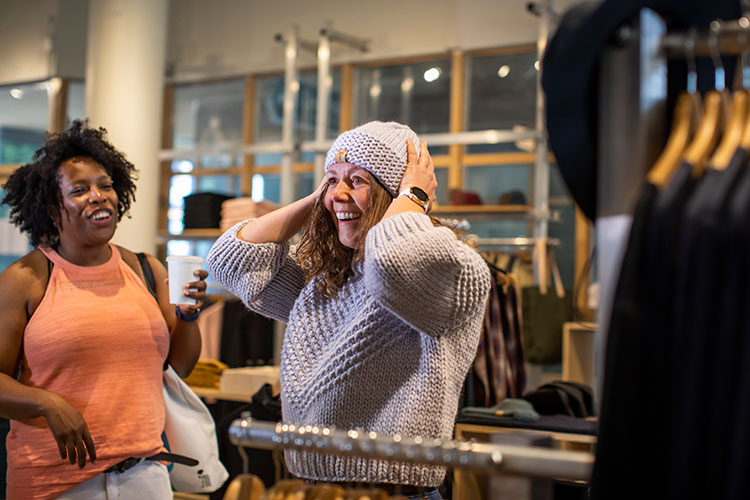 Look out for sidewalk sales and deep discounts, especially over Canadian Thanksgiving Weekend. Take a look at the stores on Whister.com's guide.
So for those who think of the fall as a sleepy time in the mountains, think again. Whistler is full of adventure all year round, dive deeper this autumn and find a new aspect of the mountains to explore.