We stand on a bank, about fifteen feet above the Squamish River. In less than a minute Clint Goyette, the lead guide and owner of Valley Fishing Guides, already knows it's going to be a good day.
"See that down there? That's a stonefly floating down the river — the fish are out today."
I squint. All I see is a raging river. After a week of temperatures reaching the low to mid 30s, snowpack on the mountains has melted, travelled down from the high alpine and is now gushing beneath us in a beautiful turquoise parade. I wait for my eyes to adjust, and I see it — a near-microscopic dot floats down the river.
While much of Whistler's allure seems to be focused on adrenaline-filled activities like skiing, snowboarding and mountain biking, there's a calmer, more relaxing flipside and fishing is definitely part of that paradox.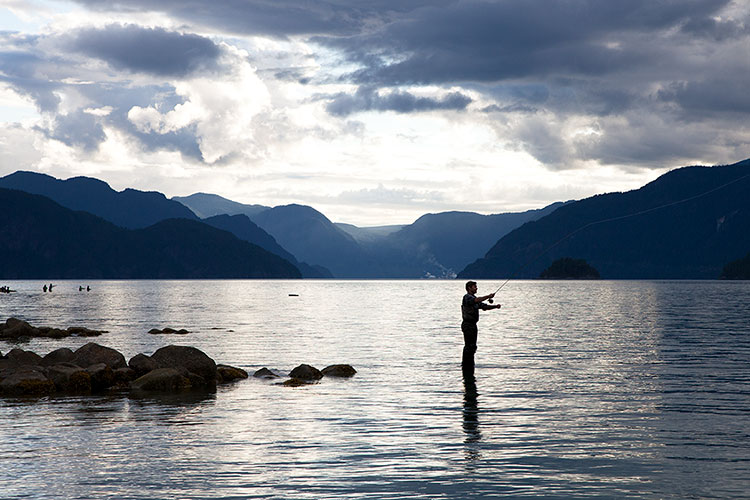 After living in the corridor for just over ten years, I've done an embarrassingly small amount of slow-it-down activities. However, maybe because I'm getting old and my limbs are starting to hurt a bit more, or maybe I'm just getting wise, but I'm learning to love these mellower activities more and more. After just one day out at the river learning the art of fly fishing, I feel like I've been missing out for years – how has it taken me this long?
The salmon run hasn't started just yet (it typically opens up mid-September), so bull trout, cutthroat trout, and rainbow trout are what we're after. All three species can be found in the lakes and rivers surrounding Whistler and can range from the length of your thumb to an average size of around 20 – 25 inches (bigger if you're lucky).
Learning From the Pro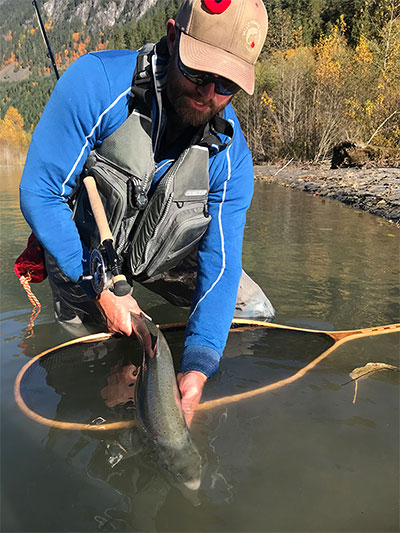 We used a beginner's method that Clint referred to as presenting (instead of casting), as a true fly cast can take a lifetime to master. The method involves putting out a fly that mimics a salmon egg, one of the main sources of food for trout, and bouncing it along the bottom as if a salmon was spawning upstream and laying eggs. It takes a keen eye to notice the smallest nibble on the line and a split-second reaction to set the hook in the mouth of the fish.
We started early, but as the sun got higher in the sky, around 10 AM, Clint predicted that the fish would get more active – he was right. The sunlight helps them see through the murky, glacial silt-filled water and sure enough, the bites started coming. I might have missed more than a few, but with the steady advice of Clint, I got a bull trout, two rainbows and a cutthroat — by far the most exciting day of fishing I've ever had. Not bad for a half-day on the river (especially for a total beginner).
I owe most of it to Clint's keen eye for detail, a crucial skill for fishing in the Sea to Sky Corridor. After moving to Whistler in 1998, Clint worked at a retail shop before pursuing his true passion for fishing, opening up Valley Fishing Guides, a fly fishing-specific guiding operation.
If you aren't familiar with fly fishing, it's a style of fishing that involves using a wide variety of flys to mimic insects and eggs that different fish feed on, and it requires a keen eye and a steady hand. As mentioned before, the cast is an integral part, unlike other types of fishing, and requires a lot of practice.
In operation for over twenty years, Clint's guided service covers the full gamut of rivers and lakes from Squamish to Whistler and Pemberton, with options for heli-accessed fishing, floatplane drops and multi-day adventures in high alpine and remote locations where you're likely to have a lake all to yourself.
They provide all the gear you need and transportation to the rivers, but you'll need to pack your own food, water and outdoor clothing for the day.
Searching for Salmon
Depending on the season, Chinook, chum, pink, and coho salmon are all swimming in the rivers surrounding Whistler such as the Cheakamus, Squamish and Mamquam. The resilient species travels from the ocean, and into the rivers and streams of the Sea to Sky Corridor to lay eggs each fall — and that's when the fishing season turns on.
While Chinook and coho can travel as far as 932 kilometres inland, the bulk of the population remains in the rivers and streams close to the ocean, meaning the rivers surrounding Whistler are filled with salmon on any given fall day. Pinks and chum, generally regarded as salmon that are a more common catch, travel a maximum of 150 kilometres upstream, making them the low hanging fruit of the salmon world, but still no easy catch.
A keystone species in the ecosystem of the Pacific Northwest, salmon represent so much in the way of ecological and cultural importance to the people and animals of the area. To have the privilege to fish for these amazing creatures requires a delicate balance of passion and respect.
Because of their ecological importance, fishing for salmon requires a great deal of research and preparation — and catching one on the fly is a true once-in-a-lifetime experience. For this reason, going with a guide is especially important when trying to reel in one of the foundational species of the Pacific Northwest.
With murky waters, fast-moving rivers, and a vast array of types of fish to go for, having a guide was absolutely necessary. It was the best day of fishing I've ever experienced and I can see a lot more in my future – you could say, I'm hooked.
You can fish all-year-round in Whistler with several fishing companies operating in the Sea to Sky Corridor, including ice fishing in the winter months. Book in with the team at Whistler.com starting at $169 for a three-hour trip.
When they say all-time fall-time, they aren't just talking about biking — fall is the time to get out on the rivers and lakes in Whistler and beyond. Room rates start at $139 and you get a free $25 Dining Voucher when you book a stay of two nights or more. You could also consider staying midweek for even more savings and a quieter village. For more ideas about what to do in the mountains in fall, take a look at When Seasons Collide: 12 Quintessential Whistler Experiences.