I dare you to take a look at the Whistler Cornucopia schedule and not salivate. Celebrating food and drink, this festival is all about creative culinary flair, new experiences and a license to indulge.
Each year the organizers and restaurants keep raising the bar and pushing the boundaries, challenging chefs, sommeliers, bartenders and their teams to put their expertise on show. We've got the inside scoop on what's hot and new for this year's Cornucopia, so let us guide you through what's new and hot at this year's festival.
New for Cornucopia 2023
Taste of Indigenous Worlds
Hosted at the Squamish Lil'wat Cultural Centre (SLCC), this new event brings together the culinary creations of six Indigenous chefs from British Columbia. Weaving together traditional cooking techniques and ingredients with modern twists, guests can wander through the stunning galleries of the SLCC while tasting crafted small plates paired with sample-sized beverages.
When: Sunday, November 12 from 7 to 9:30 PM at the SLCC, tickets start at $75.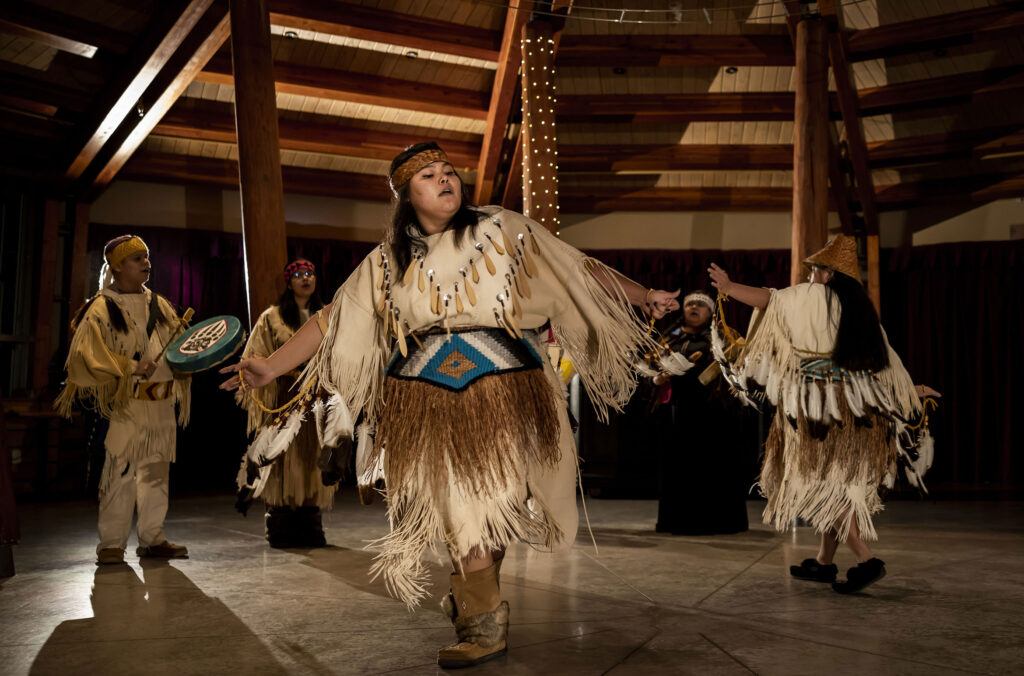 INSIDER TIP: Also have a look at the Spo7ez Fall Feast on Saturday, November 18. This is a culinary journey brought to life through authentic Indigenous cultural sharing and inspired cuisine, with wine pairings, that celebrates the fall season.
Mekong: Fine Thai Cuisine and Meyer Family Estate Wines
This is one of the independent restaurant events happening throughout the festival, which are always popular (a couple have already sold out already). Mekong is Whistler's newest restaurant and is located in Creekside Village. Their culinary director, Chef Angus An of Vancouver's Michelin-recommended restaurant Maenam will be cooking alongside Mekong's Head Chef Bonnie Khummuang. The fine Thai multi-course menu will be served family-style and you can expect to indulge in some of Chef An's signature Maenam dishes including Lobster Miang, Three-flavour Ling Cod and Dom Ka Braised Beef Cheeks.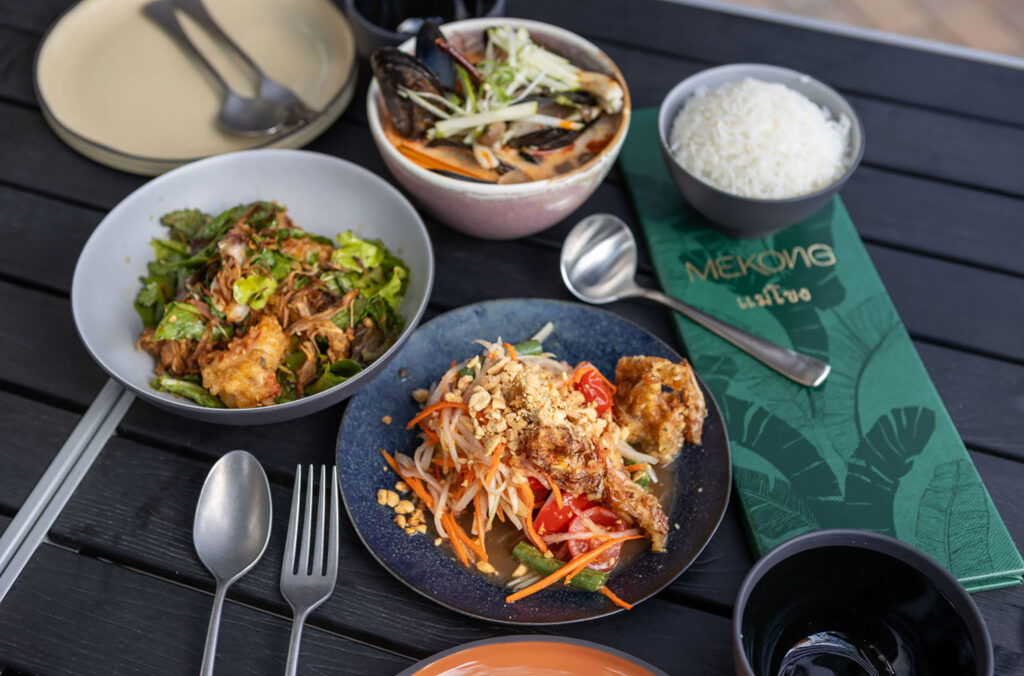 Joining Chef Angus An and Chef Bonnie Khummuang is Okanagan Falls' Meyer Family Vineyards wine proprietor Jak Meyer, whose Chardonnays and Pinot Noirs pair perfectly with fresh Thai flavours. Jak Meyer will be on hand to pour, answer questions and give insights and behind-the-scenes details about the making of his award-winning wines.
When: Friday, November 10 from 6 to 10 PM at Mekong, tickets are $215.
Blanc Canvas
This aptly named event, put on by the team at the Fairmont and hosted at the Audain Art Museum, is a hands-on event where you're treated to five different Sauvignon Blancs. Enjoy your wine and servings of delicious canapes, as you join acclaimed Canadian artist, Fran Alexander in making your own piece of bear-themed artwork to take home.
When: Saturday, November 11 from 7 to 10 PM at the Audain, tickets are $179.
INSIDER TIP:
The Audain also has another event where art, nature and gastronomy collide. On Saturday, November 18 the
Audain Artist Dinner Series: Garden of Shadows
will include a signature cocktail reception, a Curatorial Tour of Karin Bubaš's Special Exhibition,
Garden of Shadows
, and a gourmet multi-course dinner. As an added feature, you have the option to select which table you're seated at when purchasing tickets; whether you choose to dine with the artist, Karin Bubaš, the Museum's Director and Chief Curator, Dr. Curtis Collins, or other members of the Audain Art Museum's Curatorial and Engagement team.
Do you te amo, tequila? Cinco de Agave
Did you know that agave is a base ingredient in spirits like tequila, raicilla and bacnaora? Although some of these names might be new to you, they're traditional Mexican spirits that have been drunk for hundreds of years; time to catch up don't you think?
These unique spirits will be served alongside authentic Mexican cuisine from Fairmont's Chef Alejandro Verdi – get your ticket for the fiesta of the season!
When: Saturday, November 18 from 7 to 10 PM at The Chalet at Fairmont Chateau Whistler. Tickets are $129.
Hot Tickets at Cornucopia
Drag Me to Brunch
This Signature Event wowed brunch-goers last year, and the headliner and host for 2023 is Gia Metric, from Canada's Drag Race (Season 2) with Genesis and Bibi SouPhresh, so you know it's going to go off! You get to feast on Canadian brunch classics served with mimosas while the drag queens work the catwalk stage. Just don't forget to wear your sequins and sparkles to this one.
When: Sunday, November 12 from 10 AM to 1 PM, at the Whistler Conference Centre, tickets are $100.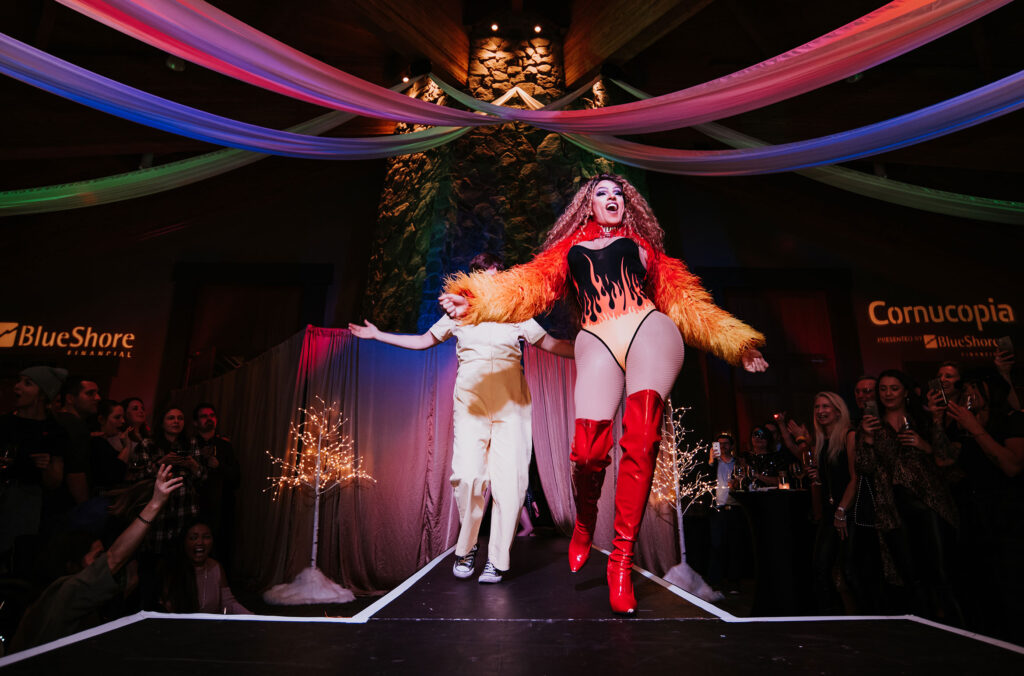 Murder Mystery Dinner at Bearfoot Bistro
Tickets for this event go quickly and when people hear the theme this year is 80s prom they're going to go quicker! Rewatch Pretty in Pink and Footloose as you choose your attire for a night you won't forget as you try to suss out the murderer on the loose over an indulgent four-course meal.
When: Sunday, November 12 from 6 to 10 PM at Bearfoot Bistro, tickets are $145.
Laugh Out LIVE! Whose Wine is it Anyway?
Brace yourself for some wine-based puns. Smooth as a well-aged Cab Sav, Laugh Out LIVE! blends improv comedy with hilarious merlot-dramatic sketches and Zin-fully funny stand-up in a way that you'll never be bord-eaux. Think Saturday Night Live meets Whose Line Is It Anyway? meets the Price is Right meets Whistler! So, raise your glass to a comedy variet-al show that will have you sipping in stitches and giggling until your cheeks are rosé.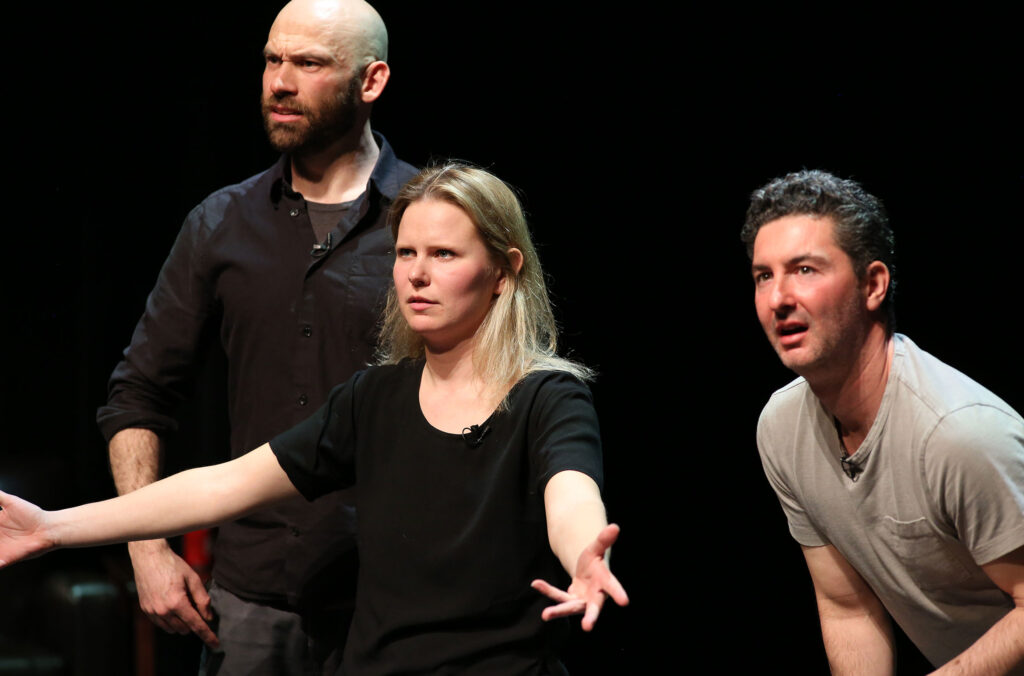 When: Monday, November 13 from 8 to 10 PM at the Whistler Conference Centre, tickets are $25 (and include one complimentary drink).
INSIDER TIP:
Love to laugh? Check out the
Comedy Kitchen
event featuring headliner, multi-award-winning, Canadian stand-up comedian
Paul Myrehaug
along with rising stars Amber Harper Lynn and Alistair Odgen.
Cornucopia's Signature Events
There are definitely some crowd-favourite events that happen each year at Cornucopia. These include the House Party: Best of BC, where you can sample from a variety of wineries, breweries and distilleries from our backyard alongside an exceptional dinner buffet. The CRUSH Grand Tasting has an early bird ticket that's definitely worth contemplating, that way you can be assured your top wine picks are guaranteed. Wineries from BC and all over the world pack the Whistler Conference Centre and it's up to you which wines will grace your glass.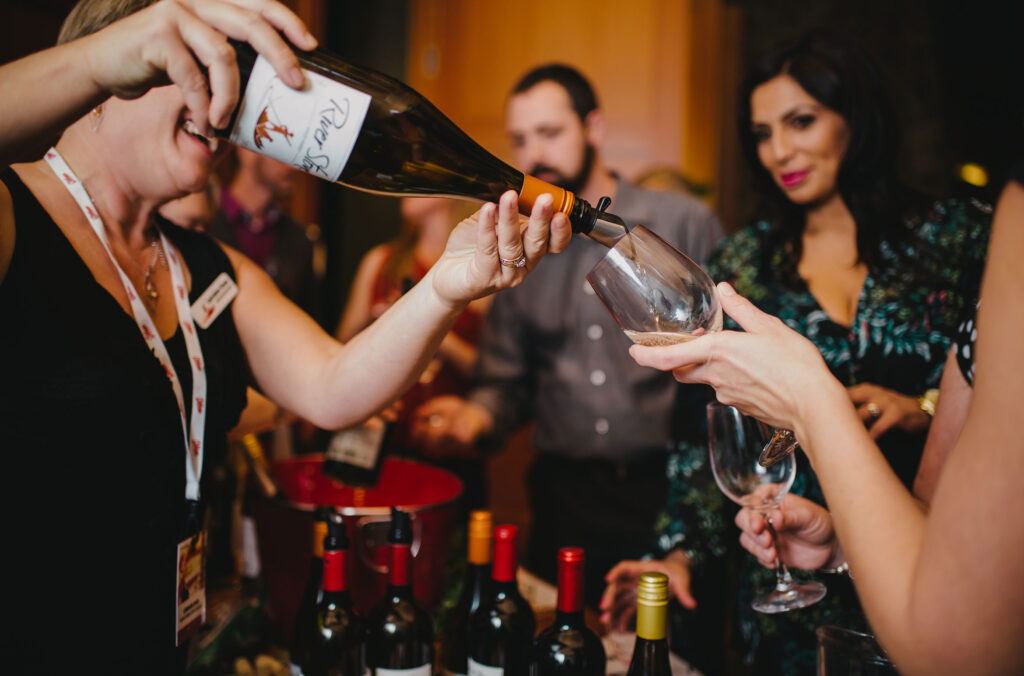 Then it's a street food-style, international culinary adventure with the Night Market: Taste of the World event, which offers up sweet, spicy and savoury food paired with wines, beers, and liquors from guest chefs and renowned restaurants from around the globe.
INSIDER TIP:
Some of the Signature Events have been bundled into packages with accommodation by the
Whistler.com team
and the prices can't be beaten, starting at $95 per person, per night.
British Columbia-Focused Events
If you're a visitor to British Columbia looking to try the distinct flavours of this province or a local who wants to get better acquainted with them, then take a look at some of the BC-specific events happening during the festival.
You could opt to try some BC craft gins or widen that scope to include vodka and whisky with the ABCs of BC Spirits. There's a bit of competitive spirit in Chardonnay: BC versus California and BC Bubble – Better Than Champagne? And did you know that Gamay was the 5th most planted red grape varietal in BC? And if you're after winemaker's dinners with a BC producer take a look at Fairmont's Vanessa Winemakers Dinner showcasing the red grapes of the Similkameen Valley in the Okanagan.
Insider Advice: Check Out the Culinary Stages
The Culinary Stages are often an overlooked part of Cornucopia, but I think one of the most informative, fun and good value options. There are eight culinary stages this year and the format of these events is that the chef cooks right there on the stage, talking to you about what they're doing as they prepare your food.
Put simply, it's like being in the audience of a live cooking show, and you get to enjoy creations complete with drink pairings.
They're great events for foodies to pick up ideas and tricks to use in their own kitchen while having an incredible lunch. Ones to look out for include crowd-favourite Chef Julian Bond's A Homage to British Classics and Chef Robert Clark's Bounty from BC Waters.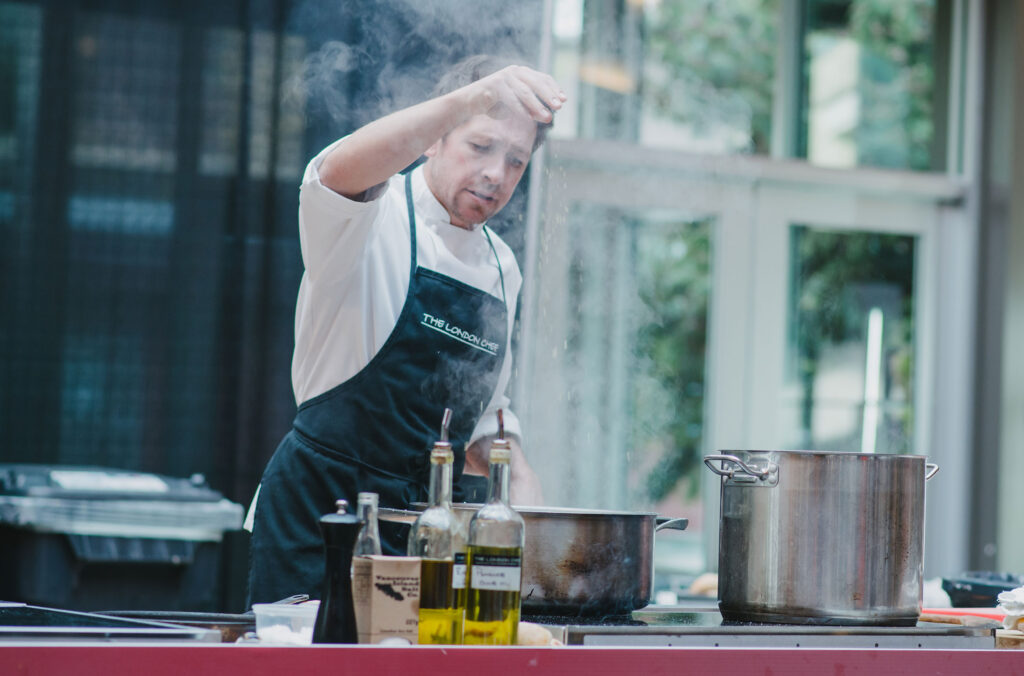 These are only a few of the yummy things happening at this 11-day festival starting November 9. Be sure to take your time looking through the schedule and again, I warn you, you might need a glass of vino as you do! We also have a blog on how to plan for Cornucopia if you want some more ideas!
Bundle your Signature Event tickets with lodging for unbeatable value with Whistler.com, and if you stay more than three nights you also receive a free $100 Whistler Dining Voucher. Cheers to that!