Updated June 2022.
Change is beautiful.
Watching Mother Nature shed her green summer skin in preparation for the fresh white coat she wears all winter is nothing short of magical. Fall days in Whistler can often feel like three seasons in one – frosty foliage in the morning, warm sun in the afternoon and a cool, crisp evening.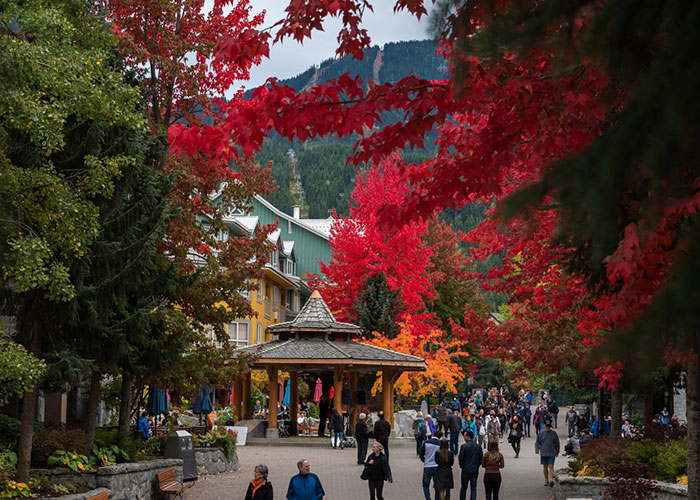 Each autumn day offers a new view, with the colours changing and the weather shifting. This round-up post showcases some of the most spectacular locations in Whistler to take in the fall season, in all its beauty.
Take care, adventure smart, and check the weather and your gear before you head out to explore.
Whistler Village
An amble-paced stroll through Whistler Village is a great way to see fall colours. A beautiful place to spend a moment is at the public art sculpture Timeless Circle by artist, Susan Point. The silty Fitzsimmons Creek gurgles its way through the stroll, banked by basalt columns and beautiful trees shedding their wares.
Another area that's stunning at this time of year is the covered bridge next to Reglibialti Park, close to the Upper Village. Look out for Jeri, by sculptor James Stewart, who contemplates his next move as he gazes towards the mountains.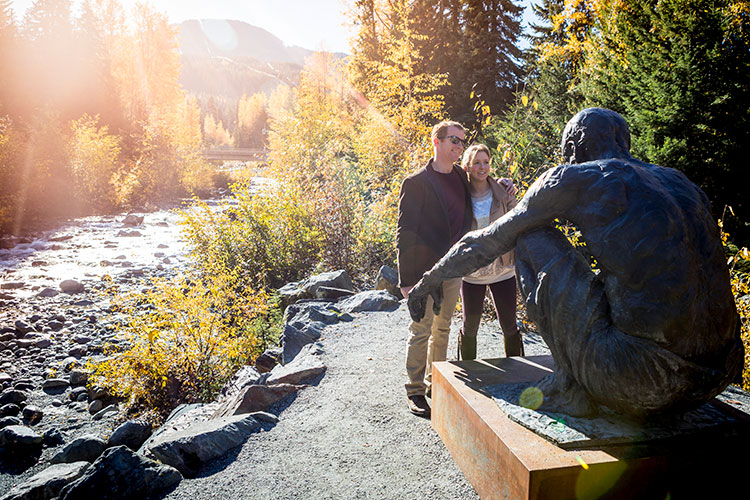 Green Lake Boardwalk and Spit
Glacial waters and snow-dusted mountains amplify the colours of the rich green coniferous trees and radiating deciduous foliage surrounding Green Lake. Take in the views along the Valley Trail boardwalk and explore the dirt path that runs next to the greens of Nicklaus North Golf Course towards the spit.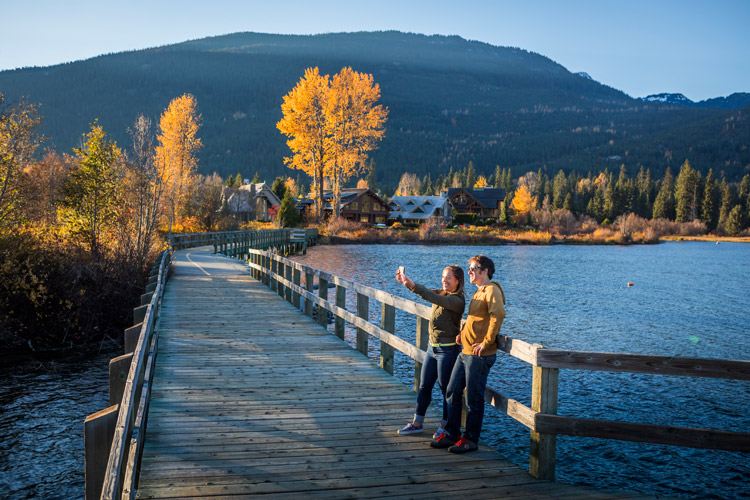 This is a small, sandy offshoot where you can watch the Fitzsimmons Creek meet Green Lake (this area does sometimes flood if there's been a lot of rain). It's thanks to glacial creeks and streams carrying rock flour from high above that give the waters their stunning, chalky glow. It's also Whistler's coldest lake and in the summer it's where the floatplanes take off and land; which is just incredible to watch.
Lost Lake
An iconic spot for anyone chasing views in Whistler is the dock at Lost Lake Park, with its incredible views of Whistler and Blackcomb mountains.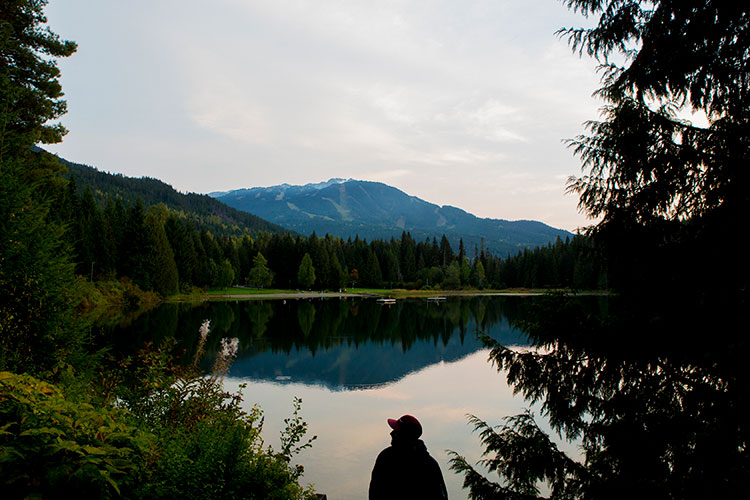 Protected by forest, Lost Lake is often calm and sheltered from the wind, offering great evening reflections, and situated perfectly for golden-hour light. Want to know how to get there? Take a watch of this video.
Rainbow Park, Alta Lake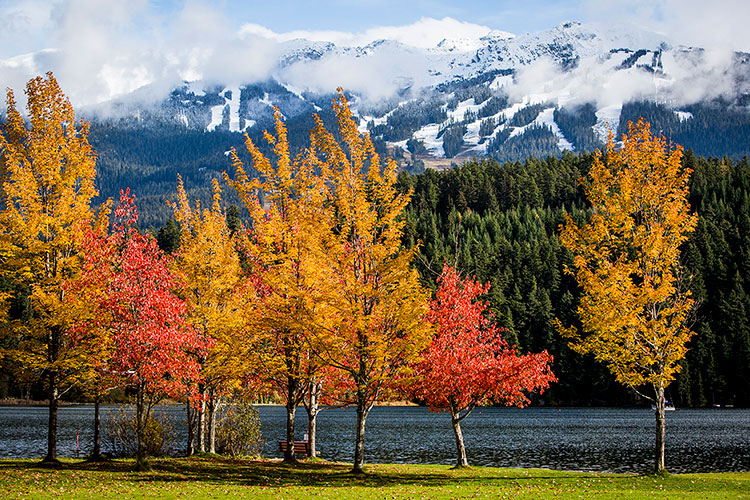 Alta Lake is a first light kind of destination. The morning sun lights up the large vistas seen from Rainbow Park on the northwest shoreline of Alta Lake, often cutting through the morning lake mist that frequents Alta Lake in the fall.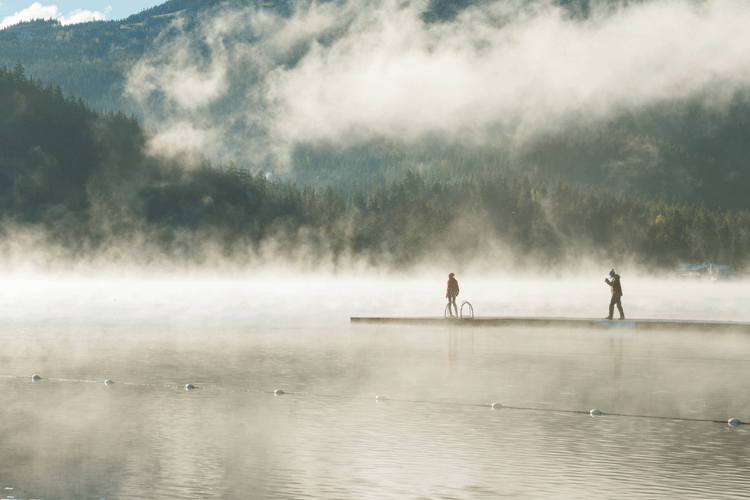 Callaghan Valley
Rich in berries, specifically huckleberries, you can often find bears munching on the side of the road when driving up the Callaghan Valley (be bear aware and don't stop or get out of your car). The short drive from Whistler (twenty minutes south along Highway 99) always delivers stunning views, even if the bears don't appear. You gain significant elevation on the nicely paved road, so you can expect fall to arrive a bit earlier here.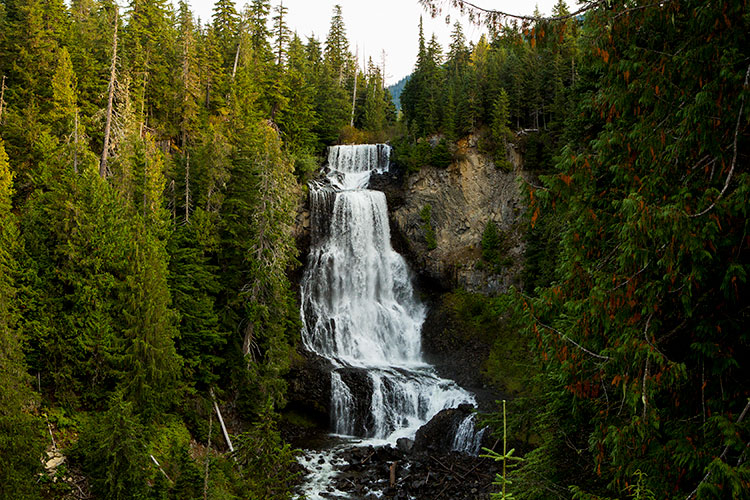 Look out for a sign on your left, close to the entrance to Whistler Olympic Park, for Alexander Falls. Steps from the parking lot is a lookout deck where you can take in the 43-metre (141-foot) falls; the water charges over several rock platforms before cascading into the valley below.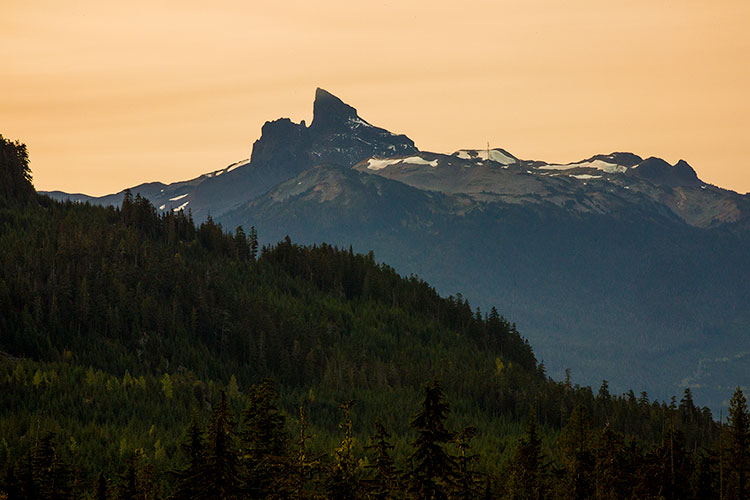 On the way home, the beautiful Black Tusk will be staring at you from across the valley. Utilize any of the marked pullouts for a shot at this ancient volcano. There are many hidden hiking gems in the Callaghan, read our Insider's Guide to learn more.
Rainbow and Sproatt via Flank Trail
Used frequently for access to a multitude of hiking and biking trails on both Rainbow and Sproatt Mountains, the Flank Trail connects Whistler from end to end with some impressive elevation gains and equally dramatic views. Just 15 minutes in (from either direction), you'll be greeted with stunning views that encompass the entire Whistler Valley, some even come with a bench.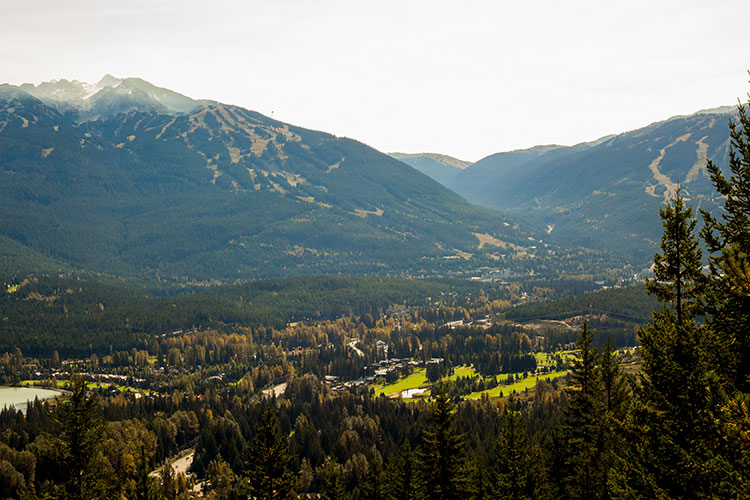 In the heart of the Flank Trail, there are fewer valley-views, but there's the opportunity to hike to Rainbow Falls instead. A different kind of view that's perfect for a low visibility day, which we sometimes get in the fall. 
Mount Brew
Not for the faint of heart, a hike up Mount Brew gives you panoramic views of the entire area. On a clear day, you can see from the Stawamus Chief in Squamish all the way up to Mount Currie in Pemberton; this viewpoint is surreal.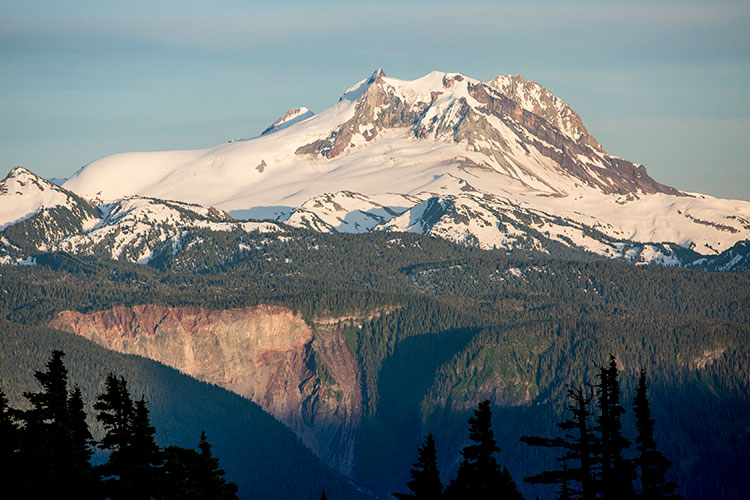 Mount Garibaldi (Nch'Kay) lies front and centre, with its exposed natural barrier holding back Garibaldi Lake. This steep hike isn't meticulously maintained so be prepared, have a plan and bring an empty memory card. 
Wedgemount Lake
In my opinion, Wedgemount Lake is one of the most difficult hikes in the Whistler area, but there's a reason why people do it – an insanely beautiful glacier crashing into a turquoise alpine lake. You definitely need the right gear and the physical ability for a demanding hike like this one.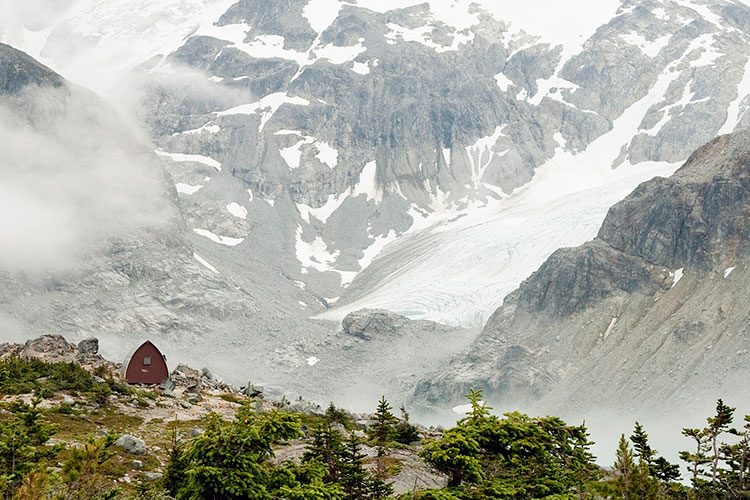 Lord of the Squirrels, Mount Sproatt
Only three years old, the alpine mountain bike trail Into the Mystic (climbing trail) and Lord the Squirrels (descent trail) opened in 2017 thanks to WORCA. The trails' popularity is growing as a destination for a challenging climb and fun descent, along with stunning alpine views – a photographers dream. Imagine reflections of riders in small alpine tarns with looming peaks in the background. The earlier you make the grind up, the greater the lighting reward especially with short, fall days upon us.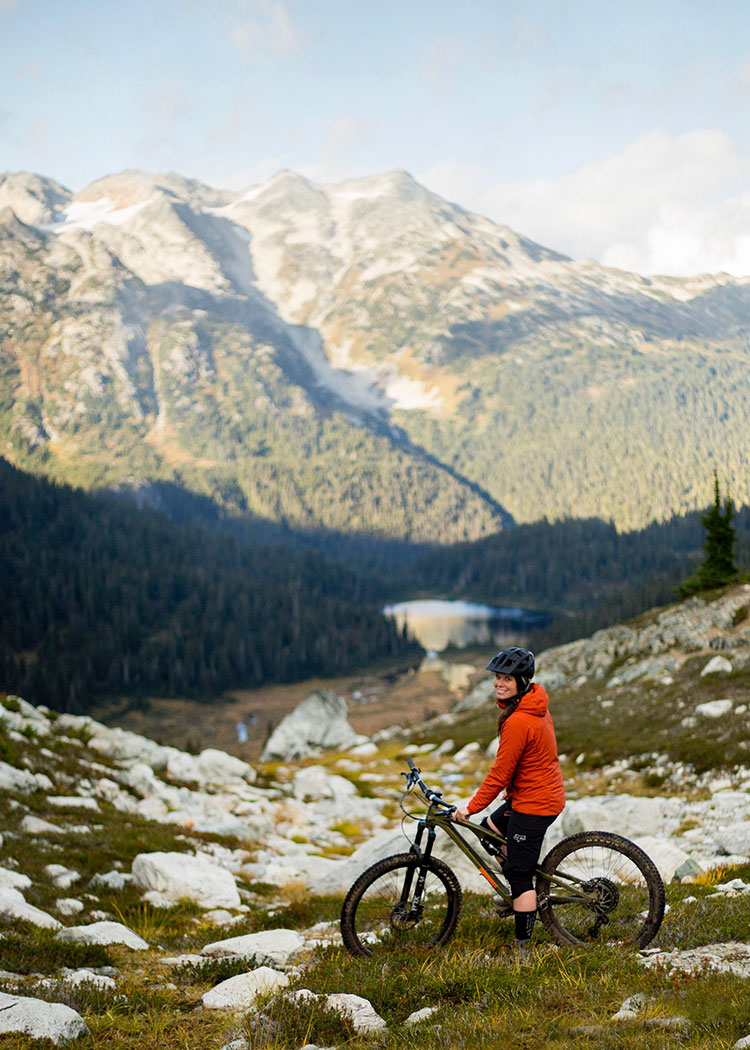 It's good to note that this trail system is in the high alpine, which is a sensitive environment. This area doesn't allow dogs or e-bikes. Remember to pack out what you pack in, stay on the trail, be aware of wildlife and check for trail closures before you go. These trails don't build or maintain themselves, so if you're considering a ride then also consider donating to their upkeep via WORCA.
Fall is an exciting time in the mountains, with the Whistler Village Beer Festival and the Writers Festival also on the calendar. For more ideas on what to do in Whistler in the fall, take a look at 15 Things to Do in Whistler in Fall and check out the video below.
The weather can change quickly in the fall (snow typically starts to fall at higher elevations), so be prepared for an adventure by bringing the right gear and having a plan. Fall is an incredible time to visit the mountains with deals on accommodation, dining, and arts and culture experiences.
And hey, if it's raining, you can always jump in the puddles.