There's nothing like the energy of a group sporting event – racing side-by-side with your competitors, hearts beating and energy pulsing as you challenge your mind and body. Whistler's in-person running and biking events are back this fall after going virtual last year.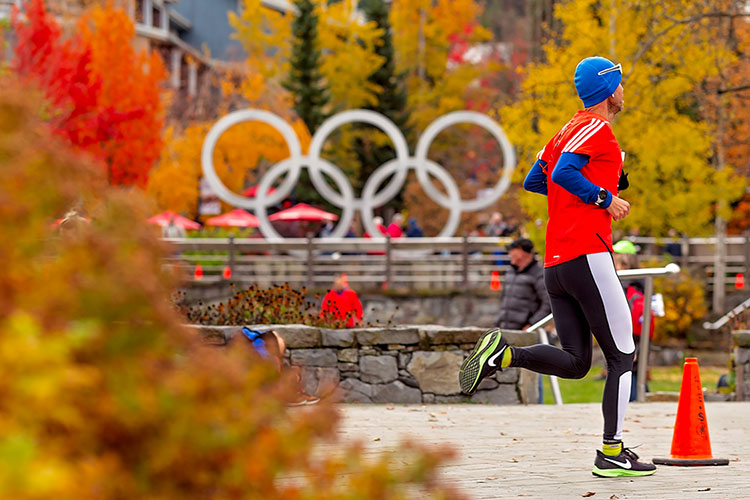 Here are 10 events you won't want to miss, and a few tips for how to elevate your race experience.  
The Back Forty, Marathon XC Mountain Bike Race
September 11, 2021
In the spirit of Pemberton's leg-wobbling NIMBY Fifty, The Back Forty bike race is a punishing cross-country grind from Function Junction south to Cougar Mountain. But, don't let that dissuade you. The inaugural three-stage course covers 29.4 kilometres (18.2 miles) of singletrack, with a gruelling 1,800 metres (5,900 feet) of ascent — don't worry, there is a descent too. The event is in support of the Whistler Off-Road Cycling Association (WORCA) and memberships are required for registration. 
View this post on Instagram
Whistler X Triathlon
September 12, 2021
This isn't your ordinary triathlon. The Whistler X Tri course, which takes place in and around Lost Lake Park, features a 750 metre (0.5 mile) swim, 11.6 kilometres (7.2 miles) of beginner and intermediate bike trails and 5.2 kilometres (3.2 miles) of running.
View this post on Instagram
In addition to the sport category, there are also separate Age Group World Championship spots to qualify for the 2022 ITU World Cross Triathlon Championships in Townsville, Australia. Since there is no parking at Lost Lake on race day, you can walk or bike along the Valley Trail from Whistler Village to reach the start, finish and transition areas. 
West Side Wheel Up Mountain Bike Race
September 18, 2021
The 29th annual West Side Wheel Up will soon roll into town. The WORCA cross-country mountain bike event—affectionately dubbed "Whistler's coolest mountain bike race" – is one of BC's longest-running bike races. This race isn't exactly a piece of cake though. Starting and ending at Rainbow Park, the course (with dessert-inspired trail names like Whipped Cream and Green Jello) winds through 14.7 kilometres (9 miles) of classic Whistler XC trails, with 420 metres (0.26 miles) of climbing. 
Rotary Brandywine Boogie Trail Run
September 18, 2021
Explore the natural beauty of the Sea to Sky Trail when you participate in the Rotary Brandywine Boogie Trail Run. This 9 kilometre (5.6 mile) point-to-point run takes you through the lush forest from Cheakamus to Cal Cheak Campground along an undulating gravel trail. The fun continues, as all runners are automatically entered into the impressive prize draw. 
Whistler Alpine Meadows Trail Running Races
September 24-26, 2021
The acronym (WAM) says it all. With panoramic alpine vistas and next-level physical challenge, the Whistler Alpine Meadows Trail Running Series will simply take your breath away. The three-day event features six different races that traverse over bridges, through lush alpine meadows, and wind their way up, way up.
View this post on Instagram
On the way, runners will see waterfalls, wildflowers, tarns, and lakes as they summit some of Whistler's most challenging trails. Races include the Blackcomb Ascent run, as well as a 25 kilometre (15.5 mile), 50 kilometre (31 mile), 90 kilometre (60 mile)—plus the Triple WAMMY and Triple WAMMY!+ (because your legs can handle it, right?). Young trail runners aged three to 10 can participate in their very own Kids Race, too. What's more, $5 per entry will be donated to local, Whistler trail organizations. 
Comfortably Numb Trail Race
October 2, 2021
Comfortably Numb Trail Race lives up to this name. Take to this famous mountain bike trail on two feet instead of two wheels. The 25 kilometre (15.5 mile) iconic point-to-point singletrack trail runs from Wedgemount pit parking area to Spruce Grove Park, travelling over technical terrain with breathtaking views along the way. Shuttle buses from Spruce Grove Park depart from 5:30 AM and cost $5 to the start line.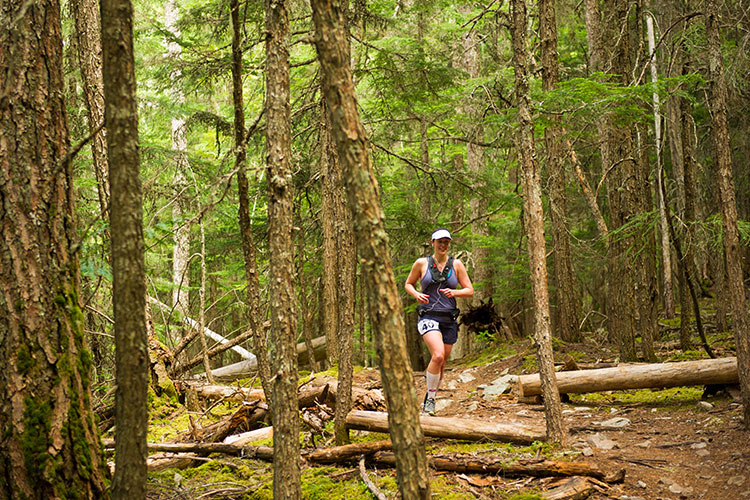 Whistler Half Marathon
October 9-10, 2021
The Whistler Half Marathon – with its spectacular scenery, varied terrain, and fun atmosphere – is a bucket-list event for many runners. What began as a single half marathon in 2010 has blossomed into an exciting multi-day event that celebrates the sport of running. The event kicks off with the signature Half Marathon and the 30 kilometre (18.6 mile). Both are sold out for the 2021 season, but you can still cheer on the hard-working athletes. If you want to be part of the fun without the intensity, you can check out the 5 kilometre (3.6 mile) or 10 kilometre (6.2 mile) on Sunday.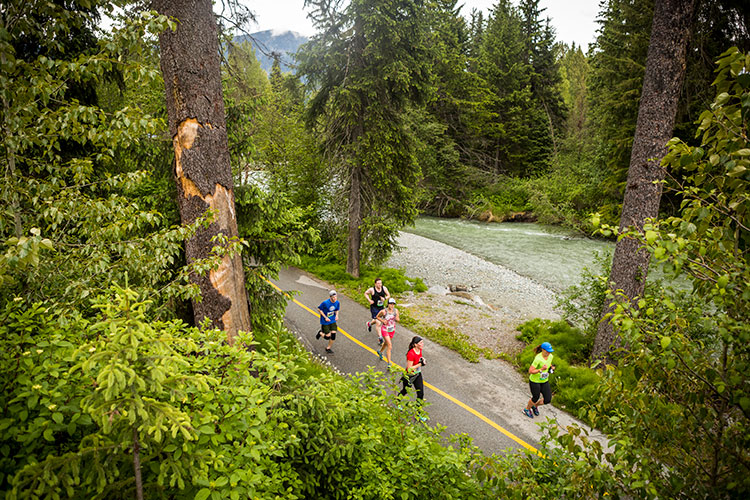 The Whistler Turkey Trot
October 11, 2021
After gobble-gobbling your way through the Canadian Thanksgiving long weekend, you can work off the feast with the family-friendly Whistler Turkey Trot. Part of the Whistler Half Marathon family, the Turkey Trot is a feel-good event with a celebratory vibe. Runners will descend upon Lost Lake for a fun-filled 5 kilometre (3.6 mile) or 10 kilometre (6.2 mile) trail run in support of Crohn's and Colitis Canada. 
View this post on Instagram
Canadian National Enduro Series
October 15-17, 2021
Whistler is a signature stop on the Canadian National Enduro Series circuit. The has become the flagship enduro series in Canada and the preeminent enduro series in North America. Riders can expect a minimum of 2,000 metre (6,500 foot) of climbing and 3,500 metre (11,400 foot.) of descending, spanning across approximately 45 kilometres (28 miles) of cross-country track. 
Whistler 50 Relay and Ultra
October 16, 2021
Run for the party. Run for the community. Run for yourself. No matter what your reason, everyone is welcome at the Whistler 50 Relay and Ultra, benefiting Food Banks in the Sea-to-Sky Corridor. Relay teams of four or eight people can tag-team distances ranging from 10 kilometre (6.2 mile) to 50 kilometre (31 mile). Whether you're a first-time runner or an experienced ultra-marathoners, there's something for you.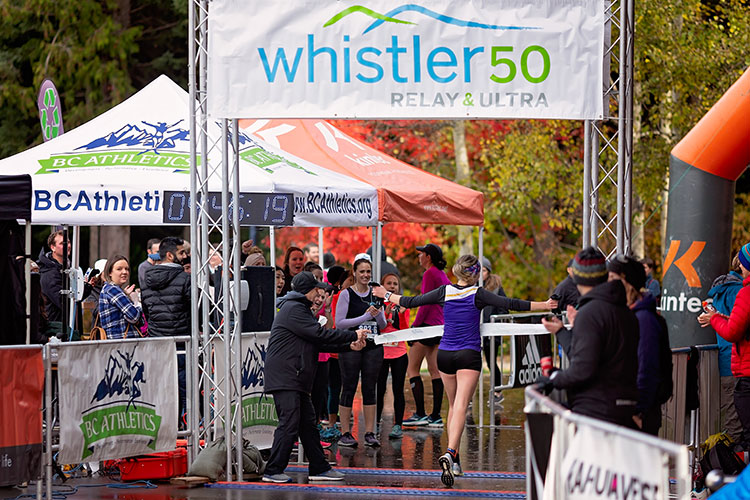 Find more upcoming events and what's on details at Whistler.com/events. Fall in Whistler offers great value on accommodation with rooms from $129 per night, plus a free $100 Dining Voucher when you book a stay of 3 nights or more with Whistler.com.