Updated September 2021
Late summer and early fall mean fewer crowds, moderate temps and superhero, tacky dirt – it's a great time of year to hit the trails.
Even though mountain biking looks a little different this season, Whistler's vast and varied terrain beckons those looking to explore on two wheels. With over 300 kilometres of trails cascading through the valley, including those in the No. 1 mountain bike park in the world, there's no shortage of riding for all levels, from beginner to expert.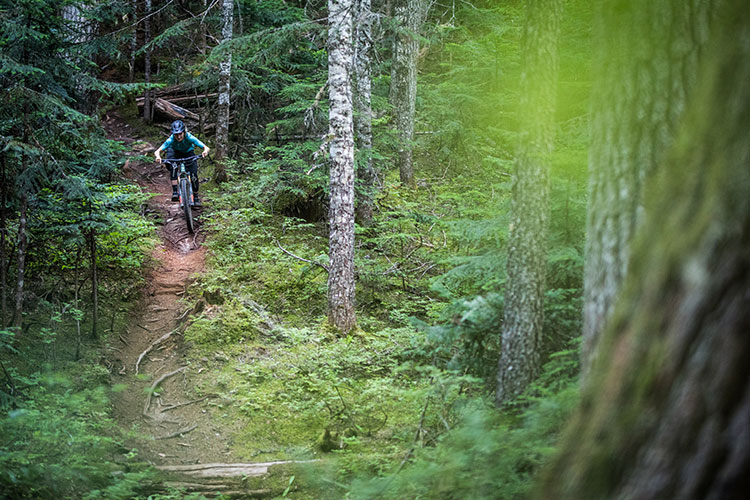 Naturally a physical-distancing appropriate sport, mountain biking gets you out into nature and your heart pumping. Although the trails remain the same, there are enhanced safety protocols in place so that you can ride with confidence. 
Read on to find out how you can stay in the know and prepare for your mountain biking trip to Whistler this summer and fall.
Whistler Mountain Bike Park Experience
The Whistler Mountain Bike Park has been open since the spring, with workers busy improving existing trails and building new ones. Riders will find their favourite trails, such as B-Line, A-Line and Easy Does It, in amazing condition.
The park is made up of four zones; Fitzsimmons Zone, Garbanzo Zone, Creek Zone and Peak Zone. The opening of these zones varies throughout the season, so make sure to check the Whistler Bike Park's hours of operation before you plan your ride.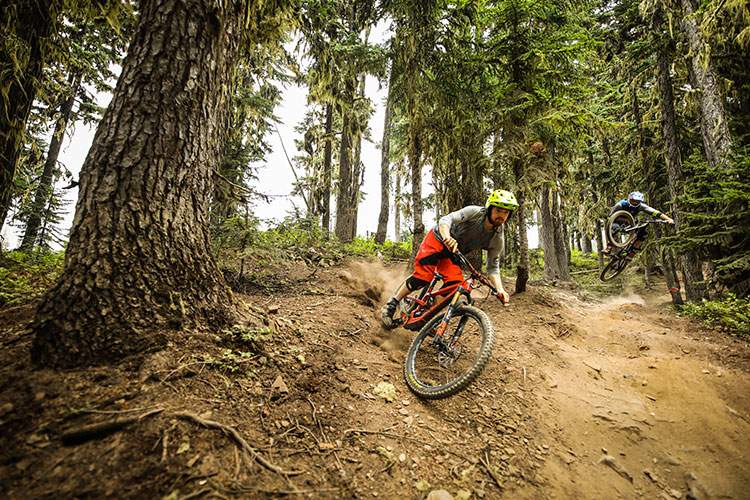 As of August 25, 2021, guests are required to wear face coverings in certain areas on Whistler Blackcomb. This includes in lines, when loading and unloading chairlifts, when loading and riding in gondolas and in indoor resort facilities. Guests are strongly encouraged to bring their own face coverings, but they are available upon request, subject to availability. Employees are required to wear face coverings at all times. Read more about COVID-19 protocol for the Whistler Bike Park on Whistler.com.
Although Whistler Blackcomb has reduced programming this season, they are offering some lessons, take a read of Know Before You Go: Sightseeing and Biking on Whistler Blackcomb to see what's on offer this season. To book, call 1-800-766-0449.
INSIDER TIP: A-Line has had some love from the trail fairies. You will find new lips on the take-offs, buff corners and a new entry into the trail.
Whistler Cross-Country Mountain Biking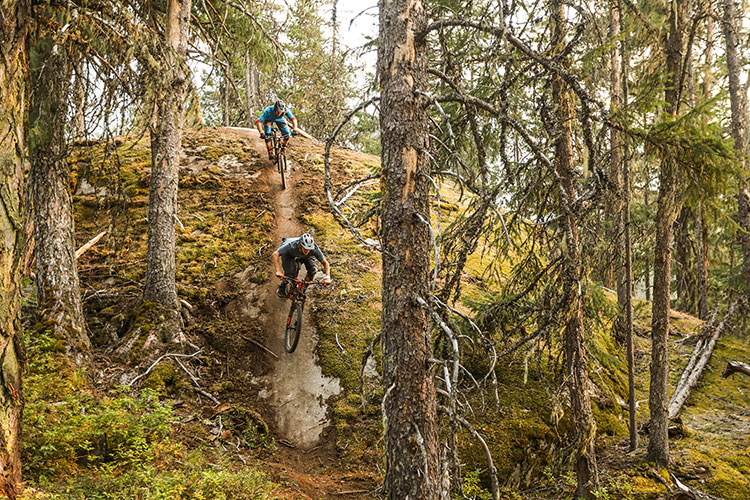 If you're ready to pedal, there are multiple trail networks waiting to be explored outside of the Whistler Mountain Bike Park. From the Lost Lake trails (good for beginner to intermediate riders), located right by Whistler Village, to the classic Westside cluster, and the lesser-known Whistler South section (for intermediate to advanced). Avid mountain bikers could spend weeks trying to get to them all (and do). Trailforks is a good website to navigate all these amazingly named trails. 
Bike Shop Rental Experience
Whether you're new to mountain biking, travelling light, or want to test run something new, you can rent all the gear you need in Whistler. Whistler's bike shops can kit you out with rental gear from head to toe including helmets, pads, gloves and a range of bikes, from e-bikes and cruisers, to all-mountain, cross-country and downhill.
Check Whistler's Doors Open Directory for each store's individual COVID-19 protocols, but expect physical distance markers, hand sanitizer and mask wearing. To make sure that the rental products are safe to use, bikes are thoroughly cleaned after each use and all gear is washed and disinfected.
INSIDER TIP:
It's also good to note that if you're heading to the
Whistler Mountain Bike Park
it can take quite the toll on your ride, so renting might be the better way to go even if you have your own gear.
Trail Etiquette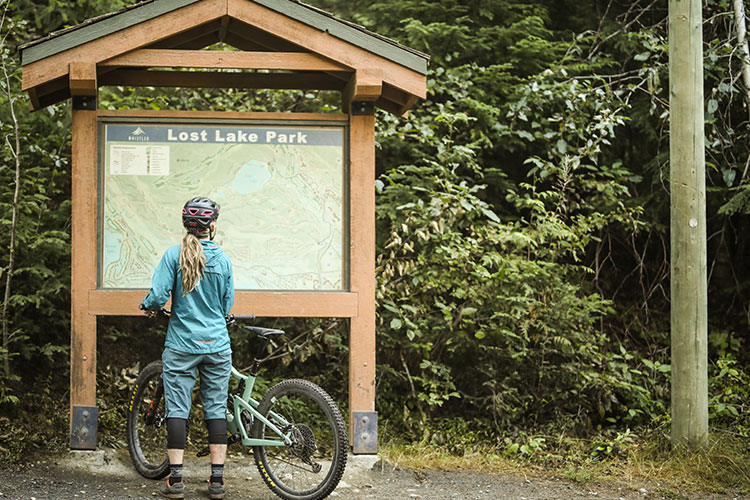 Along with physical distancing, trail users are reminded to play within their limits, plan their route, ride with those in their social bubble, share the trail with other users (leave room for passing and at trail junctions) and pack out what they pack in. Also, to avoid crowding in parking lots, ride to the trails whenever possible. 
INSIDER TIP:
Don't forget, you're sharing the trails with local wildlife. This means being
bear smart
and remembering that the local fauna prefers to socially distance at all times!
These Trails Don't Build Themselves
We hate to break it to you, but there's no such thing as a trail fairy; Whistler's mountain bike trails didn't magically appear. In fact, hundreds of hours go into building and maintaining the trails each year. You can support by donating, becoming a member and joining a volunteer trail-building night. Get the latest trail updates, know the riding code and connect with the biking community over at Whistler Off Road Cycling Association (WORCA).
Late summer and fall months are a great time to experience riding in Whistler. Fewer people, tacky trails and cooler temps – need I say more? See you on the trails!
Whistler.com has a Stay and Bike Park Package that includes two nights accommodation for two adults plus two adult full-day bike park passes, with rates starting at $109 per person, per night for arrivals from now until October 11, 2021. If you're a BC resident, sign up to become a Whistler Rewards member (it's free) for more specials and savings. 
If you have any questions, the Ask Whistler Live Chat Service is available seven days a week from 8 AM to 9 PM PST via Facebook Messenger, WhatsApp, SMS and phone. Whistler.com also has a COVID information page for the latest updates and health advisories for Whistler.