A dancing snow line and radiant fall foliage makes this one of the most colourful times of year to explore Whistler. Perched in the Coast Mountain Range, Whistler is abundant with evergreens, which keep their colour year-round. However, deciduous trees and low-lying foliage streak across the landscape, creating gradient ribbons of crimson, amber, and bronze. Meanwhile, the higher levels of precipitation in the autumn months are perfect conditions for all sorts of colourful fungi to thrive.
Though more rare at this time of year, sunny fall days are a sight to behold. Komorebi is a Japanese word which, loosely translated, means "sunlight filtering through the trees." Experiencing Whistler's very own light-dappled forests as the sun back-lights the evergreen trees, lichen, moss and vibrant autumnal foliage, is a dazzling display of texture, colour and a little bit of magic.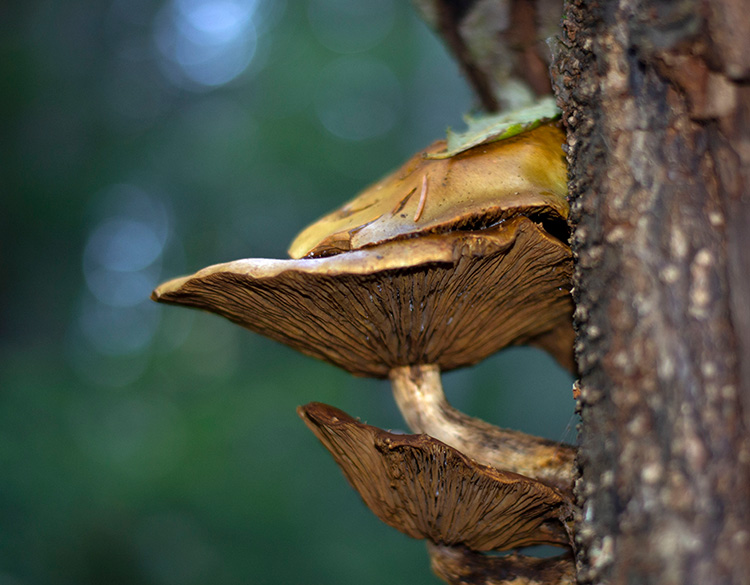 Here are some of our favourite spots to explore fall foliage in Whistler.
Brandywine Falls
Brandywine Falls is a spectacular 70-metre waterfall that towers above Daisy Lake. This popular stop on the way to or from Whistler can be quite busy during the summer months, but sees less traffic during the fall. In autumn, the scenery transforms as the flora that frames the waterfall begins to change colour from olive green to rich reds and vivid yellows. The bright colours really pop against the cliff face and blue pool below, making for gorgeous photos, rain or shine.
While it is tempting, visitors are not permitted to hike to the bottom of the waterfall as it's very dangerous and harmful to the sensitive ecosystem. If you go, please stay within designated viewpoints and trails.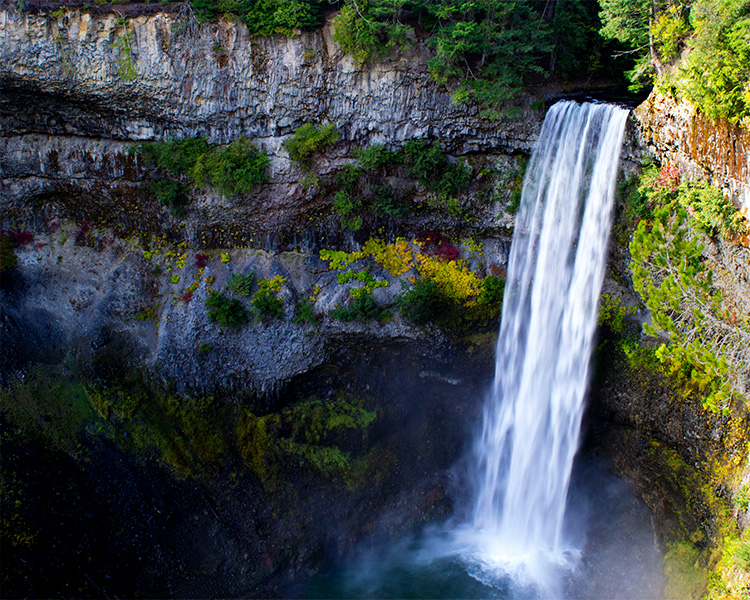 Sea to Sky Trail to Green Lake
The Sea to Sky Trail is a 190-kilometre trail network that spans from Squamish to D'Arcy, connecting the Pacific Ocean to the Coast Mountain Range. An autumn bike ride along the northern Whistler section of the Sea to Sky Trail (map PDF) reveals radiant fall colours – a collective of lichen, moss, fireweed, ferns and deciduous tree species. This moderate bike trail can be accessed off Molly Hogan, which is part of the Lost Lake trail network. Head to the Green Lake lookout and you'll be rewarded with stunning vistas, with reds and yellows contrasting beautifully against the aquamarine colours of the glacier-fed lake.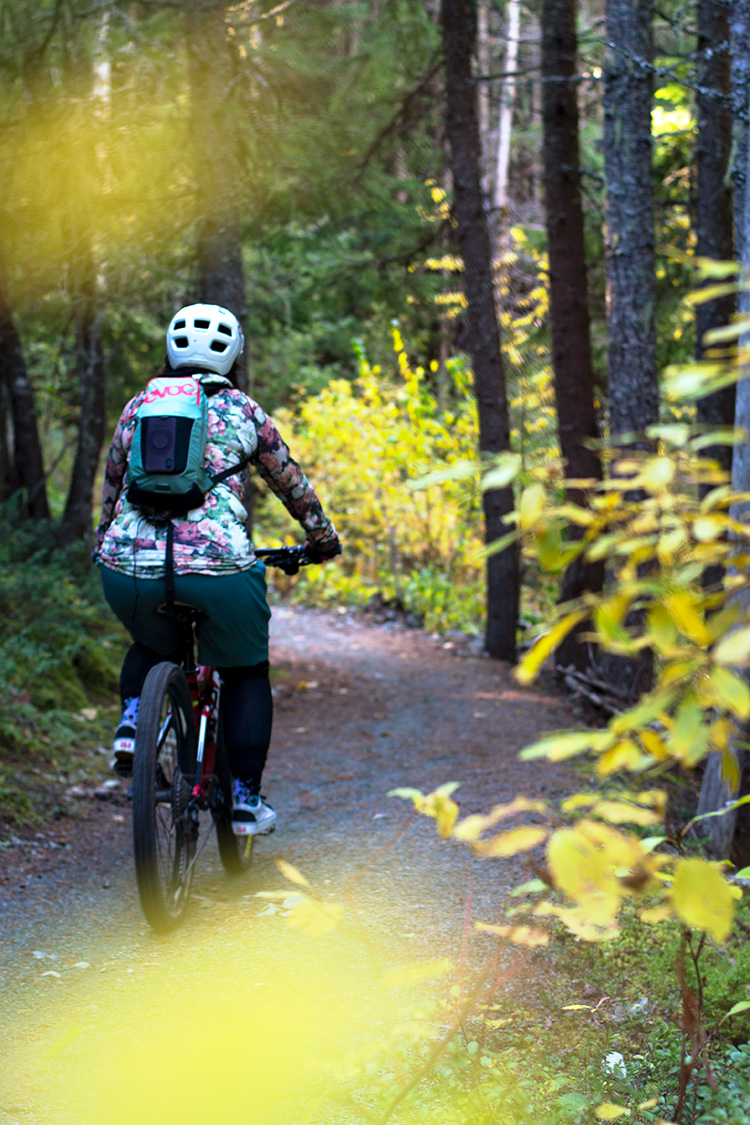 Rainbow Park
A favourite during the summer, Alta Lake's Rainbow Park offers a peaceful vantage point to watch the seasons change. You can view the snow creeping down the mountain tops from a park bench underneath red and yellow maple trees, or take in the colourful riparian area that envelops the River of Golden Dreams.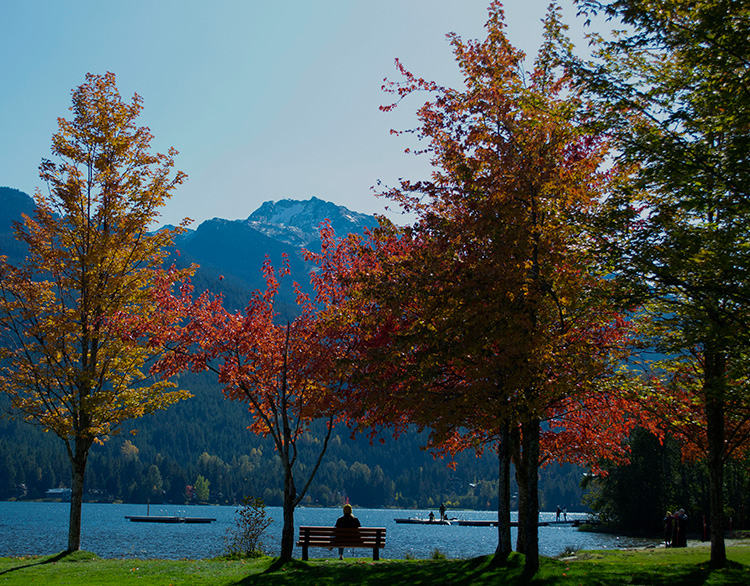 Valley Trail and Fitzsimmons Creek Stroll
Whistler's Valley Trail is a 40-kilometre paved trail system that connects the community with lakes, viewpoints and hiking and biking trails. Traces of autumn can be found all along the route, with concentrations of colour around Creekside, Rainbow Park and Green Lake.
In Whistler Village, a short jaunt to Fitzsimmons Creek reveals a beautiful spectrum of autumn colours, set against the backdrop of Whistler and Blackcomb Mountains. This makes for a perfect after-brunch stroll.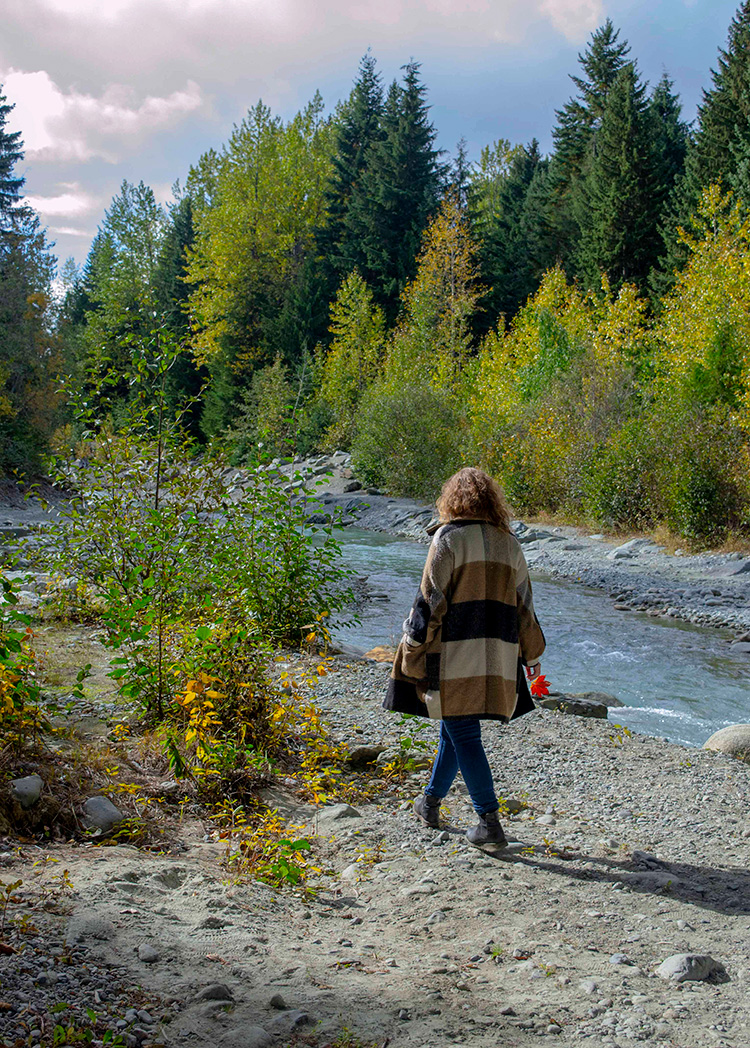 Train Wreck Hiking Trail
The remains of a train accident in 1956, Train Wreck has now become a popular trail to explore the convergence of nature and man-made structures. Seven rusted and gnarled box cars sit in an old growth forest grave. It's haunting and beautiful. The positioning of these cars remained a mystery until a few years ago, when the Whistler Museum uncovered new information revealing that the cars had been relocated from the original crash site by a logging company.
Over the years, artists have painted their own art and graffiti on the cars, making this as much of an art walk as it is a forest adventure. While Train Wreck is surrounded by mostly evergreen forest, this is a great trail to explore during the moody fall months, which adds extra ambiance. Along the way, spot wild mushrooms of all shapes, patterns and colours, popping against the earth tones of the forest.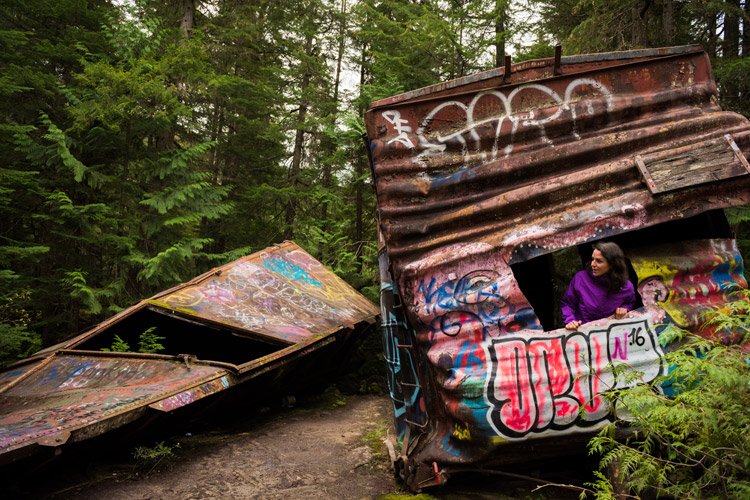 Cheakamus River & Whistler Interpretive Forest
Dozens of biking and hiking trails spread out like tentacles throughout Whistler's southernmost community of Cheakamus. Meander through the Whistler Interpretive Forest, or visit the suspension bridge, which overlooks the rushing glacial waters of Cheakamus River.
This zone is also more evergreen rather than deciduous, it is a stirring place to find solitude and enjoy autumn in all her glory.
When hiking or biking in Whistler, be sure to prepare for the weather conditions and let someone know where you're headed. With cooler temperatures and less daylight hours, it's especially important to be vigilant. Always remember to bring the essentials along for your trip.
Ready to plan your own Whistler fall adventure? Head over to Whistler.com for fall accommodation and activity offers.