Editor's Note: This post was originally written in 2019 and has been updated with new sustainability initiatives and ideas.
What makes Whistler special? Time after time, we hear the same answer: the mountains, the lakes, the old-growth forests, the rivers, the wildlife – essentially, nature. Whistler holds a place in so many people's hearts because of it.
With our lives so entwined with the outdoors, in a town designed around car-free travel (for residents and visitors alike), it's no wonder many local businesses have focused on sustainability. For some, like Backroads Whistler and Ziptrek Ecotours, the environment has been the founding inspiration behind what they do. How do you get people outdoors and learning about nature while keeping a low ecological footprint? By taking them on fun-filled, gravity-fed and people-powered adventures, of course!
Whistler is full of these kinds of stories and passionate individuals who believe in responsible travel experiences. If you likewise feel inspired to tread a little lighter during your time in Whistler, here are a few ways to go about it:
Go Car Free
Getting Here
You don't need a car to get to Whistler, you can take a coach or shuttle bus from the Vancouver International Airport and downtown Vancouver.
Coach and Shuttle Bus Details
INSIDER TIP:
The Sea to Sky Highway is often voted one of the most beautiful drives in the world. Letting someone else do the driving means you can sit back and soak up the scenery.
Getting Around
Whistler Village and the Upper Village are car-free, pedestrian-only zones that take you on a lovely meander past parks, restaurants, shops and conveniently, to the base of both Whistler and Blackcomb Mountains. Many accommodation options and tour operators are located in or within walking distance of these two hubs. If you're staying outside of the core, most hotels offer shuttles into the Village and you can also take public transit.
If you want to visit one of the lakes or check out another town centre like Creekside or Function Junction you can walk or bike via the Valley Trail, or hop on public transit.
INSIDER TIP:
  The RMOW is offering free transit on weekends and Holidays over the summer, starting in June. The shifting of people onto public transit assists the resort in achieving its Big Moves Climate Action goals and is funded through Day Lot 1- 5 revenues, through the Community Transportation Initiative Fund (CTIF).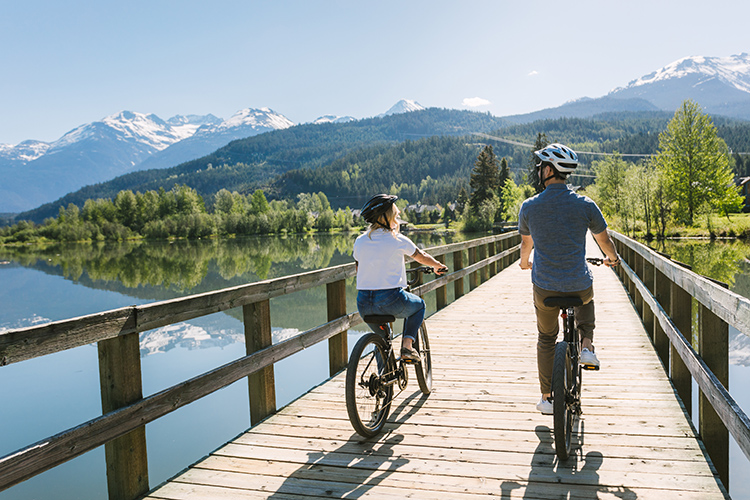 Fun with a Low (Carbon) Footprint
Backroads Whistler
Founded in 1985, Backroads Whistler is a pioneer of eco-tourism in the area. Eric Wight, the owner, consciously decided to keep the adventures people-powered over motorized methods of sightseeing to lessen the effects on the environment.
Backroads helps you explore Whistler's waterways by canoe, kayak or SUP with guided tours or rentals (including multi-day). Knowing how important the health of these ecosystems is, they hold community clean-ups of the lakes and the River of Golden Dreams. This summer, Eric hopes to see the placement of a new state-of-the-art fish ladder, which will help with fish migration and allow for canoe and kayak passage without scraping the bottom.
Cleverly, at their rental base in Lakeside Park, they also offer a frozen treat to any kid who picks out five or more pieces of litter from the lake. They also find a second life for their life jackets. When they're no longer picture-perfect but still completely usable, they are donated to community groups.
Ziptrek Ecotours
Charles Steele and David Udow, the co-founders of Ziptrek Ecotours, wanted to create an adventure-based learning experience. They opened the very first, guided zipline tour in North America right here in Whistler back in 2002. While on tour, guests can learn about the coastal temperate rainforest and The Natural Step, a framework for making sustainable decisions. The President of The Natural Step claims Ziptrek has been the biggest driver of public awareness for the program to date.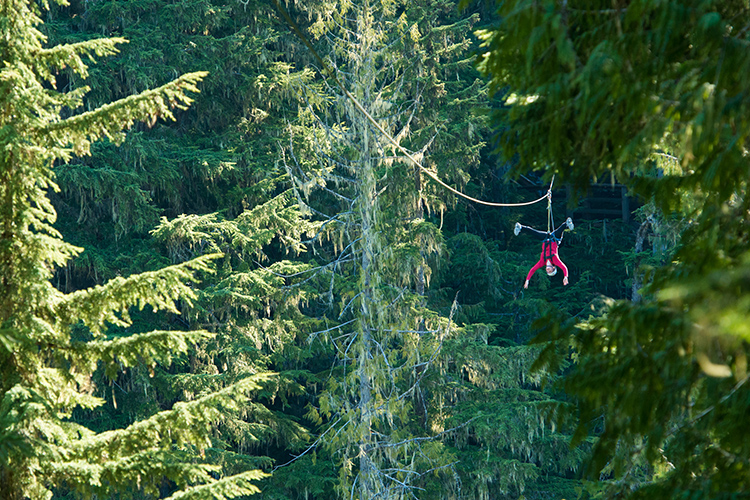 But don't worry, just because they're big on nature doesn't mean they're light on thrill – Ziptrek Ecotours is home to four distinct zipline tours from the family-friendly Bear Tour to the longest zipline in the US and Canada, The Sasquatch®.
Whistler Eco Tours
As the name suggests, Whistler Eco Tours (WET) offers experiences that bring people back to nature. You can have just about every method of people-powered fun from bike tours to SUP rentals. They also offer programs for large groups and schools.
WET guides are friendly and knowledgeable individuals who can answer your questions on everything from tiny rock-dwelling pikas to the towering Western redcedar giants of the old-growth forest. A day out with them and you're sure to walk away with a deeper appreciation for the landscape around you.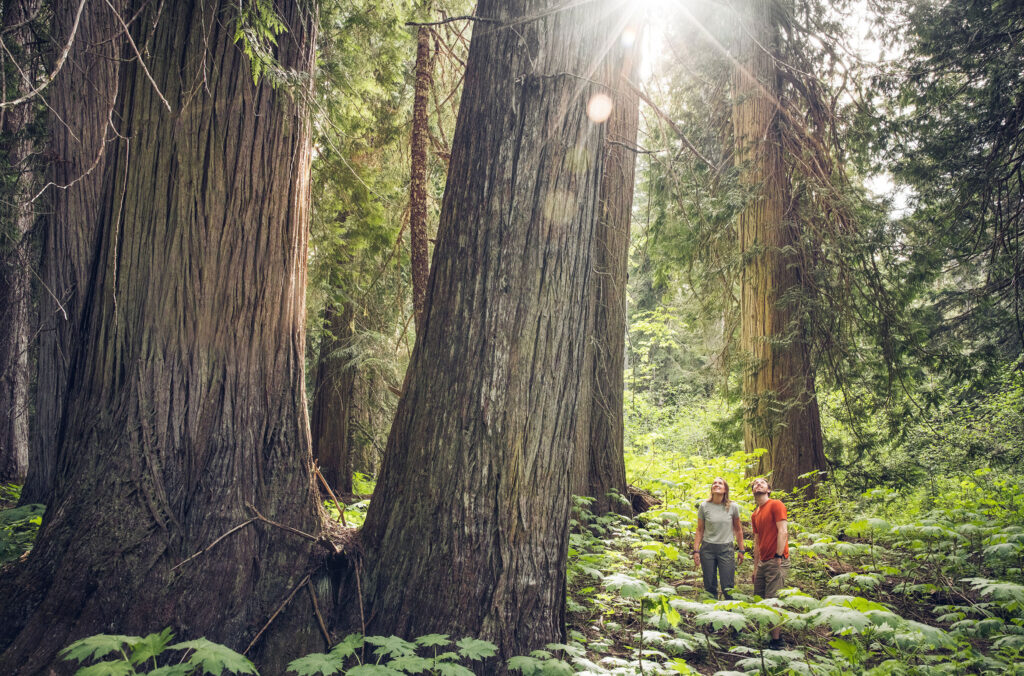 Hiking in Whistler
With so many hiking trails that lead you through fascinating mountain microclimates up to stunning vistas, it's no wonder hiking is popular here. But these trails and environments are sensitive and facilities are limited. It's important to learn outdoor ethics and general backcountry etiquette before heading out.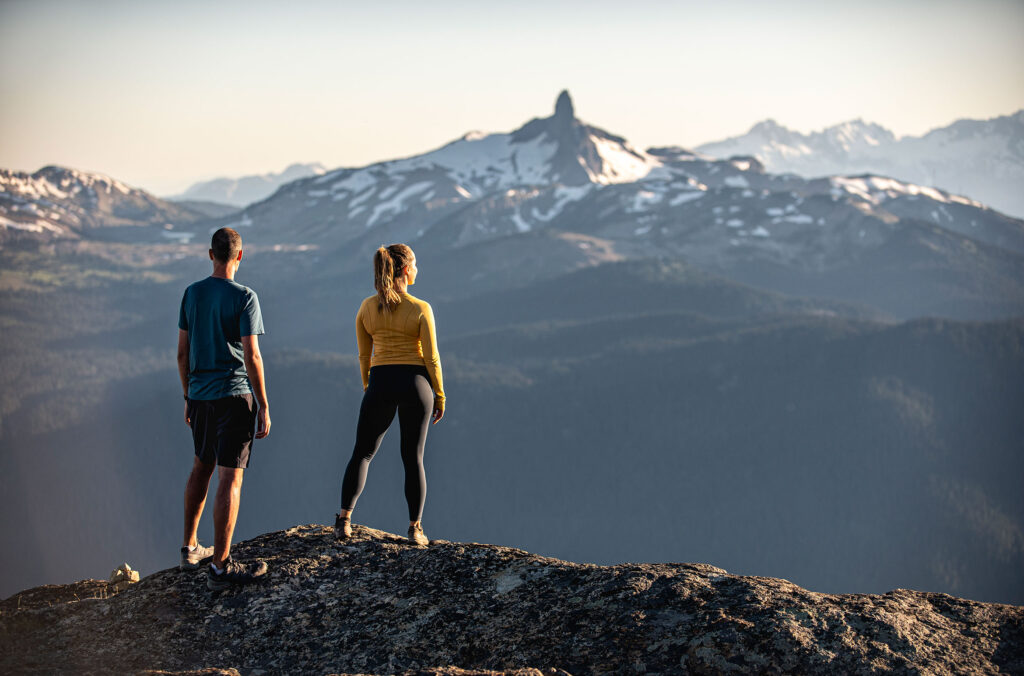 Eat Local, Dine Sustainably
Vegan and Vegetarian Restaurants
Eating vegan or vegetarian can greatly reduce your environmental impact, even if it's only a couple of times a week. Lucky for us, there are many options to choose from in Whistler, see our Insider's Guide: Vegan and Vegetarian Eats in Whistler for suggestions.
The Raven Room
The Raven Room is known for its artisan cocktails and delicious, locally sourced menu items but what you might not know is that they also focus on designing waste out of their system. This means they actively think about how to reduce waste coming into their business, and also devise imaginative ways for using it when it does.
For example, in their Loose Morels cocktail, they mushroom-butter wash the Hennessy VS to give it a rich, umami flavour. They then strain the mushroom butter out of the cognac and add it to their risotto for a delicious, flavour bomb. We should also add that the mushrooms they used are harvested by Whistler Harvest just down the highway in Paradise Valley (Squamish).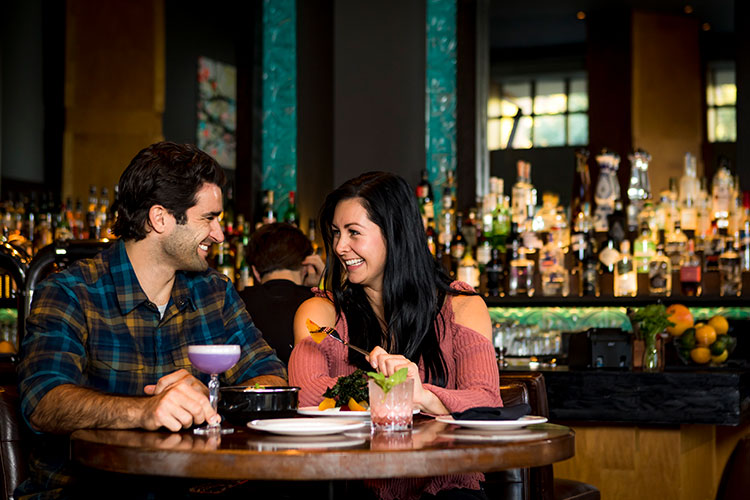 They have a lone mason jar which sits behind the bar and gets used primarily for the non-recyclable, crinkly plastic wrap that seals most alcohol bottles. They empty this once a day, otherwise, it's bottle recycling and compost only for the team at The Raven Room.
To read about other Whistler restaurants that are innovating in the food and beverage space, take a read of Whistler  Restaurants That Think Beyond the Menu.
The Ocean Wise Program
Ocean Wise is a non-profit organization dedicated to ocean conservation, their umbrella efforts include a sustainable seafood program. If a restaurant is a partner, they've committed to serving sustainable seafood either in part or exclusively. Look for the Ocean Wise symbol on menus for the distinction. There are many participating restaurants in Whistler including Araxi, Stonesedge Kitchen, Earls and more.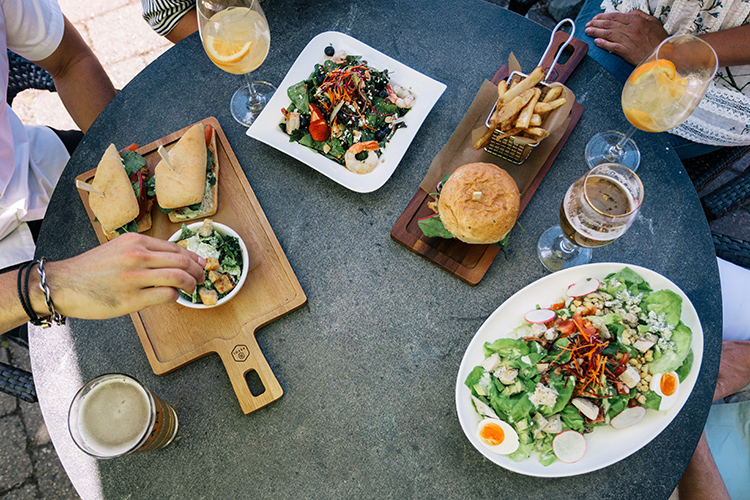 Farm to Table & Whistler Farmers' Market
With the fertile, nearby Squamish and Pemberton Valleys, the farm-to-table movement took root in Whistler. A few restaurants that are well-known for doing it oh-so-well are Araxi, Alta Bistro, Creekbread and Mount Currie Coffee. You can pick up your own farm-fresh produce and support local vendors at the Whistler Farmers' Market, which typically runs on Sundays from late May until October in the Upper Village.
Bring Your Own Movement
An easy way to go green not just in Whistler, but everywhere, is to bring your own reusable travel mug, water bottle, shopping bag, cutlery and straws (if you need them) with you. You can also find these items in local Whistler gift shops and grocery stores. The tap water in Whistler is safe to drink (read about it here) and has even been rated as some of the best-tasting tap water in the world. You'll also notice that many of the local eateries no longer serve plastic straws to reduce plastic use.
If you forget your BYO items and need to rely on take-out containers, you will find recycling stations around Whistler Village. These are bear safe in an effort to reduce habituating bears to garbage sources.
Stay Somewhere That Cares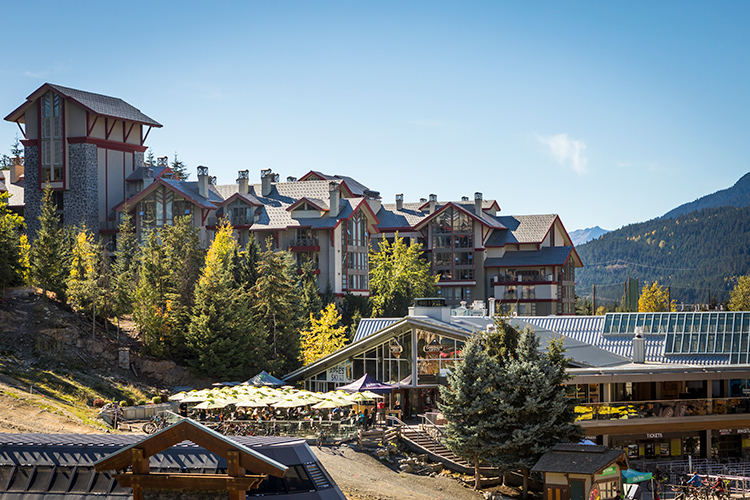 Most of the hotels and accommodation properties in Whistler have sustainability initiatives such as in-room recycling, an opt-out of daily linen changes (for water conservation), EV parking options and energy-conserving building systems. A couple of interesting ones include:
Summit Lodge
With all of the shopping options here, Summit Lodge knows it's easy to end up with a little more than you brought. But what to do with the items you can't squeeze into your suitcase? You can pop them in the "One Less Thang" box, provided in-room. The hotel staff will see that it's diverted from the landfill (if in useable condition) and donated to a community program like the Whistler Re-Use-It Centre.
The Fairmont Chateau Whistler
In addition to their golf course efforts, Fairmont Chateau Whistler also has pollinator bee hotels, which play an integral role in the health and growth of their rooftop garden. Plus they have their own Sustainability Team whose initiatives you can read more about in, Trash Talk with Sustainability Chair, Fairmont Chateau Whistler.
Electronic Vehicle Parking at Whistler Accommodations
There are 14 municipal electronic vehicle (EV) charging stations in Whistler and a lot of hotels offer them too including Blackcomb Springs, Crystal Lodge, Fairmont Chateau Whistler, Four Seasons Whistler, First Tracks, Pan Pacific Mountainside, Sundial Boutique Hotel and Westin Resort & Spa. The Whistler.com team knows this level of detail on Whistler's accommodation options, so give them a call if you're looking to make a booking.
Whistler as a Whole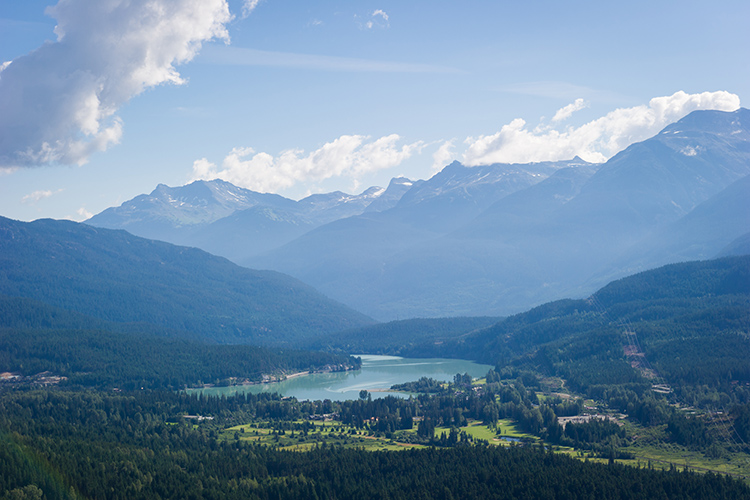 Whistler has a Climate Action Big Moves Strategy, which focuses on transportation, buildings and waste, and articulates the key strategies Whistler will need to further reduce greenhouse gas emissions by 50% by 2030 (capped at 66,500 t-CO2e).
Whistler Blackcomb has also been a leader in the ski industry with impressive initiatives around energy conservation and renewable sources, waste management and public education. They released a documentary series called The Big Picture, which explores our responsibility towards the outdoor places we play, visit and call home. It is definitely worth a watch. Whistler Blackcomb is striving for a zero operating footprint by 2030 and has been able to reduce the amount of energy used and waste sent to landfill even with an increase in visitors. 
One way to connect with Whistler's sustainability efforts is via AWARE (Association of Whistler Area Residents for the Environment), which hosts events throughout the year. Coming up is their Spring Clothing Swap, Community Garage Sale and GoByBike Week Whistler. Other community initiatives they work on are Whistler's community gardens and greenhouses, zero waste workshops in schools and their social enterprise, Zero Waste Heros, which helps events minimize their waste when they come to Whistler.
There's much to uncover when it comes to Whistler's passion for the environment, strike up a conversation with your tour guide, chairlift buddy or barista and you're likely to hear even more stories and tips.
Fall in Whistler means more, like great value on accommodation with rooms from $135 CAD per night, plus a free $100 CAD Dining Voucher when you book a stay of 3-plus nights. Book in confidence with Whistler.com for Flexible Cancellation and a Price Match Guarantee. If you're dreaming of a trip to Whistler, enter our Find Your Altitude contest for a chance to win a six-night vacation with flights, accommodation and activities (including a heli trip) all covered.