In the Whistler Changemaker series, we're connecting with local people, businesses and organizations who are putting sustainability at the forefront of what they do.
The Whistler community cares deeply for the environment and acknowledges that we all have a role to play in preserving the area's natural beauty. The Municipality's Big Moves Strategy sets out a plan to act on climate change and reduce emissions by 50% below 2007 levels by 2030, and in the long-term, reach net zero. To achieve this target, Whistler is collectively taking action to move beyond the car, reduce visitor travel emissions, decarbonize passenger and commercial vehicles, reduce building emissions, and shift towards lower carbon consumption.
We know that this kind of work is an ongoing journey as we all learn how we can contribute to a more sustainable future. Join our Changemaker host, Mike Douglas, a member-at-large of Protect Our Winters Canada, pro skier, enviro nerd and Whistler local as he shines a light on what's happening in Whistler to move the dial.
In video #3, we touch base with René Gauthier, founder of Ecologyst. He chatted with Mike about shortening supply chains, sourcing locally, educating consumers and, oddly, the Boston Bruins. 
Can you tell us a little bit about working in the clothing industry?
It's dirty and broken. The clothing industry is one of the largest industries on our planet. It employs one in six people globally and accounts for roughly 10 percent of all greenhouse gas emissions and 20 percent of industrial water pollution. To put that into perspective, that's more than the aviation, ocean, rail and landfill global emissions combined. It's incumbent on us to do what we can to solve that.
We know there's a better way and we've been quietly building a North American supply chain on the path to net zero. We're sharing what we learn with other companies to meet the urgent demand for a better way for our industry, for the planet and for people.
How do you go about creating a clean clothing supply chain?
First, we took a look at the length of the chain. We asked ourselves, can we take a chain that's usually 12 steps, being made all over the world and producing a large carbon footprint, and reduce that down to four steps contained within North America to shrink that footprint? The answer was yes we can. 
We used to operate under the name Sitka, and we had a typical wholesale model with a global supply chain. Our raw materials came from all over the world, as did our manufacturing, and we sold out of innumerable stores. There were so many blind spots in our operations that we knew this way of working just didn't make sense. 
We invested in a carbon footprint assessment with local sustainability firm Synergy Enterprises and got our first report in 2013. We learned that shipping and travelling to our global supply chain partners made up the largest portion of our operations, so we committed to changing the way we operated. 
We took a look at our supply chain and what it would take to source as many things as locally as we could. We shifted away from synthetic materials and switched to natural materials like organic cotton and wool. Some of the best cotton in the world is made in North America. We even took away polyester buttons replacing them with nut-based materials and removed plastic packaging and bags.
We then moved the manufacturing back to North America and switched the business model from wholesale to direct-to-consumer, which took out things like trade shows, sending of samples, sales trips and global distributors. In 2018, we opened our own manufacturing facility, as well as launching our lifetime repairs program. 
By 2020, we'd reduced our business's carbon footprint by 72%.

Tell us about opening your own factory.
Unlike other brands, we make our own clothing. It's unfortunate that a lot of clothing-based jobs are sent overseas right now, but we're building that back. We have talented and experienced members of our team working alongside young makers right out of college and university. People want to make things with their hands again. 
Our factory and headquarters are located in an old power station in Victoria on Vancouver Island, we moved into this spot in 2021. It's a combined retail space, as well as being our factory and warehouse. This means that people can talk to our team making the clothes, creating a much stronger relationship around what it takes to create the garments we wear.
We used to know who made our clothes, it's only in relatively recent years that we've become disconnected from those people. We're caught up in fast fashion, the idea that clothing is something you throw away. But we design and build what we call legacy clothing items. Pieces that are timeless and made to remain in your wardrobe for decades, even passed along to future generations.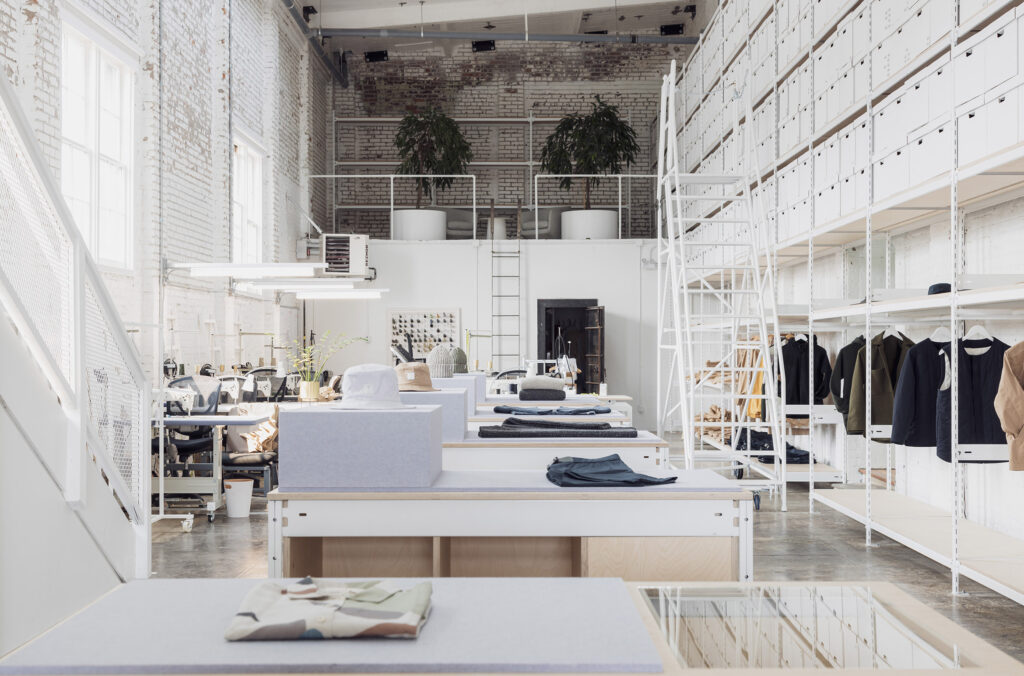 How does the lifetime repairs program play into things?
We believe that the most sustainable garment is the one you keep wearing, so we have a lifetime repairs program. If people aren't able to come into the store or shipping is a long way, we'll source local companies and people who can help with the repair. 
View this post on Instagram
We recently acquired our sister company, Frankie Collective, which upcycles clothing destined for landfill.  By reusing and repurposing, we can create a circular fashion economy, which can lessen the impact of an item by 80%. We've been working with some big brands in this space, like North Face, Adidas and Nike. 

Have these changes affected your bottom line?
We're proof that making money and doing good in the world can co-exist. The changes we've made have reduced our carbon footprint by a fifth and profits are on par, if not up.
We believe that sound business and doing good work can co-exist. Our pieces are priced in such a way that ensures that we do not sacrifice during any part of the process used to make them. 
What can consumers take away from the work you're doing?
We see ourselves as educators. We want to shed light on every aspect of the manufacturing process and peel back the layers to make it transparent for consumers and other businesses. We want people to be able to make informed decisions when purchasing clothes.
If I were to give some tips to consumers I'd say fewer pieces but better pieces. And when you are buying, get inquisitive and ask questions. What is this made out of? Who made it? If you can't get answers, walk away.