In the Whistler Changemaker series, we're connecting with local people, businesses and organizations who are putting sustainability at the forefront of what they do.
The Whistler community cares deeply for the environment and acknowledges that we all have a role to play in preserving the area's natural beauty. The Municipality's Big Moves Strategy sets out a plan to act on climate change and reduce emissions by 50% below 2007 levels by 2030, and in the long-term, reach net zero. To achieve this target, Whistler is collectively taking action to move beyond the car, reduce visitor travel emissions, decarbonize passenger and commercial vehicles, reduce building emissions, and shift towards lower carbon consumption.
We know that this kind of work is an ongoing journey as we all learn how we can contribute to a more sustainable future. Join our Changemaker host, Mike Douglas, a member-at-large of Protect Our Winters Canada, pro skier, enviro nerd and Whistler local as he shines a light on what's happening in Whistler to move the dial.
In video #1, we touch base with Sam Best, Chairperson of the Ziptrek Giants and Ziptrek Course Supervisor. He chatted with Mike about the ripple effects of sustainable education, developing a sustainability committee, giving back to the community and where to get good cake in Whistler. 
When did Ziptrek start implementing sustainable practices?
Education was a focus from day one of operations. Ziptrek Ecotours was started by Charles Steele and David Udow in 2002 to share teachings about the concept of sustainability using The Natural Step framework. The zipline tours provide an exhilarating way to engage guests in this conversation and education.
To date, we have zipped well over a million guests and each of these guests has experienced our eco-curriculum. We believe our biggest impact is the education we deliver and the potential ripple effect as those guests take those lessons and habits home and pass them on to their family and friends.
How have you integrated The Natural Step into what you do?
We translated the program's Four Basic Rules into what we called Care Instructions. The name change was to make the concept more approachable for our guests. We have further simplified the Care Instructions by naming them:
Take – the idea is to TAKE less, to lower our dependence on fossil fuels and heavy metals from inside the earth.

Make – the idea is to MAKE less products to reduce our dependence on things that can't break down in an ecosystem. For example plastic, chemicals, synthetic products and toxins.

Break – the idea is to BREAK less of the ecosystems on the earth's surface. Degradation, pollution, habitat destruction, etc.

Cake – the idea is to share the CAKE; spreading wealth. We need to make sure that we are ensuring everyone on the earth is able to meet their basic needs. No one will prioritize protecting the ecosystem over having enough water, food or shelter.
We use examples from the natural environment we operate in to segue into the care instructions and then share examples of what Ziptrek, Whistler and other organizations and countries are doing internationally to meet these care instructions.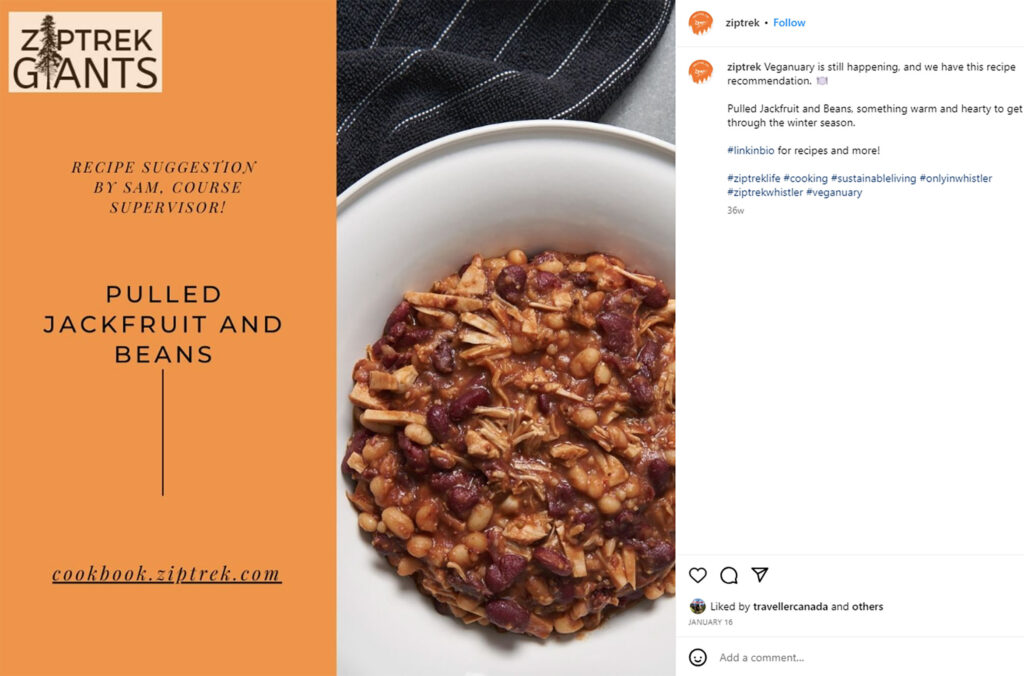 How do you make sure your infrastructure aligns with the Care Instructions?
The wood we have chosen to use is not treated with any preservatives. It is natural red cedar and it will decompose on the forest floor and reintegrate into the ecosystem if we deconstruct our course. The ziplines and all hardware are steel and can be recycled.
The platforms and ziplines are attached to the trees in such a way that the trees can continue to grow without issue around the hardware and if we remove the hardware they will continue to grow; kind of like an ear piercing.
Compared to other activities and sports in Whistler it's very low impact. We do very little new construction and any new construction that we do is done in a thoughtful and sensitive manner.
Can you tell us about your sustainability committee?
The Ziptrek Giants sustainability committee was rebooted in 2019 by a team of passionate Ziptrek staff. The Giants have three main purposes.
To e

nsure the eco curriculum remains up-to-date and relevant so that it is engaging for our guides and our guests. We try to keep it relatable by covering current events related to sustainability.

Organize educational workshops and events for staff and members of the public. These events are focused on different topics within sustainability. The staff-only events are designed to entertain and teach our team about how they can live lighter on the earth, which they can then in turn share with our guests. The public events tend to be fundraisers combined with educational workshops. Examples of some events from the last three years would be;

The Radicals Film

Screening –  A public and staff event. Educational workshop and fundraising initiative for the Xwísten, Tahltan, Musgamagw, Dzawada'enuxw, and Haida nations featured in the film to aid in their ongoing fight for land rights. 

eXXpedition

Event – A public and staff event. Storytelling from a crew member (and former Ziptrek guide) of the eXXpedition ocean plastic study sailing expedition. We did a workshop on the microplastic pollution crisis and raised funds for eXXpedition.

Personal Care Made Sustainable –  A workshop for staff on soap making with a presentation on making more sustainable choices within personal care products.

Sustainable Clothing –  A staff event. Clothing swap and workshop on clothing care, textile awareness and the environmental and social impact of fast fashion – 60 items given a second life.

No Meat November, Veganuary, Giants Cookbook, Online cooking meetups – Various events aimed at encouraging a plant-based or more sustainable diet culminating in the production of our own

online cookbook

which can be accessed via a QR code by all guests who come on tour. We did online cooking meetups during the pandemic when social distancing/bubbles were being enforced, which allowed staff to socialize while cooking meals from the cookbook together, virtually.

Raise funds for various local and international charitable organizations. We do this through two main channels. Our familiarization and local tour program, which we run in the spring and fall. Since

2020 it has raised over $33k for the Whistler Community Services Society and $15k for the Squamish Lil'wat Cultural Centre. We also have a merchandise donation program with 10% of sales and GoPro rentals go to charities selected by winners of the Golden Helmet, our employee of the month award. Employees are encouraged to select charities that align with Ziptrek's values of environmental and social sustainability. We have raised a

total of $43k for these charities since 2020, but we've also been supporting charities, fundraisers and various events since our inception through in-kind donations, which at this stage would represent an additional few hundred thousand dollars.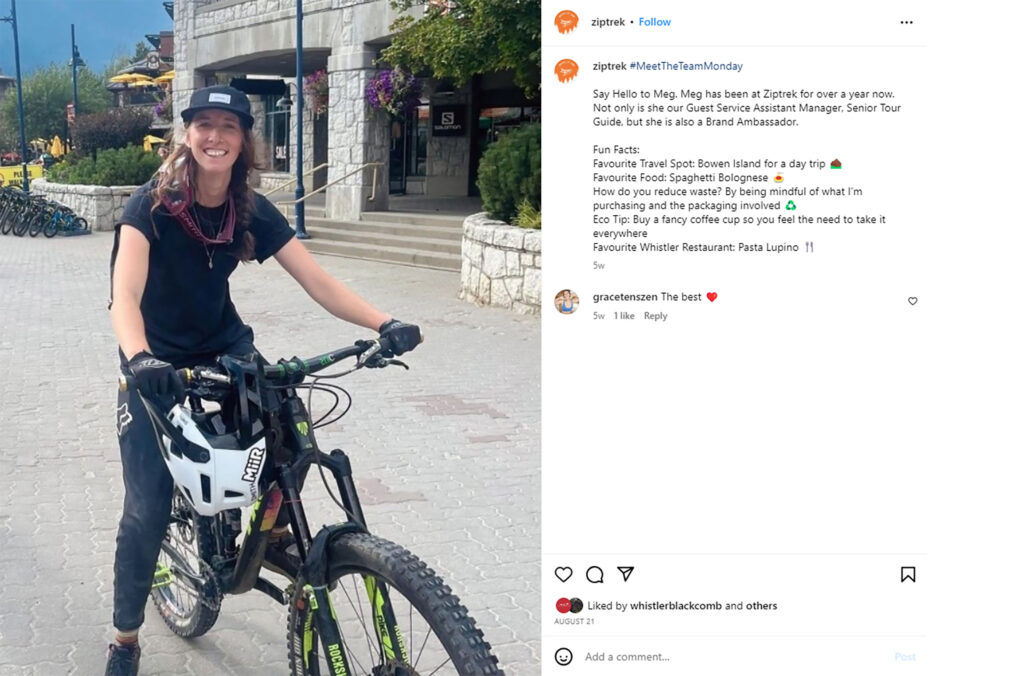 How does the Ziptrek team feel about these sustainable initiatives?
An intentional, positive side effect of Ziptrek's passion for sustainability is the recruitment and retention of employees. Our workforce, particularly Gen Z and young Millennials (our typical Tour Guide / Guest Service Agent age range) care about making a difference, and the creation of the Ziptrek Giants gives them the space and opportunity to make their ideas heard and acted on. Our staff are passionate people and are always looking for ways for us to improve our commitment to sustainability. Their genuine enthusiasm is a valuable aspect of our organization and critical in order to put us at the forefront of Whistler businesses striving to do better.
In the video, you mention Ziptrek wants to become carbon neutral without offsetting, why did you choose to go about it this way?
Our belief as an organization is that there isn't enough transparency in carbon offsetting and a lot of the organizations that offer carbon offsets are not investing in meaningful projects that sequester carbon without a negative side effect (e.g. displacement of families in the Amazon, accountability of actual reforestation).
Instead, our focus is decarbonizing our operation and striving for net zero emissions without carbon offsetting. Realistically we are already quite close. Our biggest emitters are the shuttle vehicles that we use when uploading via the existing lift infrastructure is not an option. When there's a 15-passenger, 4×4, electric van available we'll be first in line to buy it and use it to access our course. We're transparent with our staff and guests that we are not perfect, but we are always striving to be better.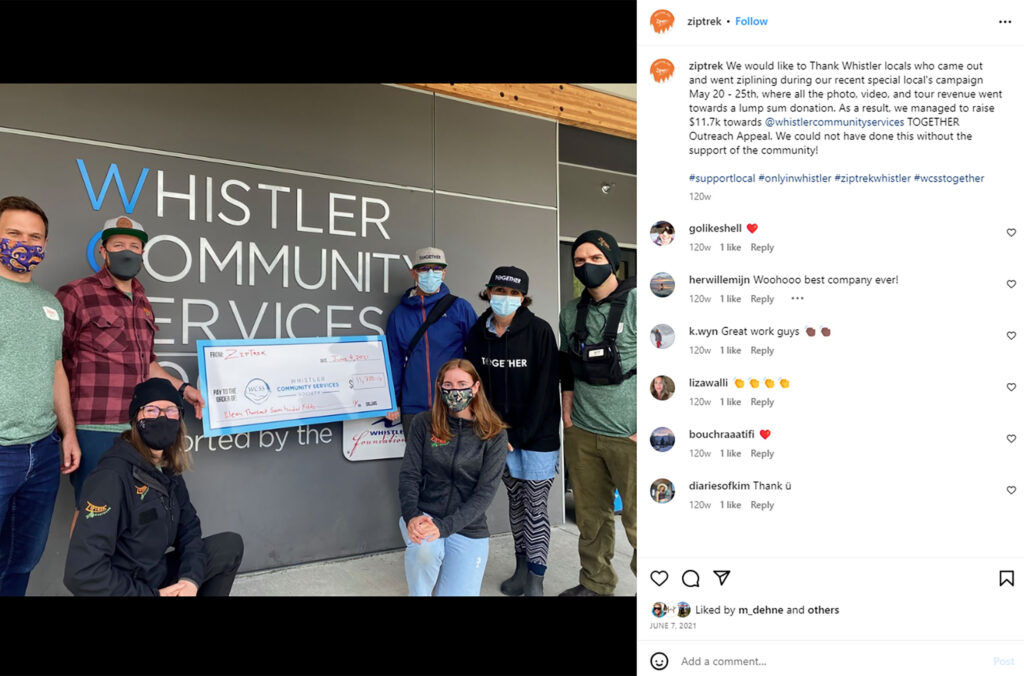 What are you working on right now that you're excited about?
Our circular economy achievements in-house have taken a great turn this season. Inspired by the work of our Sustainable Clothing workshop we started using a local textile repair business to bring back to life broken radio packs and torn rain jackets. The disposal of our critical inventory has been carefully monitored to reduce landfill, and our Giants Corner has had its sewing kits regularly used by our staff for their own clothing repairs, including our high vis jackets for the Après Winter tours being repaired ahead of the snow season.
One of our Guest Service Supervisors has recently created an Energy Planning proposal that looks at the sphere of influence of Ziptrek's operations. With discussions starting, we're already finding ways in which we can reduce our carbon footprint and create better ways of operating our Whistler site to work towards carbon neutrality. Although the options for electric passenger 4×4 vehicles are still limited, we're excited to be making a shift to other electric options that will replace gas dependency / consumption. 
We're always looking for ways to engage our staff with community events and this month is no exception! Alongside AWARE's great events this month, the Fall GoByBike fortnight is upcoming and we're adding our own prizes and incentives for the team. Our Spring GoByBike team efforts put in 1,188 kilometres during the week. That's like riding from Whistler to Kamloops and back – twice! Ultimately, we saved 258 kilograms of greenhouse gasses from being emitted into the atmosphere. 
Where's your favourite place to get cake in Whistler?
Hands down, purebread.
This blog and video are part of the Changemaker Series. Stay tuned for episodes two and three dropping in mid-October. We hope to see you on the ziplines this season!