Illustrations by Nikkey Dawn, words by Tina Wickman and Dee Raffo.
Whether you believe in the zodiac or think it's a load of, um, hooey, it's hard to get to that page in the paper and not quickly take a look to see what it means when harmonious Venus swings into opposition with transformative Uranus in your twelfth house of healing.
We're a curious (and open-minded) bunch here at the Insider, so we decided to take a look at some of the most common traits of each star sign and match them with experiences in Whistler. Do any of these readings ring true for you?
Aries: March 21 – April 19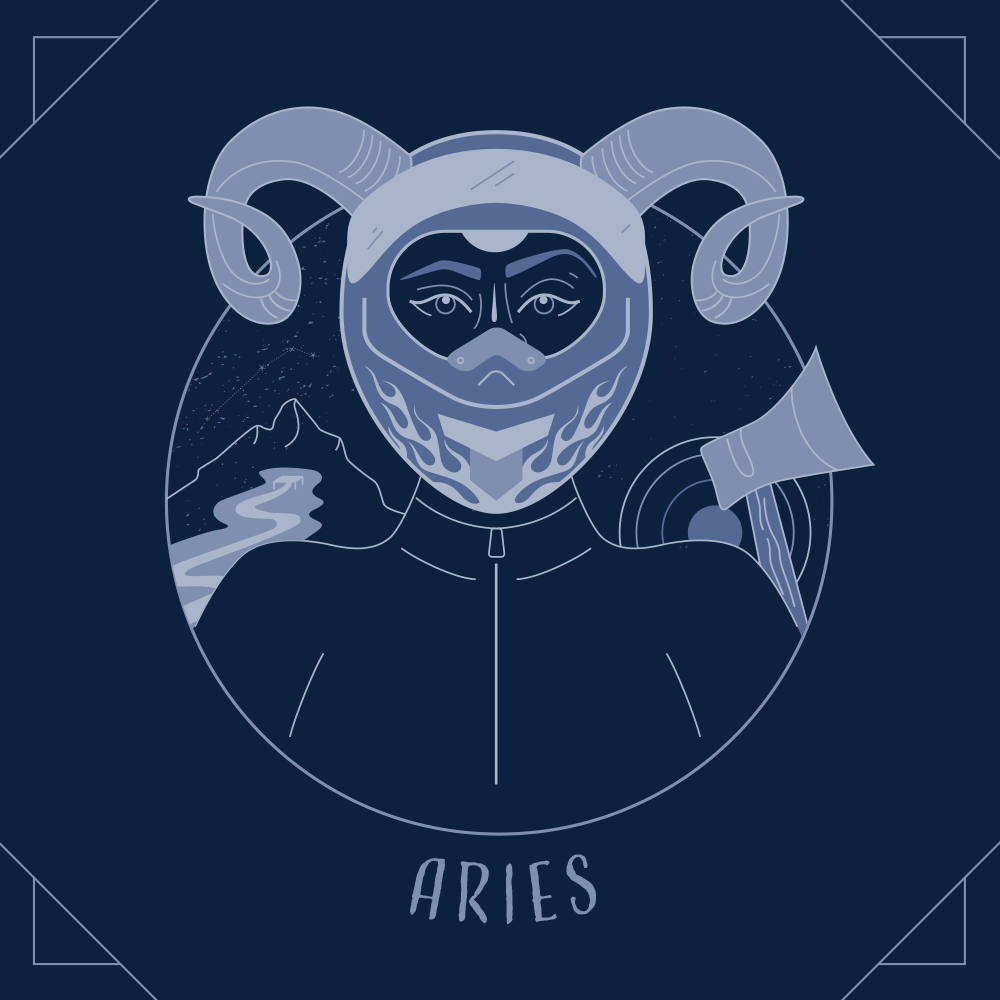 Rams are natural born leaders, confident and courageous. They have a leap first, think later attitude and are positive and playful travel companions, as long as you don't mind taking their lead.
Star Fact: Ski run, Chunky's Choice was named after Chunky Woodward (March 23), one of the founding directors of Garibaldi Lifts Ltd., the company that put Whistler on the Olympic bid map. Rams also share their birthdays with fellow Canadians, singer Jann Arden (March 27) and actor Seth Rogen (April 15).
Food: This Mars-ruled fire sign likes things hot, so we'd advise an après plan that involves some spicy chicken wings; try Dubh Linn Gate Irish Pub, Earls Kitchen + Bar and El Furniture Warehouse. Indian food is what we also think of when we talk about heat and we have three in Whistler Village as well as two Mexican restaurants (just take a look at the dining guide).
Activities: As this hot-blooded, adventurous stick of dynamite desires to be first and lead the charge, the Whistler Sliding Centre's Public Bobsleigh and Skeleton experiences (available in the winter and summer months) offer the Ram the opportunity to literally dive headfirst.
Fuelling the deity's war-like persona, Whistler Axe Throwing ignites the competitive nature of this divine ruler and sparks their inner desire to reign supreme. They also like to kick up a storm on the dancefloor, so check out Whistler's nightlife venues, so they can display some of their feisty dance moves.
Taurus: April 20 – May 20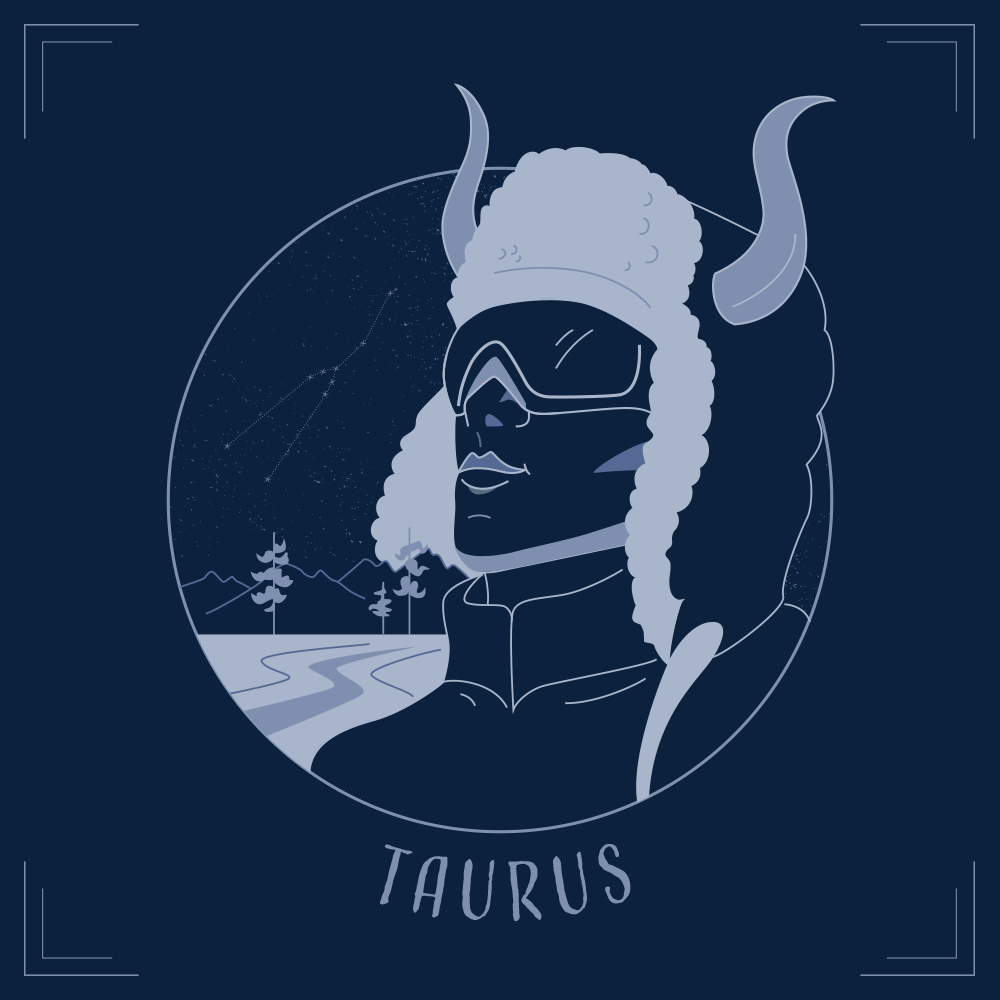 Taureans are responsible, practical and the buddy you can rely on to get you down the hill at the end of the day when you've busted a tire or ski. As Taurus is ruled by Venus, this sun sign can be a tad materialistic with a requirement for beauty, luxury and comfort. Paradoxically, the Bull also has deep roots to the earth, so being in the wilds of Whistler feels just right.
Star Fact: Nancy Greene Raine (May 11) is one of Canada's most outstanding ski racers who once called Whistler home; just north of Whistler Village, Nancy Greene Drive bears her name. Want to ski with an Olympian? Britt Janyk (May 21) and Anastasia Skryabina (May 10) are two of Whistler's local athletes available for ride and ski lessons.
Food: This Venus-ruled, earth sign does not eat to live – they live to eat. Wow them with a Four Seasons Balcony Breakfast (you have to be staying there). Imagine a tiered, high tea-style stand, but filled with full-sized breakfast items like pancakes, avocado toast, poached eggs on potatoes, sausage and bacon. The best part? It's in-room dining so your hedonistic (if practical) Taurus can stay in his / her PJs.
If you're heading for après with the Bull, maybe opt for a mountain of nachos and be prepared to elbow your way in, Dusty's Bar & BBQ and the Garibaldi Lift Co. Bar & Grill (GLC) are well-known for their generous nacho platters (tip – opt for all the extras). For dinner, Il Caminetto with its Italian artisanal flair, Quattro for its deliciously hearty pasta portions and Alta Bistro, with its dedication to local, seasonal produce, are perfect locations to satisfy the Bull's quest for fine food.
Activities & Events: A Bull may not be made for wandering around a china shop, but they do like a bit of retail therapy. Make sure you carve out time for them to explore Whistler Village with its mix of sporting goods, fashion and gift stores. As they're not afraid of hard work, activities like climbing (summer and winter), Nordic skiing and hiking are good options as you have to put in some sweat equity to get the reward – epic mountain views.
For that luxurious unwind time, book them a few appointments at one of Whistler's spas, they might be especially drawn to the earthiness of the Heaven & Earth treatment at The Spa at Nita Lake or the Ayurvedic treatments available at Vida Spa at Fairmont Chateau Whistler. They do love a romantic gesture and as they like to work with their hands, a paint night might be just the creative ticket.
Gemini: May 21 – June 20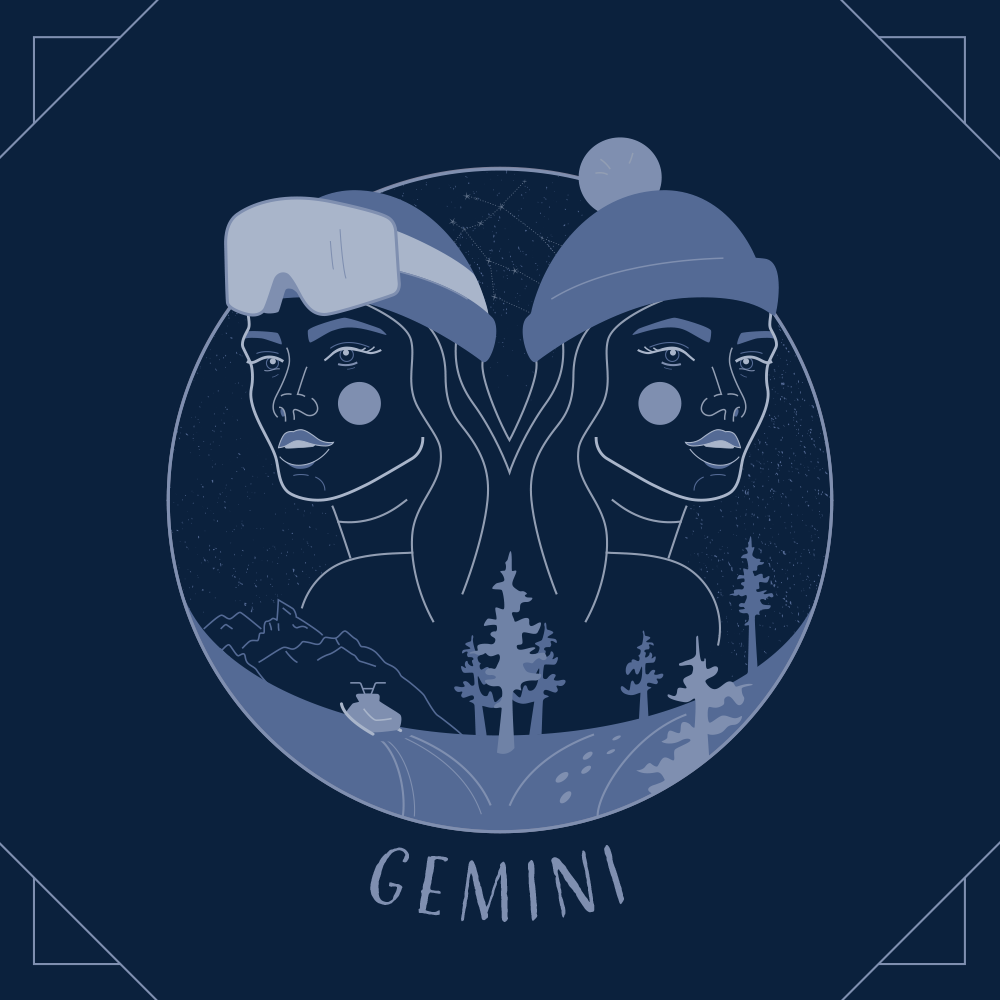 Geminis make great travel companions as they love to talk and will often find out exactly where you can find the best eggs benedict on a Sunday morning. They're adaptable, curious and fun, but they can be unpredictable, so make sure you're ready!
Star Fact: Austin Powers may have been British, but the quick-witted multiple personalities of Mike Myers (May 25) are pure Canadian, Gemini brilliance. Local freestyle skier, Marielle Thompson (June 15), who competed in the 2014 Winter Olympic and Paralympic Games in Sochi and won a gold medal, definitely leverages her air sign connection!
Food: Sweet and salty describes the taste buds of this duelling twin duo. Finding treats for those with a sweet tooth in Whistler is not hard. For the ultimate sugar overload, this air sign could embrace their mountain high at Fairmont Chateau Whistler's Portobello with a truly Canadian-style Maple Bacon Donut. On the savoury and salty side, their porchetta ciabatta sandwich has just the right amount of crackling crunch. For dinner, try Basalt Wine + Salumeria, salt is in the name and in the cured meats on their charcuterie boards, and they have a great dessert wine list for that sweet tooth!
Activities: Geminis love to chat and meet new people, so guided activities where they get the chance to ask questions, learn something new and connect with others work really well. There are lots to choose from in Whistler, we'd suggest starting with a guided sightseeing tour, so they can get a local's take on the lay of the land.
You might want to take a yin to your yang activity approach to appease both twins and mix an adrenaline-powered experience like snowmobiling or an off-road buggy adventure with a meditative snowshoe or forest bathing hike. You might have to choose for them though as they can be indecisive!
Geminis are smart cookies, so an evening spent getting out of a pirate ship or rabbit hole at Escape! Whistler is a great idea, also a docent-led tour of the Audain Art Museum.
Cancer: June 21 – July 22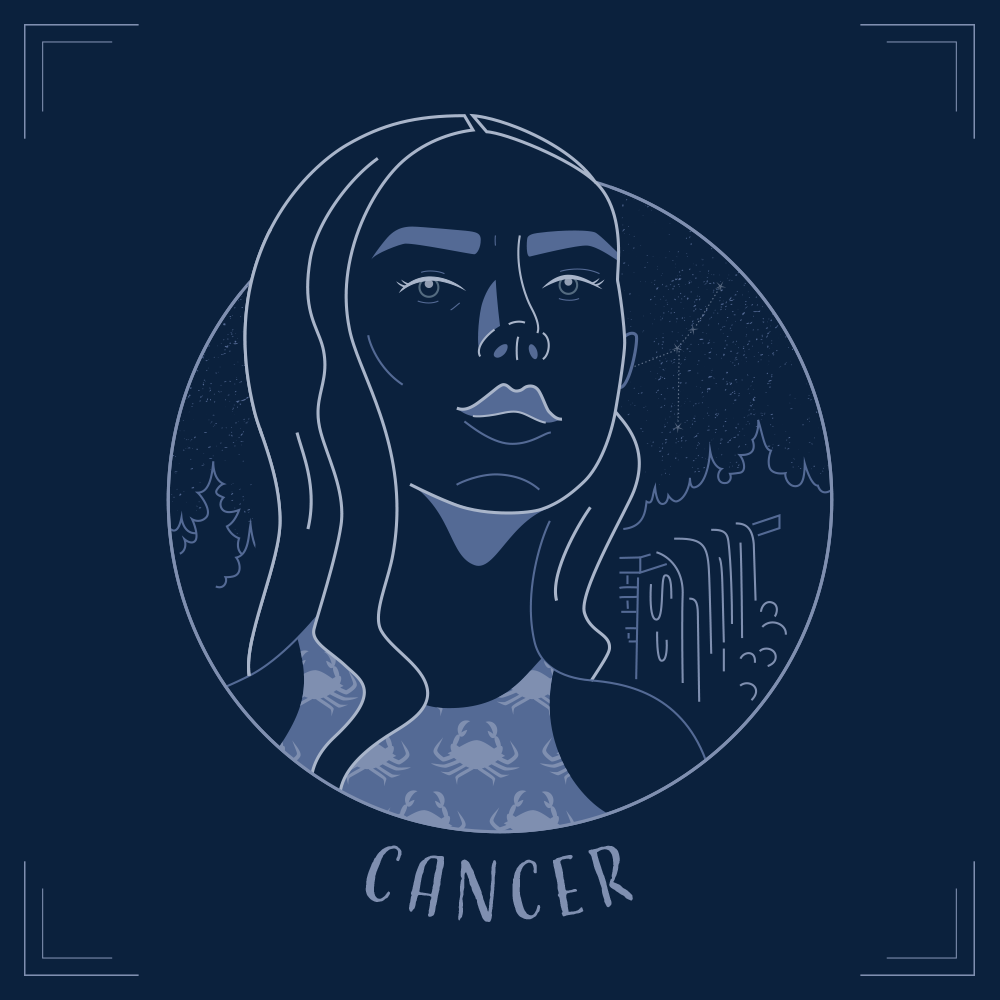 These emotional and highly imaginative crabs make loyal friends and travel buddies but beware of full moons as they can become a bit moody when their ruling planet takes control (we didn't tell you that).
Star Fact: Canadian Snowboarder, Ross Rebagliati (July 14), used to call Whistler home. You will find his name connected to one of Whistler's beautiful parks, Rebagliati Park, and you can ride Ross's Gold ski run on Blackcomb Mountain. Celeb alert! Comic geniuses Ricky Gervais (June 25) and the legendary Robin Williams (July 21) have sported their funny bone and ski legs in Whistler.
Food: A little on the cannibalistic side, Cancerians tend to like, well, um, crab. As well as oysters and other seafood. Knowing this, we'd suggest a reservation at Rimrock Cafe and some patio, après action at the Bearfoot Bistro and Araxi Restaurant + Oyster Bar.
They do have a romantic streak and this winter, the Wildflower restaurant at the Fairmont Chateau Whistler is constructing snow globes on their patio – imagine your very own fairy light laden globe, pure magic.
These crabs also love their dairy, so for a sweet treat, you could take them for ice cream; Cows Whistler and The Rocky Mountain Chocolate Factory both have over 30 flavours on offer.
Activities: Crabs looking to soothe the gravitational pull of the moon (read: avoid being moody) should take a dip in the healing and tranquil power of water. Lift those spirits with a me day trip to the Scandinave Spa or enjoy the serene, lakeside location of The Spa at Nita Lake Lodge.
Life's overstimulation can be hard to escape for a Cancerian, but fresh air and the natural healing power of forest bathing could wash away their funk and rejuvenate their buzz for life. In the summer months, we'd suggest some day hikes and in winter we'd say grab some snowshoes and find some space. Take a read of our Rejuvenation & Invigoration: Whistler Spa Pairings post for some more ideas.
To ignite that high-functioning imagination we'd suggest a twilight trip to Vallea Lumina (available year-round); a multimedia experience in the forest that has just the right amount of magic for these whimsical crustaceans.
Leo: July 23 – August 22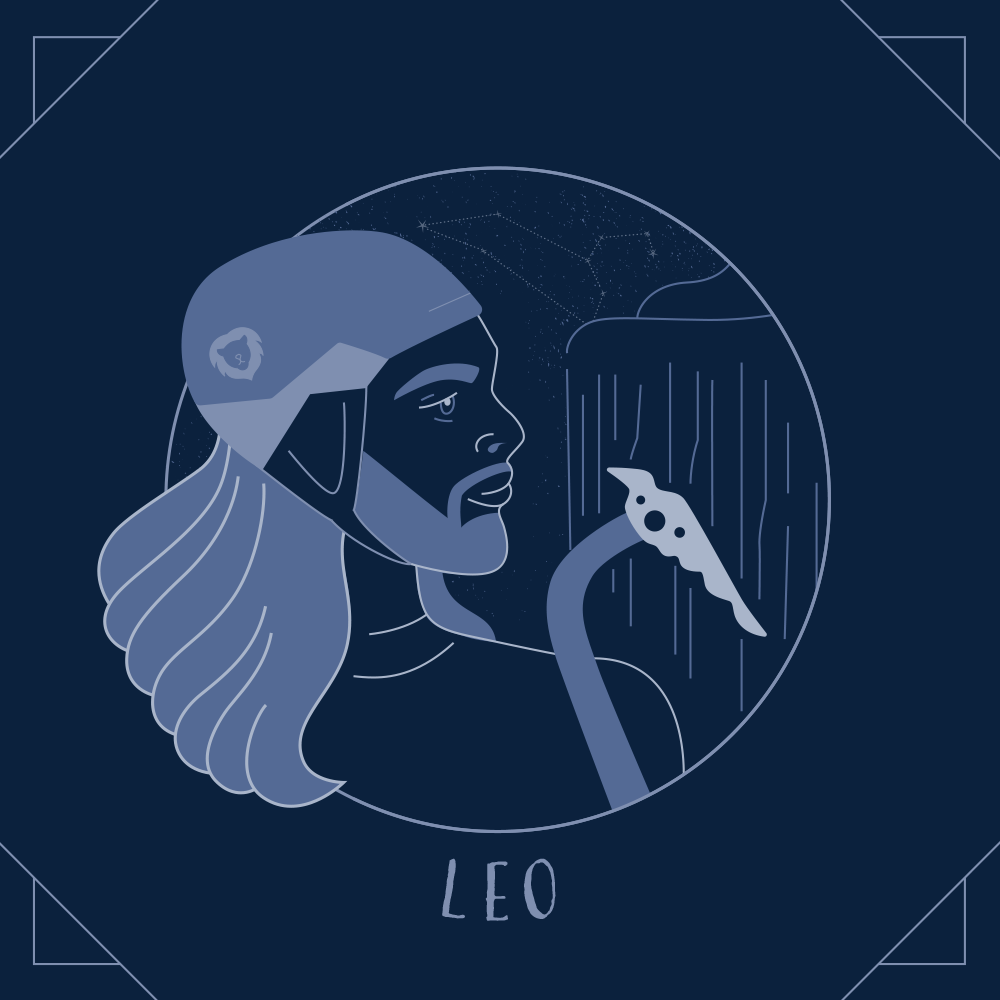 Leos are passionate, creative and have a great sense of humour.  When planning group vacations, leave it to their enthusiastic sales persona to sell it to the masses, winning over anyone sat on the fence.
Star Fact: Golf course architect Robert Trent Jones Jr. (July 24) used his Leo-like creativity to design the award-winning Fairmont Chateau Whistler Golf Club, a natural beauty that resides on the flank of Blackcomb Mountain.
Food: Leos love food and they like it festive. Mediterranean flavours, like the ones at Caramba, will get this lion to roar with excitement, while the sparkling bar and glamorous interior of The Raven Room will have them pouncing on some of the finest cocktails in Whistler. The new and cozy Braidwood Tavern at the Four Seasons is another place for a Leo to lounge and regale their friends over a craft brew or cocktail.
Activities: There is no pussyfooting around this kitty as their hearts are as courageous as they are big, so they enjoy being pushed out of their comfort zones and will do the same for you. We'd suggest trying something like Via Ferrata or ice climbing. Heli-skiing will make them feel like they're the king / queen of the jungle, um, we mean mountain, and you can even visit an ice cave. What Leo would say no to a cave? And once they've done all that, they'll need a cozy place to retreat to for a catnap, so make sure your accommodation choice features super soft linens and a fireplace.
Check the events calendar for any comedy nights, Leos aren't alone in their love of a laugh and Whistler often plays hosts to international talent as well as its home-grown comedians who like to poke fun of where they live.
Leos also love to be the centre of attention, so make sure you line up a dancefloor for them to cut a rug on, or if they're a bit more on the sophisticated side, get them to sabre a bottle of bubbly at the Bearfoot Bistro with their friends cheering them on.
Virgo: August 23 – September 22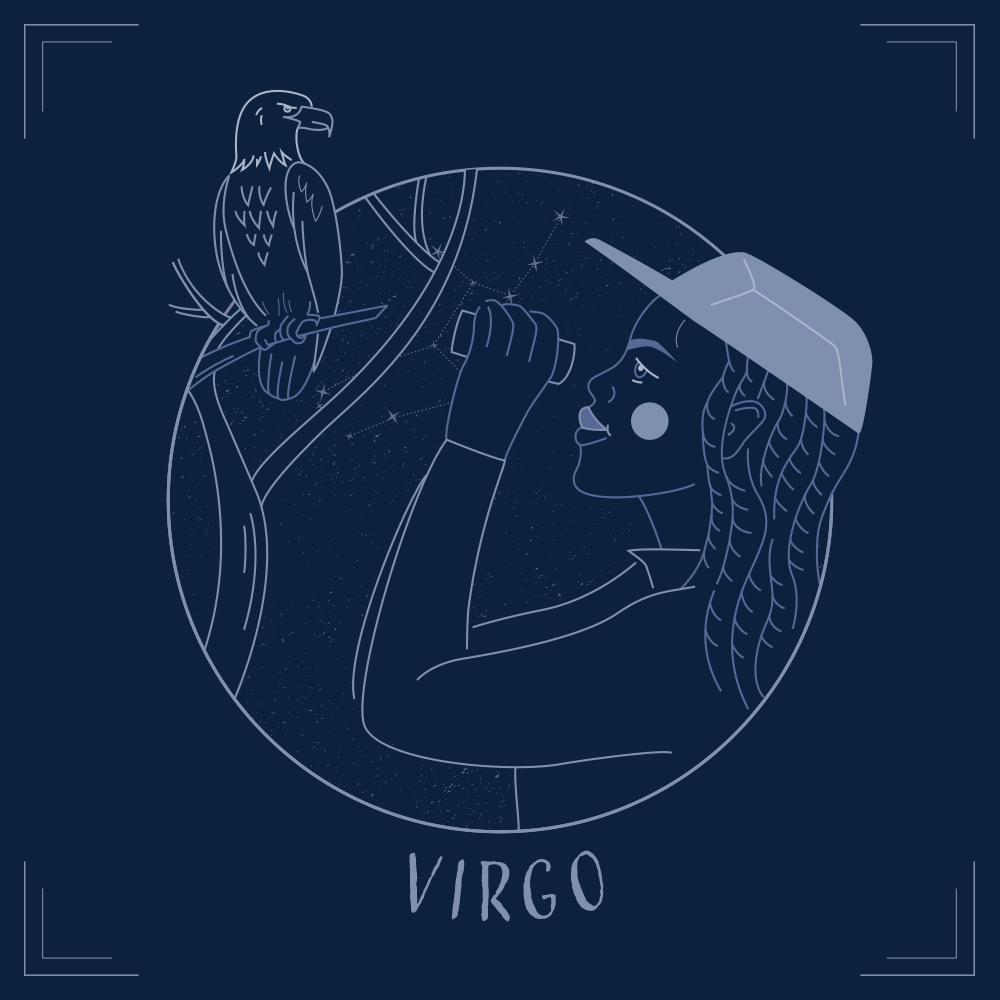 Ruled by Mercury, this earth sign is hardworking, kind, methodical and has an eye for detail. If you're travelling with one, check out their perfectly packed suitcase, and then get them to do yours.
Star Fact: Ski the famous Dave Murray (Sept. 9) ski run on Whistler Mountain. This Crazy Canuck and local legend was ranked third in the world at men's Downhill Skiing, so it's not surprising his name would grace the second-longest downhill run in the world. At the 2010 Olympic and Paralympic Winter Games, local Virgo legend, Ashleigh McIvor (September 15), achieved gold medal status in women's Ski Cross.
Food: Virgos, with the sign of the goddess of wheat and agriculture, care about what passes between their lips, so a read of the Insider's Guide: Vegetarian and Vegan Eats in Whistler would be time well spent. If they're looking for a quick and healthy snack, a trip to Hundo-P The Smoothie Bar, The Green Moustache Organic Cafe or Naked Sprout Juice Bar Café would be great for those picky Virgos.
Activities: Early morning walks and yoga sessions are a good way for a Virgo to start their day. They would also enjoy perusing the stalls at the Whistler Farmer's Market with its locally grown fresh produce, food, local art and homebrews. They love animals, so a bear viewing tour would be a great option in the spring, summer and fall, and the eagle float tours for the late fall and early winter.
Libra: September 23 – October 22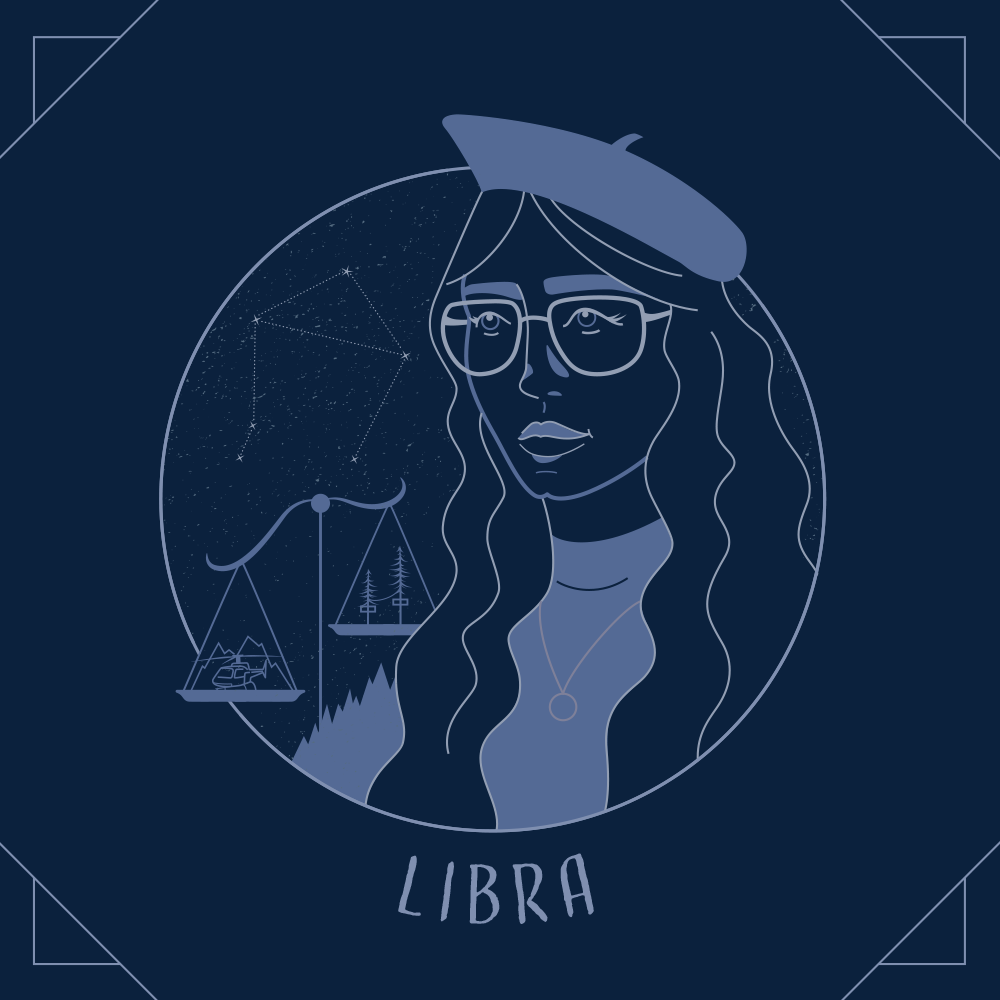 Libras are open-minded, well-balanced individuals with charming dispositions. Holding the status of being the most cooperative of the star signs, they can make for easy travel partners, however not the best decision-makers – stop weighing the pros and cons and just decide already.
Star Fact: Whistler's founding father, Franz Wilhelmsen (October 7), became the first president of Garibaldi Lifts Ltd. in 1964 and in 1998, Franz's favourite ski run was named after him. You can find it on Whistler Mountain if you head towards Red Chair.
Dining: As Libras are known to be indecisive, one way to get around this is to let someone else decide for them. When you dine at the Bearfoot Bistro that someone is Executive Chef Melissa Craig who typically designs several set menus over the course of the seasons. Thanks to ruling planet Venus, Libras do like a bit of sizzle, which means Teppan Village's Teppanyaki chefs will surprise and delight them as they fire up meals right in front of their eyes.
Symmetry can create a sense of harmonious beauty in the eyes of a Libra, so a curated charcuterie board goes down well. Take a read of The Art of Charcuterie in Whistler for tips on where to go.
Activities: Libra is an air sign, so we'd suggest an activity like ziplining, where you can fly like a bird over the mountains, or you could opt for a sightseeing tour via helicopter (available year-round) or floatplane (available late spring to early fall) and land on ancient glaciers for lunch.
Libras also love the arts, so a trip to the Audain Art Museum should make your to do list. Their permanent collection has nearly 200 works of art from coastal British Columbia, including an outstanding collection of nineteenth century Northwest Coast masks and one of Canada's strongest Emily Carr collections. Read more in Culture Up: How to Get the Most from a Visit to the Audain Art Museum in Whistler.
Scorpio: October 23 –November 21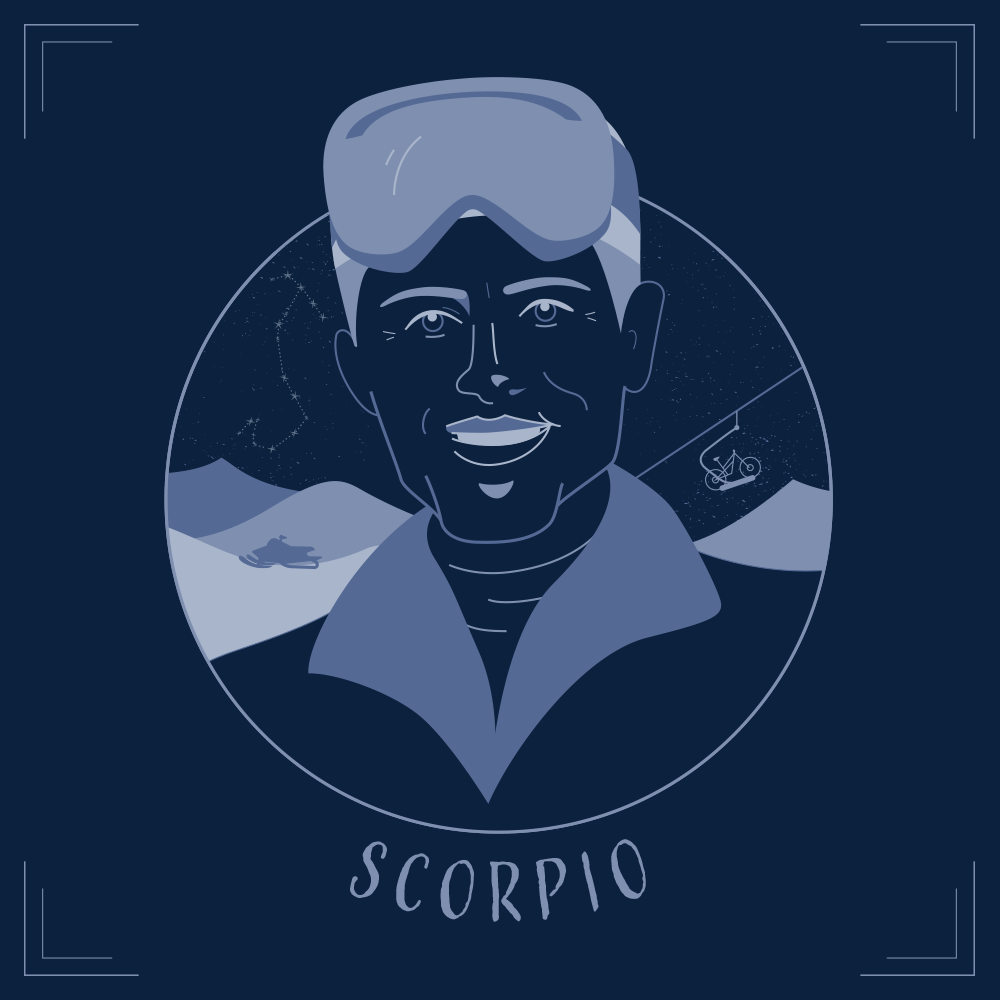 Scorpios are intense, fierce and passionate. However, don't confuse passionate with compassionate, as a Scorpio will passionately enjoy watching a good yard sale on the slopes! 
Star Fact: Spunky, Canadian actors Ryan Reynolds (October 23) and Ryan Gosling (November 12) seem to have lots in common, their name, nationality, star sign, career and choice of ski resort – Whistler.
Food: Scorpios have a love for the exotic when it comes to their taste buds. This passionate pincher can find all levels of spice intensity at hotspots like Tandoori Grill and Mexican Corner (home of the spicy jalapeño margarita). For more suggestions, they should take a look at Insider's Guide: International Food in Whistler.
Activities: Scorpios are not afraid to give it their all, so Whistler's gamut of outdoor adventures is perfect for them. In the winter months, we'd suggest feeding their need for speed with a snowmobile tour or challenging them to scale the mountain one ice axe move at a time.
In the summer, they should head straight to the Whistler Mountain Bike Park or out on the water for whitewater rafting or jet boating.
Sagittarius: November 22 – December 21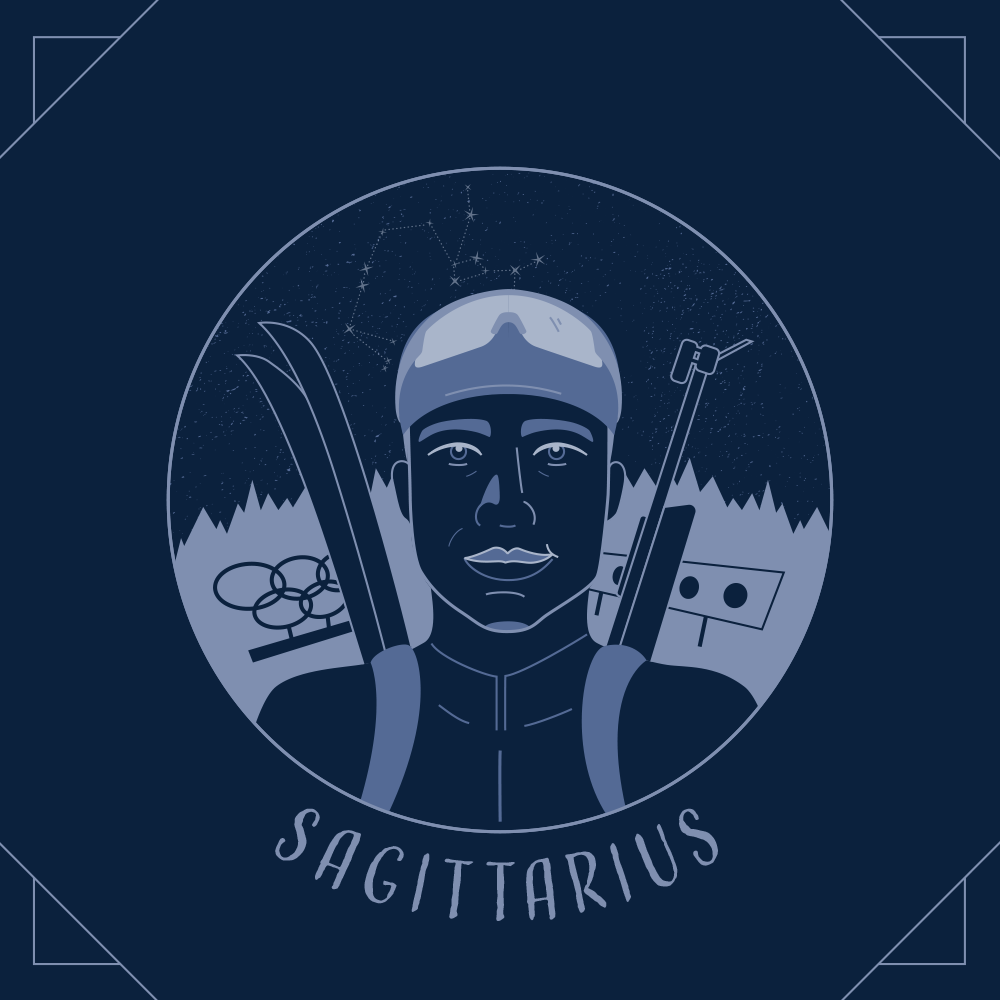 Sagittarius, the wild child of the zodiac, is courageous, curious and an energetic adventurer with a knack for doing everything the hard way.
Star Fact: Canada's iconic painter and writer Emily Carr (December 13), gained fame with her Pacific Northwest Coast landscapes, which you can wow your Sagittarius with at the Audain Art Museum. Local Olympian Mercedes Nicoll (December 5) and Whistler's logging superstar, Seppo Makinen (December 6) also share this wildly energetic star sign. Seppo managed the clearing of lots of runs on both Whistler and Blackcomb mountains. This Finnish lumberjack's namesake can be found on the last run he cleared, located off the Garbonzo Express chair on Whistler Mountain.
Food: Ruled by Jupiter, the Archer is always on the move and food needs to be delivered at a spirited pace, so we looked for food options they could grab on the go in Whistler. Main Street is the place for a Sagittarius, with restaurants offering French, Italian, Mexican and Australian cuisine, all with take-out options catering to this adventure seeker on a mission. This astrological hunter would feel at home in any restaurant with wild game on the menu, but we'd like to point out the Beacon Burger, custom made with Canadian beef and served at the Beacon Pub & Eatery.
Activities: Sagittarius's warrior persona and curious mind are always seeking adventure. Let them burn off some steam by combining cross-country skiing and rifle shooting with a biathlon experience (available winter and summer).
To sate their curious mind, a trip to the Squamish Lil'wat Cultural Centre will give them a taste of the rich, indigenous history that's alive and thriving in Whistler today.
A warrior does need to relax now and again, so suggest a trip to the Scandinave Spa to calm this restless soul.
Capricorn: December 22 – January 19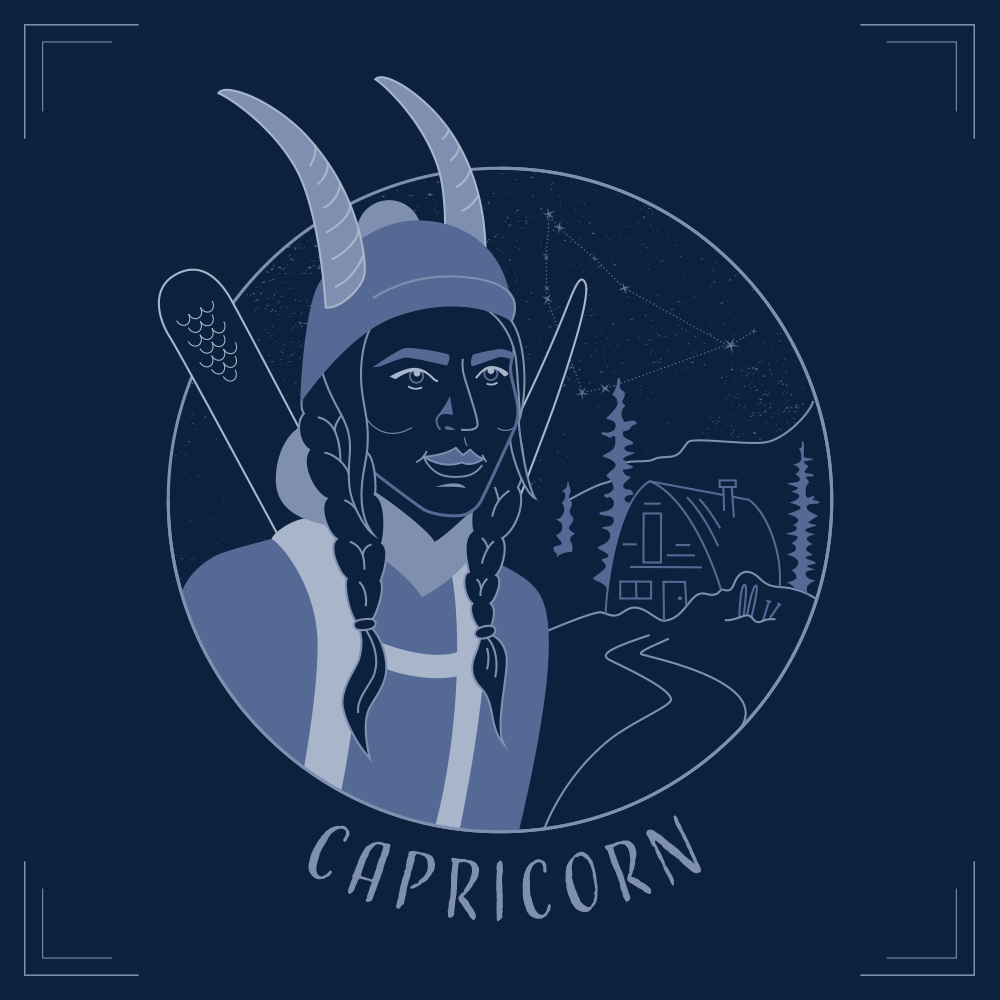 Capricorns are a reliable, ambitious and realistic tribe. If you're travelling with one, don't be surprised to find a Sudoku or crossword book tucked into their bag as they love keeping their mind engaged.
Star Fact: Former Whistler snowboard instructor, Justin Trudeau (December 25) became the leader of the Canadian Liberal Party in 2013 and Canada's 23rd Prime Minister in 2015. Professional skier Shane McConkey (December 30) was born in Vancouver. His father "Diamond Jim," was a Whistler pioneer who became Whistler Mountain's Ski Director in the 60s. Jim managed the ski school until 1980 and his name can be found on a steep black run on Whistler Mountain. Check out our guide to some of Whistler's other black-rated runs: Whistler Blackcomb's Black Diamond Bucket List.
Food: Capricorns tend to enjoy traditional foods with a diet high in protein and calcium, so bring on the meat and cheese! We'd suggest a night out at Hy's Steakhouse or Sidecut Modern Steak + Bar, Whistler's top-rated steak houses, and also Hunter Gather Eatery & Taphouse for their meat-filled sandwiches and charcuterie boards.
Activities: Their reliable nature makes them a good companion when exploring, so we'd take them on a backcountry ski trip or snowshoe adventure in the winter, and out hiking in the summer (goats do like rambling in the mountains).
This horned goat excels in games of insight, making them a great companion for a night out to Escape Whistler! With four different room options (beginner to advance) this activity offers an opportunity for Capricorns to display their know-it-all nature (in a non-irritating way).
Aquarius: January 20 – February 18
This fiercely independent air sign requires freedom of limitations, traditional expectations and the norms of life. They are deep thinkers who love helping others, but they can be a bit of a temperamental travel companion – just you try to bend them to your will.
Star Fact: Mountain bike superstar Brandon Semenuk (February 2) and local, ski hero Rob Boyd (February 15) both call Whistler home. Semenuk certainly pushes the limits, he's a three-time Freeride Mountain Bike World Tour Gold Medalist, five-time Red Bull Joyride winner, a 2013 Munich X-Games Silver Medalist and a 2008, 2016 and 2019 Red Bull Rampage winner, arguably one of the best freeride mountain bikers in history. Rob Boyd had a big ski career, but the most memorable moment was when he became the first Canadian alpine skier to win a downhill on home soil (in 1989), and that soil was Whistler. Whistlerites even made a song up about him, called Rob Boyd is God.
Food: Aquarians love to go against the grain and with this rebellious attitude, unusual pairings and non-traditional settings are a good call. Tapas style dining where you can mix and match fits this bill so head to Bar Oso for a decadent meal.
Activities: With their heads in the clouds, Aquarians could do well jumping back to reality from the 160 foot (50 metre) Whistler Bungee bridge. With their ache for freedom, we'd suggest they look into backcountry exploration, as this gets them out into the vast wilds of the mountains. And if they're being a bit moody, pack them off to the Scandinave Spa for some quiet time.
Pisces: February 19 – March 20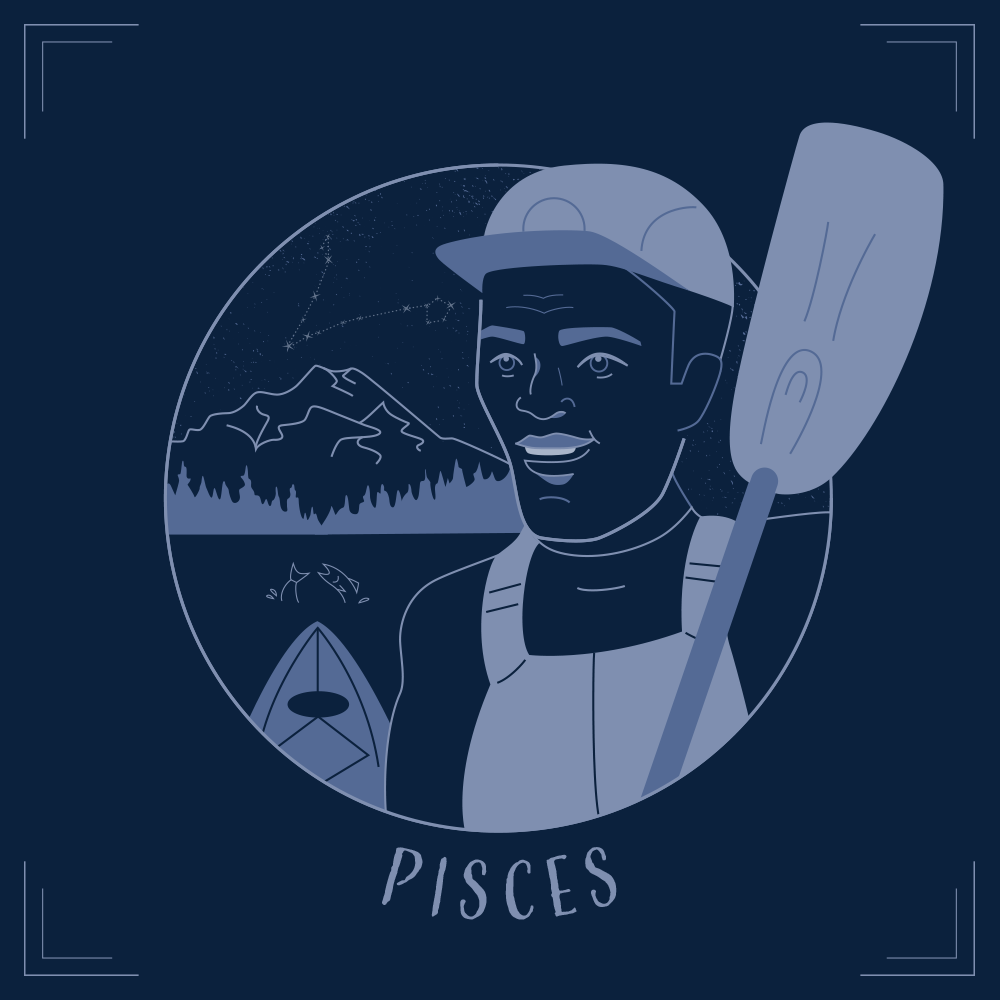 Pisces are notorious romantics, with oceans of empathy and imagination. However, many Pisces suffer from a questionable sense of direction and should grab a Whistler map before hitting the trails.
Star Fact: The late and celebrated Whistler artist Michael "Chili" Thom (February 27) was voted Whistler's favourite artist multiple times. Chili's Pisces personality not only shines through his beautifully coloured landscapes, but his works captured the spirit of a man who loved and honoured the surroundings he called home. Canadian pop idol, Justin Bieber (March 1) is also a Pisces and has been known to come to Whistler and head to the hockey rink for a game or two.
Food: Ruled by Neptune, it's no surprise the sign with two fish would feel at home in a resort located just hours from a coastline renowned for its Pacific Salmon. With over 11 sushi restaurants serving up oceans of options including Sushi Village, Nagomi Sushi and Sachi Sushi, Pisces can get choosy on where to cast their net.
Araxi is another place to head for fish-lovers as they have an oyster bar and famous, two-tier seafood tower. The salmon chowder served with bannock bread at the Thunderbird Cafe at the Squamish Lil'wat Cultural Centre is another one to add to this sign's must-eat list.
Activities: Pisces, tap into your merperson side at one of Whistler's lakes. In the summer, you can rent canoes, kayaks and paddleboards to explore the waterways, and in the winter you could always consider ice fishing or a refreshing ice dip, read more on the latter in Taking the Plunge: Cold-Water Dips in Whistler.
Whistler has always attracted artistic minds and you'll find a way to connect with these at the Maury Young Arts Centre, which highlights the work of local artists in their gallery. For a broader artistic outlook, this is another sign that would revel in the artwork on display at the Audain Art Museum.
As our Pisces are romantic types, we'd suggest ice skating under the stars at Whistler Olympic Plaza in the winter and a sunset Jeep tour in the summer months, read more in Best Places to Watch the Sunset in Whistler.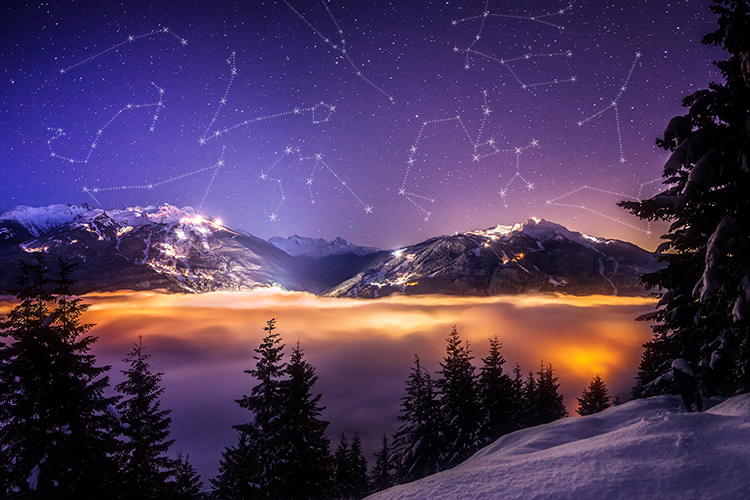 Depending on travel advisories, could a 2021 Whistler vacation be in the cards for you? Contact the Whistler.com wonder workers to customize a personalized vacation worthy of your divine personality.