Updated April 2023
There's a lot of uncertainty, stress and anxiety in the world right now. I'm a planner by nature, I like to know what's happening next, and right now that's hard to do, which makes me feel unsettled. One way I manage this feeling is to get out into nature. Walks in the forest are a ritual for me and when I spotted the term forest bathing, I realized I'd been doing this for years without knowing it.
When I asked my husband what he thought this was, his best guess involved a bathtub in the forest. Although that does sound like fun, forest bathing isn't some kind of expensive spa treatment or washing ritual, it's a time-out to embrace the stillness and quiet of a beautiful, wild place amongst the trees.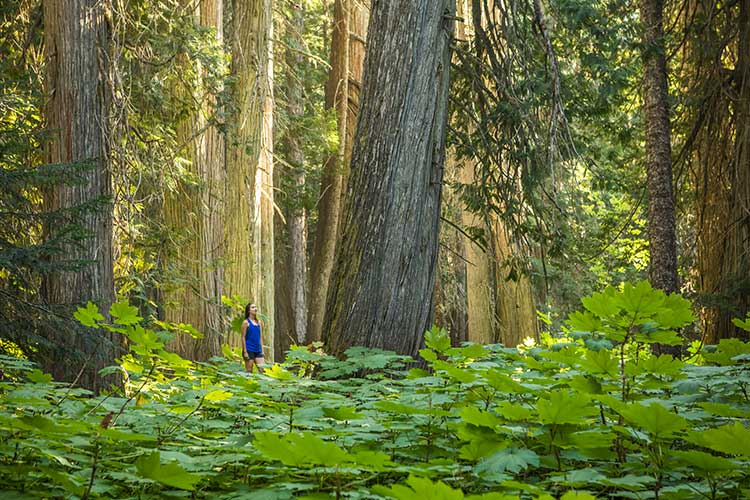 The History
Originating in Japan, shinrin-yoku (forest-bath) is the idea of taking in the forest through our senses – bathing in the forest atmosphere. Viewing it as much more than merely a recreational activity, the Japanese have included forest bathing as part of their preventative health care since the 1980s.
The Benefits
Forest bathing is good for you both mentally and physically. Its therapeutic benefits are reported to include a reduction in blood pressure, improvement in mood, better sleep and an overall increase in perceived happiness.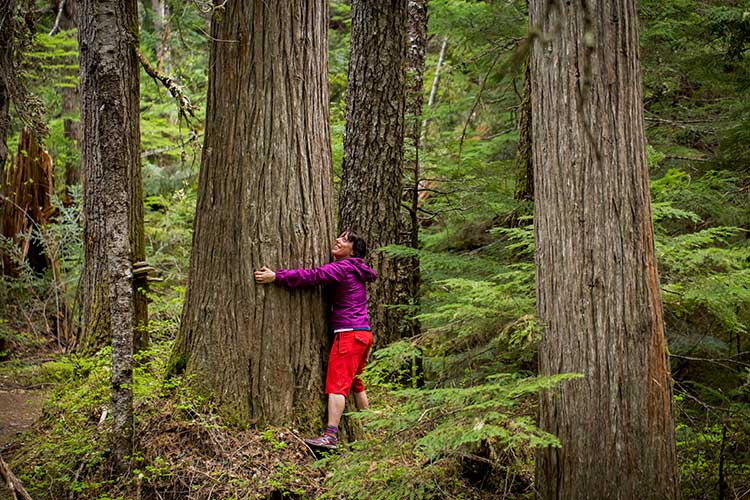 How It's Done
1. Ditch the Tech
Take a break from your tech to unplug and recharge in nature. For better or worse, phones have become an extension of our bodies. Being constantly connected and having the world at our fingertips certainly has its benefits, but it can also be a cause of stress. Whether it's from time-sucking endless scrolling, or feeling the pressure to share a perfectly curated version of your life, we could all benefit from a digital detox now and again.
We'd like to say leave your phone at home, but just in case you need it to navigate or for safety, we suggest turning it off and putting it at the bottom of your bag in a hard-to-reach spot so you're not tempted to look at it. If you're like me, you probably haven't turned it off in months – it could use a break too.
INSIDER TIP: Although forest bathing is a relaxed form of exploration, we still suggest you go prepared. Read Insider's Guide: Whistler Hiking Essentials for what to pack for your forest bathing session.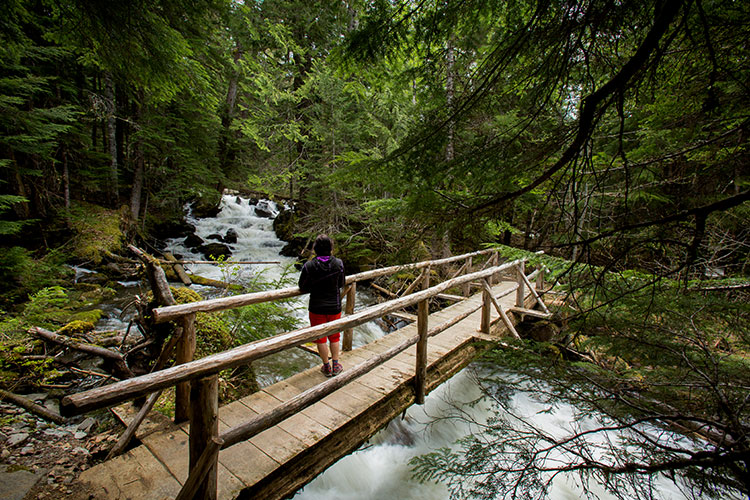 2. Embrace the Journey
In a town fueled by challenges, fitness and competitive stats it can feel like sacrilege to gear down and take it slow. I've found it helps to think of forest bathing as a mental tune-up, like giving your mind and emotions a stretch and relaxation session. When forest bathing, press pause on trying to physically challenge yourself and instead simply embrace the experience of tapping into what you're feeling with your senses. Turn off your Strava and wander with no set destination (just make sure you know how to get back home).
It's about the journey, not the destination.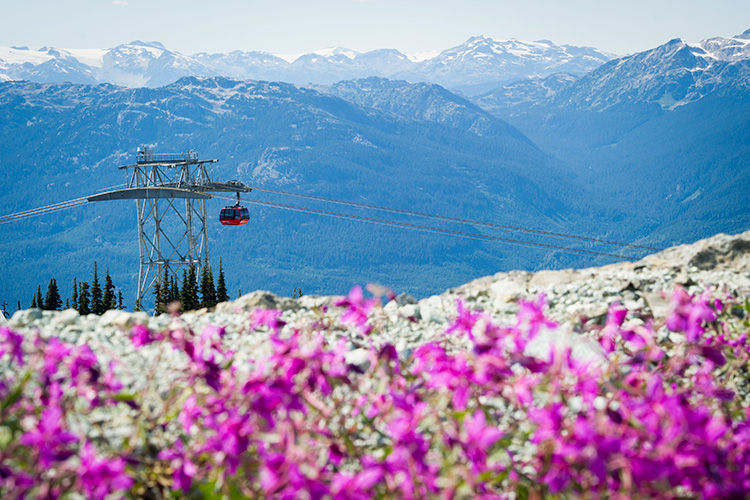 3. Tap Into Your Senses
Tapping into your five senses is a key component of forest bathing. While you walk, take some time to savour what you feel with each one. Breathe deeply, taste the freshness of the mountain air, take your shoes off and feel the earth under your feet, run your fingers along a leaf or branch, dip your hand into a stream, and marvel at the way the sun filters through the trees and warms your face.
I'll be the first to admit that meditation doesn't come naturally to me, so I reached out to Emily Kane, owner and teacher at Yogacara Whistler. She shared her tips for a deeper meditative experience when forest bathing.
"Travelling through the forest is a great time for a walking meditation. Start by becoming aware of every step you take. The transition from heel to toe and the support of the earth beneath you. When you've felt that physical connection, move it to your breath. The length of your inhale and exhale, and the space it creates in your body. Maintaining this presence helps you to fully absorb all of the incredible gifts that nature brings." Emily Kane, Yogacara Whistler.
4. Repeat
As with any practice, the more you do it, the better you'll get. With time, you'll find it easier to disconnect from your daily stresses and reconnect with your senses, becoming more relaxed and in tune with your thoughts and feelings.
I've found forest bathing particularly helpful when I feel stressed at work. When my thoughts are running a hundred miles an hour, taking some time to focus on nature prevents me from obsessing over my to-do list. Even if it's only for five minutes when I come back to my work, I feel refreshed and ready to go.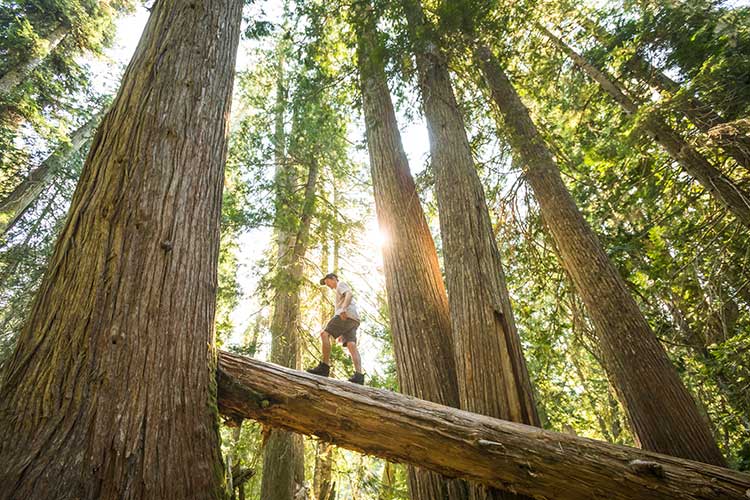 Where to Go
Whistler is on the edge of the Pacific Northwest's temperate rainforest and is filled with ancient trees (you can pick up an Old and Ancient Tree Map of Whistler at Armchair Books in Whistler Village). Whistler's oldest tree resides in the Callaghan Valley and it's estimated to be over 1,200 years old.
The great thing about forest bathing is that it can be pretty much anywhere that has trees. Whistler has more than its fair share of wooded spaces, but to get you started here are some of my favourite places.
Lost Lake
Located within easy walking distance from Whistler Village the seemingly endless network of trails at Lost Lake are ideal place to relax and wander. Some of them even lead to the Scandinave Spa if you're looking for even more rest and relaxation.
If you start at the PassivHaus look to your far right of the park entrance and you'll notice a walking-only nature trail. This leads you to some secluded spots with incredible tree formations and the Whistler Museum have put together a virtual, self-guided nature walk you can use to plan your route.
Florence Peterson Park and Rebagliati Park
You don't need to leave Whistler Village to find beautiful, natural spaces. Tucked in behind the Whistler Public Library you'll find a hidden gem – Florence Peterson Park. It's home to some huge, old cedar trees and Fitzsimmons Creek calmy flows through them. There are even some loungers there for you to lay back on and take it all in.
If you head towards the Upper Village, take a look to the left before you cross the covered bridge over the creek. Rebagliati Park is a beautiful, shady spot – a forested oasis with a large grassy area, just off the main trail.
Emerald Forest
At the end of Lorimer Road, where it meets the River of Golden Dreams, you'll find a network of trails between the Valley Trail and Alta Lake Road called Emerald Forest. As the name suggests, it's made up of lush trees, so is yet another easily accessed place for forest bathing. There is limited parking at the end of Lorimer Road, but it's an easy walk or bike from Whistler Village.
Riverside / Farside Trail
Exploring south of Whistler Village, the Riverside / Farside trail runs along the Cheakamus River. It loops out to a suspension bridge and offers countless lookouts to stop, reflect and tap into your senses. I take time to reflect and breathe deep while looking at the flowing river. You can drive (park at the Whistler Interpretive Forest Trailhead), catch the bus or bike to this area.
Whistler Blackcomb
Heading into the alpine is another option for finding a forest bathing spot with the additional benefit of an epic mountain view. If you'd like to earn your bathe then consider the Blackcomb Ascent Trails, a series of hikes up Blackcomb Mountain that take you through some stunning old-growth forest. Note that August is wildflower season, which is tantalizing for multiple senses.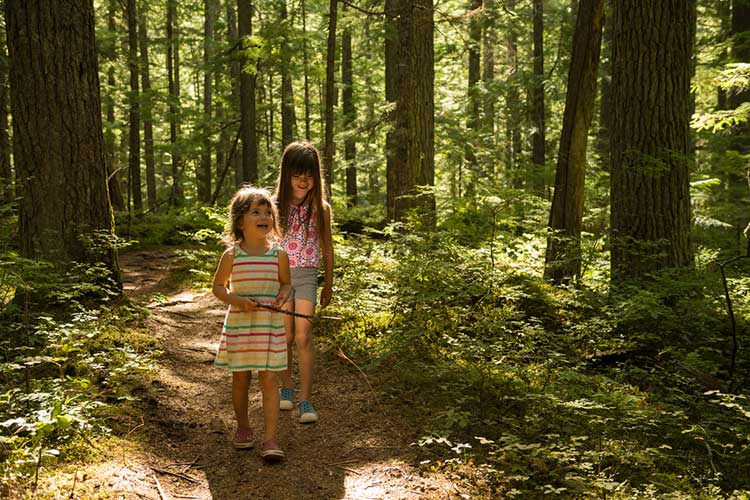 Forest bathing can be enjoyed year-round, but I think it's really at its best in the summer when the forests are lush, the air is warm and the mist from the rivers is a wonderful, cooling treat. Please make sure to pack out what you pack in and stay on the trails, as the forest foliage is sensitive and deserves to be treated with respect.
Fall in Whistler means more, like great value on accommodation with rooms from $135 CAD per night, plus a free $100 CAD Dining Voucher when you book a stay of 3-plus nights. Book in confidence with Whistler.com for Flexible Cancellation and a Price Match Guarantee. If you're dreaming of a trip to Whistler, enter our Find Your Altitude contest for a chance to win a six-night vacation with flights, accommodation and activities (including a heli trip) all covered.