Charcuterie boards, with their artful array of cured meats, artisan cheeses and assorted accoutrements, are a contemporary twist on a centuries-old indulgence. Always a tastemaker, Whistler has wholeheartedly embraced this European-inspired sharing plate and there are plenty of eateries that take great pride in their charcuterie offerings. 
Though meat and cheese arrangements are popular in many cultures, the word charcuterie originated in France in the 1400s to describe the process of preserving meat (mostly pork) through salting and smoking – the loose translation being cooked flesh. The butchers (known as charcutiers) carefully arranged their meats in beautiful displays when they were ready for sale. Over the centuries, the concept stuck and charcuterie boards grew to include breads, preserves, fruit, cheeses and more. Today, charcuterie boards, dubbed adult Lunchables after the beloved childhood snack, make for a fun, interactive and Instagrammable dining experience. 
Cornucopia, Whistler's signature food and drink festival, takes place in November and there's no better time to celebrate all things meat and cheese. Here are some handpicked charcuterie stops you can enjoy while visiting Whistler.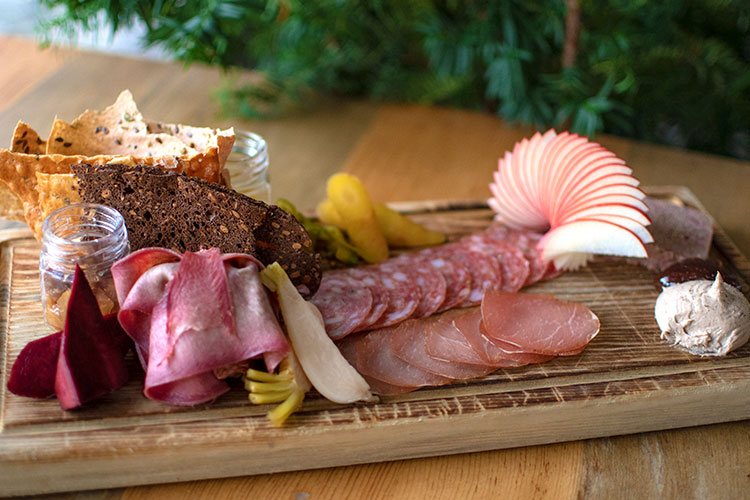 Alta Bistro
"The beauty of charcuterie is that it's so fun and simple, yet flavourful," says Chef Nick Cassettari of Alta Bistro.
With a commitment to fresh, local and seasonal ingredients, Alta Bistro carefully curates a mouth-watering charcuterie board filled with bold flavours. The Cured Meat Taster and Alta Deli Board (which includes cheeses) tell a story – one of supporting BC suppliers who share the same passion for their craft, and who take pride in quality and flavour. 
The selection of cured meats is always evolving with what's in season, though you may find duck pastrami, a hint of venison liver and house-cured bison tongue making an appearance. The French Canadian restaurant manager, Jessica, has also dreamed up a flavourful pork cretons, a pâté-like meat spread and delicacy in her home province. The deli board features a selection of BC cheeses, including the popular Kootenay Mountain Cheese Company's Alpindon, modelled after a French Beaufort d'Alpage. To complement the platter you'll find fresh sourdough, pumpernickel and fermented rye crackers, signature maple mustard and garnishes from Alta Bistro's extensive house-made preserve library.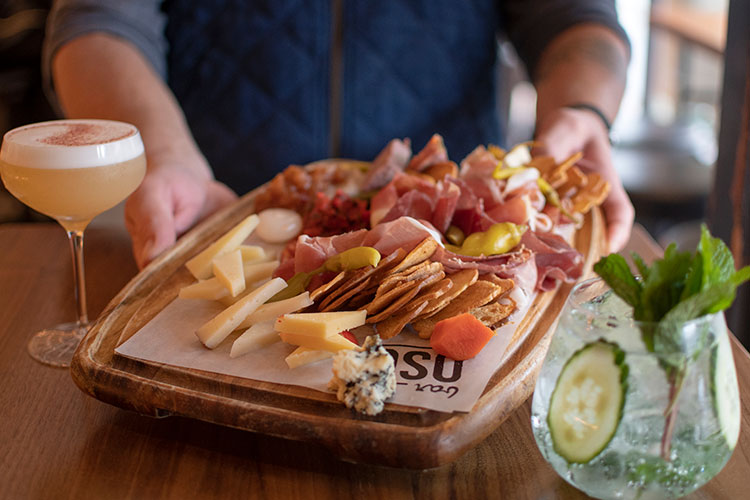 Bar Oso
Enjoy a board and a craft beverage at Bar Oso in Village Square, the perfect space for an intimate date night. This stylish, Spanish-inspired tapas lounge is a must-do for cocktails, tasting plates and, of course, a great selection of charcuterie. 
Chef Jorge Muñoz Santos, originally from Madrid, brings the vibrant flavours and interactive dining culture from his native Spain. The tapas lounge has three boards on the menu. The Fresh Charcuterie Board features pâté, rillette, liver parfait and a rotating selection of cured meats made in-house. The Cured Charcuterie Board is arranged with imported meats like cured beef bresaola and serrano. Sample both imported and house-made with the Fresh and Cured Board, and opt to add a selection of Spanish cheeses (the Valdeon blue is a highlight). All boards are served with homemade pickles, chutney and crostini.  
Choosing a drink to accompany your charcuterie may be the most difficult decision you'll make all night. The drink menu features an assortment of colourful cocktails like the Firecracker Margarita and Trophy Wife, as well as sangria and a selection of wines from Spain and British Columbia. If you love G+Ts, they also have an impressive gin list. Be sure to try the Seaside Gin from Vancouver Island's Sheringham Distillery.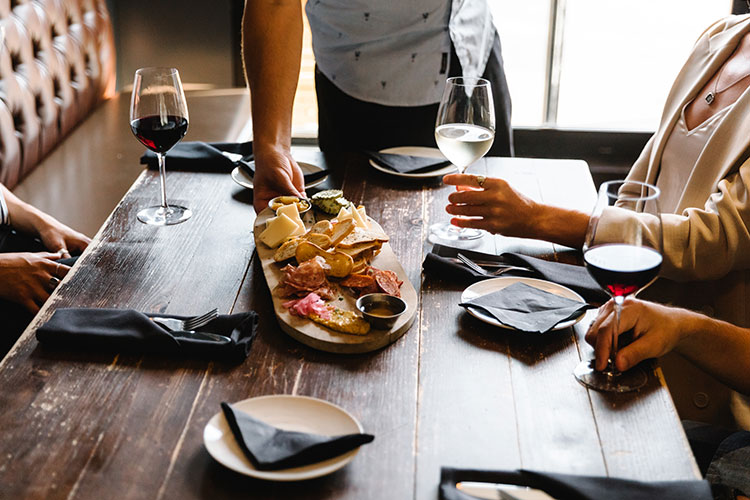 Stonesedge Kitchen
Enjoy the tradition of charcuterie in the lively atmosphere of Stonesedge Kitchen. Sample a rotating selection of cured meats and cheeses, curated from Vancouver Island's top producers. Though the offering is always evolving, you may find delights like blue brie, salami and prosciutto. The board is always finished with seasonal chutneys and jellies, pickles and house-made sauces like truffle honey and beer-infused mustard. 
This season, Stonesedge is introducing a new Manhattan-inspired cocktail menu, featuring an exciting list of artisan whiskeys and vermouths.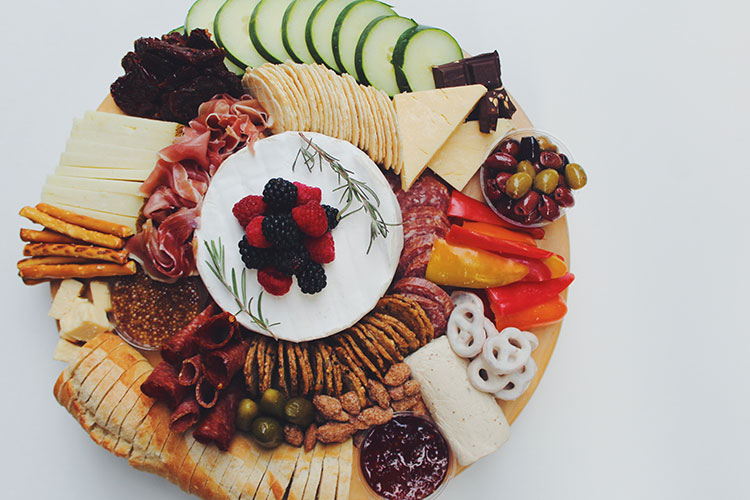 Good Grazing Whistler
If you want to keep your bubble tight, Good Grazing Whistler brings the charcuterie to you. Enjoy a personalized picnic box, grazing table, or board in your hotel or the great outdoors. 
For owner Caitlin Devlin, it's all about creativity and combining contrasting flavours and textures: savoury and sweet like blue cheese and honey or crunchy and creamy like dried fruit and brie. Try a generous serving of locally sourced goodies: hard and soft cheeses, cured meats, artisan breads, seasonal fruits, nuts, dips, olives and more. Favourites include the maple or Champagne cheddar, truffle sheep's cheese and a decadent manchego. Each box comes with sweets and chocolates for a finishing touch.
Good Grazing offers a selection of vegan options as well.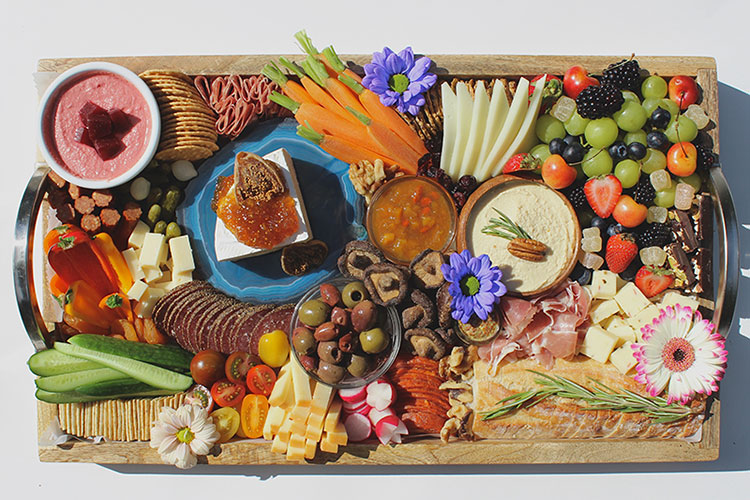 Picnic Whistler
"Meats and cheeses are always a staple order for clients of Picnic Whistler, but it's what goes with them that's always the most exciting," says owner Amy Mac.
Picnic Whistler offers customized boxes, boards, tables and personalized picnic experiences. 
Every star (meat and cheese) needs supporting actors. This year's award goes to the dried shiitake mushrooms and the hummus, which are elevated by adding dried chickpeas, paprika and a drizzle of olive oil on top. Picnic Whistler also offers a vegan charcuterie-inspired box, featuring Blue Heron cheeses that are surrounded by colourful local produce. No matter what the order, it's all about combining classic flavours with local specialty foods to create an explosion of salty, sweet, fresh and savoury in every arrangement.