Updated May 2023 with the closure of Confetti and opening of Rockit Cafe, both in Creekside. 
As the calendar ticks over into a new year, many of us are looking forward to fresh beginnings, promising to make healthier lifestyle choices and exercise more (resolutions intentionally vague enough so that we can cheat a wee bit).
Just spending time in the mountains alone can give you a healthy glow and leave you feeling energized. But, fuelling your body with superfoods and nutritious goodies can add that extra pep in your step and give you more energy for those pow days.
Here are some of our favourite places for a healthy start in Whistler.  
Green Moustache Organic Café
This veteran healthy eatery is a staple for lovers of nutritious, plant-based meals. The Green Mo, as it's affectionately called, serves up one hundred per cent organic, whole foods and delicious meals for every time of the day. There are two locations to visit in Whistler; their flagship store is located in the Marketplace in Whistler Village, close to Fresh St. Market, and their second location is in Function Junction, a ten-minute drive south of the Village.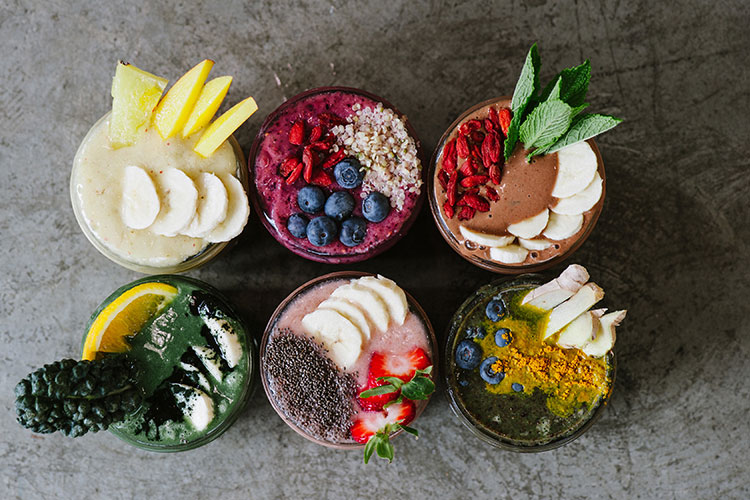 Check out their cold-pressed juices, smoothies, meals and desserts packed with superfoods (which taste really, really great!). For a healthy start to the day, indulge in banana, buckwheat pancakes or a smoothie bowl topped with granola, caramel cashew cream, raspberry crumbs, hemp seeds, coconut and lime zest. While you're there, grab lunch to go. Their Green Mo' Wrap is a great choice, especially when paired with their decadent Liquid Gold dressing.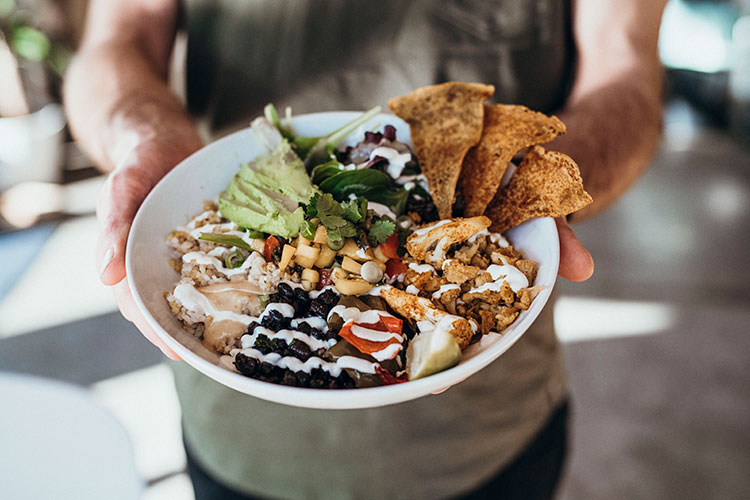 The owners of The Green Moustache walk the walk when it comes to healthy living. Co-owner Nicolette Richer recently ran and cycled from Victoria, BC to St. John's, Newfoundland to raise awareness about their mission to reverse 22 million cases of chronic disease by 2030 through the power of healthy eating. 
Hundo-P The Smoothie Bar
Locals love Hundo-P, a hidden gem nestled in a tiny nook in Village Square by The Whistler Grocery Store. Owner, Mike Whalen, who originally hails from Newfoundland, blends up an assortment of nutritious grab-and-go smoothies, inspired by global flavours he discovered during his travels.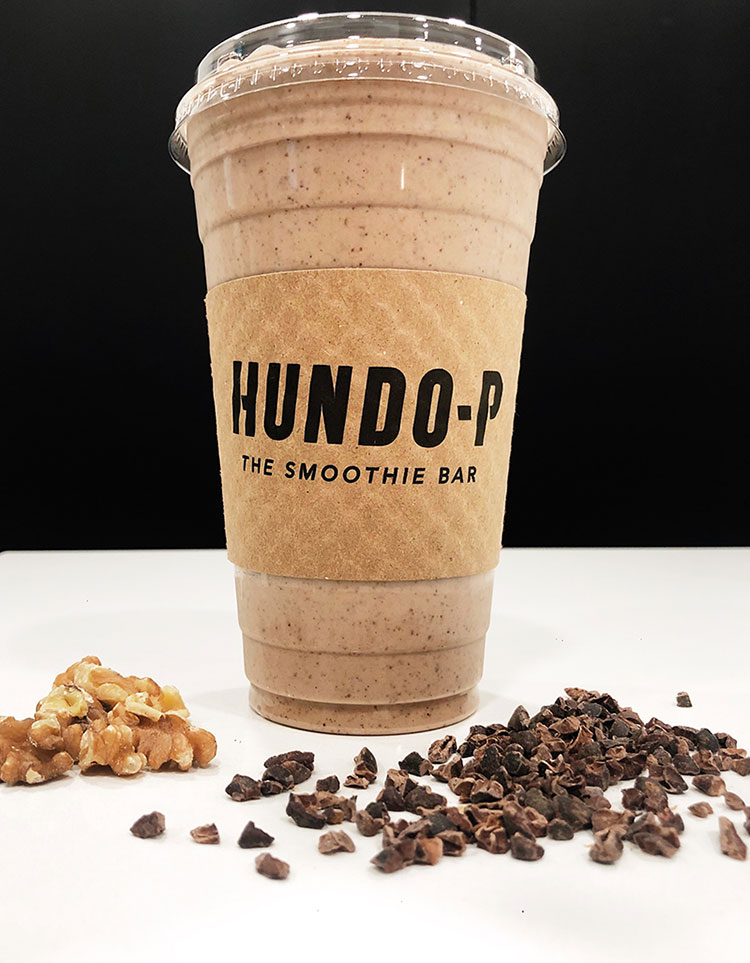 Get an extra kick to your healthy start with the Bohemian Rhapsody, which includes cold brew coffee and organic cacao nibs. Or go back to your childhood with a PB & J smoothie. Boost your smoothie by adding extra ingredients like MCT oil, bone broth protein or collagen (which are great for your skin and cartilage health). Vegan protein is also available upon request.
Naked Sprout Juice Bar Café
Breakfast is served all day at Naked Sprout Juice Bar Café, which sources fresh, local, GMO-free ingredients for their mouth-watering menu. Vegans and vegetarians will be pleased to know that ninety-five per cent of the menu is plant-based (although there are a few pescatarian options).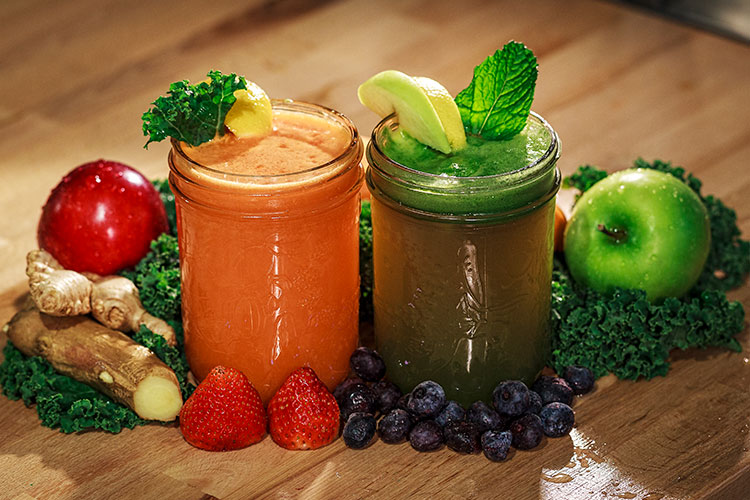 Try the Superfood Oatmeal or the tongue-in-cheek Millennial Avocado Toast for breakfast or sample a fresh-pressed juice. The Holy Kale is packed with all the good stuff: kale, turmeric, apple and carrot. You can also opt for a plant-based smoothie, including the Matcha, which is loaded with antioxidants. Let's face it — we can't be perfect all the time, so if you happen to find yourself with a bit of a hangover, one of their ginger, cayenne pepper and lemon Elixir Shots will sort you out. 
Naked Sprout, which is located in the Village Common in Whistler Village, puts a lot of emphasis on sustainability and was recently voted a Top 3 Most Sustainable Business at the Whistler Excellence Awards.  
Rockit Coffee Company – Creekside
You might be staying in Creekside or you could opt for an early morning bike / run in that direction as it's located just under five-kilometres south of Whistler Village. Rockit Coffee Company is the latest addition to Whistler's coffee shop scene and its funky, rock'n'roll-era decor is an upbeat way to start the day.
They have a selection of smoothies sporting fun, music-based names, and if you're looking for that influx of green veggies opt for Green Day, which is an airy blend of pineapple, banana, spinach, coconut and milk. They also do a delicious, vegetarian frittata breakfast wrap teaming with roasted veggies, mushrooms and finished with smokey, chilli, vegan mayo.
Pangea Pod Hotel
Millennials might get a playful nudge for their avocado toast obsession, but there's a reason why it's such a popular breakfast option for all generations. Silky smooth, versatile and delicious, avocado is packed with antioxidants, aids with digestion and strengthens bones, making it the perfect tasty, healthy start.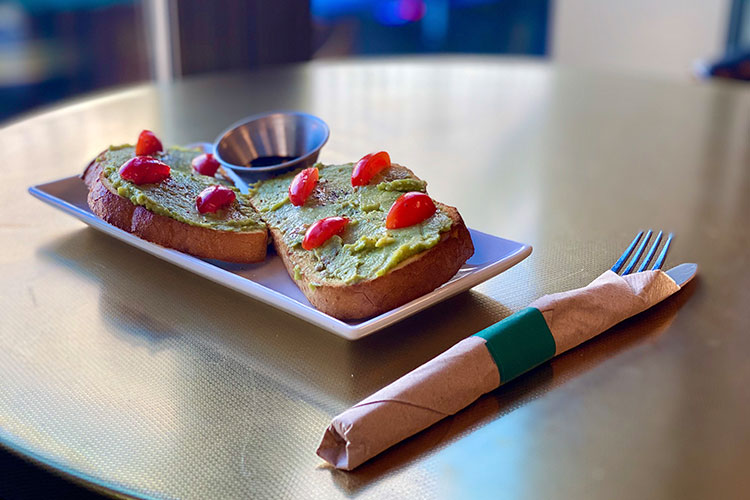 But, most importantly, you can offset your penchant for a breakfast cocktail when visiting The Living Room at Pangea Pod Hotel in Whistler Village for brunch. Order their smashed avo on sourdough toast topped with balsamic vinegar, while you enjoy a Smoked Sriracha Caesar, made of chili vodka, Pangea in-house Caesar mix, clamato juice, lemon juice and pickles. It's really a win, win! Pangea also gets a special mention for their seasonal smoothies, which you'll find during the summer months.
We hope you will find your new favourite, Whistler health food haunt the next time you're up here in the mountains. For more yummy ideas take a look at Whistler's dining guide and chat to a locally based travel agent about your future trip.