Updated April 2022
When most people think of Whistler what comes to mind is fresh air, adrenaline induced adventures and outdoor exhilaration. Whistler is all of that, but it's also more. The "more" that is often spared the spotlight is the yin to the adventurous yang – yes we're talking about Whistler's spa and relaxation scene.
Did you know there are over 12 spa facilities in Whistler? Their offerings range from luxurious full-body pampering to flawless treatments from Whistler's top estheticians. While it always feels nice to treat yourself to a massage or a eucalyptus-infused steam, it feels even better after a day of crisp mountain air and thrills. Nothing keeps an explorer's spirit feeling more rejuvenated than time spent recharging.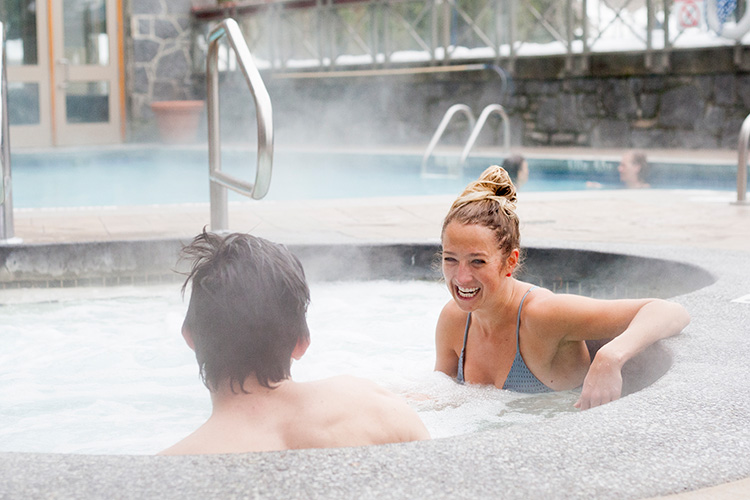 How to Choose Your Spa Experience
In Whistler, we like to earn our après and our spa because everything is better after playing in the vast offerings of our backyard, but hey there are no rules, spa for five days straight if you want to! The truth is, it's hard to go wrong with any spa or relaxation experience but we think this will get your wheels spinning to ensure you get just what you're craving on your next Whistler visit.
Day Spas in Whistler
Day spas usually offer massages, hot tubs and / or pool amenities as well as waxing, facials, manicures and more, so you could, in theory, spend the whole day there. Makes sense right?
Scandinave Spa
Scandinave Spa is probably the most well-known spa in Whistler because its offerings are unlike any other. Hot and cold pools, steam room, sauna, solarium, fireplaces, tea stations and a massage building are scattered in the tranquil forest of Whistler. Most spa go-ers spend a few hours alternating between the traditional Nordic hot, cold, relax cycle for the full hydrotherapy experience.
Perfect Pairings:
Best paired with anything heart pumping, because the compulsory disconnect from phones and chatting will leave you feeling renewed after an energy-expending day. It's an especially great spot to hit up in the evening as it's open until 9 PM so you have time to thoroughly decompress after a day packed with adventure on the mountain.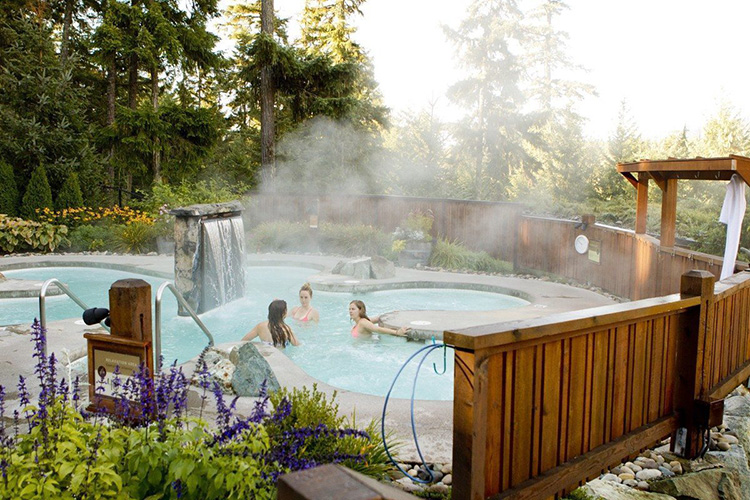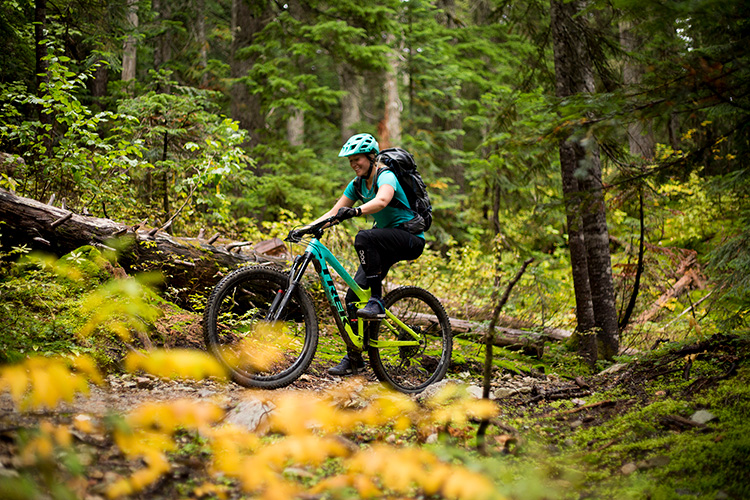 Vida Spa
Vida in the Fairmont Chateau Whistler has an extravagant list of spa services from hot stone massages to Ayurveda treatments and pedicures. They offer a full-body tune-up with access to the Fairmont Chateau Whistler's pool, hot tubs, steam room, sauna and of course, the poolside bar. It makes for a wonderful day of pampering and socializing.
Perfect Pairings:
Pair with a half-day of skiing, a hike to the ancient cedars, a morning ATV or snowmobile adventure. More of an evening person? Chase it with a night out at Vallea Lumina.
The Spa at Nita Lake Lodge
The Spa at Nita Lake Lodge is a boutique spa in Whistler. It feels as though the cozy, open and refined spaces are private and just for you. Yet, you can usually manage to get a booking, which can be challenging at some boutique spas. They're best known for having excellent RMTs, tranquil lakeside location, focus on sustainability and use of organic ingredients in their treatments.
Perfect Pairings:
Best paired with a half-day of adrenaline. Dog sledding, ziplining or bungee jumping are the perfect match for The Spa at Nita Lake Lodge. You'll want to allow for enough time to sit in the steam room, soak in the rooftop hot tubs and appreciate the Whistler Mountain views.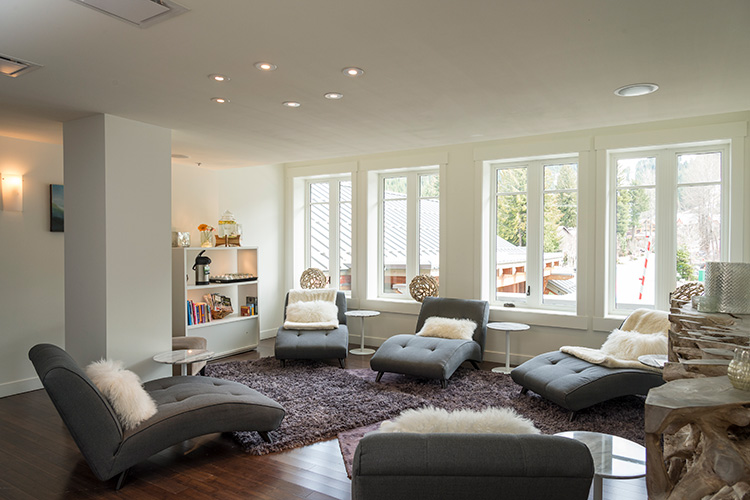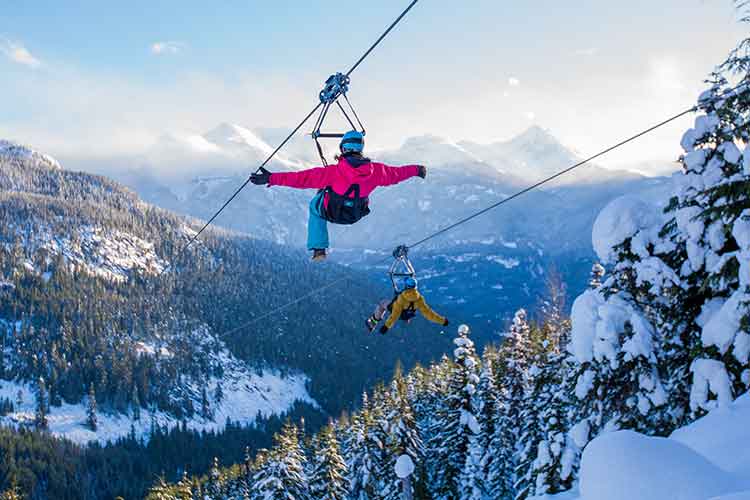 Whistler Day Spa
The Whistler Day Spa is tucked into the Pan Pacific Village Centre hotel. The staff are well trained and an appointment grants you access to the outdoor pool area, an added bonus for any treatment!
Perfect Pairings:
Best paired with a sunrise hike or snowshoe up or a day spent sightseeing on Whistler and Blackcomb Mountains.
More Day Spas: Aviva Wellness Massage Spa, Blue Highways, The Spa at Four Seasons Resort Whistler and Taman Sari Royal Heritage Spa.
Beauty and Treatment Offerings in Whistler
Many of these locations also offer massage and a wellness component but are known first and foremost for their estheticians. Haircuts and styling, manicures, waxing, facials and specialty treatments galore are available in Whistler. Find what you're looking for and more at one of Whistler's beauty hot spots.
Locations: Be Beauty Spa and Tanning Lounge, Glacier Day Spa, Elevation Hair Studio, Farfalla Hair and Esthetics Salon, The Loft Salon and Spa, Whistler Medical Aesthetics and more.
Perfect Pairing:
You'll be feeling fresh after visiting one of these places which call for a night on the town, après anyone?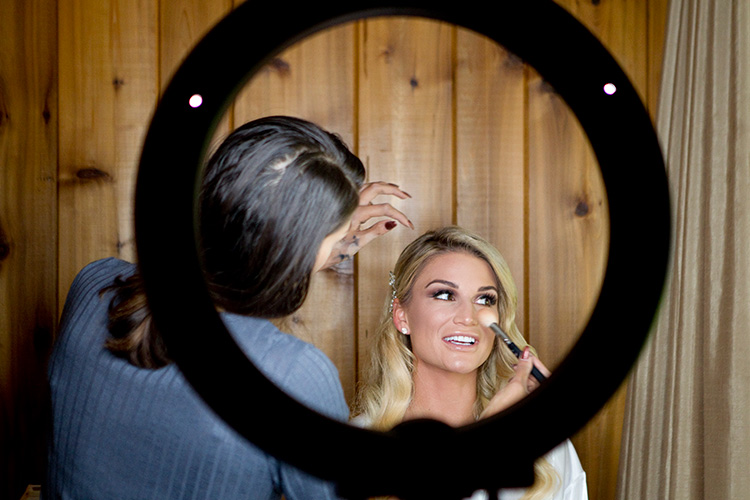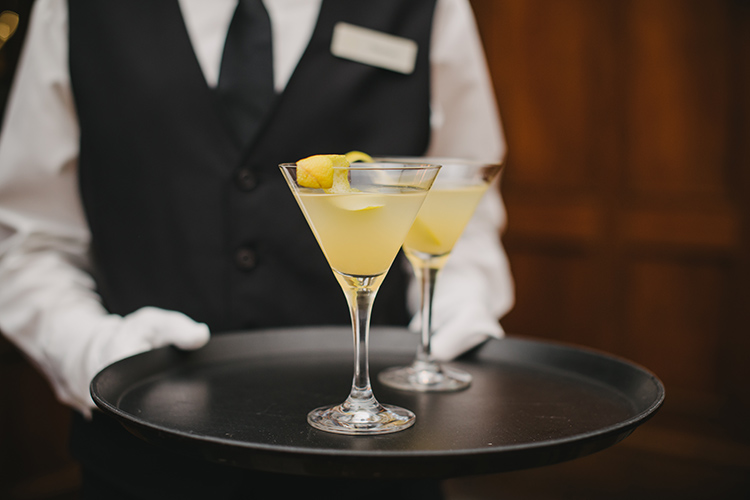 Spa Where You Sleep
Many of the condos in Whistler come with private hot tubs and nearly all of the hotels offer a pool and hot tub complex.
Perfect Pairings:
Best paired with absolutely everything. Even breakfast before your day begins. Who says you can't start your day with relaxation? Coffee in the hot tub while quite literally soaking in the vistas? Sounds good to us!
Visit Whistler.com to find and book your perfect spa and activity pairing. Looking for a retreat experience? See our DIY planning guide.
Book your winter trip now to secure up to 25% off lodging, 65% off lift tickets and 45% off rentals. Come experience Whistler Blackcomb's extensive terrain and adventure at every turn to see why we're known as one of the best resorts on the planet. Secure your winter getaway with Whistler.com for Flexible Cancellation and our Price Match Guarantee. Want to win a winter trip for two to Whistler? Check out our Drop In to Winter contest.