Updated June 28, 2021.
Hiking in Whistler is one of the main draws to the mountains in the summer months and that's not changed, even if we're approaching it a little differently this season. BC Parks has new regulations to consider, as does Whistler Blackcomb and the Resort Municipality of Whistler, and we're here to help you navigate these changes and get you out on the trails.
Find out where you can currently hike in Whistler, how to be prepared and what you can do to play your part in making hiking in Whistler a safe and COVID-friendly experience for all.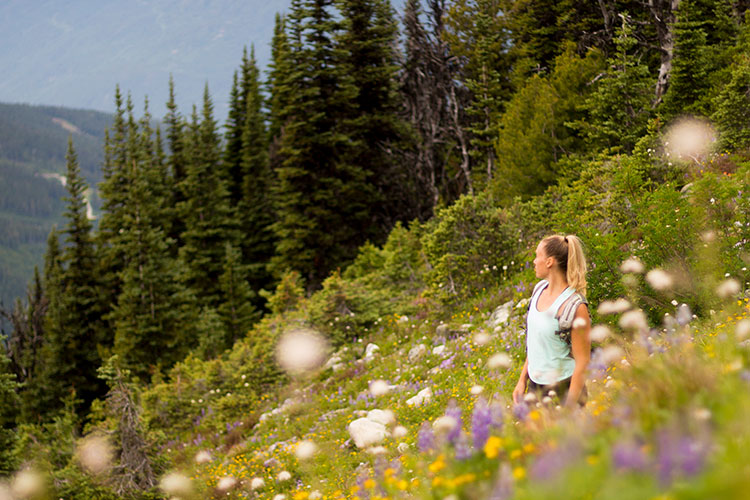 Where to Hike in Whistler
Whistler Blackcomb
Get into the wide-open spaces of Whistler's alpine in under 25 minutes with a Whistler PEAK 2 PEAK 360 Experience ticket. The Blackcomb Gondola, located in Whistler's Upper Village, is the upload option for sightseeing and hiking access this summer, with the Whistler Village Gondola used for Bike Park uploading only. 
You can still access Whistler Mountain by taking the award-winning PEAK 2 PEAK Gondola across and we certainly suggest you do as the views are incredible. You can also download using the Whistler Village Gondola creating a three-gondola loop.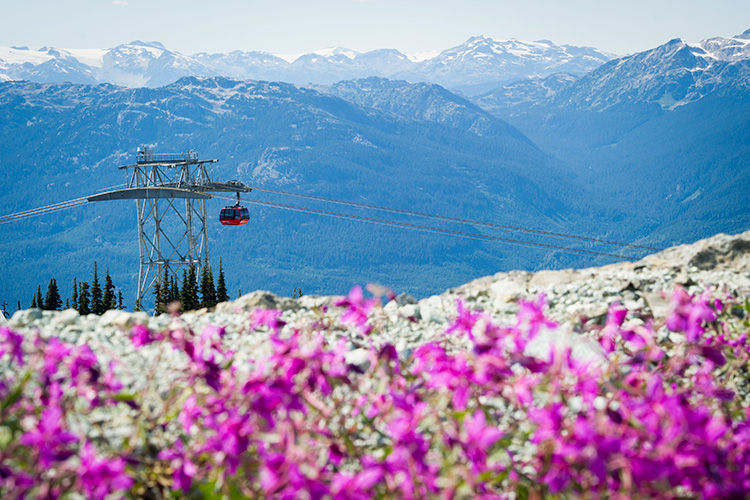 INSIDER TIP: If you have a 2021/22 Whistler Blackcomb Unlimited Pass access in the summer is part of the pass.
Check which trails are open on Whistler Blackcomb before you go. Currently, the Cloudraker Skybridge and the Peak Chair are not open, but this could change as the summer season continues. 
The hikes on Whistler Blackcomb range from under an hour to full-day options. When you choose your route, it's important to calculate the time it will take you as the last download is 5 PM and you don't want to miss that (it's a long walk down).
Another thing to note is that a face covering is mandatory, so make sure you've got one with you. For more information on Whistler Blackcomb operations read Know Before You Go: Sightseeing and Biking on Whistler Blackcomb.
Here are a few of my suggestions for hiking on Whistler Blackcomb.
Alpine Loop (1.4 km / 30 minutes), Overlord Trail (3.7 km / 60-80 minutes ), Lakeside Loop (2.2 km / 40 minutes), Marmot Trail (1.2 km / 40 minutes), Decker Loop (3.3 km / 75 minutes): Blackcomb Mountain
Warm up your hiking boots with the gentle and vista-filled Alpine Loop, accessed straight from the Rendezvous Lodge on Blackcomb Mountain. If you're a one-and-done kind of hiker, take it slow and soak it all in.
Those looking to push further should look out for signs to the Overlord Trail. This can be done as a there and back, but there are a few options to extend your hike and make it a loop. The first branch off the Overload Trail is Lakeside Bowl, accessed via the Lakeside Loop Trail. Popular with skiers in the winter, it makes for a stunning summer spot and is often full of wildflowers.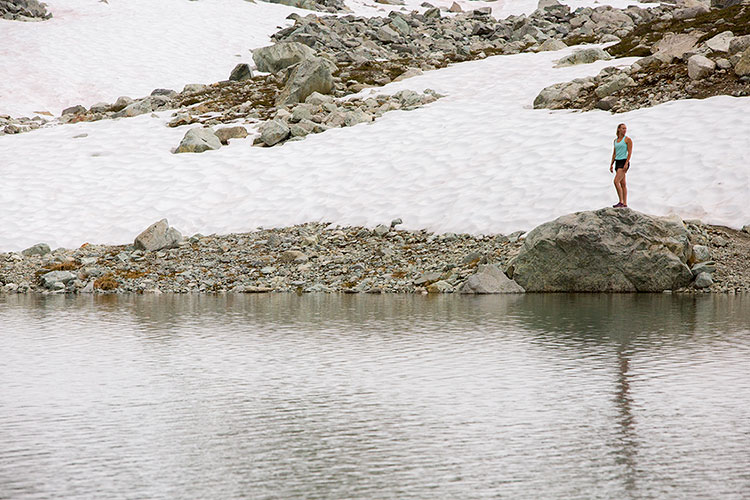 Back on the Overload Trail, you'll enjoy glacial views above and the lush green depths of the Fitzsimons Valley below. Add a technical section and alpine lake (Decker Tarn) by adding on the Decker Loop Trail. This trail is rated as difficult, so careful footwork is required. Be sure to wear supportive shoes and bring trekking poles if you have them.
On the way back, you can return on either the Overload Trail and Alpine Loop, or the Marmot Trail and Southside Green Road that skirt the Glacier Creek Basin.
Blackcomb Ascent Trails: Blackcomb Mountain
Made for the adventurous and physically prepared, the Ascent Trails start at the base of Blackcomb Mountain and deliver you to the top of the Blackcomb Gondola after some serious sweat equity (a 6.2-kilometre journey with 1,200 metres of elevation gain).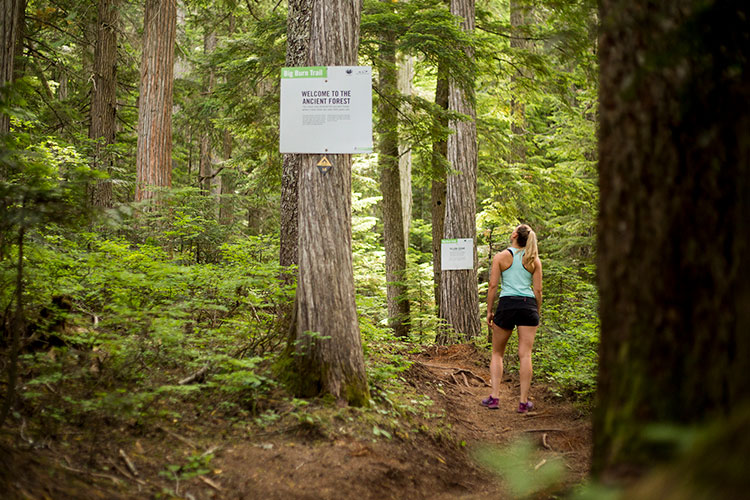 The trail is broken into three sections so there are options to do parts of the trail without committing to the whole hike. These are broken down into the aptly-named Little Burn (0.8 km / 30 minutes), Big Burn (2 km / 70 minutes) and Heart Burn (3.4 km / 1 hour, 50 minutes).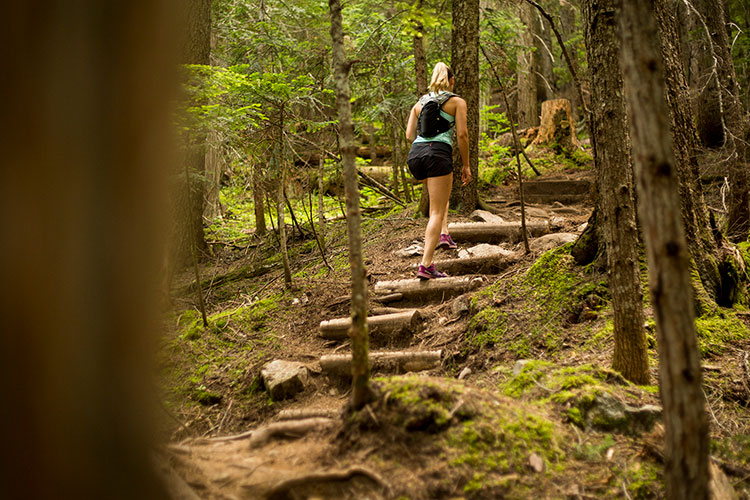 If you do Big Burn, you will end up at the Blackcomb Gondola mid-station and if you have a lift ticket, you can ride the gondola back down the mountain. The entire Ascent Trail takes just under three hours one way, uphill, finishing at the top of the Blackcomb Gondola, next to the Rendezvous Lodge. Please note, if you go up the trail and plan on taking the Blackcomb Gondola down, you'll need a lift ticket prior to embarking on the trail. We suggest getting these online to save time. 
The trail has excellent markers and educational signage about the local wildlife and vegetation. There is good shade coverage in the trees, with some open, ski run crossings for a dose of sunshine and views. 
Note: Dogs are not allowed on Whistler Blackcomb (except for registered aid dogs).
Spearhead Loop (1.2 km / 60 minutes), Harmony Lake Loop (1.9 km / 90 minutes), Harmony Meadows (1.6 km / 45 minutes): Whistler Mountain
Test your hiking legs with a nice loop starting right from the top of the Whistler Village Gondola – the Spearhead Loop. It shows off the best views of the adjacent Blackcomb Mountain and you have the option to extend your hike to include the gorgeous Harmony Lake, complete with boardwalks and more vistas.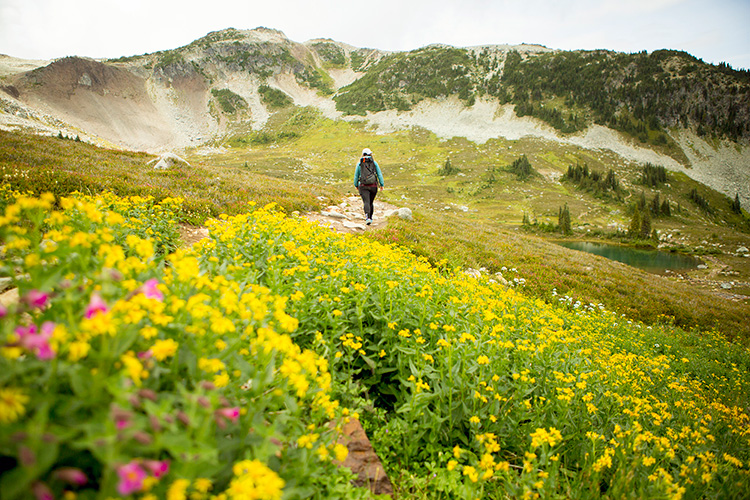 If you're a seasoned hiker opt for the more technical Harmony Meadows Trail, which is often filled with alpine wildflowers and trickling streams. The Harmony Meadows Trail connects back to the Spearhead Loop for a complete circuit.
Half Note (3.2 km) and High Note Trail (9.4 km): Whistler Mountain
The Half Note and High Note trails are Whistler Mountain's longest hikes and showcase views of Black Tusk, Cheakamus Lake and Cheakamus Glacier. To get to the trailhead you can take either Pika's Traverse Road and Mathew's Traverse Road, or choose the Harmony Lake circuit.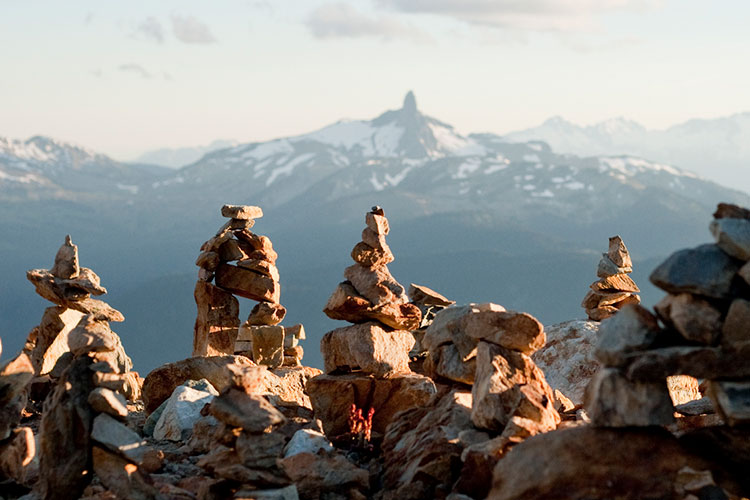 Note: Some parts of Whistler Blackcomb are in Garibaldi Provincial Park, but if you're accessing the park via Whistler Blackcomb you do not need a separate day-use pass from BC Parks.
Callaghan Valley
The Callaghan Valley is raw, remote, and absolutely epic. Glacial ice hangs in all directions, peaks tower overhead, and the area is full of swimmable lakes of varying sizes. For more information on hiking in Whistler Olympic Park ($10 car entrance fee), Madeley Lake, Cirque Lake, Conflict Lake and Ring Lake read our insider's guide to the Callaghan Valley.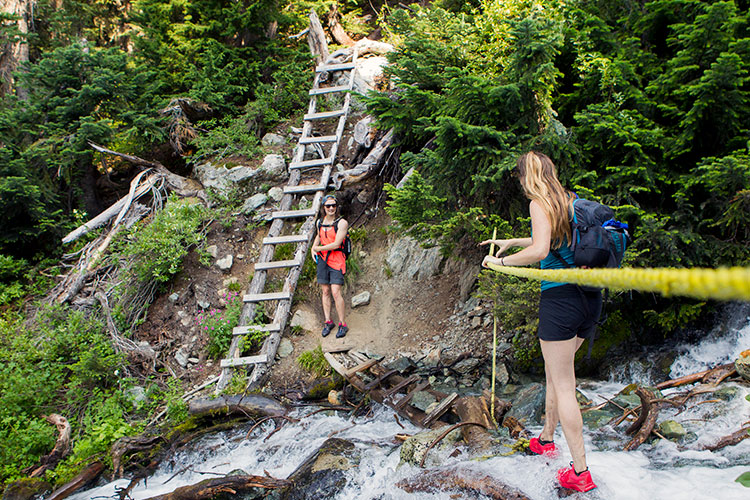 Please know that Whistler is bear country and the Callaghan Valley is an area where you may encounter them. We would advise you to be bear aware and read up on what to do if you do see one, as well as carry bear spray.
Rainbow Mountain
This mountain has hiking on literally every side. All hikes on Rainbow Mountain are full-day trips, aside from the 1.5-kilometre in-and-out trail to Rainbow Falls. Both sides offer lakes as the final destination including Rainbow Lake, Iceberg Lake, Beverly Lake and Screaming Cat Lake. Read more about it in Insider's Guide to the Skywalk Trail and Rainbow Mountain Hiking Trails.
Dogs are not allowed on Rainbow Mountain and check for any trail closures before you head out, as sometimes sections of this mountain are closed to negate wildlife conflicts.
Garibaldi Provincial Park
Day-use passes are now required for some of the hikes within Garibaldi Provincial Park and can be reserved online for free. For hiking routes in Garibaldi Park read Insider's Guide: Hike or Bike to Cheakamus Lake and Insider's Guide: Hiking Black Tusk. Wedgemount is another option, although you don't need a day-use pass.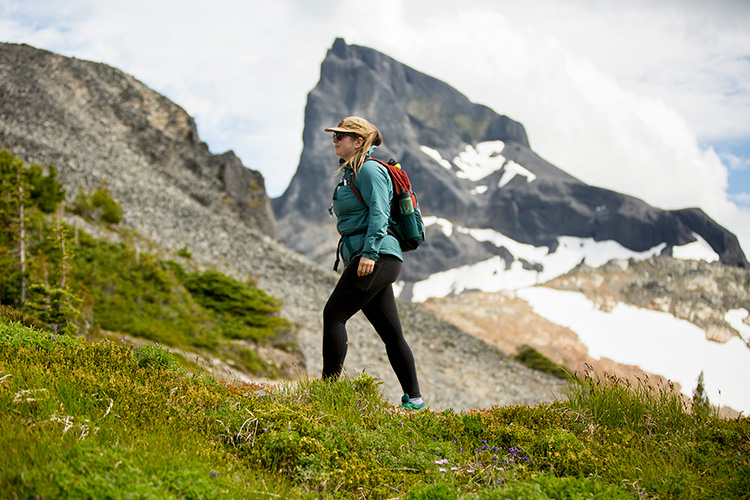 Another thing to note is that if you already have an overnight camping reservation for Garibaldi Provincial Park (carry this on you at all times), then you don't need a day-use pass. Check before you go on the BC Parks website.
Whistler Half-Day Hike Ideas
Whistler has some great half-day hikes like the Ancient Cedars Trail, Parkhurst Ghost Town Loop and the Lost Lake trail network. These are popular in the height of the summer months, so be sure to practice appropriate physical distancing.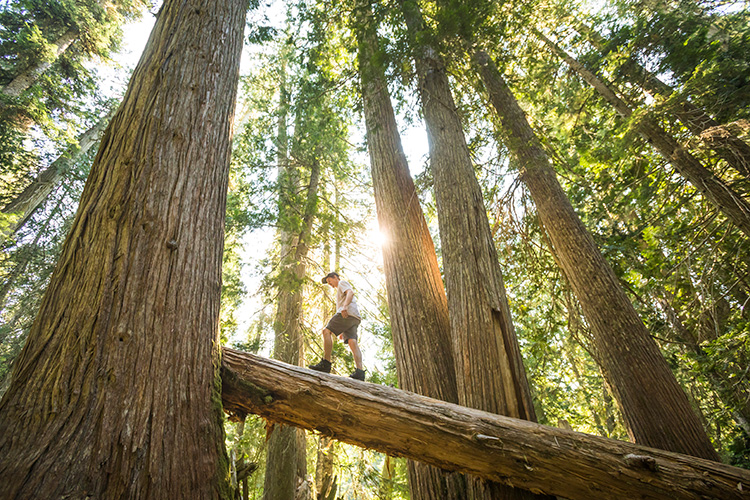 How to Be Prepared
Be prepared for any adventure with a full phone battery, but don't rely on service if things go wrong. Have a map (and know how to use it), tell someone your plans, and your estimated return time. 
Stay within your ability. Areas like the Alpine Trail Network and Rainbow Lake provide access to stunning and remote vistas but require hikers to be both physically and mentally prepared. This year with the COVID-19 pandemic, it is particularly important not to put undue strain on the medical system and emergency services.
Whether your outing is measured in hours or days don't leave home without these key items. Being prepared for anything is important here in BC as varying weather and technical terrain can often surprise us. Be prepared for the variables with the 10 Essentials from AdventureSmart.ca.
Flashlight, spare batteries and bulb

Fire-marking kit such as waterproof matches / lighter and a fire starter / candle

Signalling device such as a whistle or mirror or even better, an emergency communication device like a Spot, BivyStick, or Satellite Phone.

Extra food and water (1 litre per person)

Extra clothing including rain, wind, water protection and toque (hat)

Navigation and communication aids

First aid kit (know what's in it and how to use it)

Emergency shelter such as a tarp

Pocket knife

Sun protection; glasses, sunscreen and hat
Help Preserve Our Wild Spaces
Not only is it important that you take care of yourself, your friends and respect the new protocols when venturing on a hike in Whistler, but it is also important to care for the special places you visit.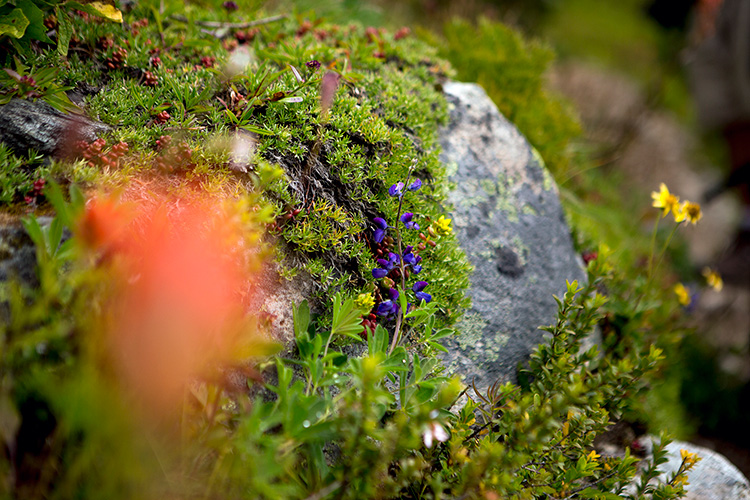 Help keep our beautiful backyard pristine by packing out all garbage, using outhouses when available and take nothing but photos. The Resort Municipality of Whistler has some helpful tips on hiking etiquette. 
Practice bear safety, such as managing your attractants and giving bears space

Stay on designated trails and obey all trail signs. Avoid shortcuts and trail braiding to protect the natural habitat.

Be aware of current fire danger ratings. Do not flick butts or matches, and where campfires are permitted, drown campfires before leaving.

Prevent the spread of invasive species by cleaning your gear before entering and when leaving a trail area

Protect Whistler's water supply. Do not fish, camp or defecate in the watershed. If you've gotta go, dig a hole at least 60 metres from a watershed and at least 30 centimetres deep. Cover it up after use.

Dogs are prohibited from the Sproatt and Rainbow Alpine Networks. In other areas, keep dogs on leash, as off-leash dogs can create conflict with bears and other wildlife.
There is an abundance of hiking opportunities in the Whistler Valley and summer is in full swing, so be sure to get out there and explore local – after you've done your research of course.
If you have any questions, the Ask Whistler Live Chat Service is available seven days a week from 8 AM to 9 PM PST via Facebook Messenger, WhatsApp, SMS and phone. Whistler.com also has a COVID information page for the latest updates and health advisories for Whistler.
This summer, the longer you stay, the more you save with room rates dropping as you book more nights (7 nights from $93 CAD per night). You will also receive a free adventure voucher, which gets you up to $100 off a Whistler activity.