You've planned your trip (great choice with Whistler by the way), and the time has come to start planning your gear. While many things to pack are obvious, there are some key items that might not be so blatant. To take the guesswork out of packing I've put together a list of trip essentials. Don't worry if you forget anything, our village is a shopper's paradise. You may even 'forget' some of your more worn items for the chance to pick up new ones here.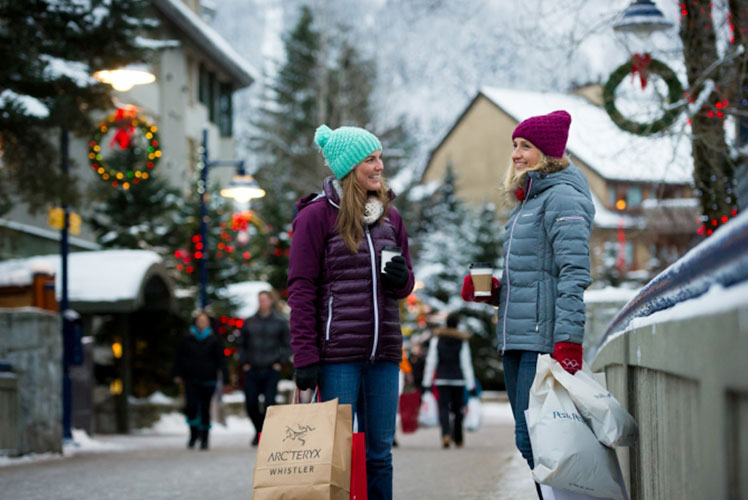 Solo Adventurer
If you've come for adventure, you're in the right place. From our mountaintops to valley bottom, Whistler offers endless options to get your adrenaline pumping.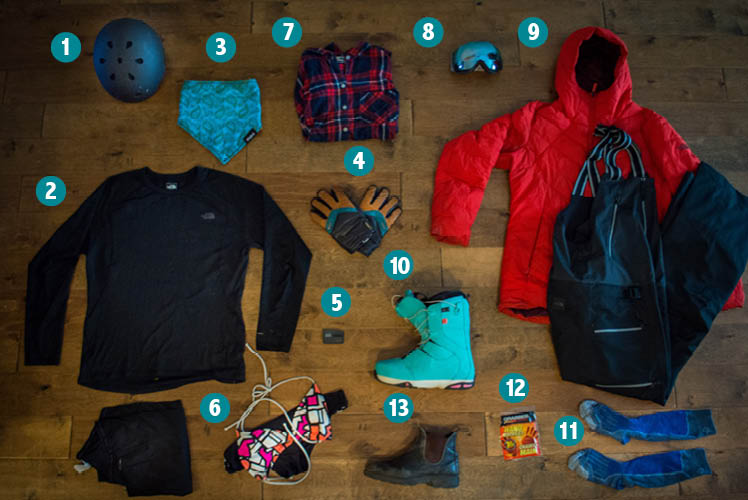 Helmet – Not only does it keep your brain safe, but a helmet can also keep your head warm and dry. Remember to give yours a good look over before coming, and if it's seen a few crashes it might be time to pick up a new one.
Thermal Base Layers – As the layer closest to your skin, your base layer does the heavy lifting for keeping you comfortable. A good set will keep heat in, while letting excess moisture wick away. I've heard Merino wool never smells, but I'll leave it to you to put that to the test.
Face Warmer – We're pretty lucky to have moderate winter temps here, but the wind and snow can still be chilly on your face so pack some protection to keep your cheeks toasty. Tip: Stay away from long scarves, they can get caught on chairlifts and be dangerous when skiing.
Gloves – Voted most likely to be left on the gondola. Remember to pack a good pair of gloves, and keep your eye on them.
GoPro – Your trip to Whistler is going to feel like a wonderful dream. Capture some footage to remind yourself that it was very real. If you're using your iPhone make sure it's in a Hitcase as you're going to potentially need those drop-proof, waterproof features!
Bathing Suit – Adventuring in the mountains can be hard work for your legs. Remember to pack your bathing suit so you can help them recover with a good soak either at your hotel hot tub, or with a round of hydrotherapy at the Scandinave Spa.
Flannel Shirt – Keeping you warm, and mountain fashionable. This mountain town staple can take you from ski slopes to your restaurant reservation.
Goggles – You're going to want to have a clear view on our stunning mountains. Remember to pack lenses for changing conditions to keep your eyes happy.
Outerwear Jacket/Pants – Remember to pack outerwear that is not only fashionable, but also functional. Your jacket and pants should be good at keeping you both warm and dry. If you're planning on doing an activity that will get you sweaty like snowshoeing or snowmobiling, you should look for gear with vents. GORE-TEX is a must in our coastal mountain climate.
Ski/Snowboard Boots – If your feet aren't comfortable you're going to have a bad day. It's worth travelling with boots if they fit you just right. If you're looking to pick up some boots in town, our local boot fitters are experts at giving you that Cinderella fitting.
Ski Socks – Your boots could be a perfect fit, but if you're wearing bunchy socks your feet are going to be uncomfortable. Invest in your feet and pack a few pairs of good socks.
Hand Warmers – Don't cut your adventuring short because of chilly hands. These little packs of hand warmers fit perfectly in your pocket, so you have them handy.
Valley Boots – Between your adventures you'll need boots to get around in. Our snowy village can get a bit slushy, so pack a pair that offers some light waterproofing.
TIP: Your skis and snowboards are an item that you may be better off leaving at home and renting here. Between airline charges, and the benefit of having gear that matches our current conditions, renting can often be the better way to go.
Romantic Weekender
A weekend surrounded by snowy peaks is the perfect setting for your next getaway. You won't want to spend all of your time in your hotel room. This gear will help you get out and taking advantage of our many 'date' activities.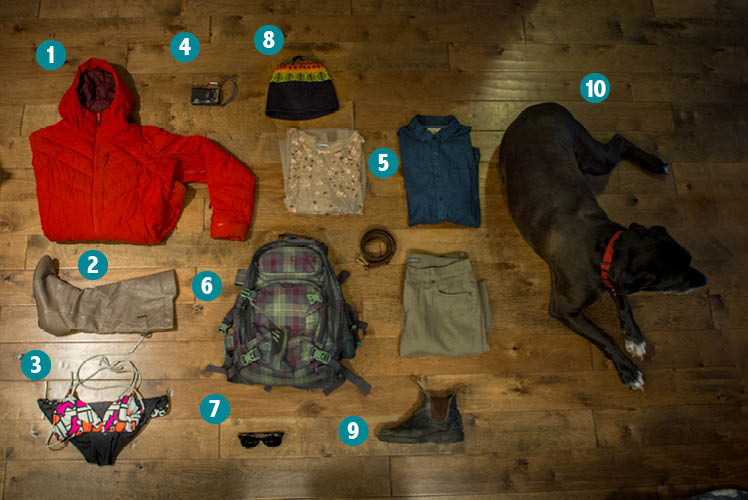 Warm Jacket – The date options in Whistler are endless, with some of the best ones taking you out into our stunning outdoor landscapes. Pack a warm jacket so you can stay toasty when snowshoeing, skating, snowmobiling, cross-country skiing, making a snowman… I could really go on all day.
Sensible Shoes – Our quaint Village Stroll has cobbled streets, and regularly has magical snow falling overhead. Both of those factors aren't the most compatible with tall and smooth soled shoes. When going out for dinner, or a night on the town, you can give your feet a break from high heels. Pack some lower heels, and look for shoes with a bit of grip.
Bathing Suit – You won't want to forget to pack your bathing suit. Soaking in your hotel hot tub, or a romantic day in the pools at the famous Scandinave Spa should be on every couple's must-do list. If you do happen to 'forget' yours, then take a look at the selection at The Beach.
Camera – Everywhere you turn in Whistler you will be surrounded by stunning natural landscapes. Make sure to pack a camera, or have your phone handy to snap memorable shots.
Evening Outfit – When headed for an evening of dinner or drinks feel free to dress up as much as you like, but the general look here is mountain casual. There's no expectation for jackets or ties when dining at even the most elevated dining locales, but hey, if you want to – go for it!
Backpack – When out adventuring together it is helpful to have a bag to hold supplies. You can stock it with everything from water and snacks for adventuring, or an extra layer to toss on if you get chilly.
Sunglasses – When the sun comes out and shines over the fresh snow, it can be stunning, but blinding. Remember to pack sunglasses to save yourself from squinting.
Hat – Not only does a hat keep your head warm, but it will also help keep your hair dry when it's snowing.
Hiking/Winter Boots – Keep your feet warm and dry on your daily adventures with a good pair of shoes. You'll be happy you packed them when snowshoeing though the quiet snow-covered forest.
Dog – Even though it's a romantic weekend away, you could still bring along your favourite third wheel. Whistler has a wide range of pet friendly hotels, and a dog walker can take your pup on their own adventure while you are away at activities.
TIP: If you are thinking of going out for a romantic meal in Whistler, book ahead! Some of the top restaurants book out months in advance so if there's somewhere on you "must do" list then make a reservation.
Family Ski Week
A ski holiday is the ultimate family getaway. You will get to explore while learning new skills, and building new family memories.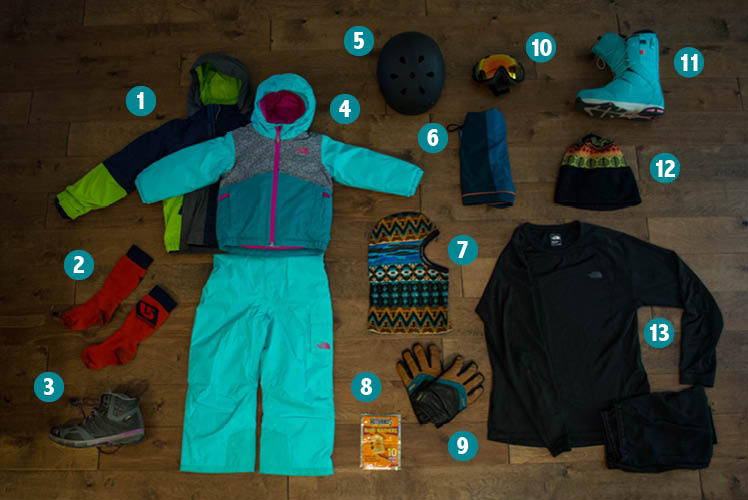 Outerwear – Packing warm, waterproof gear for the whole family is a key for keeping everyone happy. Kids ski gear has become so cute lately it might make you jealous.
Ski Socks – A tip for warm comfortable feet – make sure to pack socks that are made for skiing. Regular socks can bunch, pinch or not wick moisture away from your feet.
Snow Boots – While in our winter wonderland your kids are going to want to play in the snow. They can throw on their boots to go make a snowman, or take a lap at the Tube Park.
Clothes Labels – Kids are really good at losing things. When out with other kids in ski school, make it easy to keep track of their stuff by putting their names on their gear.
Helmets – This one's not just for the kids. Make sure to pack head protection for the whole family.
Swim Suits – Many Whistler hotels have heated outdoor pools. Remember to pack your suits so you can take a dip after a day on the slopes.
Balaclava– Our winter climate is fairly moderate, but it's still winter. A balaclava fits under a helmet and means they can't fuss with it once it's on!
Gloves – Great for keeping hands warm, but easy to lose. Try getting clips that will attach your kid's gloves to their jackets so they can't lose them.
Hand/Foot Warmers – Like having a little oven in your gloves or boots. These little warmers help keep everyone warm, and out happily skiing for longer.
Goggles – Keep all of our glorious snow out of your eyes with a good pair of goggles.
Ski/Snowboard Boots – Keep everyone's feet happy by packing boots that you already know fit everyone well.
Hats – Great for keeping your little ones heads warm while they skate laps on our local outdoor rink.
Base Layers – If you have the right base layers you won't need as many layers overall to stay warm. This could save your kids from looking like little starfish when all geared up.
TIP: Put a couple of small granola bars in your kid's pockets so that if they need a little energy boost they can tuck in. Make sure they're nut free in case anyone in their class has allergies.
If you're still in the planning stages of your Whistler vacation feel free to connect with the friendly locals at Whistler.com or check out some of these blogs below to get some ideas for things you might want to consider for your trip. See you soon!