Summer proper is upon us, making for longer days we like to fill to the brim with adventure. Spending time in, or on, the water in Whistler isn't just an effective way to beat the heat, it also gives us the opportunity to see things from a different perspective.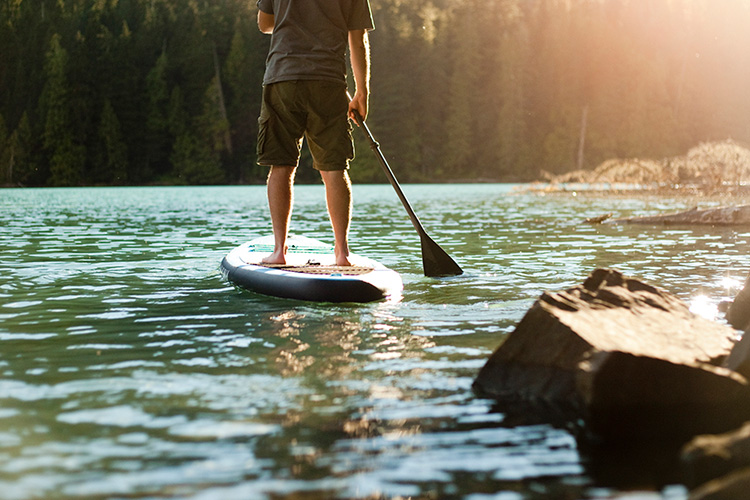 Exploring untouched shorelines offers an authentically raw, natural experience accessing places and views that can't be reached on foot. Whether you want to swim in a glacial lake with a high alpine view, snag a quick dip while biking, spend the afternoon stand up paddleboarding, experience an adrenaline-infused day on a whitewater rafting expedition or something in between, we've got all your Whistler water experiences covered in this blog. 
Tranquil Waters: Whistler's Lakes
Whistler has five main lakes that are easy to access along the Valley Trail. From south to north, they are, Alpha Lake, Nita Lake, Alta Lake, Lost Lake and Green Lake. Each of these locations has parking (although we suggest cycling or walking), docks, picnic tables, designated swimming areas and of course, incredible mountain views. 
Canoe, Kayak and SUP
Alta Lake has multiple parks around its perimeter and each one has its own characteristics. Lakeside Park has a sandy beach, grassy lawn, picnic tables with BBQ stands (you need to bring your own propane BBQ), small children's play structure, docks, slackline posts and washroom facilities. You can also rent a stand up paddleboard, kayak, canoe or pedal boat to explore the lake.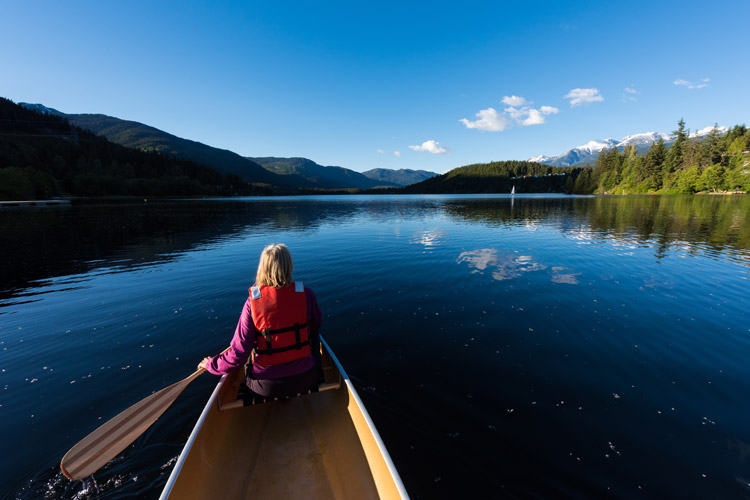 Wayside Park is slightly smaller with a more tranquil feel enhanced by the trees surrounding it. It has a grassy lawn, small sandy beach, picnic tables, washrooms and water toy rentals.
INSIDER TIP: Look out for small paths leading off the Valley Trail that might take you to some fun little lakeside hideaways – we'll leave you to hunt some of these out by yourself.
Park Life
Rainbow Park is one of the more popular options on Alta Lake with volleyball courts, a dedicated dog beach and a large grassy area for physically-distanced lounging. On the weekends, there's a food truck program and even a pop-up nature display to check out.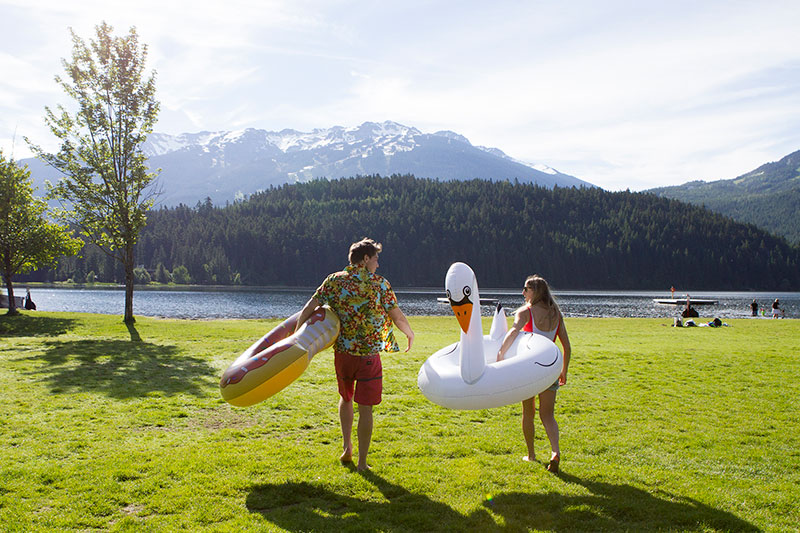 Take a short walk around the park grounds to learn about the historic Rainbow Lodge and its influence on the settlement of Whistler and the start of tourism in the area. If you want more history, visit the Whistler Museum when you're back in the village. 
Sailing
You might notice some small sailboats on Alta Lake; these dinghies likely belong to Whistler Sailing Association. They operate out of the old youth hostel facility located on Alta Lake Road (just down from the turning for Rainbow Park). You can get a lesson, guided tour, charter a boat, or if you're here for a longer stay, consider joining one of their programs for kids and adults.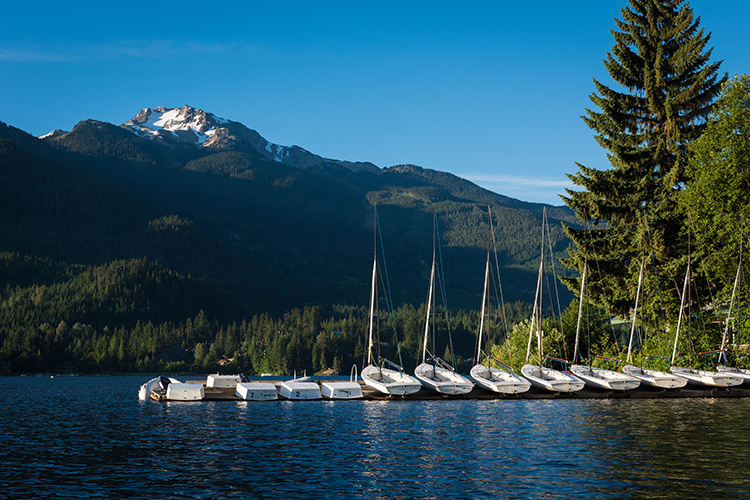 Fishing
Fish any of Whistler's stunning lakes and rivers (we're known for our trout) with your own gear and a valid BC fishing license or go with the fishing professionals for a few hours to perfect your cast and find the best spots. Read more on what a fishing experience in Whistler is like in Whistler Fishing – Rivers, Lakes, Flies, Fun.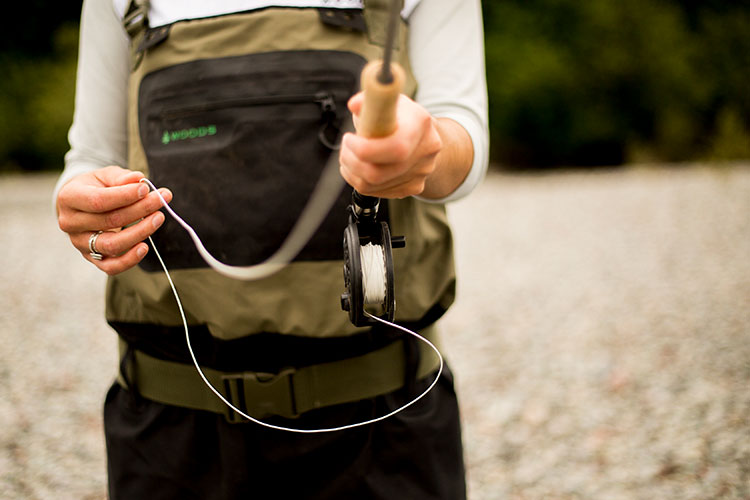 Green Lake
Farther north, you'll find the Green Lake boat launch just off Highway 99 (look for Summer Lane on your right going north). It is just a boat launch, so you will have to rent your desired mode of water transport in Whistler Village or bring your own. Note that motorized boats and floatplanes use this lake too, so keep an eye out!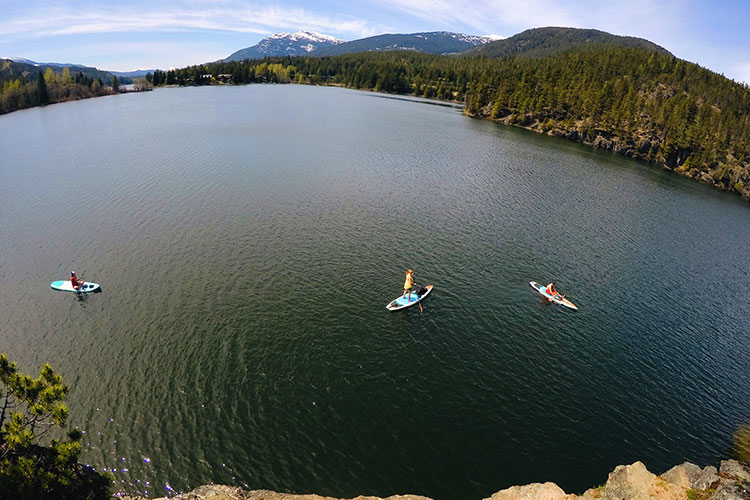 If you paddle to the north end of the lake you'll see the Parkhurst Trail and remnants of old logging equipment and cabins that made up the now abandoned logging community on the edges of Green Lake. 
How do you start on a lake, see lots of lakes, end on a lake, but never get wet or hold a paddle? On a Harbour Air floatplane tour. Take-offs and landings happen on Green Lake and even if you're not taking a tour they're definitely a sight to see.
INSIDER TIP: Locals like to joke about the origins of the name Green Lake, telling some fanciful stories about why it's so green including one about fish with very bright scales. The real reason is that it's glacially fed and the water runs over lots of different rocks and minerals gathering "rock flour", which gives it a distinctly chalky green colour.
Farther Afield: Callaghan, Cheakamus and Rainbow
Adventurous paddlers should consider a trip to Callaghan Lake and Cheakamus Lake. You will need a vehicle with suitable clearance and four-wheel-drive. Read more about exploring these areas in Insider's Guide to Hiking and Adventure in the Callaghan Valley and Insider's Guide: Hike or Bike to Cheakamus Lake. For paddleboarding specific information take a look at, Insider's Guide: Paddleboarding in Whistler.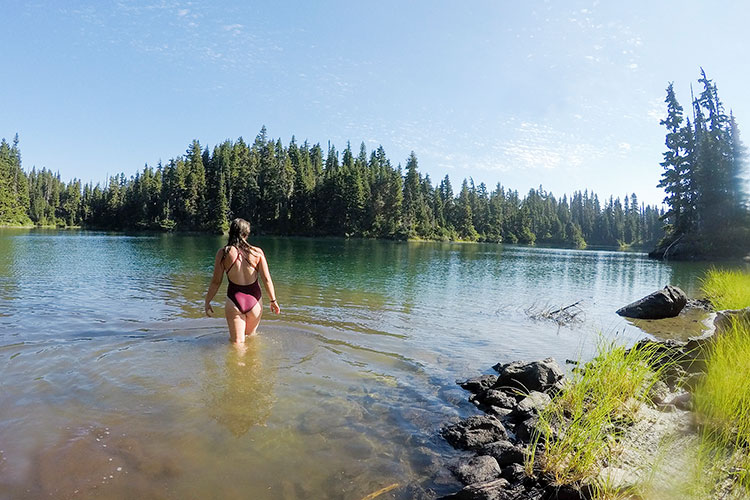 If you'd like to earn your swim, a hike to Iceberg Lake or Screaming Cat Lake will do just the trick! However, if you hike to Rainbow Lake, take note that swimming is not permitted there. 
Rushing Water: Rivers
Whitewater Rafting
One of the most exhilarating water experiences in Whistler is onboard a whitewater raft tackling the Green River, located at the far end of Green Lake. This tour is perfect for adrenaline junkies and families looking to get a bit wet and wild (minimum age and weight is 10 years and 90 pounds for the Green River tour).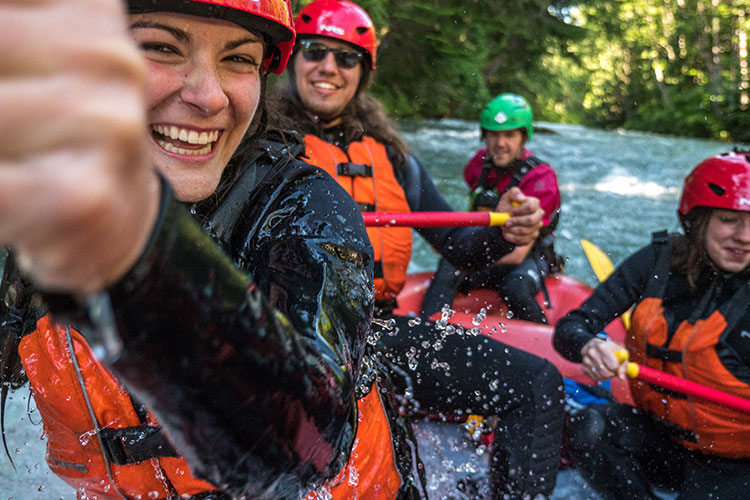 River of Golden Dreams
The River of Golden Dreams is located on the north end of Alta Lake and winds its way to Green Lake. The difficulty of this trip depends a lot on water levels (there's a lot of overhanging shrubbery to avoid, portages and beaver dams) and your level of experience.
We suggest taking a tour, which usually lasts around three hours. Not only do you get paddling tips, but also local knowledge on the lush flora and fauna that surrounds you, making for a deeper experience. Note that at the Green Lake end you'll be picked up and driven back. There is a twilight tour available if you're looking for a unique evening activity when the local wildlife is out and about (bears like dusk).
Some people like to head down this river using floaties or inflatable rafts. These often pop as the foliage around the edges and the rocks along the river bottom can be sharp. The water is cold and hauling yourself and a waterlogged inflatable (please don't let it sink) out via the bushes is not a fun way to spend the day.
Whistler Water Etiquette
Whistler's environmental group, AWARE, gave us some tips on how to protect Whistler waterways. Invasive species threaten biodiversity, alter habitats and have a serious impact on our health and economy. Some invasive plants, mussels and snails can be so tiny that we don't see them, but they can have a huge effect on our lakes, rivers and streams.
To help stop the spread of invasive species, clean, drain and dry your water toys before moving from one waterway to another. Here are some other water etiquette pointers for when you're in Whistler:
There are no lifeguards at Whistler's parks and beaches, so make sure you stay within your ability level.
Know that if you are paddleboarding, canoeing, kayaking or using an inflatable boat, you are required by Canadian law to have the right safety gear (like whistles and personal flotation devices). The Conservation Officer Service is actively doing patrols in Whistler to enforce this federal law and non-compliance may result in a $230 fine for each missing item (ouch). Find out more in Transport Canada's Safe Boating Guide.

You might also want to take a look at

Know Before You Go: Picnics in the Park

to ensure you know the current health advisories for enjoying Whistler's outside spaces.

Stay bear aware at all times and dispose of any food, recycling and garbage in the bins at the parks or take it with you. 
Pack out what you pack in, including that oversized unicorn floaty, we love it, but you can keep it!
Speaking of water, be sure to fill your reusable water bottle and drink plenty – you can get it right out of the tap.

If you're bringing Fido along for any adventures read up on

dog-friendly parks and hikes

.
If you have any questions, the Ask Whistler Live Chat Service is available seven days a week from 8 AM to 7 PM daily via Facebook Messenger, WhatsApp, SMS and phone.

If you're a BC resident, sign up to become a Whistler Rewards member (it's free) for more specials and savings. 
See you on or in the water!