Updated June 2022.
There's never a dull moment on a black diamond run. So, that being said, you've got to be ready for one. 
Runs labelled as black diamonds on Whistler Blackcomb are not for the faint of heart and are reserved for the advanced skiers and riders out there. When you're getting confident on the blue-marked runs then perhaps it's time to graduate; but it's definitely worth putting the time in before you do so because these diamonds pack a punch.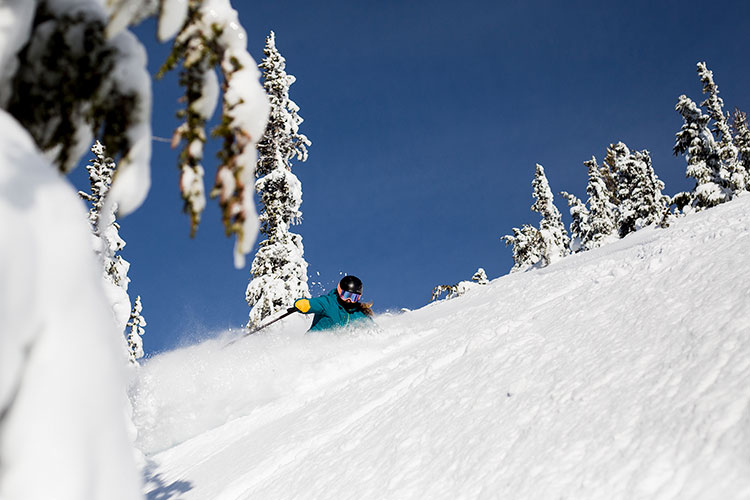 Just because a black diamond run has the same label as its neighbour, it doesn't mean it has the same type of terrain.
Steeps supply a rush of speed and call for an intense amount of focus to maintain control while descending a long, continual pitch; technical tree runs need fast reflexes and constant adjustment of line choice; for moguls it's all about rhythm; and alpine technical runs (chutes and bowls) demand creative, route-finding abilities. 
What Exactly Is a Black Diamond?
There is quite a variety of terrain encompassed by the black diamond label, so what do they have in common? Well, they are usually ungroomed (although we do have some groomed options on Whistler Blackcomb) with a slope pitch of around 40 degrees. To give you a reference point; a blue run is between 25 – 40 degrees in steepness.
The takeaway? You need to be an advanced skier or rider and very comfortable with blue runs before taking on the challenge of a black diamond.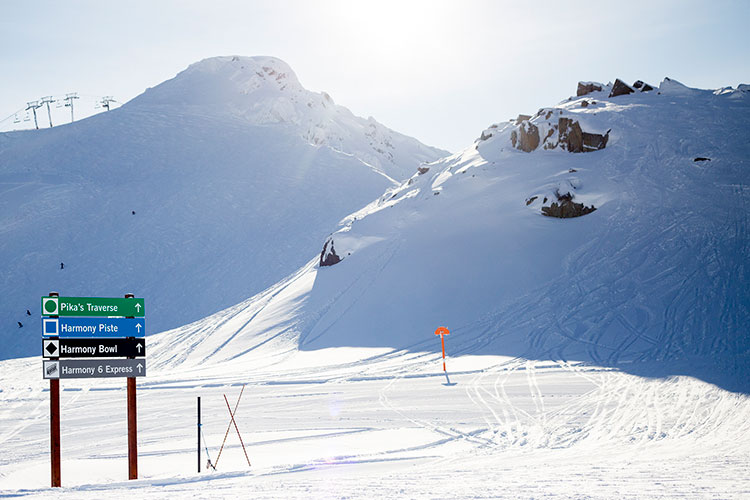 Typically, the progression with black diamond runs is from steeps and moguls to trees and alpine technical. This is because you need the skills on the former before you tackle the latter. When you're skiing all types of black diamond runs proficiently, you can move up to double black diamond runs, which have the added stakes of increased steepness and narrowness, and obstacles like exposed rocks and cliff drops.
This Whistler Blackcomb black diamond bucket list includes a variety of runs and at least one suggestion for both Whistler and Blackcomb Mountains. See how many you can tackle in a season!
Transition Runs: Black Diamond First-Timers
If you're wondering how to get from those blue squares to the black diamonds then check out the blue runs below, which will help ease you into black diamond terrain. Let these blue squares become your training ground, once you can ski / ride them with ease you can graduate to the steeper blacks. 
RUNS: Slingshot to Lower Gear Jammer (Blackcomb), The Saddle (Whistler), Krummholz (Whistler), Blackcomb Glacier (Blackcomb), Upper and Lower Dave Murray (Whistler – these two runs are typically groomed, giving you a taste of the steeps without the added consideration of fresh powder or moguls).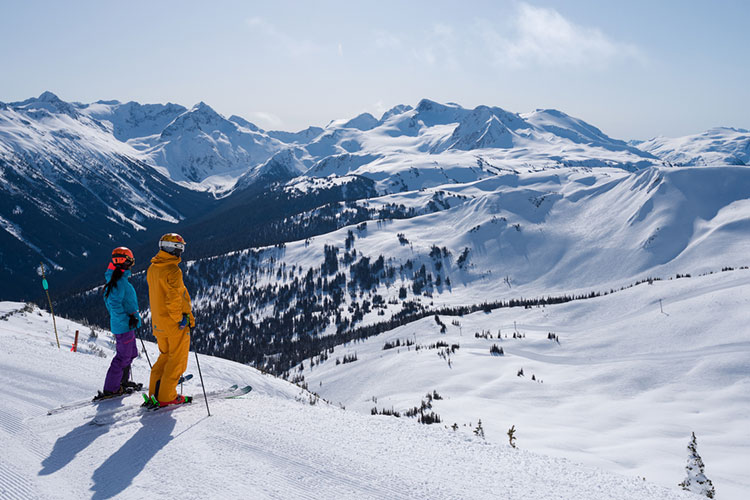 Whistler Steeps
What makes a steep "a steep" in our books is a run's consistent pitch. Long slopes with steady steepness mean you can get into a fluid turning groove. You'll notice most of our suggestions are bowls and that's because they have wide open slopes, so you can pick a route that works best for you and think about your turn placement with the freedom of space.
RUNS: Whistler Bowl (Whistler), West Bowl (Whistler), Lakeside Bowl (Blackcomb)
Where to Find Them: Video of Suggested Whistler Blackcomb Steep Runs / Bowls
Whistler Mogul Runs
The bumps. Love 'em or hate 'em, moguls have been, and always will be, a part of skiing / riding. Finding rhythm in the bumps is excellent training for tree runs and double blacks where obstacles can come at you quickly and these skills are put to the test.   
RUNS: Staircase (Blackcomb), Gear Jammer (Blackcomb), Jimmy's Joker (Whistler)
Where to Find Them: Video of Suggested Whistler Blackcomb Mogul Runs
Whistler Trees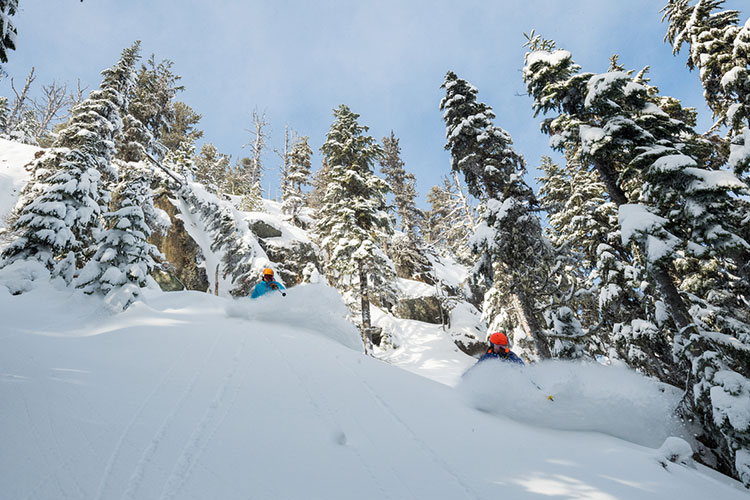 Tree skiing offers an opportunity to go powder hunting and Whistler Mountain has a reputation for having the best stash of black diamond tree runs. Not to say they're not available on Blackcomb Mountain, but if advanced tree skiing is what makes your heart sing you'll find more of the good stuff on Whistler.
RUNS: Gun Barrels (Whistler), Ratfink (Whistler), Arthur's Choice (Blackcomb)
INSIDER TIP:
Tree skiing should always be done with a partner and you should both know about
tree well safety
.
Where to Find Them: Video of Suggested Whistler Blackcomb Tree Runs
Alpine Technical (Chutes and Bowls)
Not as clearly defined as the other types of black diamonds, alpine technical is usually an area, like a chute or bowl, that can include a straightforward entrance and exit, but needs more navigation and route-finding skills from a rider. Good visibility and a planned route on alpine technical runs are essential. Scope your desired route from a chairlift or a neighbouring run to gain confidence in what's ahead. That way, you can get creative and tackle it just the way you want to.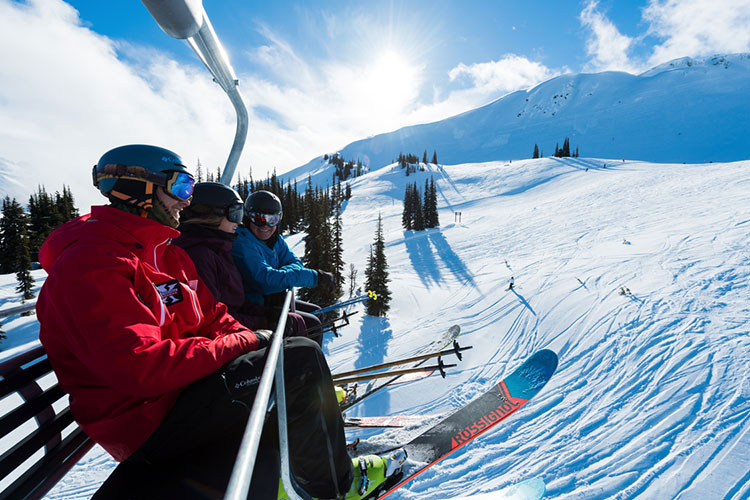 For double black diamonds, you will always have to plan your own route and these single diamond options are good stepping stones to get you used to doing just that.
RUNS: Secret Chute (Blackcomb), Harmony Horseshoes (Whistler), Jersey Cream Wall (Blackcomb)
Where to Find Them: Video of Suggested Whistler Blackcomb Alpine Technical Runs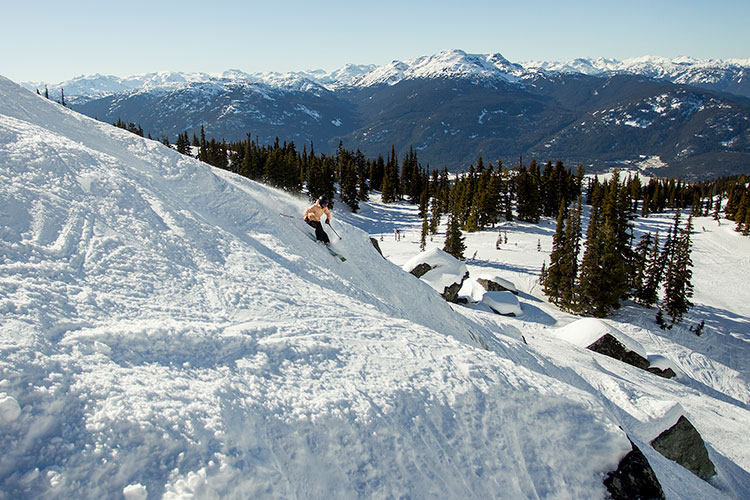 Ski Etiquette
Read the Whistler Blackcomb Alpine Responsibility Code. When you purchase a lift ticket you agree to abide by this code, and the consequences of neglecting it are elevated on black diamond runs as the steepness and variable terrain can be quite unforgiving. 
A few things to remember:
Don't regroup in the middle of the run or under a large rollover.

Always yield to the down-slope person when passing and uphill person when merging.

Stay in control. It's easy to pick up speed on a black run, but you've got to be able to stop safely if you need to.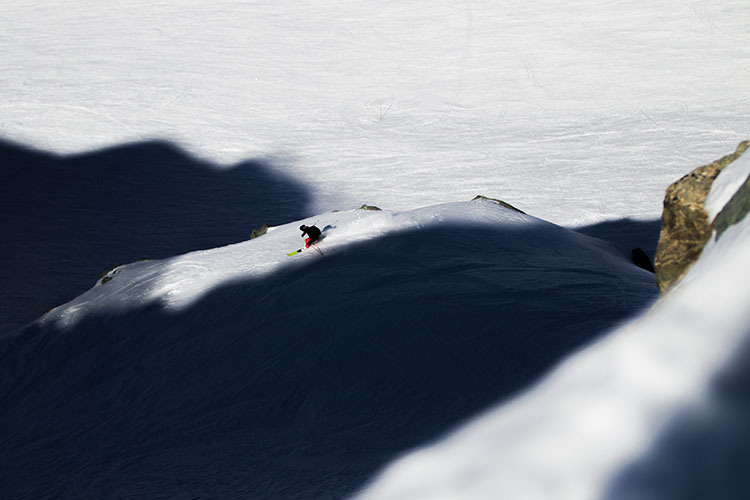 Tips for Skiing and Riding Black Diamond Runs
Don't rush into it. Once you're comfortable with all blue squares, try a groomed steep or short mogul black diamond run first as both these types of terrain can be found on black diamond tree and technical runs.

Warm-up. Opt for a green

 or

blue run to make sure you're on your A-game before selecting a black run. 

Don't go in blind. If possible, check out what the black run looks like from a chairlift or neighbouring run, ask locals or ski patrol what to expect.
Black diamond runs deserve your respect; make sure to approach them when the weather and your skill set are ready. Have fun shredding! 
Looking to progress to skiing black diamond runs? Check out the steeps clinics offered by Extremely Canadian (two-day camps and private lesson options) that will fine-tune your skill set and set you up for success.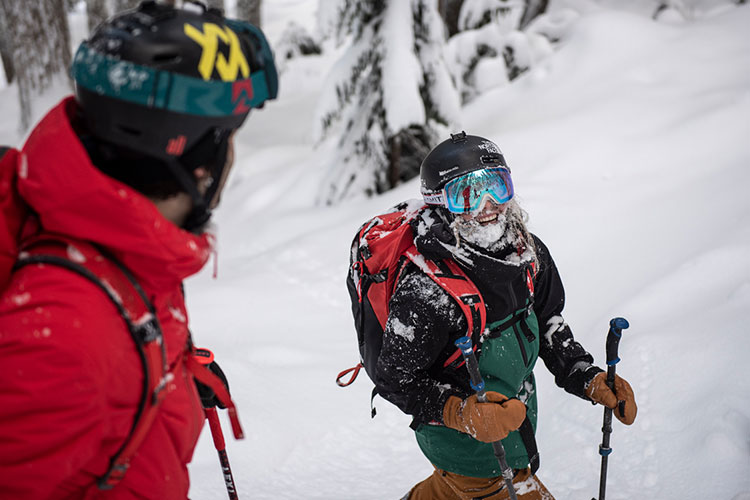 If this post has you dreaming of Whistler, enter our Go Big This Winter Contest for a chance to win a trip.
Stay longer and save more with up to 30% on Whistler winter lodging with Whistler.com. For every third night you book between March 1 - April 30, 2023 receive a free $75 CAD Whistler Après Voucher. Enter promo code SPRING2023 when booking online or call 1.800.944.7853 and mention the offer to one of our Travel Consultants.
It's easy to book your vacation when you have the freedom of our Flexible Cancellation options backed by our Book With Confidence program.