Multi-generational travel is the family holiday redefined and was named the top travel trend of 2020 by luxury travel site Virtuoso.
More and more people, across generations, are putting a higher value on experiences and travel over material objects. And with so many families spread out over the world these days, bringing everyone together for a trip where you can all experience something new and exciting makes a lot of sense.
While Whistler may be most known for skiing, snowboarding and biking, it's also packed with things that help make a multi-generation trip awesome any time of the year. For example, a wide range of activities spanning interests and abilities, different accommodation options, lots of dining choices and an accessible central core – Whistler Village.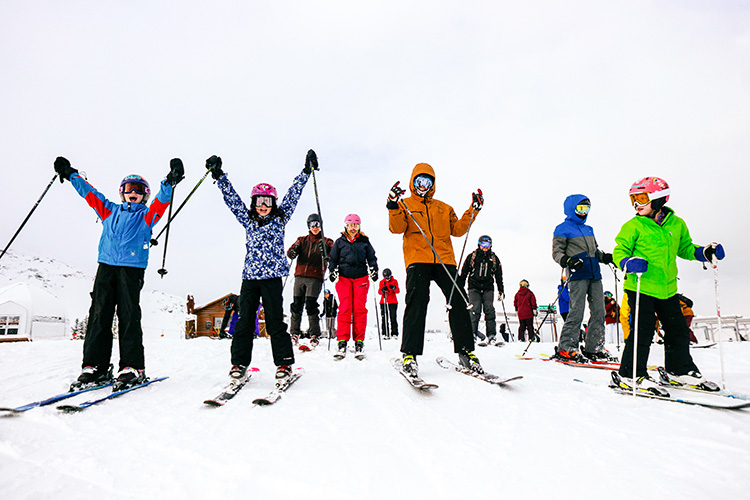 Here are our top tips for planning a multi-generational vacation to Whistler:
Plan Ahead
Whistler is usually an easy destination to rock up to with no itinerary, making plans as you go, but when travelling with a family (or any group for that matter), it helps to have, at least, a loose plan in place.
Travelling to Whistler
Let's start with how you're going to get here. Your options from Vancouver International Airport are driving (car or van / SUV rentals are available), shuttle or private vehicle. Renting a car (or cars) may seem like the easiest option, but keep in mind you probably won't need it once you get here as everything is located in, or near, Whistler Village.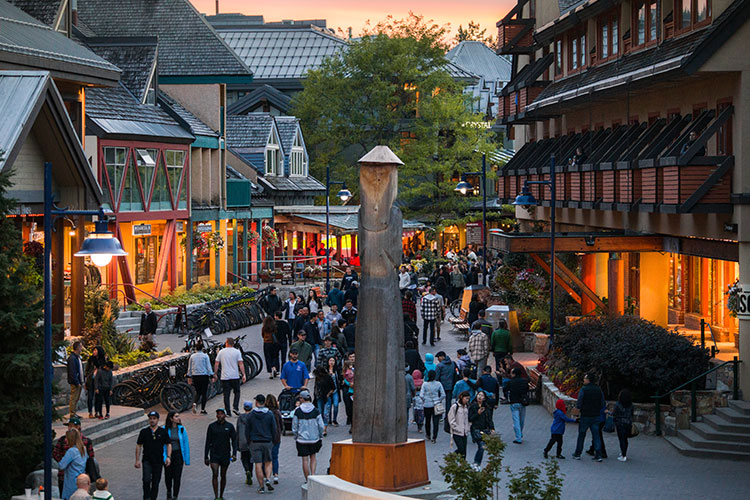 The gondolas take skiers, bikers and sightseers up the mountains right from the Village. Most activity tours depart from here too, even if they take place elsewhere. It's also where the majority of the shops and restaurants are based. If you're at one end of the Village and want to get to the other there's a handy free shuttle. There are also taxis and public buses readily available should you want to explore farther or stay outside the Village.
Helpful Posts:
Picking the Ideal Accommodation
The right accommodation for your family is going to depend on your needs. If you have a toddler or baby travelling with you, you'll probably want a townhome, chalet or hotel with a kitchenette to make naps and feeding easy. The larger space of a vacation home rental will also make it easy to spend downtime relaxing as a family. Many of the five-bedroom and up vacation homes are outside the Village, so keep in mind that you might need a vehicle or two, or plan on taking public transit and taxis regularly.
If you want to stay in or near the Village it's important to know that most four-bedroom accommodation options only allow a maximum of 10 guests due to fire codes. If your family is bigger than that (including the little ones), consider renting two condos at the same property. Valhalla and Mountain Star are both great options for this and are within walking distance of the lifts.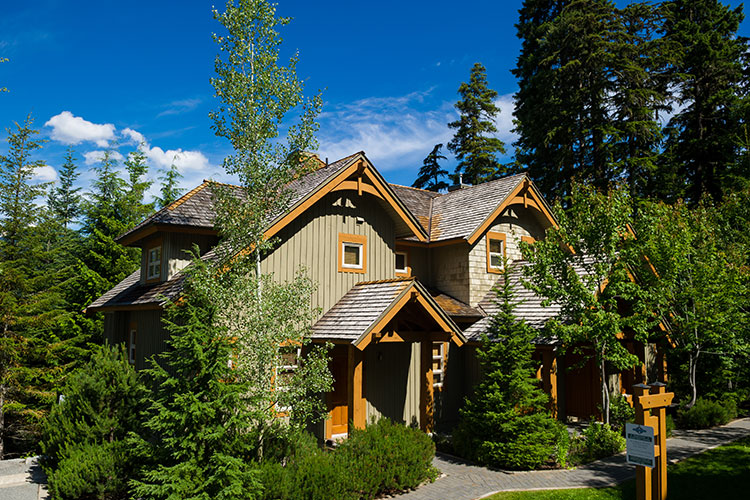 If you don't plan on spending much time in your accommodation, a hotel at the heart of the action could be the right fit. Especially if you love a good hot tub soak and want to take a break from making beds. If you're worried about being too far apart, you can always request rooms on the same floor or see if the hotel has adjoining rooms.
INSIDER TIP: If you're planning on putting any children in ski school check where your accommodation is in relation to the drop-off for lessons. Lugging their gear on top of your own is not fun.
Whistler.com travel agents who specialize in small group bookings can chat with you if you want helping finding the perfect option for your family.
Best Whistler Activities for Groups
Letting each person pick an activity for the group is a great way to guarantee everyone feels like they got to do what they wanted to, but it can also be a bit challenging to organize on your own. So, we've come up with a list of some options that families can do together. Options will vary by season, but here are a few guaranteed to be family-friendly.
INSIDER TIP:
The
Whistler.com team
can do this heavy-lifting for you and also have access to discounted pricing depending on the size of your group.
Idea #1: Go Up the Mountain
Even if you don't all ski, snowboard, hike or bike, you can still head up the mountain together.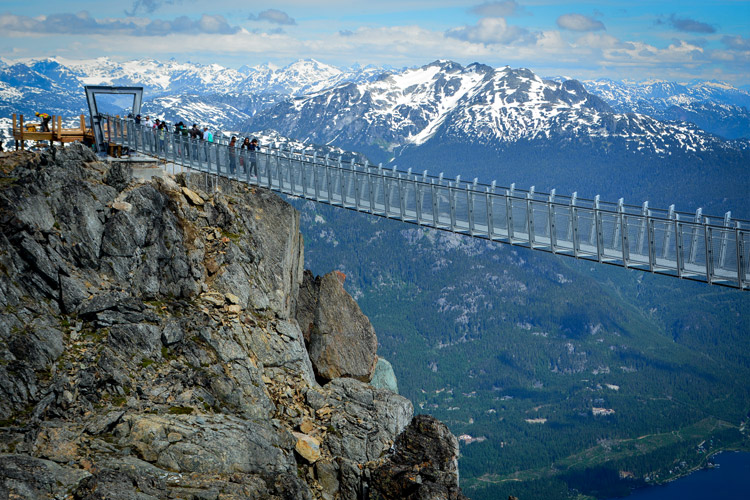 Those on foot can sightsee from the gondolas, dine at one of the on-mountain restaurants and relax, taking in the views from the Roundhouse Lodge or Rendezvous Lodge. See our guide to Mountain Sightseeing for Non-Skiers for winter details and Alpine Sightseeing & the PEAK 2 PEAK Gondola for summer options.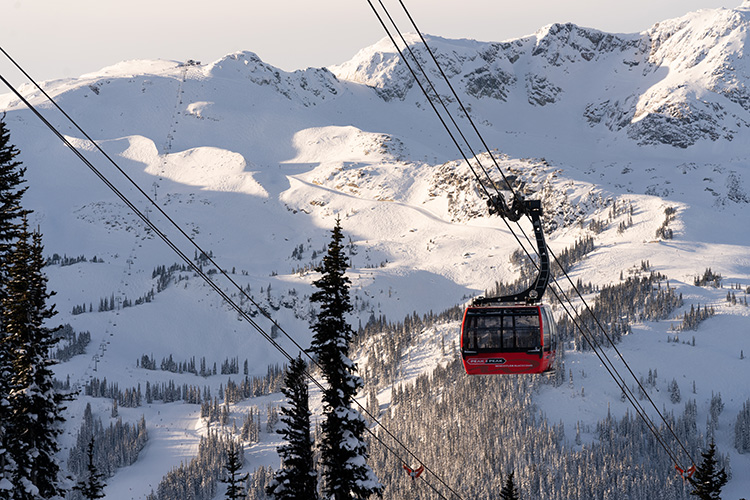 Idea #2: Bike Trip
When the sun comes out to play, so do the bikes. Whistler has a car-free, 40-kilometre-long Valley Trail that winds its way past lakes, parks and rivers. Choose your section based on what you want to see, from weaving through old-growth cedars to watching float planes land on a glacier-fed lake.
You can rent bikes, including e-bikes, which are a good option for people in your group potentially daunted by the distance, and also chariots and trailers for the little ones (and your picnic gear!)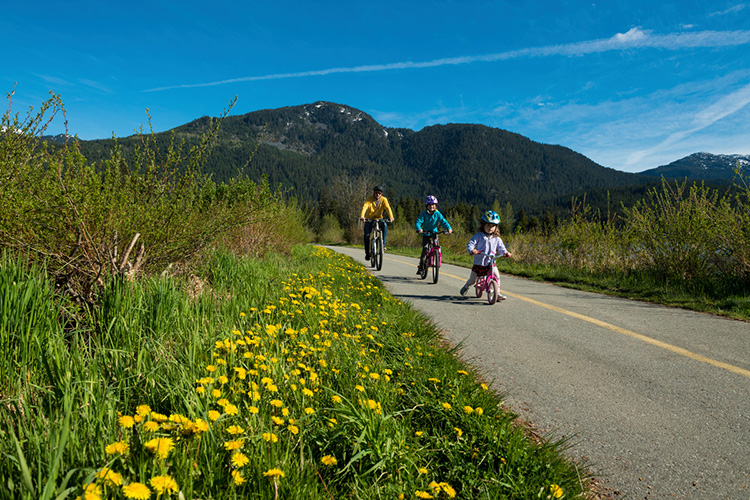 Idea #3: Bear Watching
A Whistler must-do is spotting our most beloved animal, the black bear in its natural habitat. The best and safest way to see one is on a Bear Viewing Tour. The Whistler Bear Viewing Safari from Whistler Photo Safaris is suitable for all ages, while Whistler Blackcomb's Bear Viewing Tour is recommended for ages nine and up.
If you're after an all-around tour of Whistler, check out Whistler Sightseeing Tours, bears are often spotted during their trips too.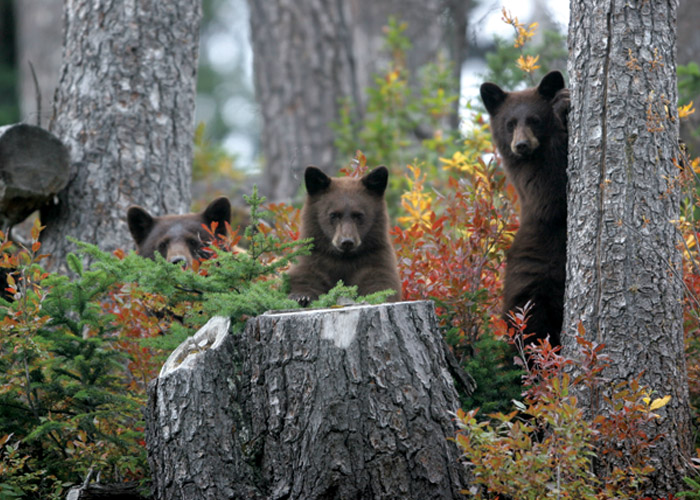 Idea #4: Snowmobile
Head into the backcountry and whiz past snow-capped peaks and glaciers on a snowmobile tour. There are family-specific tours where kids ride tandem with an adult and can even try driving their own mini-snowmobiles!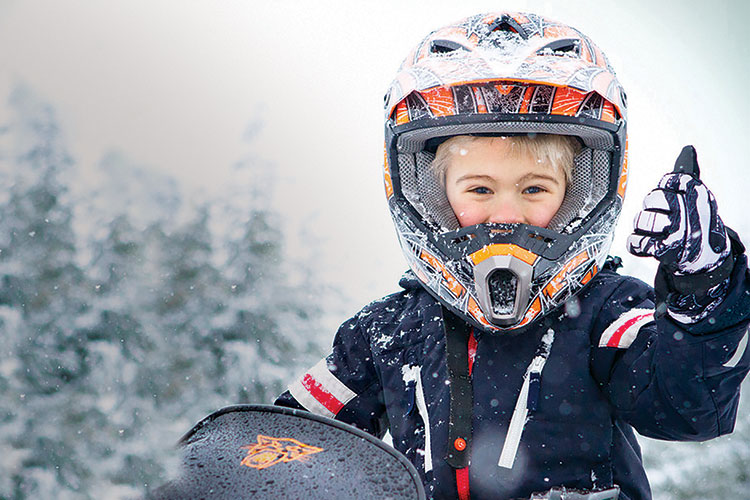 If snowmobiling is a little too adventurous for all the members of your group, check out the snowcat option (think of a small cabin set a-top big snow tracks). You get to experience the same majestic alpine environment from the comfort of a luxury, heated snowcat.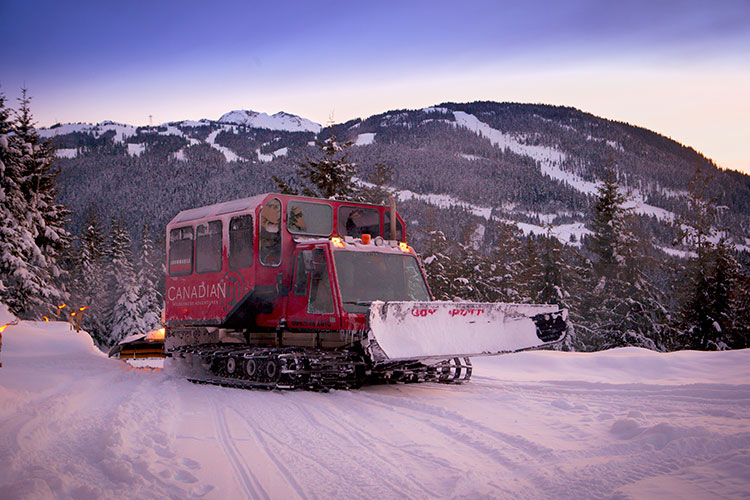 INSIDER TIP: Kids 12 and under are free on The Adventure Group's Family Snowmobile Tour!
Idea #5: Arts & Culture
Whistler's offerings aren't all outdoors either, art and culture lovers will delight in the amount there is to do and see. Visit the Squamish Lil'wat Cultural Centre for an immersive cultural sharing experience, head to the Audain Art Museum (youth aged 18 and under are free) or learn about Whistler's colourful past at the Whistler Museum.
There's also Arts Whistler, located inside the Maury Young Arts Centre who put on shows, workshops and performances year-round for all age groups.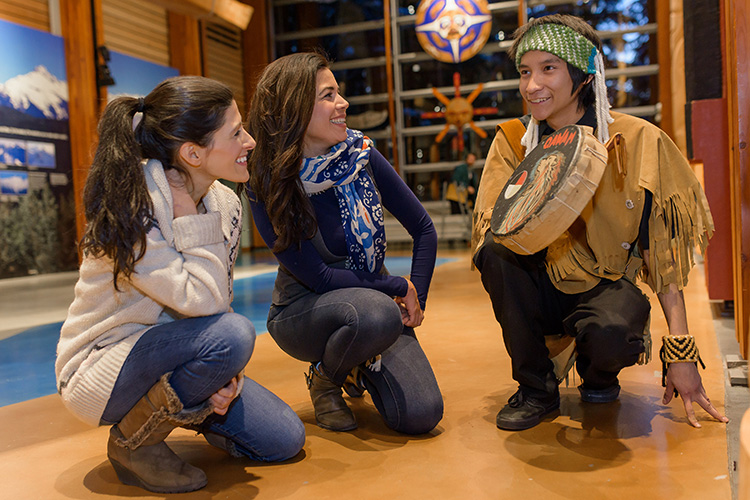 Idea #6: Magic in the Mountains
Vallea Lumina is an evening activity that spans the ages and is open year-round. A multimedia show set in the forest, you wander the one-kilometre path while being immersed in the story of two lost hikers searching for stardust. The path has a few ups and downs, but isn't too strenuous. It usually takes around an hour to move through and is at your own pace, so you can take your time.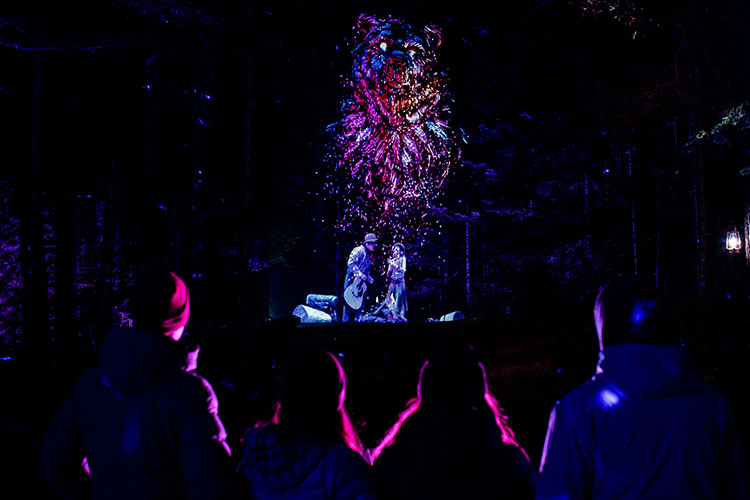 Although exploring together does make for some good family time, it's also fun to divide and conquer and then come together at the end of the day to share stories.
The most important thing to keep in mind when picking an activity is everyone's ability level and tour operator age restrictions. Some adventures may require kids be six years old or over. If you need some more ideas browse below.
Helpful Posts:
Family Mealtime
Mealtime is a great opportunity to share your favourite parts of the day and plan your next adventure. Whistler has many family-friending restaurants, a few trusty ones for kid-approved food at a good price are Old Spaghetti Factory, Hunter Gather and Caramba. The thing about dining as a group is that getting a large table at peak times can be tricky. One tip would be to play with your timing and think about an earlier dinner with time for a walk or ice cream stop-off on the way back to home base.
Many places take reservations, so if you're a planner lock those in early, but if you're in-resort already then going by in-person ahead of time or calling is the best way to get a table. There are also plenty of grab-and-go options if you need something a bit quicker and if you're staying in a vacation rental you can even take advantage of the Whistler Cooks Fridge Full service and eat well without the hard work.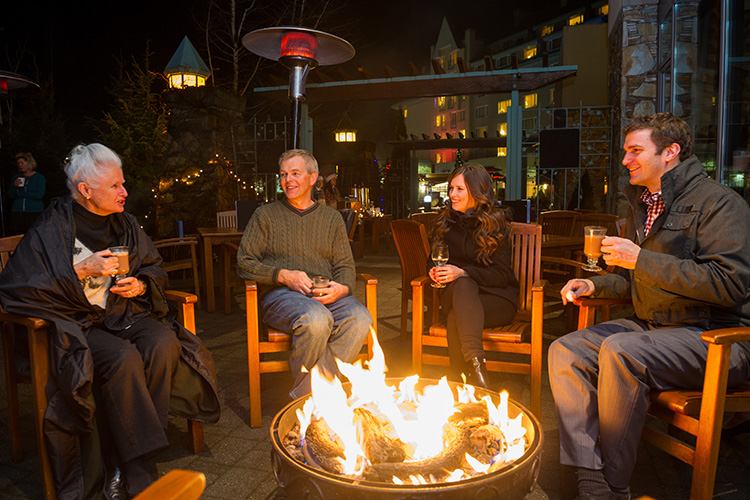 INSIDER TIP: If the adults want some alone time then take a look at The Core's Climb & Dine program, where your kids (ages six to 14) get to burn off some pre-bed energy (it includes a pizza dinner) while you enjoy your food (in peace).
Helpful Posts:
Capture the Moment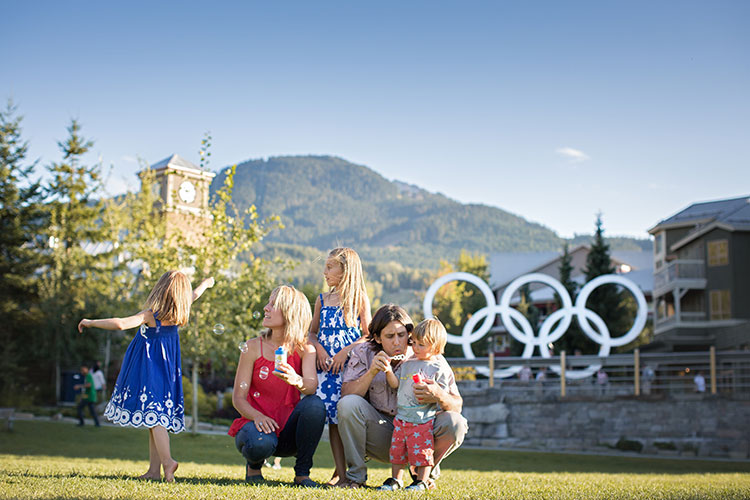 Amidst all the fun, don't forget to take pictures! Designate someone as the family photographer for the day and seek out these beautiful backdrops. Don't be afraid to ask a passerby to get a group shot. For photos guaranteed not to include the edge of a blurry thumb, consider hiring a local photographer for a family photoshoot.
Either way, these will be the images that decorate your shelves, fridges and offices as a reminder of your incredible time spent together for years to come. So, I repeat, don't forget to take them!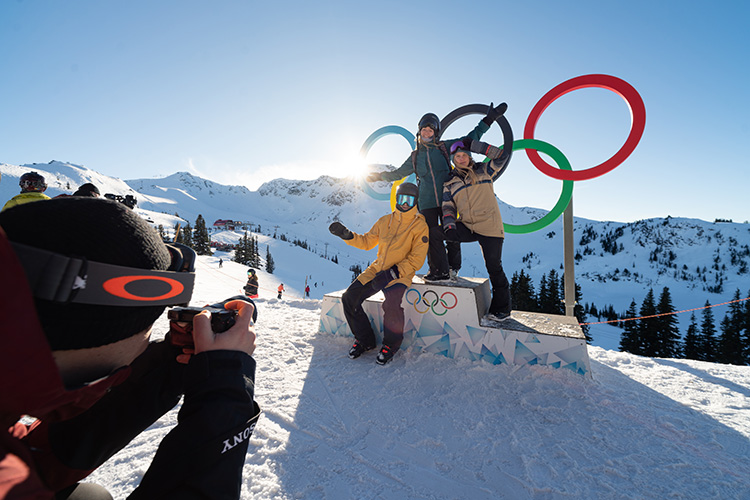 Good to Know
In the winter, Whistler Village is cleared of snow and salted regularly but during heavy snowfall, the stroll may be covered in snow. If you're visiting during a particularly snowy or icy spell you may want to purchase Yaktrax (grip for the bottom of your shoes) or a similar product from a local retailer.
Whistler Village is car-free and accessible for strollers and wheelchairs, see the accessibility map for details and the Resort Municipality of Whistler website for more information.
Whistler.com is an incredible resource for families, check out their family itinerary for inspiration. They also have a new Ask Whistler initiative where you can text, WhatsApp and Facebook Messenger your specific questions from 8 AM to 9 PM daily (Pacific Standard Time). You can also pop in to see them at the Whistler Visitor Centre.
If you need any help or advice while planning your Whistler vacation or once you get here, let us know! The Whistler.com team is available by phone, email, text or chat.