Updated April 2023
buck·et list

A list of things a person wants to achieve or experience, before reaching a certain age, or in a lifetime.
Putting together a bucket list is a great way to motivate yourself to do your dream activities – you're putting the intention out there into the universe. Unfortunately, pesky reality can often get in the way of making those once-in-a-lifetime experiences actually happen. Life is short, precious, and all of those clichés, so I've put together a list of Whistler-based bucket list items that span the budget range. From value to full splurge, here are some items you should add to your own list.
See the Sun Rise and Set from a Mountain Top
If you're on the valley floor, you'll see the sun dip behind the mountains earlier than if you take yourself up to higher elevations. To really experience the majesty of a true mountain sunset, it needs to be viewed from a peak. To see it for yourself take a look at these options while you're here:
$ – First Tracks
Waking up early feels like torture when your alarm goes off but becomes 100% worth it when you see those rays poke over the mountain peaks. With a First Tracks ticket, you get an early gondola upload, which means access to the first turns of the day ahead of the crowds. Bring on that untouched powder and those corduroy groomers!
You also get a $17 Whistler Blackcomb dining voucher for use throughout the day. Starting the day this way means you'll also score primo seats by heading in early for lunch and après, seeing as you're already ahead on your day.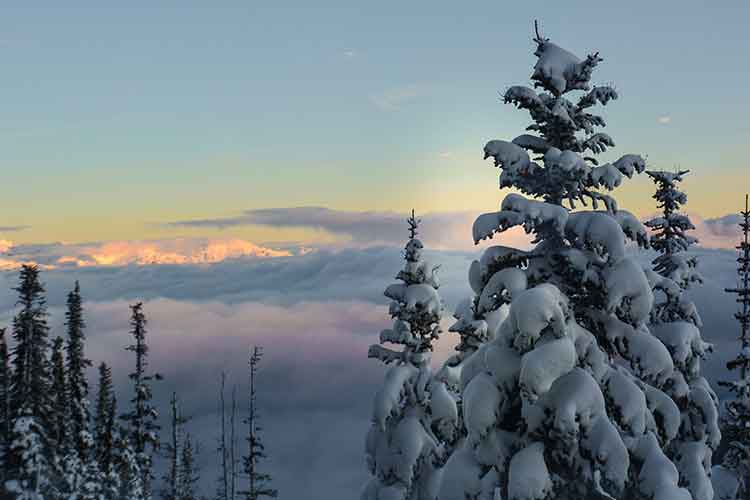 $$ – Snowmobile
A twilight snowmobile tour perfectly combines the adrenaline-pumping fun of sledding, with the serene calm of viewing an alpine sunset. For next-level fun, you can book a tour that includes a meal. Local favourites like the Mountain Top Fondue Tour and the new Sproatt Steak Night by Snowmobile guarantee tasty food and stellar views.
For all the early birds, you can catch the morning glow on the Yukon Breakfast Tour – a hearty breakfast and snowmobiling is an incredible way to start your day.
$$$ – Helicopter
When seeing a sunset from a helicopter you don't just get to be on top of one mountain, you'll be on top of all of them. One very special time I was lucky enough to be in a helicopter for sunset, and it was so beautiful I've been dying to get back in the skies for sunset ever since. I won't say that it will ruin all other sunsets for you, but it will certainly raise the bar. If I had to pick one of these bucket list activities as a must-do, it would definitely be this.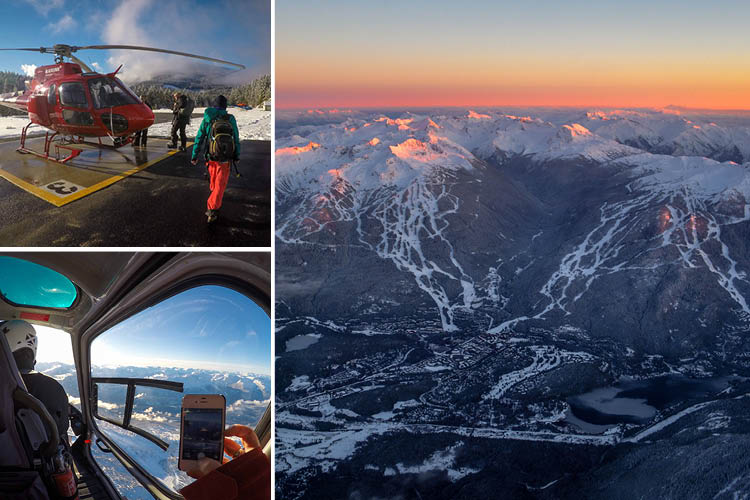 Get Into the Backcountry
Have you ever been skiing inbounds and looked out longingly at the pristine surrounding peaks? The backcountry is not to be taken lightly, but it doesn't need to be intimidating. With the right help and know-how, you can venture into untouched bowls and chutes.
$ – Ski/Snowboard Touring
Extremely Canadian's Intro to Backcountry is the perfect first step to dipping your toe into the world of backcountry skiing. Their guides will take you to the best places for your ability level, help keep you safe, and improve your skills along the way. Fair warning, touring can be very addictive, so prepare to fall in love.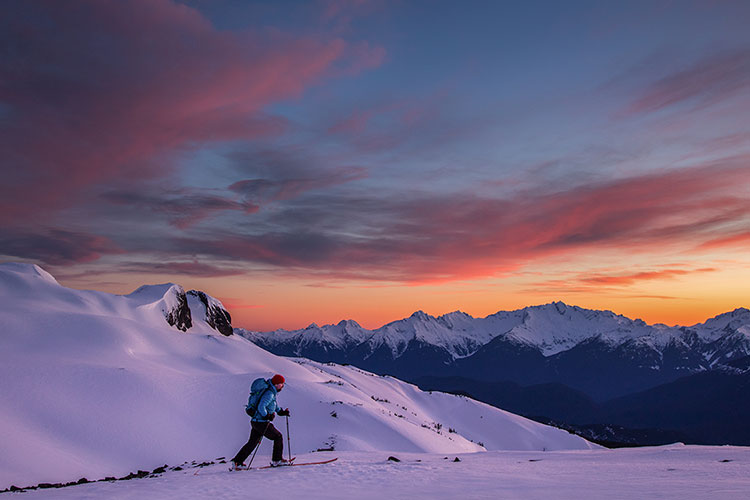 $$ – Snowcoach / Snowcat
To experience remote terrain with your family, a snowcoach / snowcat tour strikes a good midpoint between cost and experience. The heated snowcats take you high into the alpine where you can enjoy 360 views of the surrounding mountains. As a cherry on top of your backcountry experience, you'll also get to enjoy lunch in a remote log cabin before venturing back down to the valley.
$$$ – Heli-Skiing
Heli-yeah!!!! Going for a day of heli-skiing is the pinnacle of any skier's / boarder's life. For the average skier, it's not something that can be indulged in very often, but when you finally get to tick this one off your bucket list it is going to be something that you will look back on and smile at when your ski days are far behind you.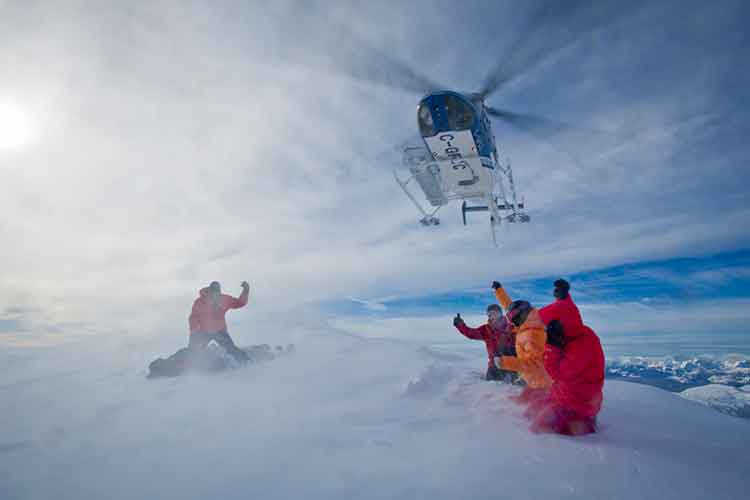 Do Something That Scares You
A key component to most bucket lists is to include an item that makes you feel truly alive. Whistler has a wide range of activities that will get your adrenaline pumping and nudge you out of your comfort zone, all while under the supervision of safety professionals of course.  
$ – bubly Tube Park
Like tobogganing without all the hard work, snow tubing is fun for the whole family. The smooth-bottomed inflatable tubes slide surprisingly fast and you're bound to have a 'holy smokes' moment on your first run. For little ones or adults who need a bit of a warm-up, they have a lower start option.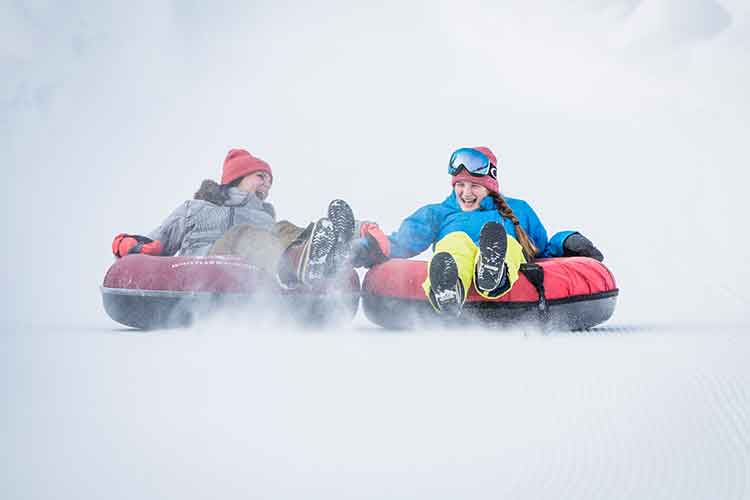 $$ – Bungee Jumping
This classic bucket list item should be on every adventure-seekers list. If you've never tried bungee jumping before there's no better place than Whistler to take the leap. Their platform over the icy, blue waters of the Cheakamus River is both photogenic and terrifying.
$$$ – Ice Climbing
Combining adventure and other-worldly winter beauty, a day of ice climbing isn't something you'll soon forget. Whistler's Mountain Skills Academy & Adventures will take you to a hidden, frozen waterfall to give this unique activity a try. Read – Bucket List Mission: Ice Climbing in Whistler – to get a better sense of what to expect.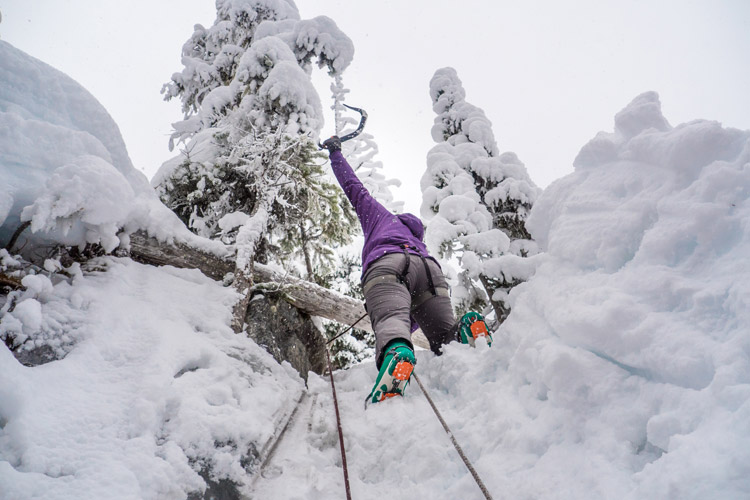 Get That Olympic Feeling
It feels like just yesterday when Whistler was alive with the 2010 Winter Olympic and Paralympic Games. While the Games are long past, the Olympic spirit is still very much alive in our small town. Heck, I even live in athlete housing from the Games (I've yet to find out what team). Take part in these activities and you will unleash your inner Olympian, no training required.
$ – Skating in Olympic Plaza
Developed as the home for Whistler's medal ceremonies, Whistler Olympic Plaza has since become HQ for winter fun in Whistler Village.
My favourite way to enjoy the Olympic Plaza in the winter is to strap on some skates and go for a spin on the free ice rink. As a card-carrying Canadian I bring my own skates, but if you weren't able to travel with yours, they have rentals available (see full hours and info).
INSIDER TIP: After skating, make sure to stop by the adjacent Olympic Rings for a photo. There is a rock podium there at perfect photo height, so you can put your camera's timer on and get everyone in the shot.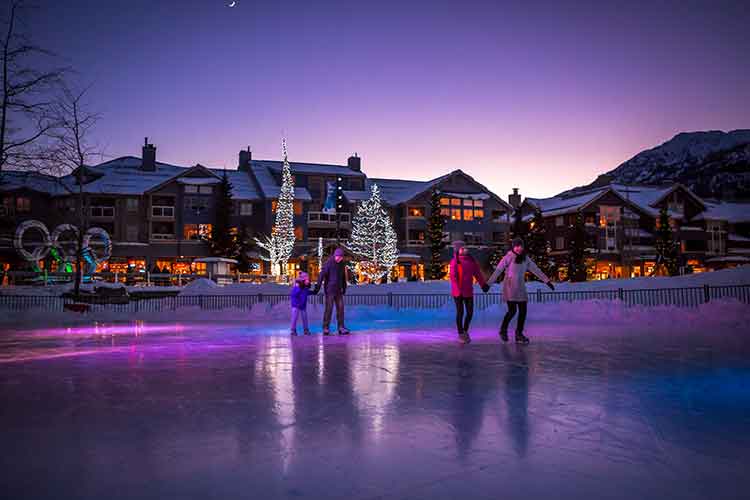 $$ – Biathlon
Combining Nordic skiing with guns, biathlon is a certified hardcore sport. Join Whistler Olympic Park's Discover Biathlon lessons to learn to ski and shoot like a pro. It's pretty cool to shoot from the exact blocks used in the Games and humbling to realize how tiny those targets are at the end of the range.
Fellow Insider, Feet Banks gave this a try a few years ago. He shared his experience, and some history of the sport in – Straight Shooting – Biathlon in Whistler.
$$$ – Bobsleigh / Skeleton
This activity could also live under the 'Do Something that Scares You' category due to its thrill-of-a-lifetime capacity. Since hosting the Olympic bobsleigh, luge and skeleton events in 2010, the Whistler Sliding Centre opened its doors to normal folk like you and me to give bobsleigh or skeleton a try. The amazing staff walks you through the whole process and snaps a shot of you in full stoke mode at the finish.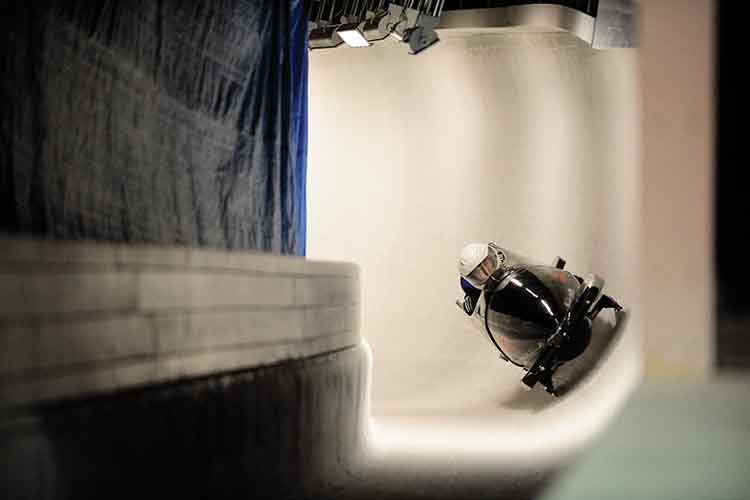 Soar Between Mountains
I've always wondered if birds have ever realized how seriously cool it is to fly. Change your perspective and see our local peaks with a bird's eye view on these rad tours.
$ – PEAK 2 PEAK Gondola
Connecting Whistler and Blackcomb mountains, the PEAK 2 PEAK Gondola is a true engineering marvel. Barely a ski day goes by when I don't use it to hop between mountains. More than simply being a way to move from A to B, the 11-minute ride between mountains never fails to impress. Despite having travelled on it more times than I can count, I always spend the ride across with my face and phone pressed to its panoramic windows to take in the ever-changing landscape below.
If you've come to Whistler to ski, you're in luck, as this activity is included with your day ticket or season pass. For those who like views but aren't into hitting the slopes, you can purchase a sightseeing pass. It includes rides on the PEAK 2 PEAK Gondola, Whistler Village Gondola, and Blackcomb Gondola, which give you access to the Roundhouse and Rendezvous Lodges for lunch or hot chocolate stops.
INSIDER TIP:
Make sure to check the
hours of operation
before planning your day. You'll want to allow yourself plenty of time to play in the snow, snap pics, and take in the endless views.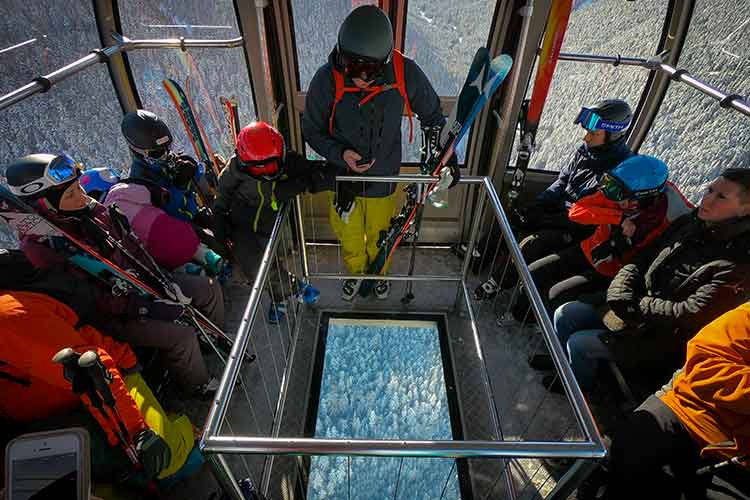 $$ – Zipline 
Ziplining is one of those activities that is exactly as fun as it sounds. Once you recover from the thrill of stepping off the platform, the smooth ride lets you really take in the stunning views all around. Don't forget to dress warmly as you would for a ski day, and bring your Hitcase-protected phone or GoPro to capture a mid-flight shot.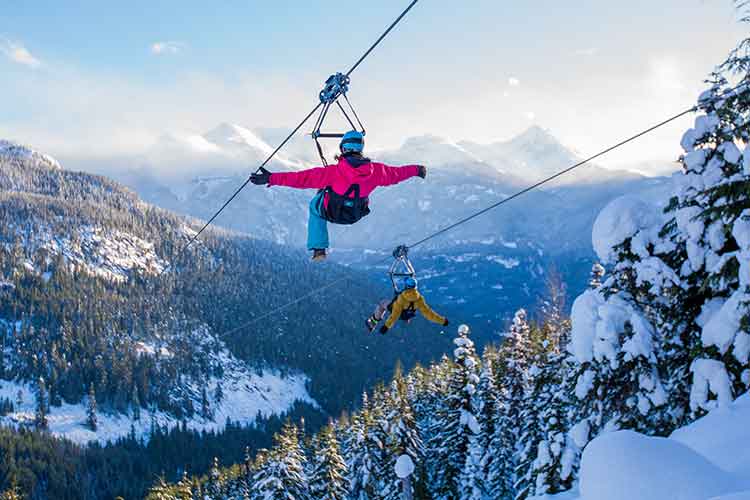 $$$ – Helicopter Tour
Yes, it's another suggestion to take a helicopter. A reality I've come to learn is that everything is better with a helicopter, and sightseeing is no exception. With a helicopter tour, you can explore far beyond our valley with options to land on, or even venture inside, a remote ancient glacier.
SIDE NOTE: If any helicopter pilots are reading this, I would make an entertaining, albeit useless co-pilot if you need one.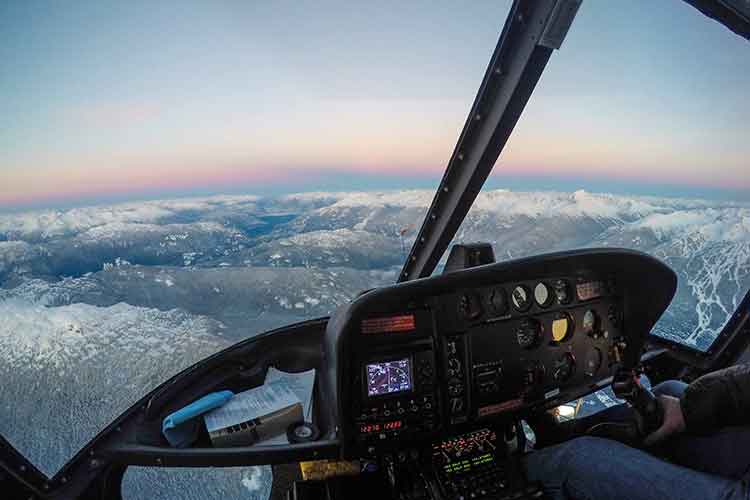 Just visiting Whistler can feel like a bucket list item in itself. Make this the year you see that dream become reality.