Mickey bounds through the snow tail wagging and tongue flapping out of the corner of his grinning mouth. He's in doggy paradise – or Whistler Olympic Park as we humans like to call it. He might be nine years old, but in this winter wonderland, he's young and spirited once again.
There are few places where humans and their furry friends can enjoy a ski date together. Whistler Olympic Park offers the largest designated off-leash dog area in the Sea to Sky Corridor, boasting 30 kilometres of dog-friendly cross-country ski trails and 20 kilometres of on-and off-leash snowshoe trails. Your pup will most certainly be pooched after a day of frolicking here.
Home of the Nordic events during the 2010 Olympic and Paralympic Winter Games, Whistler Olympic Park is a world-class facility offering winter and summer adventures. With winter in full swing, it's time to hit the trails with your pup in tow. Here's what to expect . . .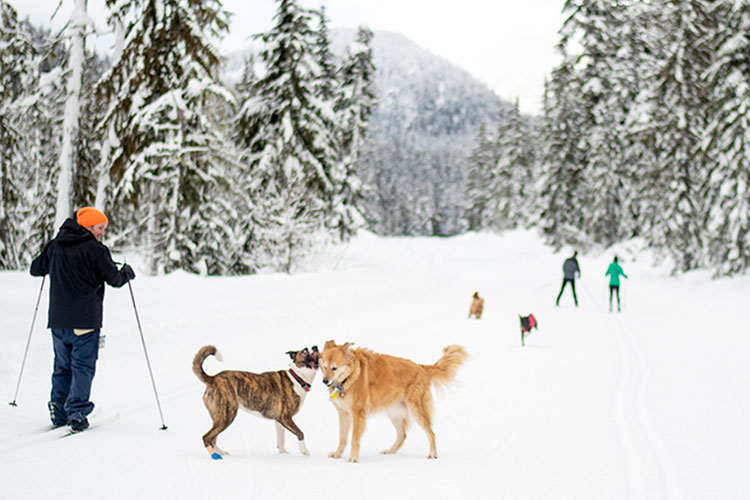 Cross-Country Skiing with Your Dog
Gliding along expertly, groomed cross-country ski trails set against the snowy backdrop of the Callaghan Valley is all the more delightful when your best friend is running happily by your side. 
Whistler Olympic Park has 11 dog-friendly trails to choose from, including greens, blues and a few browns, which are wilderness, ungroomed trail options. They wind through the snow-blanketed forest, passing peekaboo mountain views along the way. The trail map is well-marked to indicate where pups are allowed to go and there is plenty of signage to help guide the way. Around the World is one of the signature trails that both humans and doggos can explore as a team.  
Snowshoeing with Your Dog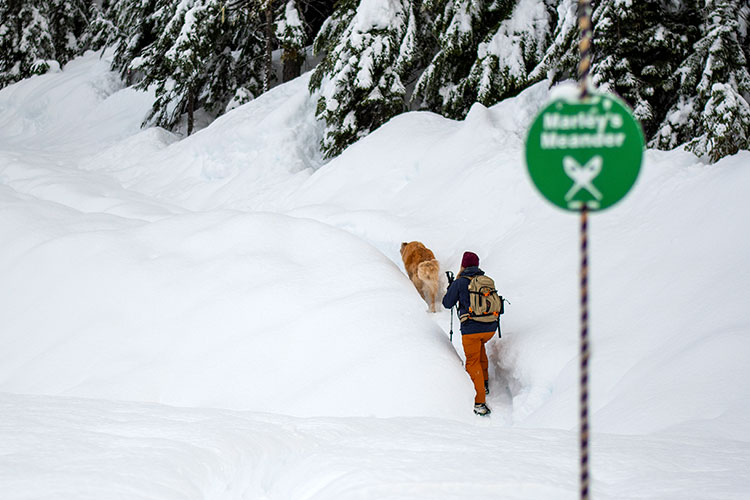 Snowshoeing allows you to go off-piste from the groomed trails to explore the forest and reach deeper snow, while staying within the comfort of a marked nature trail. Strap on a pair of snowshoes and hit the trails at a meandering pace for a more intimate experience in the forest. 
There are seven pup-friendly snowshoe trails at Whistler Olympic Park. Follow the markers from the dog parking lot to the connector trail, Marley's Meander, a moderate green that traverses pockets of forest in and around the cross-country trails. If you're looking for a more vigorous hike with scenic views, tackle a longer adventure to the iconic Alexander Falls, which often freezes in the winter. 
Getting There
The best way to travel to the park with your dog is by car. Whistler Olympic Park is located 20 minutes south of Whistler Village. Drive south along Highway 99 and turn right at the sign for Whistler Olympic Park. Purchase passes for you and your pup from the ticket window at the front entrance to the park. 
Day admission for adults is $28.50 (cross-country skiing) and $16.50 (for snowshoe). Dogs are $6.50 (rates current at date of publishing). The dog parking lot is located just past the park entrance and is well-marked with signage. If you don't own cross-country skis or snowshoes, you can rent them at the Day Lodge. 
Tips for the Park
Keep an eye on the signage as there are designated on-leash areas 

Dogs aren't allowed in the day lodge, but there is convenient "dog parking" out front 

Bring food and water for your pup as they'll be working extra hard on the trails

Dogs get cold just like humans, so consider your dog's energy levels and watch for shivering

Pick up after your pup. There are garbage cans and bag dispensers at the parking lot

If your dog is prone to cracked paws after a day in the snow, consider dog booties or musher wax as a preventative measure

They have night skiing on Wednesdays, however the dog-friendly trails aren't lit, so plan to be back at your vehicle before the light goes and carry a headlamp if you think you might cut it close (bring one for your pup too – they're hard to spot in the dark)
Visiting Whistler with Your Dog
Whistler is a fun getaway for you and your furry companion. There are a number of hotels throughout the resort that offer pet-friendly accommodation, including the Fairmont Chateau Whistler in the Upper Village, the Pinnacle Hotel and Summit Lodge in Whistler Village, and Nita Lake Lodge in Creekside. Dogs are welcome in Whistler Village, as long as they are on-leash and well behaved.
Make sure you familiarize yourself with Whistler's pet bylaws and have your dog leashed at all times unless you're in a designated off-leash area. The team at Whistler.com know exactly which properties are dog-friendly so let them help you book a stay for you and your furry friend. 
For more snowshoe adventure ideas, read the: Insider's Guide to Snowshoeing in Whistler.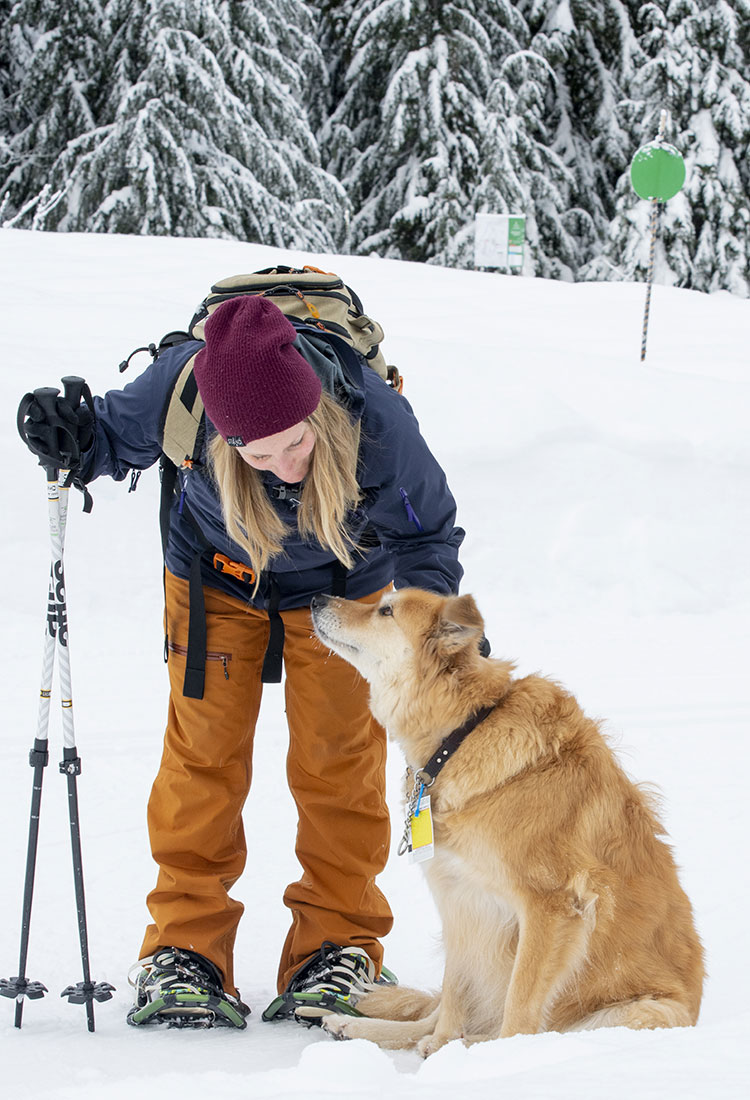 A Little Gallery of Whistler Dogs: Cute Pooches!