Updated January 2022.
No planks? No problem. The idea that you need to ski and snowboard in order to enjoy the mountains is a thing of the past. Grab your snow boots, warm layers and get ready for 360-degree vistas, wine tasting at 60,000 feet, Olympic legacies, and glass-bottomed gondola rides. Here's a handy list to get you going on your mountain sightseeing for non-skiers experience in Whistler.
Grab Your Ticket
The PEAK 2 PEAK 360 Experience ticket covers you for access to the entire gondola system. For sightseers, there are three gondolas you can ride; Whistler Village Gondola, Blackcomb Gondola and the PEAK 2 PEAK Gondola. It's a 13.5-kilometre continuous lift system, forming an inverted triangle (check out the graphic below).
If you're a fan of statistics then take a look at our blog on how this engineering marvel came to be: Inspiring Mountain Innovations on a World Scale.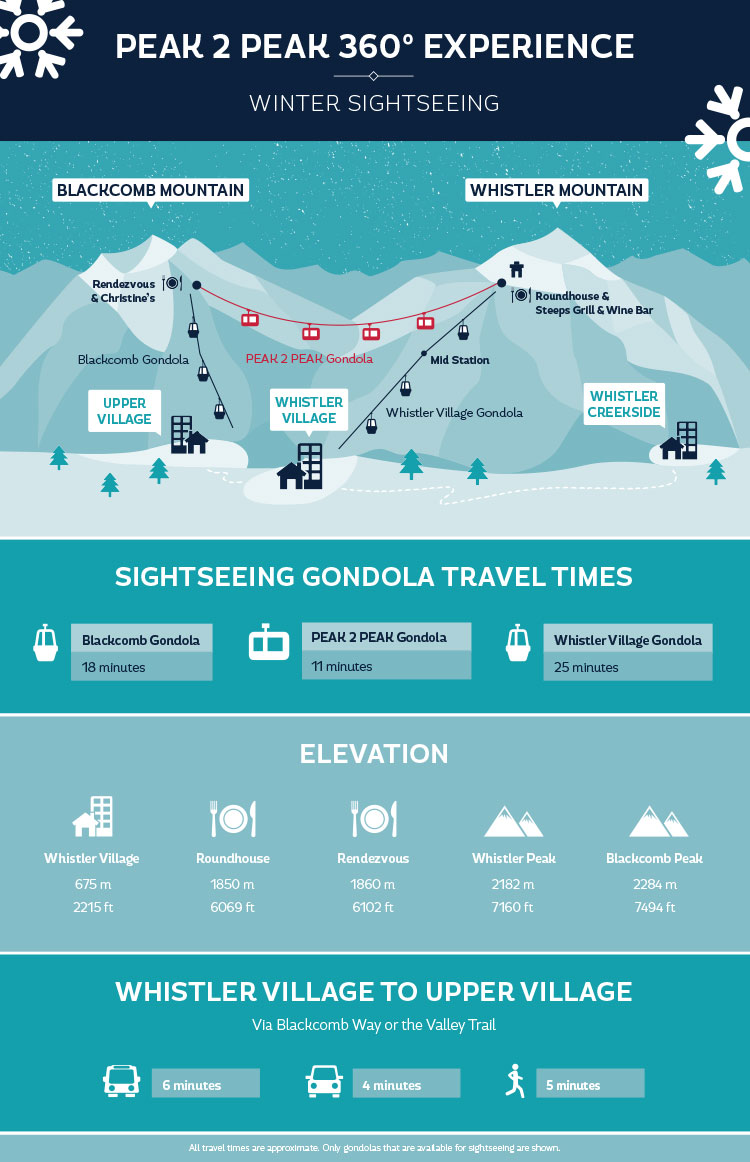 Grab your tickets in advance online (2+ days in advance) to save $5 per ticket, or pick them up from the Whistler Visitors Centre or Whistler Blackcomb Guest Relations. Always check the hours of operation before planning your visit.
The Gondolas Explained
Whistler Village Gondola
If you're heading up from Whistler Village, expect a 25-minute ride as you climb the 4.99 kilometres (16,371 feet) in a 10-person gondola up to the Roundhouse Lodge on Whistler Mountain.
The doors will actually open at Mid-Station (after about five minutes), but make sure you don't get out as you're not at the top yet! This is where beginner skiers and the kids programs usually congregate.
If you look behind you as you head upwards, you'll get a fantastic view of the valley. You might be able to make out the lakes, and the mountains you can see on the other side of the valley are Rainbow and Sproatt. Keep an eye out for the Whistler Sliding Centre that's located on Blackcomb Mountain, the track looks like a giant silver snake and it's where luge, skeleton and bobsleigh athletes have their fun. If you've ever wanted to try your hand at a sliding sport then take a look at their Public Skeleton and Passenger Bobsleigh experiences.
Skiers and snowboarders will be cruising the runs below you and as you get closer to the top, you'll be able to see the PEAK 2 PEAK Gondola over to the left, spanning the valley.
When you exit the Whistler Village Gondola you'll be at the Roundhouse Lodge, which sits at 6,069 feet (1,850 metres). It isn't quite the top of the mountain, but it's as far up as you can get on foot in the winter. If you look to the right, you'll see the Peak Chair taking skiers to the highest lift-accessed point. In the summer, you can ride this chairlift and check out the Cloudraker Skybridge (not currently open in the winter).
A great photo spot is right outside the Whistler Gondola doors with the Olympic rings and flags as your backdrop. Inside the foyer area, you'll find the Olympic Legacy Display, which showcases the achievements of local athletes along with highlights from the 2010 Winter Olympic and Paralympic Games. If you head up the stairs and then out the back of the lodge you'll find an Insta-worthy inukshuk monument (these stone landmarks are used by the Inuit and other peoples of the North American arctic regions for guiding and marking areas.)
PEAK 2 PEAK
It's a short, but snowy walk across to the entrance of the record-breaking PEAK 2 PEAK Gondola. Make sure you keep your wits about you as skiers and snowboarders use the same entrance. There are usually two lines inside the building, one for the "normal" red gondola cabins and the other for the glass-bottomed option, which there are only a few of so the lineup is usually longer! It's up to you whether you wait, but either way the views you get will be incredible as the cabins have windows on every side.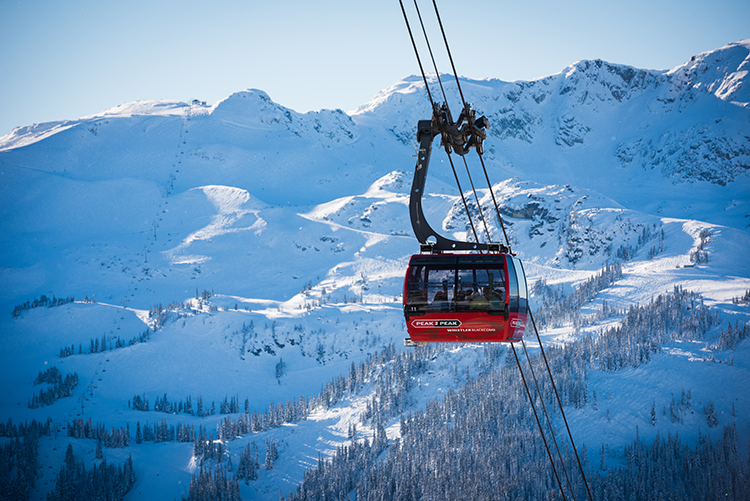 The PEAK 2 PEAK holds the record for being part of the longest continuous lift system on the globe, as well as being the highest lift of its kind at 436 metres (1,427 feet) above the valley floor. The ride takes 11-minutes and transports you across the valley between Whistler Mountain and Blackcomb Mountain. The Fitzsimmons Creek flows below, partly hidden by the lush Douglas firs, cedars, spruces, and hemlock trees that cover the ground. When you hit the midpoint look out for Fissile Peak on your right.
When you disembark you'll be on Blackcomb Mountain with the Rendezvous Lodge a short walk away.
Blackcomb Gondola
This gondola was added in 2018 and completes the first-of-its-kind, three-gondola lift system. It can move a staggering 4,000 people per hour in its 10-person cabins. It's a touch quicker than the Whistler equivalent and will have you down to the base of Blackcomb Mountain in 18 minutes. You'll then be in the Upper Village area, where you'll find the Fairmont Chateau Whistler, Four Seasons Resort Whistler, and other food, beverage and retail outlets (some of our hidden-gem après suggestions can be found here). It's a short walk from here back to the Village Centre and the most picturesque way is to go down the stairs next to Merlin's Bar & Grill and across the covered bridge.
INSIDER TIP: The gondolas tend to be busy first thing in the morning with skiers and boarders looking to catch fresh powder, so we'd suggest heading up a bit later to avoid longer lift lines.
Dining with a View
All of the on-mountain dining options come with a view, but some also come with wine flights…
Whistler Mountain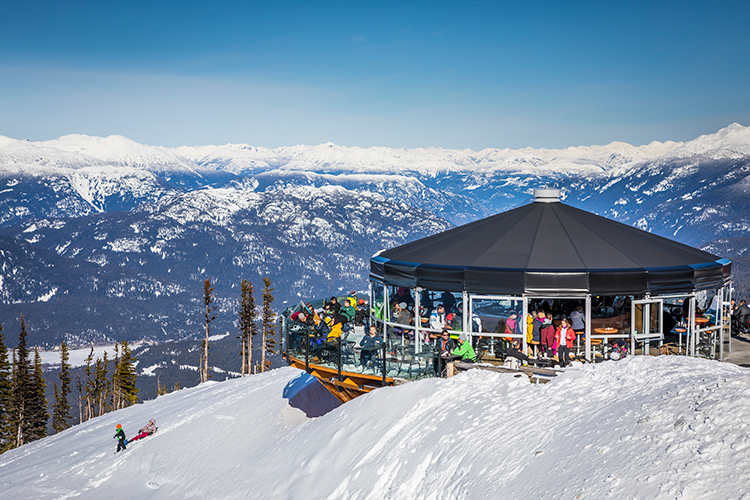 The Roundhouse Lodge is the biggest restaurant on the mountain, with three food court-style areas. Here you can get everything from your standard burger and fries, to noodle bowls, curries, deli-style sandwiches, soup, chili, pizza, and more. There's a lot of variety and the portion sizes are generous. It can be boisterous and noisy at peak times, so consider an early or late lunch if you're going to make it leisurely. One of our favourite spots to snag is a table close to the PEAK 2 PEAK Gondola, so you can skier-watch and marvel at the machinery.
For a more upscale dining experience, take a look at Steeps Grill & Wine Bar. They have a farm-to-table approach to their menu and wine list, featuring local growers and producers. They also host the Winemaker Dinner Series in the winter months, highlighting specific wineries from the region. If you can't make an event, try the wine flight and pair it with the charcuterie board featuring cheeses from Salt Spring Island, which is just off the coast of Vancouver. The menu is filled with elevated comfort-food items like their Mac and Cheese with orecchiette, smoked gouda, kale, and a jalapeño cornbread crumb topping – yum. They take reservations, so if this is a must-do for you then we'd advise booking ahead.
If you feel like a party atmosphere then head to the Umbrella Bar. This unusual, round-shaped structure has a roof that can be opened to the elements when it's sunny (like an umbrella being contracted). They make a great Caesar cocktail, and if you don't know what that is have a read of this post: A Whistler Tour De Caesar: The Great Canadian Cocktail.
Blackcomb Mountain
The Rendezvous Lodge has a mountain top wok station, drool-worthy burgers (naturally raised, hormone and antibiotic-free), and a fresh Mexican counter where you can get burritos, tacos and salads. They also have an espresso bar for your caffeine fix and a buttery, sweet treat. Similar to the Roundhouse Lodge, things can get packed in here so visiting when the skiers are hard at work on the hill is your best bet for a good seat.
Christine's on Blackcomb is similar to Steeps, with a focus on local product, a great wine list, and hearty options with an upmarket twist. We're fans of their Ocean Wise fish dishes, and the fried chicken sandwich served on a potato bun with mint raita. It is a popular location so it's worth making a reservation if you want to dine in style.
What to Wear
Before going up the gondola for your adventure, check the weather conditions. What's happening in the valley can be quite different to what's happening up the mountains! The webcams are fun to take a look at too. When packing for your outing it's better to be over prepared. Here's a list we put together to keep you comfy:
Backpack
Thick socks
Warm, waterproof pants (or snow pants)
Waterproof jacket
Winter boots (waterproof are advised as you do walk on snow)
Warm layers (wearing layers means you can adjust to the changing temperatures easily)
Reusable water bottle (there are water fountains for refills)
Travel coffee mug (sip some java on the gondola)
Camera
Sunglasses
Hat
Gloves / mittens
Scarf
There are many things to do in Whistler off the slopes and if you're planning a trip, let the experts at Whistler.com help you find them. You can also try the new Ask Whistler live chat service where you can text, WhatsApp and Facebook Messenger your specific questions from 8 AM to 7 PM daily (Pacific Standard Time).
Book your winter trip now to secure up to 25% off lodging, 65% off lift tickets and 45% off rentals. Come experience Whistler Blackcomb's extensive terrain and adventure at every turn to see why we're known as one of the best resorts on the planet. Secure your winter getaway with Whistler.com for Flexible Cancellation and our Price Match Guarantee. Want to win a winter trip for two to Whistler? Check out our Drop In to Winter contest.