Updated January 2021
What locals and savvy visitors have known for years is that spring is an incredible time to be in Whistler. Pair the great conditions, both on and off the ski hill, with smaller crowds and great deals on lodging, activities and dining, and the spring could become your new favourite season to visit Whistler with the family.
1. Dual Sport Day
Like Schrödinger's cat (a paradoxical thought experiment), winter both exists and doesn't exist here in the spring. If you're not ready to say goodbye to the white stuff quite yet, our mountaintops continue to be a winter wonderland. From surprise pow days to buttery spring turns, skiing and riding continues well into May.
For those ready to leave winter behind, warm, valley temperatures quickly melt the snow opening up opportunities for spring and summer sports. Spend the day golfing on the greens, getting some hot laps on your downhill or cross-country bike or paddling Whistler's many lakes. Keep an eye on the WORCA website for local trail conditions, and remember the opening of the Whistler Mountain Bike Park is usually mid-May.
The real beauty of spring is that you don't have to choose between winter and summer. As the ultimate dual sport season, you can do both in one day!
2. See Bears
After a long winter slumber, our favourite, furry locals wake up and rejoin us in the spring. Seeing a bear is on many people's Whistler to-do list, but it's important that it's done safely for you and the bears. The best and safest way to see a bear is through a bear viewing tour.
Knowledgeable guides take you to the best places to spot a bear, while teaching you interesting tidbits about them along the way. Learn more about what to expect on a tour in this blog post – Whistler Bear Viewing Safari Experience.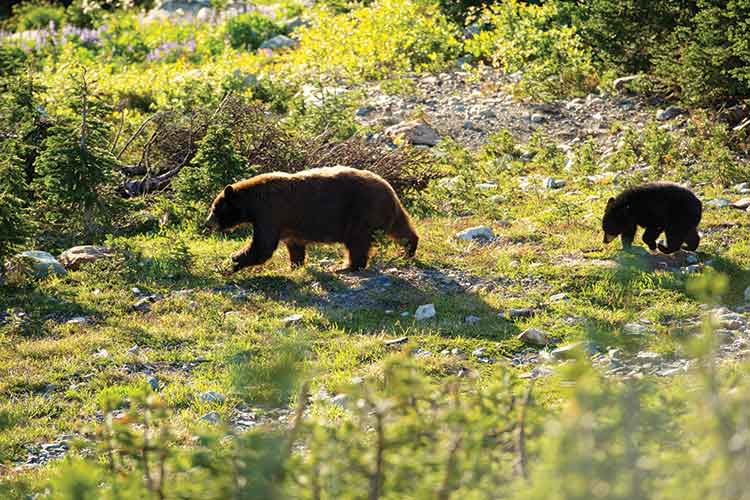 3. World Ski & Snowboard Festival
The ultimate send off to the winter season, the World Ski & Snowboard Festival (WSSF) runs in April and is a celebration of mountain sport, culture and music.
While the events are filled with pros, you don't need to have any special skills to get among the fun with your kids. Stop by course-side to watch the on-mountain races and competitions like Big Air, Monster Boarderstyle World Championships and the Saudan Couloir Ski Race Extreme. There's also a free art exhibit on in the Whistler Conference Centre and nightly mountain culture themed events featuring filmmakers, photographers, and explorers.
COVID-19 Update: WSSF is on hiatus due to COVID-19.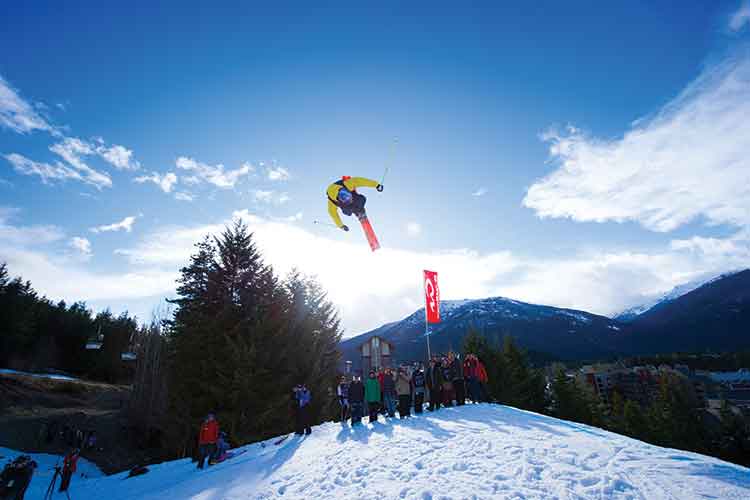 4. Get out on the Water
Our freshly thawed lakes may still be a little chilly for a dip (unless you're feeling particularly brave), but you can still enjoy a day on the water by renting a canoe, kayak, or stand up paddleboard. Spend the day paddling around Alta Lake, or go on an adventure with a guided tour down the River of Golden Dreams.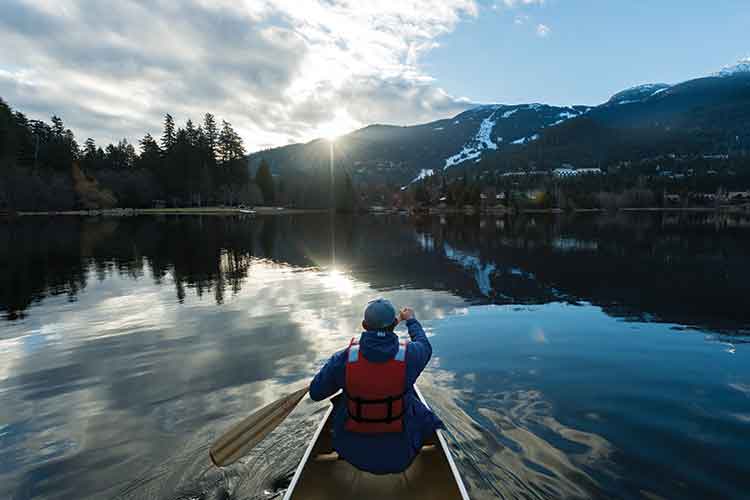 5. Disc Golf
It may seem obvious, but if you've never played before, disc golf is like playing golf in the woods using discs instead of balls and clubs. Combining hiking with a little friendly competition, this quirky sport is popular with Whistler locals. Supplies needed to play are pretty minimal, including a disc each and some comfortable walking shoes.
https://www.instagram.com/p/BluSnFDjtP3/?utm_source=ig_web_copy_link
There are official discs you can buy at sporting stores around the Village, or in a pinch you can use a standard "Frisbee". For more intel on how to play, and where to find our local courses, Mike Berard has pulled together everything you need to know to hit the links right here: Disc Golf – Whistler style.
Insider Tip: When playing with little ones, a full 18 holes can sometimes be more than they can handle. Most disc golf courses in Whistler are set up so you can jump in or finish at almost any hole. If you find your kids are losing interest or energy, you could always call it a game after nine!
6. Bike
Once the snow melts, bikes become Whistler's favourite mode of transportation. Running the length of town, and to pretty much everywhere in between, Whistler's Valley Trail is both the best and most scenic route for getting around.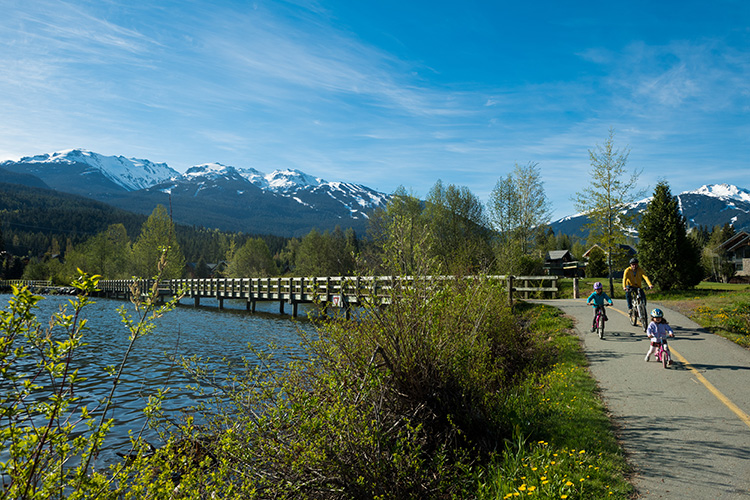 One of my favourite bike sightseeing routes is around Alta Lake. From the Whistler Golf Club's Clubhouse, the trail winds around fairways, through lush forests and past multiple lakeside parks. Give yourself a few hours to complete the loop, leaving plenty of time to stop and enjoy the sights along the way.
Don't worry if your kids are too small to bike that far. Most bike rental places around town also rent Chariot trailers, so kids can cruise in comfort while being towed behind your bike.
7. GO Fest – Whistler's Great Outdoor Festival
Happening over the May Long Weekend The Great Outdoors Festival (GO Fest) celebrates getting outside and getting after it. Throughout the valley, a wide range of clinics, concerts and competitions are held. The events and musical acts vary from year to year, with past years featuring photography clinics, live music in the Village Square and sailing on Alta Lake.
COVID-19 Update: GO Fest is on hiatus due to COVID-19.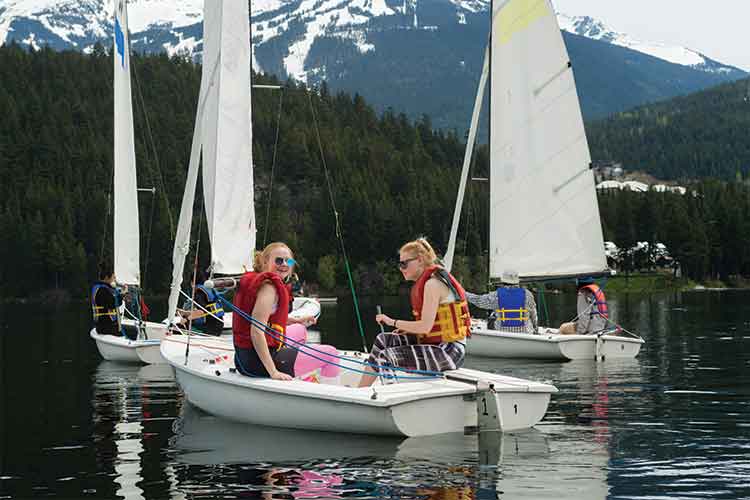 8. Lakeside Parks
How we experience temperature can be pretty relative. After a long cold winter, the first warm days of spring can feel like the middle of summer. It's totally normal here for our lakeside parks to be packed with sun worshippers as soon as the thermometer reads in the mid-teens. Pack a blanket, picnic lunch and some toys for the kids and you're all set to have a great day with the family.
Local favourite spots include:
Lost Lake Park – Within walking distance of the Village, the stroll out to the park can be as nice as your time there.
Rainbow Park – Located on the far side of Alta Lake, you'll enjoy prime views of the snow-capped Whistler and Blackcomb Mountains.
Lakeside Park – Featuring two docks, canoe and kayak rentals, and a playground, you'll have no shortage of entertainment for the whole family.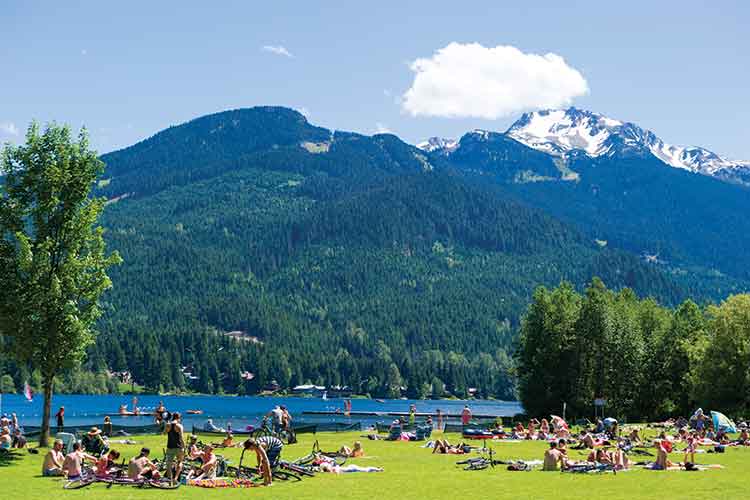 9. Farmers' Markets
Give the family a taste of Whistler's food and arts and culture scene at the Whistler Farmers' Market in the Upper Village. Perfect for all ages, from newborns in strollers to teenagers who will love the pizza and popcorn stands. Lively musicians provide the background music as you take in the work of local artisans, jewellery designers, painters, potters and carpenters.
Starting in May, the market runs every Sunday. Remember to bring an appetite, it's hard to resist nibbling on a thing or two while you're there.
COVID-19 Update: For details visit the Whistler Farmers' Market page on Whistler.com.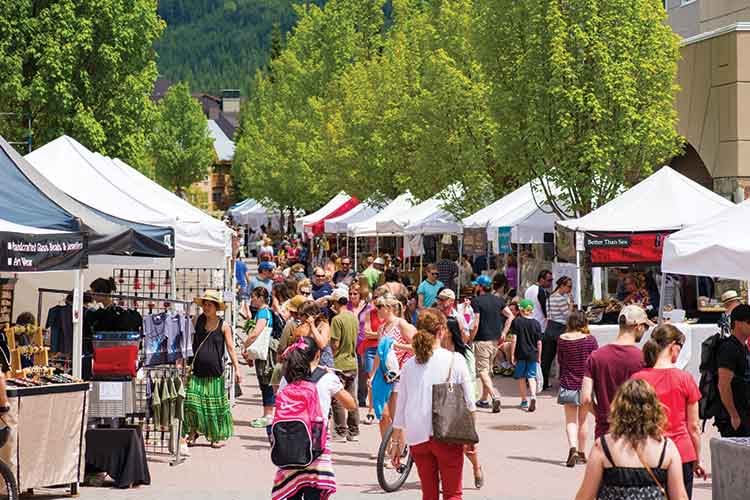 10. Hike
While our high alpine hikes are still blanketed in snow, spring is a prime opportunity to explore the network of trails in our lower valley. As they tend to be shorter and have fewer elevation changes than the high alpine hikes, valley hikes are an ideal introduction to the sport for kids. To stay close to the Village, Lost Lake Park offers a wide range of well-marked, relatively easy trails.
If the family is feeling a little bit more adventurous, a hike out to Cheakamus Lake can be a good option for a longer hike if the conditions are right. The always photogenic, glacier-fed Cheakamus Lake at the far end of this out-and-back trail makes for a beautiful lunch spot and backdrop for family photos.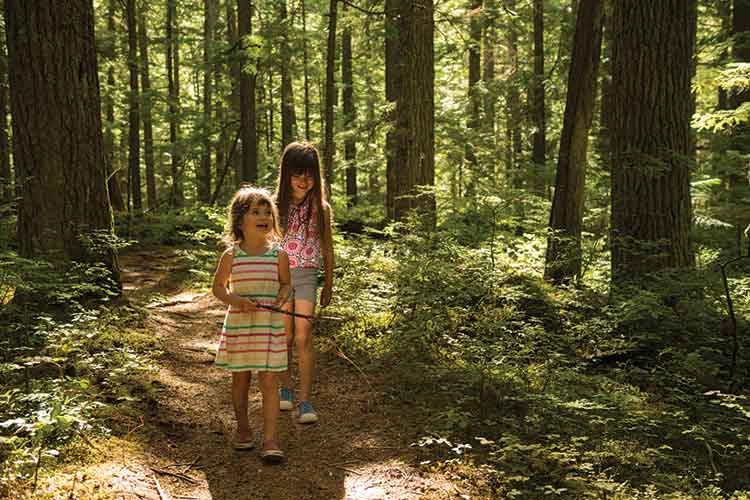 With so many options for what to do in Whistler, it was hard to narrow the list down to an even ten, so I'm throwing in a few bonus activities:
Escape! Whistler – Put your collective problem-solving skills to the test as you try to puzzle your way out of their immersive rooms.
Forged Axe Throwing – You may win points for the coolest parents ever for bringing your kids, aged ten and over, for a session of axe throwing. Their staff is expertly trained to make sure everyone stays safe while having a fun time.
Audain Art Museum – Equal parts entertainment and enrichment, a day exploring the galleries at the Audain Art Museum is a fantastic family day out.
These indoor activities are perfect for keeping everyone entertained on those "silver sunshine" days we experience from time to time in the coastal temperate rainforest.
With all this fun to be had, spring may just become your favourite Whistler season. Take advantage of deals and offers by visiting Whistler.com.
This spring we're learning to adventure a little differently, take a read of our COVID-19 page so that you know what to expect, and remember to bring your face mask!