Updated January, 2022
Fancy a snowshoe hike to a frozen waterfall? Soaking in a hot tub surrounded by old-growth forest – in silence? Perhaps a lengthy, three-course meal prepared by an award-winning chef? The answer – a slow, ironic eye roll.
A facial expression parents with teenagers know all too well. Although there are some things that are super fun to do with the whole family, there are times when everyone needs to explore solo or at least in a posse of their peers.
Whistler has some great activity, dining and hangout options for teens, take a look . . .
Teen Ski and Snowboard Lessons at Whistler Blackcomb
Lessons are a great way for kids to meet new friends, learn new skills and have fun riding with their peers. The programs sell out fast so it's worth booking in advance if you think they'd work for your tribe. Also, helmets are mandatory so make sure your kid has one.
Pricing depends on when you're booking as there are regular and peak seasons to be aware of. Check out Discover Days for 25% off on select dates over the winter season.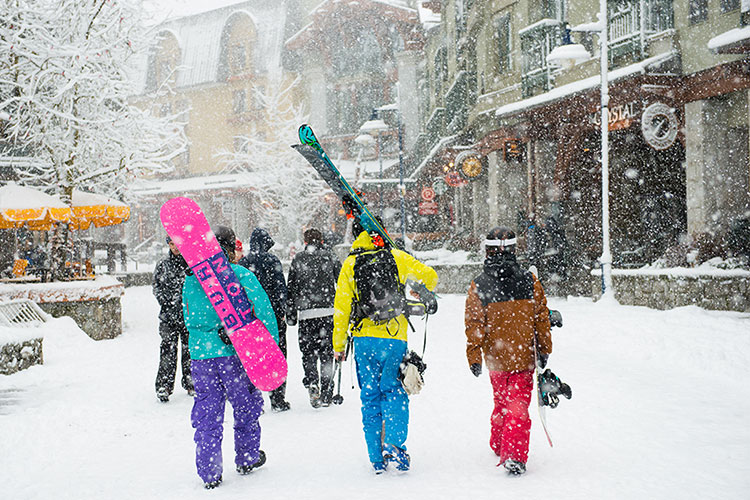 Extremely Canadian – Big Mountain Awareness: 10 – 15 Years
Designed by experienced mountain guides, Big Mountain Awareness aims to empower young adventurers with the mountain knowledge they need to explore safely.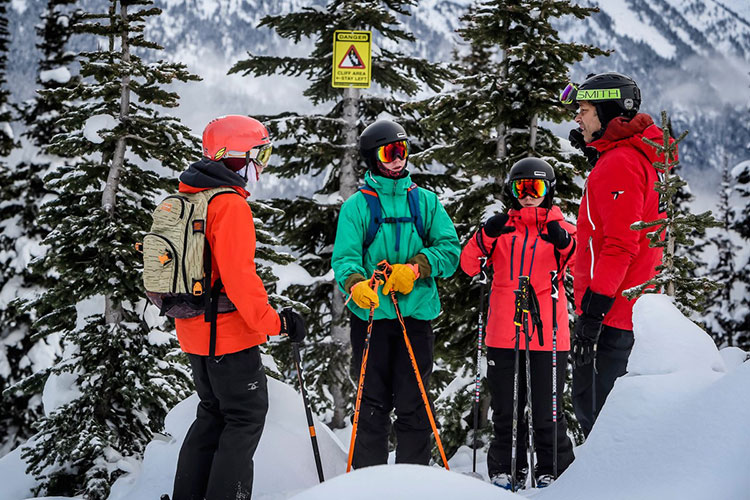 "Social media and evolving freeride gear are pushing youth skiers and riders to access terrain well beyond their scope of training and experience," explains Jill Dunnigan, Owner at Extremely Canadian. "This single-day camp for 10- to 15-year-olds will arm students with the knowledge, understanding and attitudes to make good, safe decisions within ski area boundaries."
This program fuels ski stoke and helps young riders deal with unforeseen challenges on the hill, as well as celebrate good decision-making among their peers. It's for advanced intermediate to expert riders only (ski and board).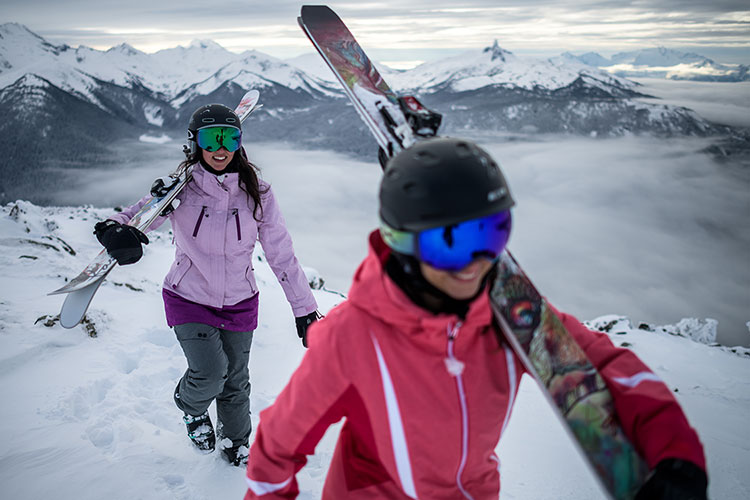 Outdoor Activities for Tweens and Teens Rolling Solo
Whistler has many thrill-filled adventures that you may, or may not, want to experience alongside your teenager. It's likely your signature (and credit card) will still be needed before they can head off on their own, but you don't have to hold their hand the entire way.
A caveat; you know your child. They might have grown up doing some of these activities or they might not. These are just some ideas and suggestions, but it's always up to you as the parent / guardian to make the decision if this is an appropriate adventure for your teen.
The ages noted below are for teens looking to go out on their own and are NOT the minimum age requirements if they are with an adult.
Tube Park
Located just up Blackcomb Mountain at mid-station, the Tube Park is an easy activity for teens to do by themselves. They can use the Excalibur Gondola at the base of Whistler Mountain (no pass required – just don't take skis) to get up to Base 2 and then follow the signs to the Tube Park – an easy, five-minute walk. They must be over 12 years old and be at least 41 inches tall (103 centimetres) to go by themselves.
You can buy a ticket online or in-person at a Whistler Blackcomb guest relations window. There is a waiver a parent / guardian who is over 16 needs to sign, but they can then go up by themselves. It's open daily from 11 AM to 6 PM (depending on snow conditions).
Minimum age with an adult: Children must be at least three years of age and a minimum height of 36 inches (91 centimetres) tall to tube. Children between 36 inches (91 centimetres) and 41 inches (103 centimetres) tall are restricted to the mini-kids lane from the halfway point.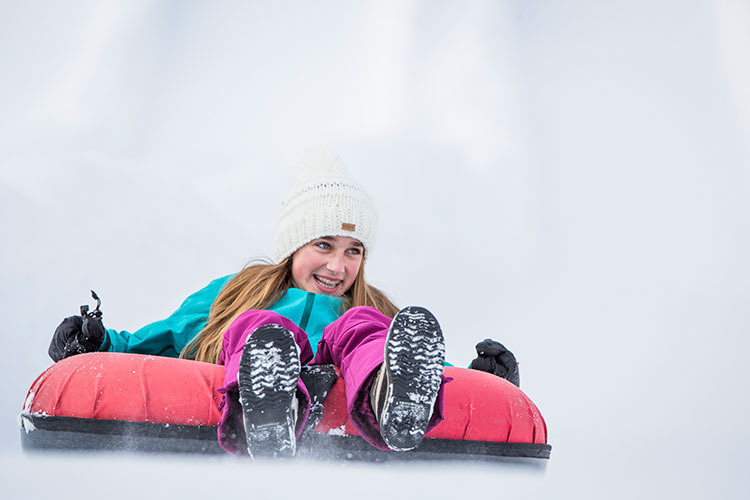 Bungee Jumping
There's no minimum age for hucking yourself off a bridge, but the minimum weight to jump by yourself is 75 pounds (34 kilograms). However, you can go tandem with a friend or family member if you are between 50 – 75 pounds (23 – 34 kilograms) and fit into Whistler Bungee's smallest harness.
To sign your own waiver you need to be 16 years old, but a parent / guardian can sign a waiver ahead of time for someone under 16.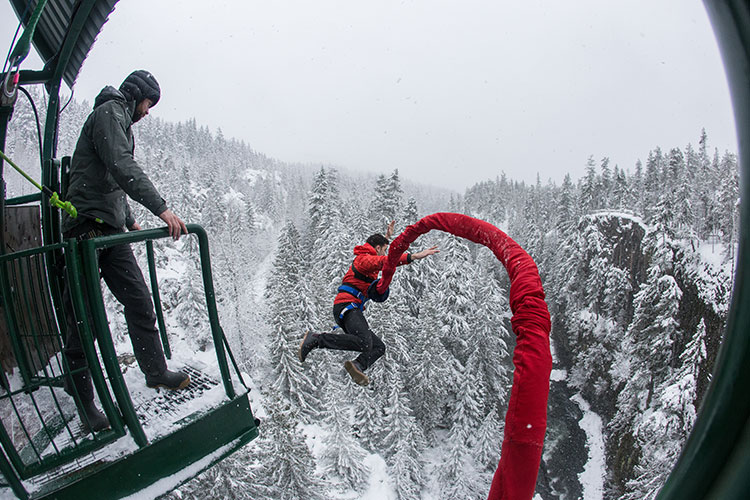 Ziplining
We have two incredible ziplining companies in Whistler who operate in different areas with different harness systems, which makes for different experiences. For both, the person signing the waiver must be 19 years of age (can be done ahead of time), but the minimum age to fly solo with Ziptrek EcoTours is 15 and Superfly Ziplines is 16.
Minimum age with an adult for Ziptrek is six years old and at least 75 pounds (34 kilograms). For Superfly it's seven years old and sixty pounds (27 kilograms).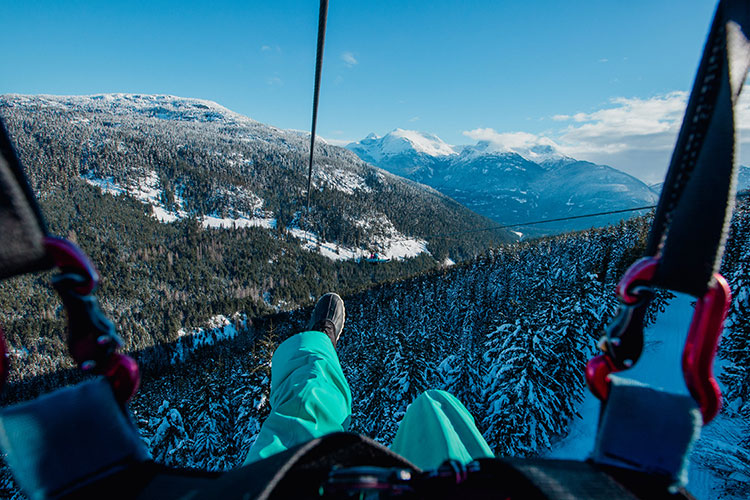 Snowmobiling
You must have a valid driver's license to operate a snowmobile, so that makes this a 16-years-plus activity for most nationalities. The Adventure Group will take 16-year-old drivers on their own, but the person signing the waiver must be 19 (can be done ahead of time). All other snowmobile companies have a minimum age of 19 for solo riders.
Minimum age with an adult: Your child can ride as a passenger with you driving. It's dependent on the tour, but the age minimum is usually four / five years old and around four feet tall (they must also fit the smallest helmet and be able to securely hold onto the adult's waist).
Bobsleigh and Skeleton
The minimum age to go alone on the Passenger Bobsleigh and / or Skeleton Experience is 16, with someone aged 19 or over signing the waiver (currently this must be done on-site at the Sliding Centre). However, if your teen is interested in sliding sports they do run development days (the Discover Program) and camps over the season that would be worth looking into, starting at age eight for luge, 14 for skeleton and 16 for bobsleigh.
Minimum age with an adult: Bobsleigh – 14 years of age during the winter and 12 during the summer. Skeleton – 16 years of age.
Cross-Country Skiing and Snowshoeing at Whistler Olympic Park
There's no minimum age requirement to explore the trails at Whistler Olympic Park, although it's recommended that minors in general should not ski / snowshoe unsupervised, especially if they're unfamiliar with the Park. However, should you decide to let your teen head out on their own they should be confident on skis and/or snowshoes, know where they are heading and confirm the route and duration of their trip with you (check out Adventure Smart for some good checklists).
If they need rental gear, it does requires a waiver signed by someone who's 19 or older (currently on location at Whistler Olympic Park). The biathlon (where they get to shoot a rifle) is a hit with the teens and the age minimum is 10, so that's another option. A cozy Day Lodge is on-site to hunker down in or regroup at for an après-activity lunch / snack.
Another area a bit closer to Whistler Village is Lost Lake Park, where teens can also have a go at cross-country skiing and snowshoeing and head out on the trails as long as an adult has completed the applicable rental and trail pass waivers on their behalf.
Vallea Lumina
For this magical, multimedia walk in the forest, you need to be at least 16 years of age to go without an adult. A free, return shuttle that goes from the Village out to Cougar Mountain where it's located – no waiver necessary.
There isn't a minimum age restriction with an adult, however it can be loud with lots of flashing lights, so if you're exploring with a baby or toddler bear that in mind: Magic in the Mountains: Winter Vallea Lumina.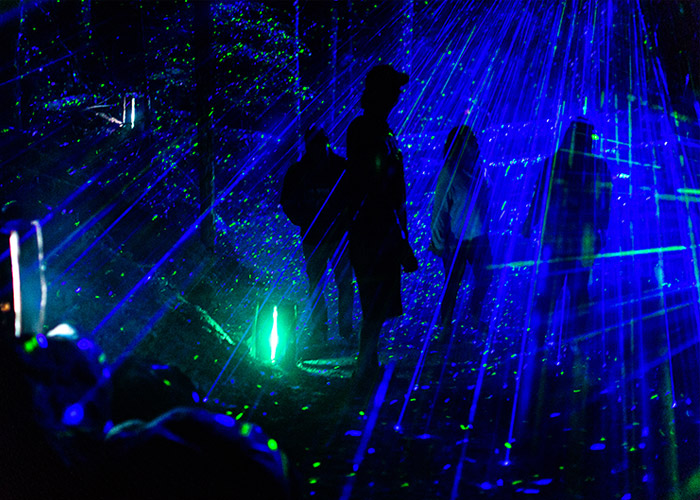 Indoor Activities for Teens
Climbing at The Core
There's a climbing wall at The Core, located next to the entrance of the Whistler Conference Centre, where they run guided climbing sessions and a Climb and Dine evening program. It's perfect for kids up to 14 and includes a pizza dinner.
If your teen is an avid climber they might be able to use the bouldering wall and the self-belay system on their own, but it's on a case-by-case basis. Pop in and speak to the front desk team when you're in Whistler.
Escape! Whistler
Did you know there's a pirate ship in Whistler? It's one of the themes for Escape! Whistler where you're tasked with solving puzzles to get out of a locked room within 45 minutes. An online waiver must be signed by someone 19 or over (can be done ahead of time) and the minimum age to go alone is 13.
There's no minimum age with an adult, however, toddlers are notorious for making puzzles last a lot longer.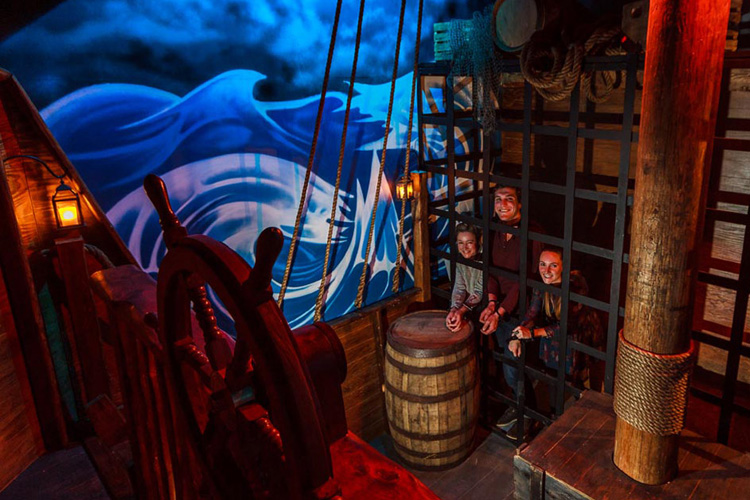 Audain Art Museum
It's free for teens to visit the Audain Art Museum and they can go by themselves (must be over 12 to be unaccompanied). There's also drop-in youth programming like Art After Dark and Family Studio Sunday if they're inspired to get hands-on.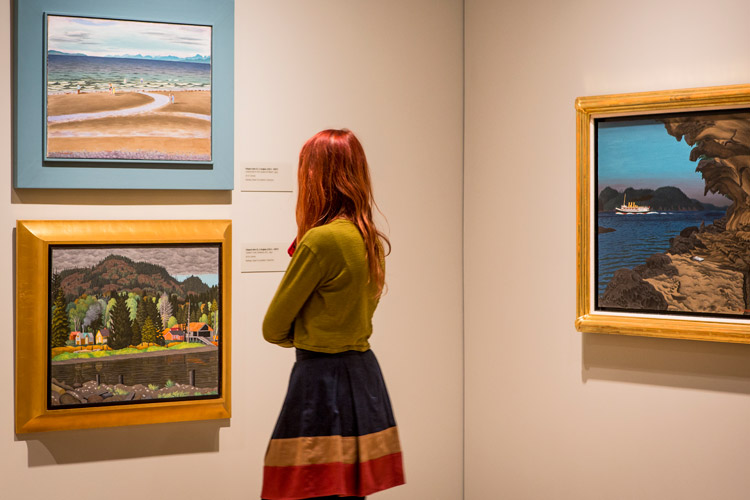 Village 8 Cinemas
Whistler's movie theatre is located in Village Common, underneath Mongolie Grill. You need to adhere to the film ratings, but teens can catch a flick on their own. They offer a student deal on Mondays and Wednesdays where students get a regular popcorn, regular drink and movie admission for $16 with valid student ID (any nationality).
Meadow Park Sports Centre
Whistler's Meadow Park Sports Centre has a swimming pool (with steam and sauna), NHL-sized skating rink and fitness centre. If your teen likes hockey then check out the drop-in schedule and public skate times (rental skates available). There are no age restrictions on the drop-in skating, but kids must be over seven-years-of-age to go swimming on their own, so teens are good to go!
Teens must be 16 years and up for the fitness centre and drop-in fitness classes, but there is a Youth on Weights program available for 13- to 15-year-olds who are keen. Buses run to and from the sports centre, making it a great option for older teens looking to get a bit of independence along with their workout.
Whistler Youth Centre
The Youth Centre is free and open to local and visiting teens on a drop-in basis. Located downstairs at the Maury Young Arts Centre (opposite the Brewhouse), it has a mini indoor skate ramp, video games, pool table, air hockey, foosball, ping pong, board games, art supplies and Wi-Fi access.
Whistler Public Library
Whistler's library is a warm, inviting and inclusive space where teens can find a quiet space to chill out, do homework, collaborate on a project, access computers, download free movies and music and connect at events. They have teen-specific programs available that are worth taking a look at.
Getting in Some Eats
We asked some local teens where they like to eat – not surprisingly pizza and ice cream are mentioned:
Although we have set this post out to give you some ideas of how your teen could possibly spend time rolling without you in Whistler, we know family time is important too. Kids have a habit of pushing their parents out of their comfort zones, and sometimes that's not such a bad thing.
If you want help booking accommodation, lift tickets and activities that fit your family, speak to the team at Whistler.com.
For the best rates on accommodation for the late spring and summer, plan a longer stay or consider staying midweek. Stay 3+ nights to receive a free $100 Activity Voucher and up to 25% off. It's easy to book your vacation when you have the freedom of Whistler.com's Flexible Cancellation options backed by their Book With Confidence program.