Whistler Creekside was actually the site of the first gondola in Whistler, which was built in 1966 and part of a failed, but tactical, attempt to host the 1968 Winter Olympic Games. It was so popular that eager skiers would sometimes have to wait up to three hours to get a ride, so the Garibaldi Lift Company said that if you hiked to the mid-station you got to ski for free – nice.
Although Whistler Village might have taken over as the hub of the resort's operations, Creekside is a hidden gem. Only a five-minute drive from Whistler Village, it has its own laid-back charm with the Creekside Gondola whisking people up the mountain, easy access to lakes and parks along the Valley Trail and its own retail and restaurant scene right on your doorstep.
INSIDER TIP:
The Resort Municipality of Whistler (RMOW) has worked with the
Whistler Museum
to install a new series of panels that tell you about the area's history as you explore the area. If you like what you read, consider a trip to the
Whistler Museum
, which is located behind the Whistler Public Library on Main Street in Whistler Village.
Here's our Insider's Guide to staying in Whistler Creekside.
What to Do in Creekside in Winter
Ski, Ride and Sightsee on Whistler Blackcomb
You can access Whistler Blackcomb via Creekside by taking the 10-person, high-speed Creekside Gondola (Facing North: Sq̓útsa ti Tsaw̓ewéca "by the creek" – Lil̓wat7úl Ucwalmícwts; Facing South: Ch'it ta Swá7elt "beside the creek" – Sḵwx̱wú7mesh Sníchim) up the mountain starting November 23, 2023.
It has its own Whistler Blackcomb guest relations building and gear stores (Can-Ski Creekside and Coastal Culture Sports), meaning you have all the main ingredients for a day on the slopes. It also has its own après options, read on for more on those!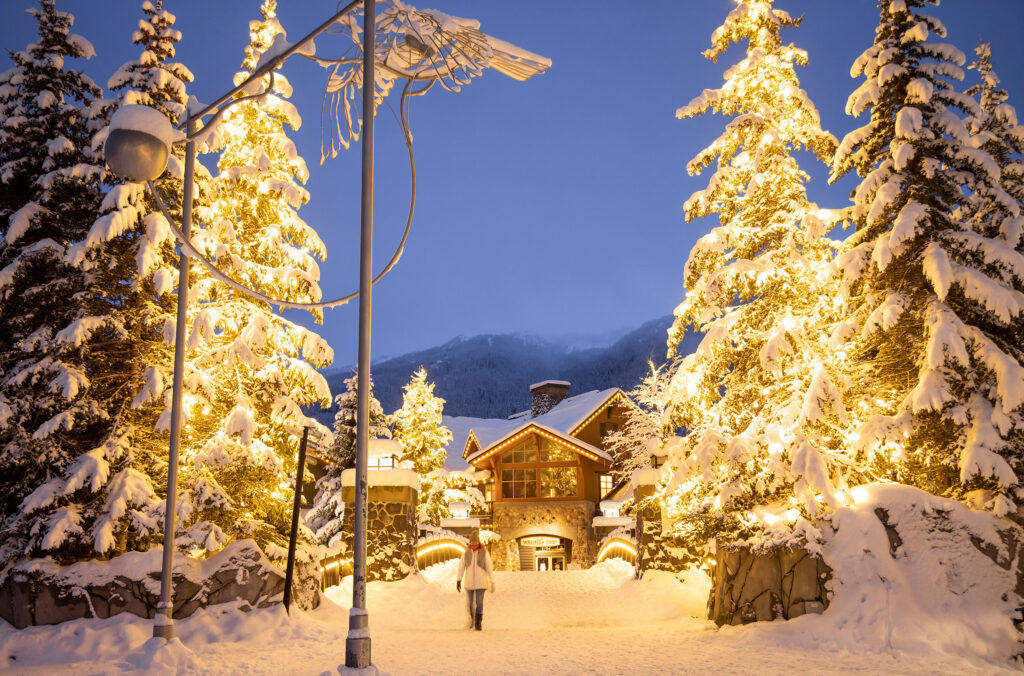 Be Dazzled by the Festive Lights
By the end of November, the RMOW, hotels and business owners will have strung hundreds of glowing lights all over Creekside Village. The result is a winter wonderland effect, the different coloured lights making the surrounding snow sparkle. Download the free Go Whistler Tours app, which shows you three different self-guided routes to Whistler's best light displays, including one specially for Creekside.
Stroll to an Icy Lake
The Valley Trail (a system that runs for 46 kilometres throughout Whistler) can take you to three picturesque lakes within walking distance of Creekside; Nita, Alpha and Alta. The Valley Trail is cleared during winter, but we'd still recommend winter boots with good tread or using a traction device like Yaktrax as it can get icy.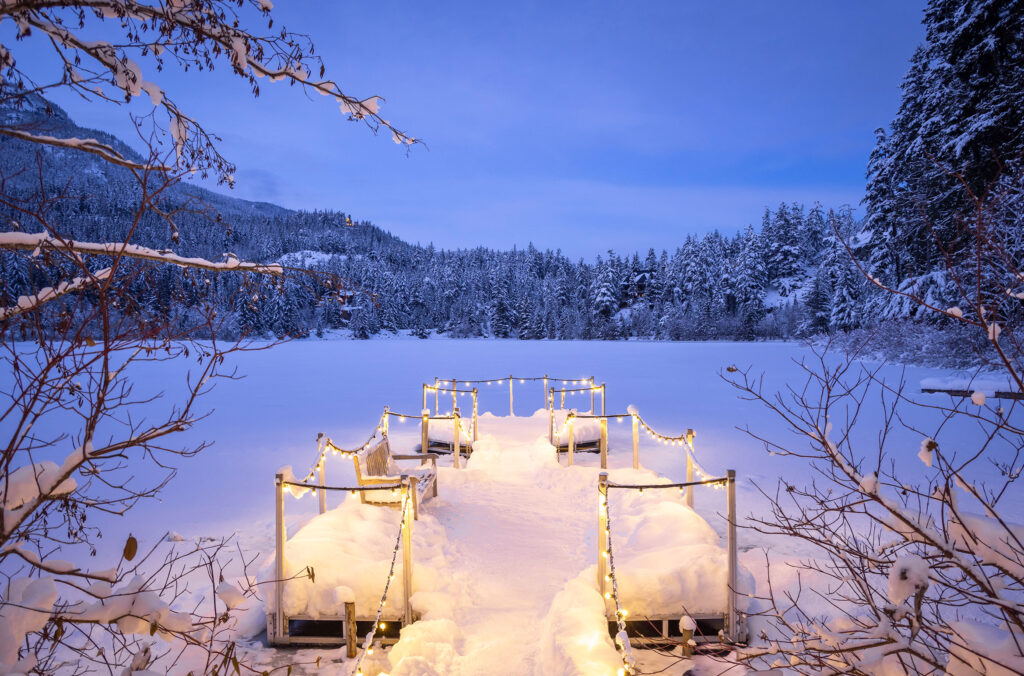 In deep winter, the lakes typically become safe enough to stand on and you'll see people playing hockey, cross-country skiing and snowshoeing on them. However, always make sure you know if and where it's safe to explore before you step onto the ice. Check with your concierge/front desk, or message the Ask Whistler team to see if they know the conditions (temperatures should ideally be below -10° C / 14° F for several days prior to going onto a lake – 15 centimetres (6 inches) minimum ice thickness is recommended).
Head to the Spa
Creekside is home to one of Whistler's favourite spas where you can book a massage, facial, wrap, scrub, wax and nail service – you can even add a glass of Champagne to your mani-pedi!
Where to Eat and Drink in Creekside
Creekside really spans the gamut on the eating front, from fine dining options like Rimrock Cafe, Red Door Bistro (book in advance) and Mekong (new – fine Thai cuisine) to more laid-back options like Creekbread, Cure Lounge, Samurai Bowl and Southside Diner. There are also cafe-style eats at Bred, Fix Cafe, Rockit Coffee and a Tim Hortons, and pub-style at Roland's Pub and Dusty's Bar & BBQ (right at the mountain base, Dusty's is a hot Creekside après spot).
Affectionately known as Ed's Bread by the locals, this organic bakery, run by a local couple is famous for its artisan loaves and sweet treats (vegan and 100% plant-based). They're the first company to be B-corp certified in Whistler.
On the other end of the spectrum, Southside Diner is famous for its pancakes, burgers and bacon milkshakes. Need we say more? And if you're still craving some eggs a bit later in the day, breakfast is served for dinner at this charismatic diner.
For lovers of groovy beats and coffee treats, head to Rockit Coffee Company, the hippest bean joint in Creekside. Mixing a love of java with retro rock and roll in both the tunes and the vintage decor, this coffee shop is a fix for the eyes and ears, as well as the caffeine pop.
Made from 100% organic, Canadian wheat and with toppings like maple fennel sausage, BC-grown mushrooms, and applewood-smoked bacon these stone-fired pizzas are delicious. Creekbread is open for take-out only on Mondays and Tuesdays, and dine-in by reservation Wednesday through Sunday (dinner only).
A firm favourite with the locals, Rimrock Cafe consistently wins the "if someone else is paying" category and is a great option for a special dinner. There's also French cuisine with a West Coast twist at Red Door Bistro. Both of these options are popular, so book in advance!
The new kid on the block is Mekong, a fine-dining Thai restaurant whose menu is fun and full of flavour. Definitely try the Gaeng Gari Chicken (yellow curry), Ka Na Moo Krop (pork belly) and don't forget a side of roti with whatever you order. They also have a great vegetarian menu.
Where to Shop in Creekside
Part local art store, part gallery, part creative workshop space, ART POP is a friendly and inviting place to explore. Pop in and ask them about their paint nights, kids' craft kits you can take home or do onsite, adult weekly paint sessions and kids' classes.
Tucked in the centre of Creekside is Get the Goods, a treasure trove of games, gifts and goodies. For those shoppers who like to browse and find something unique, this is the shop for you.
Trendsetters should look no further than the fashion-conscious Bach & Co. store. They're certainly keeping Whistlerites styled to the nines.
From styling outfits to homes, 122 West has a showroom in Creekside with contemporary furniture, artwork and decor. If you're looking to bring a touch of the West Coast mountains to your home, speak to their design team.
If you want to pack some snacks or a picnic or if your accommodation has a kitchen, then head to Creekside Market to stock up. It has all the basics and essentials, as well as some yummy local produce like Salt Spring Island cheeses, Terra Breads and Across the Creek Organics.
There's also BC Liquor Store located just down the stairs beneath the market, ask them about the locally brewed beers and distilled liquors.
What to Do in Creekside in Summer
Whistler Mountain Bike Park
Creekside has great access to the Whistler Mountain Bike Park via the Creekside Gondola. You can grab your pass from the Can-Ski Creekside store and for rentals, Coastal Culture Sports (located right next to Tim Hortons) can kit you out with bikes (downhill, cross-country and valley trail), padding, helmet and gloves. If you're opting to bring your own bike they can tune that up for you too.
Head to the Lake
Creekside has three lakes within short walking distance – Alpha, Nita and Alta. Alpha Lake has tennis courts, an off-leash dog area, a small kids' playground, grassy areas for picnics and lounging, and a dock.
Please remember to pack out what you pack in (be bear aware) and if it's too busy to distance appropriately, come back another time.
Go for a Paddle
From Creekside, you're close to Lakeside Park on the shores of Alta Lake, where you can rent kayaks (single and doubles), canoes, pedal boats and paddleboards.
Cruise the Valley Trail
Whistler has a 40-kilometre Valley Trail system that weaves its way past lakes, forests and parks. Our suggestion would be to rent a bike (you could make it an e-bike) and go explore!
Check out the XC Bike Trails
Whistler has a huge network of cross-country trails and in Creekside, you're closest to the trails around Cheakamus and Westside. If you do head out on these trails, know that Whistler Off-Road Cycling Association (WORCA) manages them and that donations are appreciated to keep them in tip-top condition!
Where to Stay in Creekside
Nita Lake Lodge Resort & Spa is Whistler's only lakeside hotel and it's a stunner. You could opt for a room with a lake view or go for one of the mountains on the other side – what a choice. For the summer months, they have complimentary lake toys (paddleboards, canoes and kayaks), Valley Trail bikes and tennis racquets available for guests. It's good to note they operate a free hotel shuttle that goes to and from Whistler Village.
They also have some yummy dining options on-site. If you don't opt for the bed and breakfast package, you can order a la carte at The Den, or for a more casual option Fix Cafe is a great place to grab a house-baked treat or sandwich (get it to go for a lakeside picnic).
The Cure Lounge & Patio has one of the best outdoor patios in Whistler, not to mention a delicious cocktail list and varied menu including salads and share plates as well as pasta and flatbreads.
A great option for families, small groups, or people contemplating a longer Whistler stay is the stylish and modern condos at Evolution. They have full kitchens, large living rooms and in-suite washer / dryer facilities, making it really feel like a home away from home. First Tracks Lodge is a similar option, with a bit more of a mountain, chalet charm feel.
It has a fantastic outdoor, heated pool with two hot tubs and a games and media room for the kids (big ones allowed too). Location-wise it's right at the base of Whistler Mountain next to the Creekside Gondola.
INSIDER TIP:
Bringing your bike? The above accommodation recommendations come with bike storage and pet-friendly rooms if you're looking to
bring the dog
.
Getting to Whistler Village from Creekside
Whistler Village is 4.2 kilometres north of Creekside, which equates to a five-minute drive or taxi ride (it's approximately a $10 fare), a 45-minute walk or 15-minute cycle along the Valley Trail or a 12-minute bus ride (make sure you have the correct change, which is $2.50 one-way).