Dogs and adventuring – the two go hand-in-paw. In a world where our dogs are considered part of the family, we want to make sure our fur babies can join the family vacation whenever possible. What better place to bring your dog than Whistler? As a resort known for adventures both large and small, we have something for everyone in your family – including Fido. Here's how your dog can achieve the ultimate mountain dog dream:
Dog-Friendly Hotels
The first step in planning your Whistler vacation is finding a hotel that your dog will feel at home in. Luckily, Whistler is full of pet-friendly lodges, hotels and more, so you won't have any trouble finding one that suits you as well! A few of our top picks are: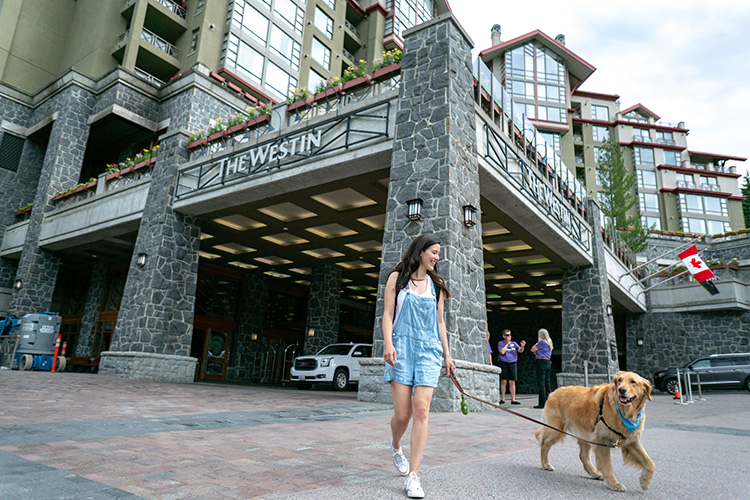 The Westin Resort & Spa
Centrally located right next to the Whistler Village Gondola, The Westin Resort & Spa has top-notch service and their room variety means a luxury stay for you. Plus they have no pet fee so canine guests stay for free!
Nita Lake Lodge
As the name suggests, Nita Lake Lodge is on the shores of Nita Lake in the quieter Creekside neighbourhood. Spot will love the dog treats at the front desk and that your accommodation is only a 5-minute walk to the nearest dog park and situated between two lakes.
Summit Lodge Boutique Hotel
If you like staying unique places, you'll love the feel and décor at the Summit Lodge Boutique Hotel. Rover will love staying here for free and might even be featured on the Summit Lodge Dogs Instagram page (yes, the dogs of the lodge have their own Instagram account!).
Listel Hotel
The Listel Hotel has clean, comfortable and traditional rooms and suites for you and your furry friend that won't break the bank. Their central location in Whistler Village means you and your pet will be in the middle of all the action.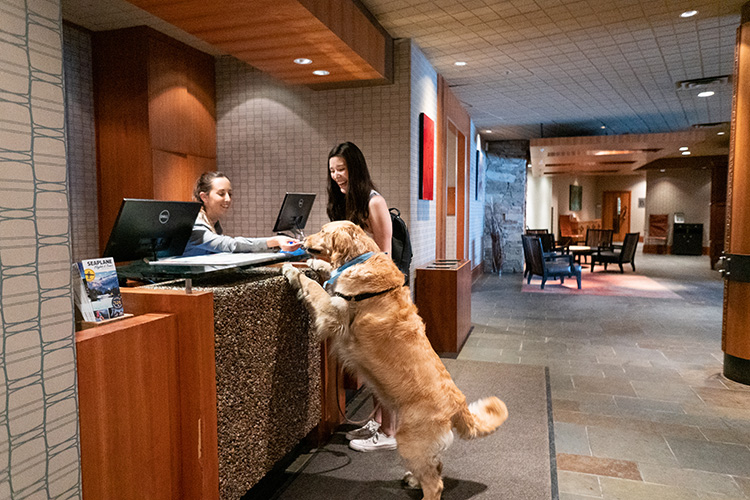 INSIDER TIP: Make sure you mention you'll be bringing your dog with you when you reserve your hotel. The staff ensures you get a pet-friendly room, and some properties will even offer special in-room pet amenities!
Places to Go, Things to Sniff
Whether you're looking for a quick pre-breakfast walk, an all-day excursion, a place to swim with your dog or just somewhere for your dog to rip around off-leash, there's a spot for it.
Dog Parks in Whistler
Barking Bay
Barking Bay at Rainbow Park has a brand-new (as of summer 2018) dog dock complete with a ramp. It also has a grassy picnic area for you to relax on. Keep in mind this area is not totally fenced in, so make sure Rover doesn't roam too far into the on-leash area.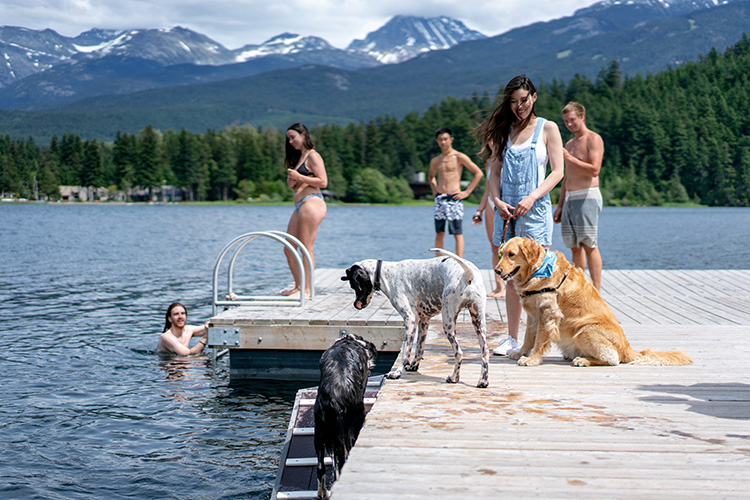 Arfa Park
Arfa Park at Alpha Lake is fenced on three sides and sports a doggy dock. This park is equally great for games of fetch and for swimming!
Bayly Park
Bayly Park in the Cheakamus Crossing neighbourhood is the newest and the most secure dog park, with four fenced sides It also has an agility course, which is lots of fun for more active dogs who need to expend extra energy.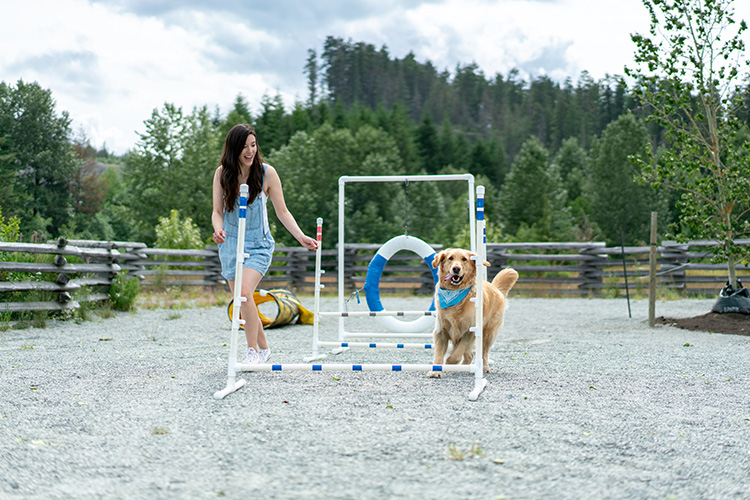 Canine Cove
Canine Cove at Lost Lake is a simple beach with no amenities, but your dog will be too busy playing fetch and swimming to care. It's good to note that Lost Lake Park is inaccessible to dogs during the winter cross-country ski season.
Where to Walk Your Dog in Whistler
You don't always have time for a longer trek so here are some scenic, shorter walks: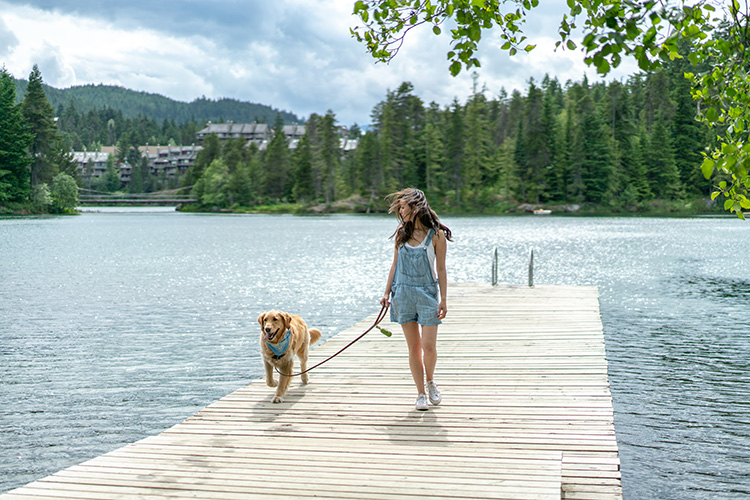 The Valley Trail
You can take your dog on any section of the paved Valley Trail. Close to the Village, the loop around the Whistler Golf Club is perfect for a quick walk.
Lost Lake Park
Lost Lake Park is easy to get to from Whistler Village and has a variety of trails. The easiest is the wide gravel loop around the lake. These trails are not open to the public (doggies included) during the winter when they are groomed for cross-country skiing instead.
Train Wreck
Train Wreck is a classic Whistler hike that's short and mellow. The destination is five graffiti-covered wrecked boxcars which your pup will love to sniff around. Kids will love this trail too, if you have more than fur babies with you.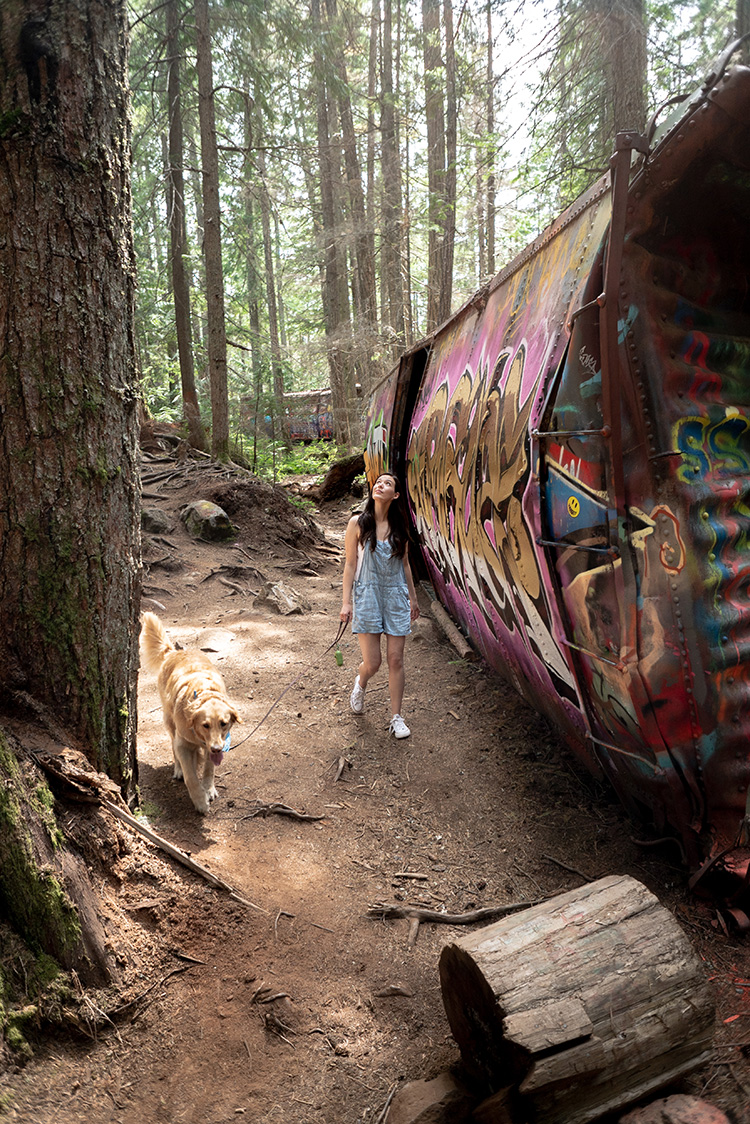 Dog-Friendly Hikes in Whistler
Do you have an energetic dog that needs a couple of hours of hiking to get tired out? Or maybe you want something a little more challenging for yourself? These are the ones for you:
Cheakamus River
The trail to the McLaurin's Crossing suspension bridge over Cheakamus River  in the Whistler Interpretive Forest has rolling ups and downs along the bank of the river, with a neat historical suspension bridge to cross at the end. Your dog will enjoy the sounds and smells in the coastal temperate rainforest.
Ancient Cedars
The Ancient Cedars Trail is a hidden gem. You need a 4×4 vehicle to get to the trailhead, but if you can make it in along the bumpy service road and hike up, you'll be impressed by the view of the Soo Valley. The giant cedar trees that the trail is named for are incredible – even Fido will think so.
Flank Trail
The Flank Trail is a long trail, stretching across the entire Whistler Valley from north to south. There is quite a bit of elevation gain and some fantastic viewpoints along the way. There are multiple entry points to the trail, so you can pick and choose what sections of the trail to do.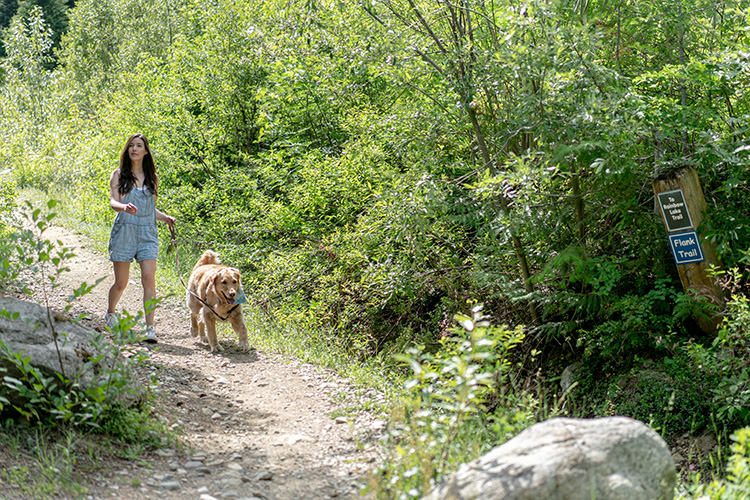 INSIDER TIP: Not all trails are dog-friendly in Whistler. Garibaldi Provincial Park is off-limits to dogs, as is the Rainbow Lake watershed.
Tips and Tricks (more than shaking a paw)
Now that you've figured out where you'll be staying and exploring with your dog, there are a few important things to remember in order to make your visit (and that of other visitors) truly top-notch.
Dogs must be on-leash at all times within Whistler, except in the designated off-leash areas. This is for your dog's safety and out of respect for passersby who may not be comfortable around dogs. Also, many local dogs in Whistler are adopted from the animal shelter, W.A.G., and may be using on-leash trails because they can't handle being around off-leash dogs.
If you do let Fido off-leash in one of the dog parks, make sure he has good recall. Not all the off-leash areas are entirely fenced in, and you don't want Fido running off in an unfamiliar area.
Pick up after your pet! No one wants to step in a pile of poop while out enjoying nature.
The summer months can get very hot, so carry extra water for your pup if you plan to be hiking for a few hours.
Wipe your dog's paws off after you've been out for a walk in the winter. Whistler uses a lot of road salt in winter, which can be uncomfortable or even toxic to dogs.
Coast Mountain Veterinary Services is the local clinic and Twin Trees Veterinary Clinic is the emergency vet.
Dogs are not allowed to be tethered and left unattended anywhere in Whistler, this includes outside of shops and restaurants. Your doggy will not be permitted to sit with you inside a restaurant or on the patio either due to health code regulations.
Visitors travelling with service dogs need to get their dogs registered in BC to enjoy access under the Guide and Service Dog Act

Going ziplining? Many hotels don't allow dogs to be left alone in rooms, so if you're heading out for a non-dog friendly activity, local services Alpine Dogs and Whistler Dog Sitting both offer adventure dog walks for those times when you can't bring Fido with you.

Or consider a pet sitting app like Rover, that can connect you to local pet-sitters in the area that can take care of your dog while you're out. The app is set up so sitters can share photos and updates while you're away so you can be sure your furry friend is having as much fun as you are!
Being a mountain dog is a state of mind, Fido. We can't wait to welcome you to dog-friendly Whistler!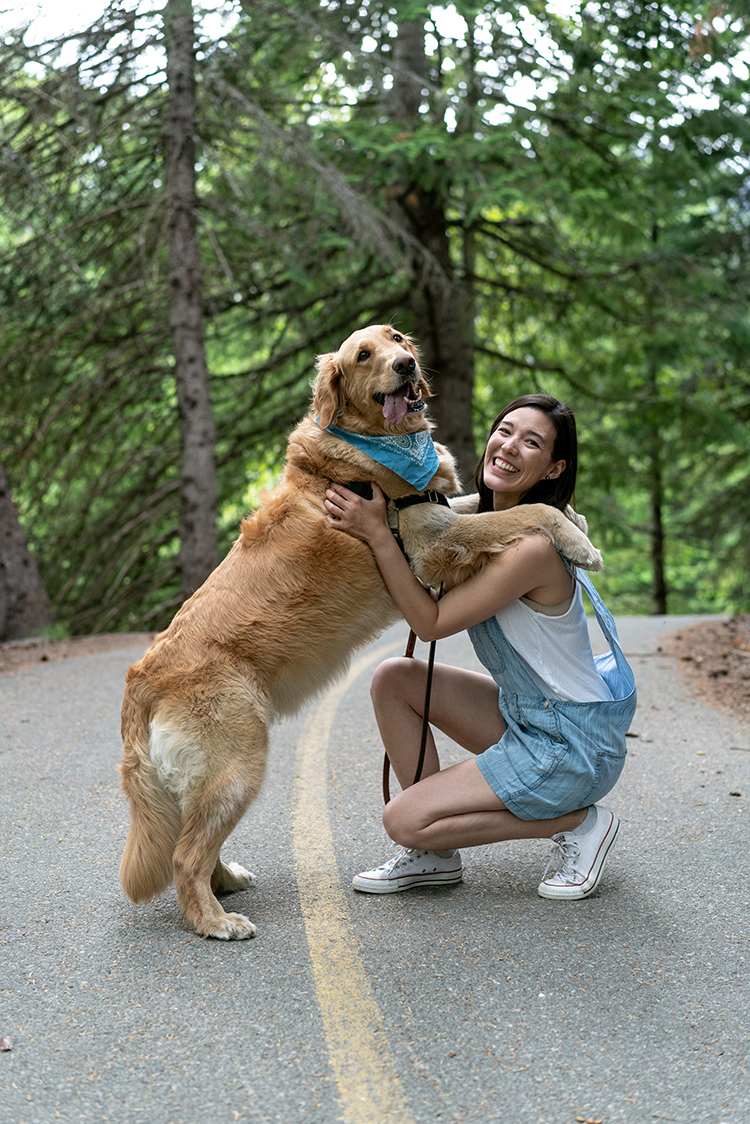 Ready to plan your trip? Find more hiking trails and adventures on Whistler.com and book your dog-friendly stay.