Words, Photos & Rider: Hailey Elise  Photos, Video & Rider: Ollie Jones Photography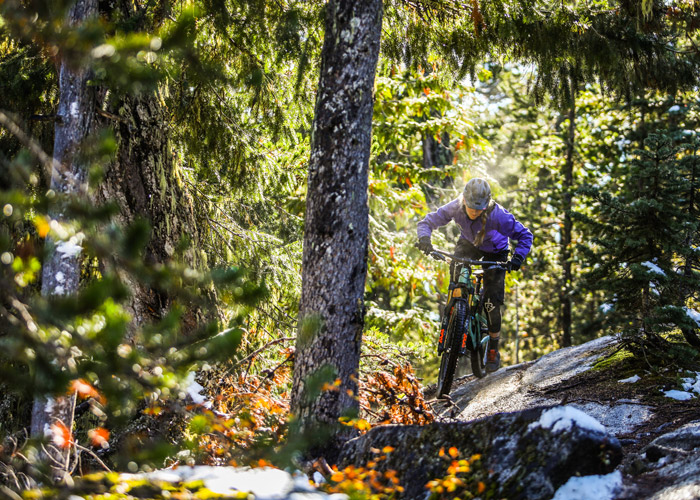 Imagine a mountain biker's paradise. Trails covering every inch of earth below thick forests, a seemingly infinite variety of riding, and the capability to simply hop on your bike to access it all. Whistler's trail network outside of the Whistler Mountain Bike Park is that and more. Over 200-kilometres of single track snakes it's away through the valley, providing a trail for every level of rider. Rock slabs, technical features, incredible dirt, and spectacular views are only a pedal away. Choose your ride from one of Whistler's five sub-networks that encompass everything from the north to the south of town.
Westside
What to Expect
The Westside trails cascade down Sproatt Mountain, many but not all of them sitting in its middle to lower region. They can be accessed from the infamous Flank Trail, a rigorous climb in every direction but what you find at the top is well worth the ascent. In addition to wicked descents, the area arguably boasts the best views of both Blackcomb and Whistler Mountains as well as Alta Lake. The higher you go, the better the scenery and the longer the ride down!
Some of the oldest trails in the Whistler trail network can be found in Westside. Many of which are legacies in their own right. Built by beloved trail builders, these etches into the mountainsides indicate the growth of the sport and have fostered many a mountain bikers skills. The area is rocky, full of slabs, but no stranger to flow. It's thrilling, it's challenging, and most of all, it's good fun – Westside is classic Whistler.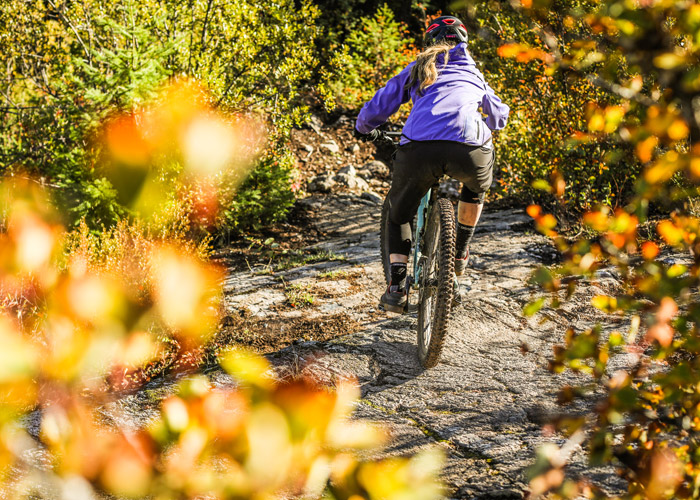 Be Prepared
Westside's trails stretch from the valley floor right up to the Sproatt alpine. It's challenging terrain and you need to be well prepared when riding there. This means having the tools to fix a flat tire and carrying a cell phone in case of a potential emergency. In addition to plenty of water and snacks, it's also never a bad idea to have access to Trailforks or a WORCA trail map for safe navigation.
It's not uncommon to see bears when travelling in and around Westside. As always, practice being bear aware and respect the environment.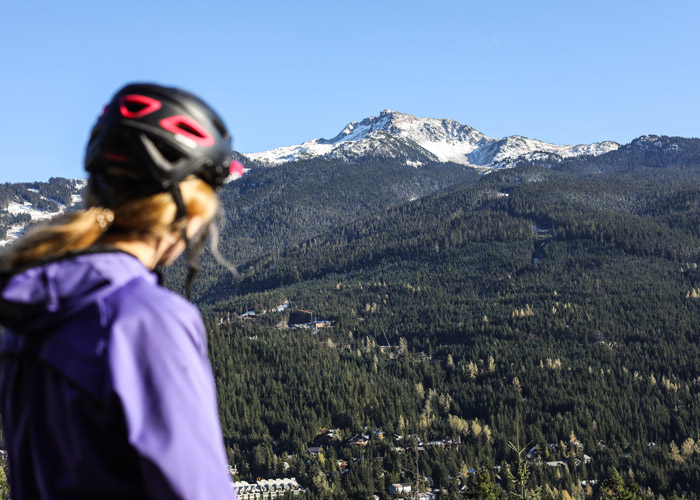 Westside Trail Suggestions
Suggested Beginner Trail
A River Runs Through It
There are no green-rated trails in the Westside area. However, some of the blue trails like A River Runs Through It are doable by beginner riders due to the fact there are easy-outs around the harder features. Be prepared for plenty of skinny bridges and even a few teeter totters! It is recommended to allow 1-2 hours to finish the entire trail but there are options to only ride small sections and link onto the Valley Trail or onto Alta Lake Road.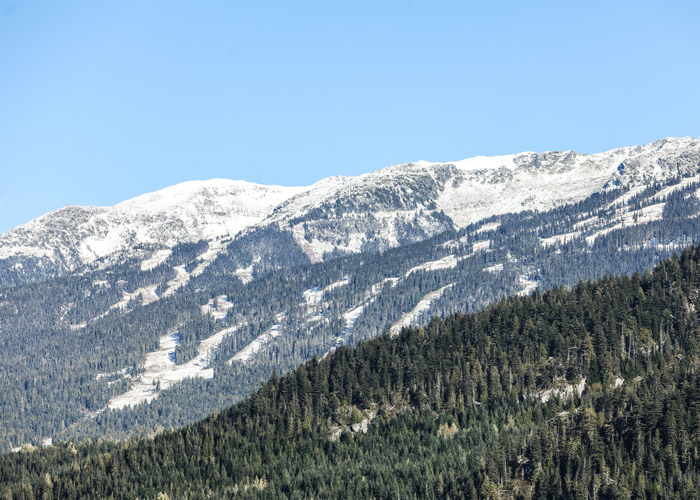 Suggested Intermediate Trail
Lord of the Squirrels
The crown jewel of the WORCA trails, Lord of the Squirrels (LOTS) is an epic alpine adventure. Now, although it is rated a blue, it requires a very long climb to get to it. After the challenging ascent, riders will carry on along the top of Sproatt Mountain before ducking into the woods for a flowy descent down. If you're looking for an alpine, backcountry experience, LOTS is for you, but it is a long ride that takes people 3-8 hours return so be prepared for that. Because of its altitude be aware that this trail could have snow on it if you're riding late or early in the season. 
Suggested Expert Trails
Rockwork Orange and Korova Milk Bar
Rockwork Orange is one of the many trails built by local legend Dan Raymond. This trail is a quick, rocky descent with a few technical ups before it ends. Many riders carry on to Dan's other trail, Korova Milk Bar where they tackle rock slab after rock slab, with a few fun and rowdy root sections in between.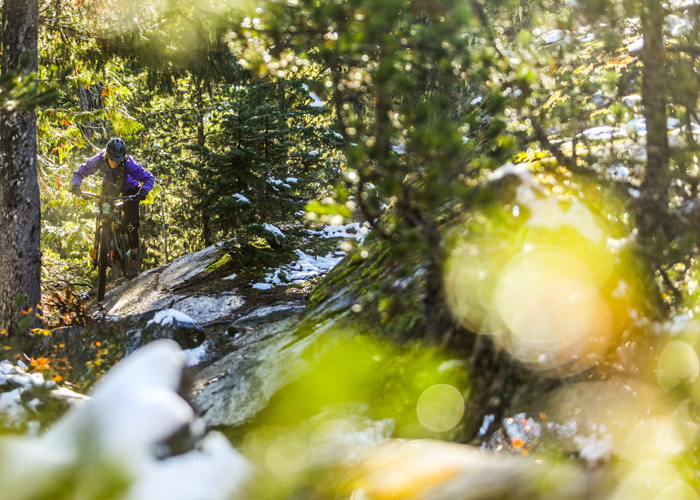 AC/DC
A classic double black, AC/DC is full of challenging technical rock slabs. It's not overly long but its spicy sections might make you feel like you're in a time warp!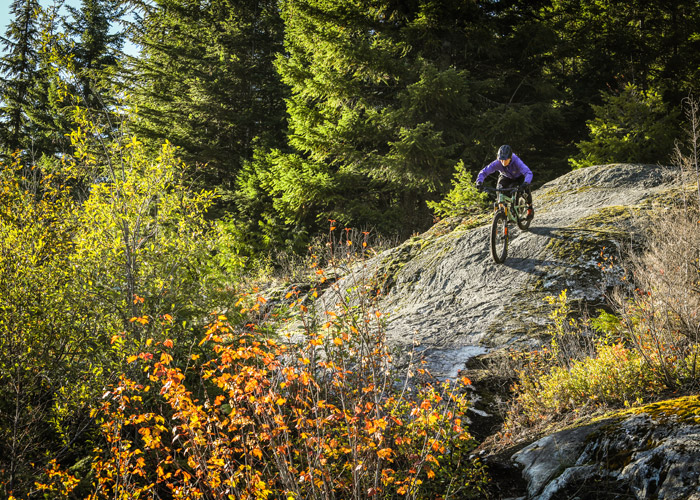 These Trails Don't Build Themselves – How to Get Involved
We hate to break it to you, but there's no such thing as a trail fairy; Whistler's mountain bike trails didn't magically appear. In fact, hundreds of hours go into building and maintaining the trails each year. You can support by donating, becoming a member and joining a volunteer trail-building night. Get the latest trail updates, know the riding code and connect with the biking community over at Whistler Off Road Cycling Association (WORCA).
Check out the other installments of this five-part series:
#1 Insider's Guide to Whistler Mountain Bike Trails: Whistler North
# 2 Insider's Guide to Whistler Mountain Bike Trails: Lost Lake
# 3 Insider's Guide to Whistler Mountain Bike Trails: Blackcomb
# 4 Insider's Guide to Whistler Mountain Bike Trails: Cheakamus
From road to ripping downhill, we love bikes. Learn more about biking in Whistler over at Whistler.com.