It was a summer of endless adventure when we felt the need to soak up the sun's rays any opportunity we got. But now, as we shift to more temperate weather the pace of life becomes less frenetic, slowing down just a touch. Perhaps just enough for a fall getaway to Whistler?
The clash of the seasons is pronounced in the Coast Mountains as the leaves that turn gold and red are set on a backdrop of evergreens, with a white snow line that makes its way steadily down over the season. There's still so much to do and explore during the autumn, so we thought we'd show you what your days could look like on a fall getaway to Whistler.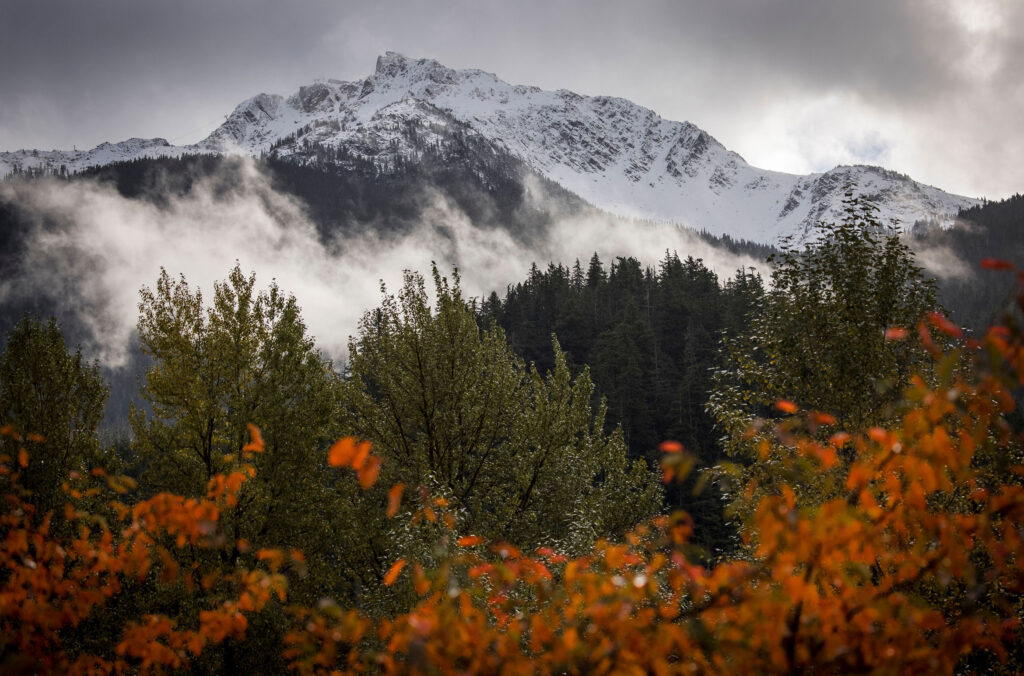 Day 1: Find Fall Colours, Coffee and Art
When you arrive, check-in at your accommodation and then stretch your legs by taking a walk down the Whistler Village Stroll. This will allow you to get a lay of the land, take note of a few potential places to dine and pick up any gear you might need (or just want) for the rest of your getaway.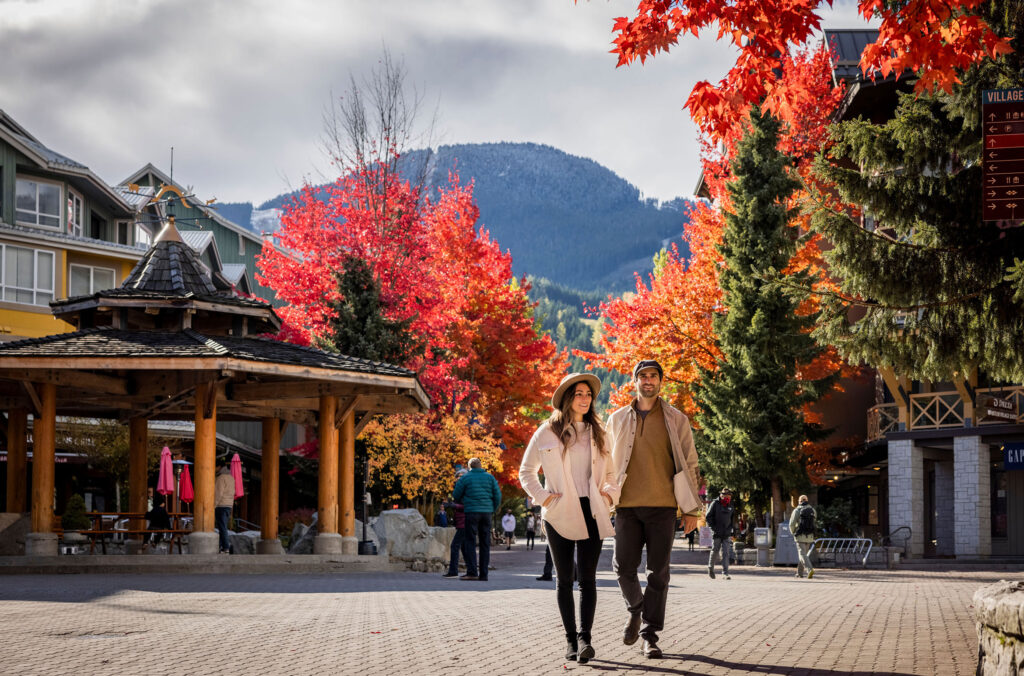 We suggest stopping in at a local coffee shop for something cinnamon sprinkled, be that a latte, bun, or both! Our top java picks include Moguls Coffee House, Mount Currie Coffee Co. and Artigiano Whistler. Enjoy your treat while enjoying the golds and reds of the trees that line the Village Stroll.
Just off the Village Stroll, you'll find a stunning piece of contemporary architecture that houses the impressive art collections of the Audain Art Museum. Spend a couple of hours taking in the permanent collection, which has one of Canada's strongest Emily Carr collections, as well as art by notable post-war modernists such as E.J. Hughes, Gordon Smith and Jack Shadbolt. Spending time around art specifically from BC can give you a new perspective when out meandering, enjoying some of the same vistas and landscapes that influenced some of the artists featured.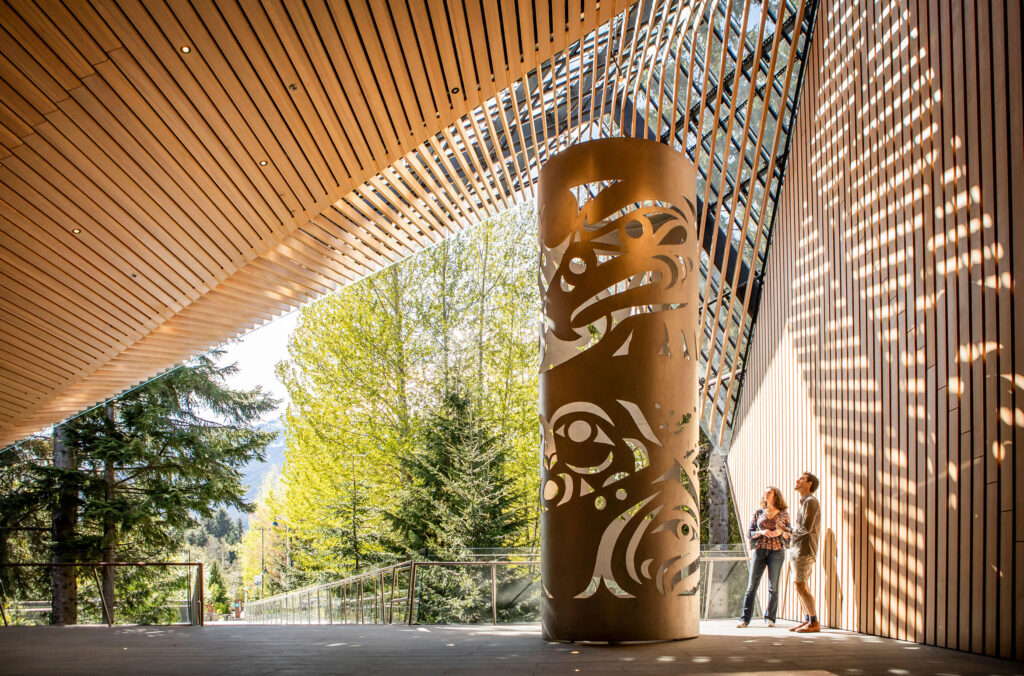 You will likely have worked up an appetite by now and had some time to contemplate the places you saw on your earlier walk. For a casual dinner that's close to the Audain, we suggest Hunter Gather on  Main Street, Caramba! along the Village Stroll (opposite The Gap), or Earls Kitchen + Bar. If you're not ready for the night to end just yet, you could see if there's any live music on at the Dubh Linn Gate Irish Pub or FireRock Lounge, both located close to the base of Whistler Mountain.
Day 2: Whistler Valley Trail via E-bike
Get ready to utilize one of Whistler's gems – the 46-kilometre Whistler Valley Trail. This car-free trail weaves its way in and out of Whistler's neighbourhoods, parks and lakes, and today we suggest you tackle it via e-bike.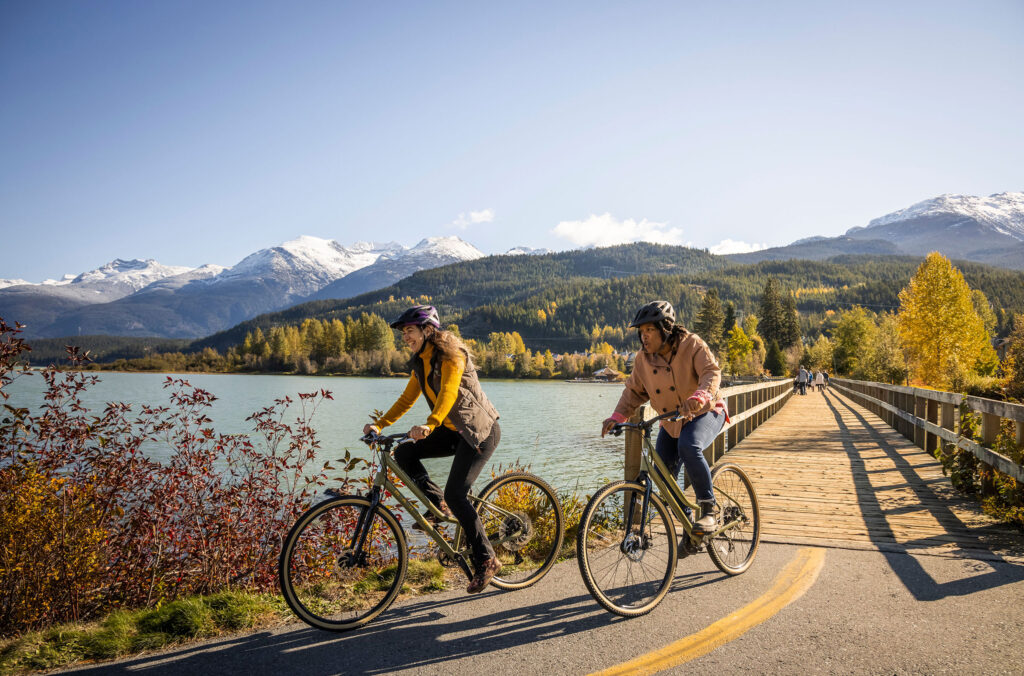 There's a half-day, fall biking tour available to download on the free, Go Whistler Tours app, which takes you on a self-guided tour down to Creekside Village and then back around Alta Lake for 12-kilometre loop. However, we suggest that as you have that additional pedal power, you can make it a bit further – to Whistler's funky, Function Junction.
You'll find two breweries, coffee shops and bakeries, galleries and design-based shops, all well worth the extra kilometres. You could opt to make a lunch stop in Creekside on the way or when you're in Function Junction. If you're into your craft beers you're going to want to visit Whistler Brewing Co. and Coast Mountain Brewing, both in Function.
When you get back, we suggest relaxing in the pool or hot tub at your accommodation or booking a spa appointment after your day in the saddle. If your accommodation didn't come with a tub, then it's good to know that if you book a spa appointment at Nita Lake Lodge, Whistler Day Spa (located inside the Pan Pacific Village Centre), or the Vida Spa at the Fairmont Chateau Whistler, you get to use the facilities.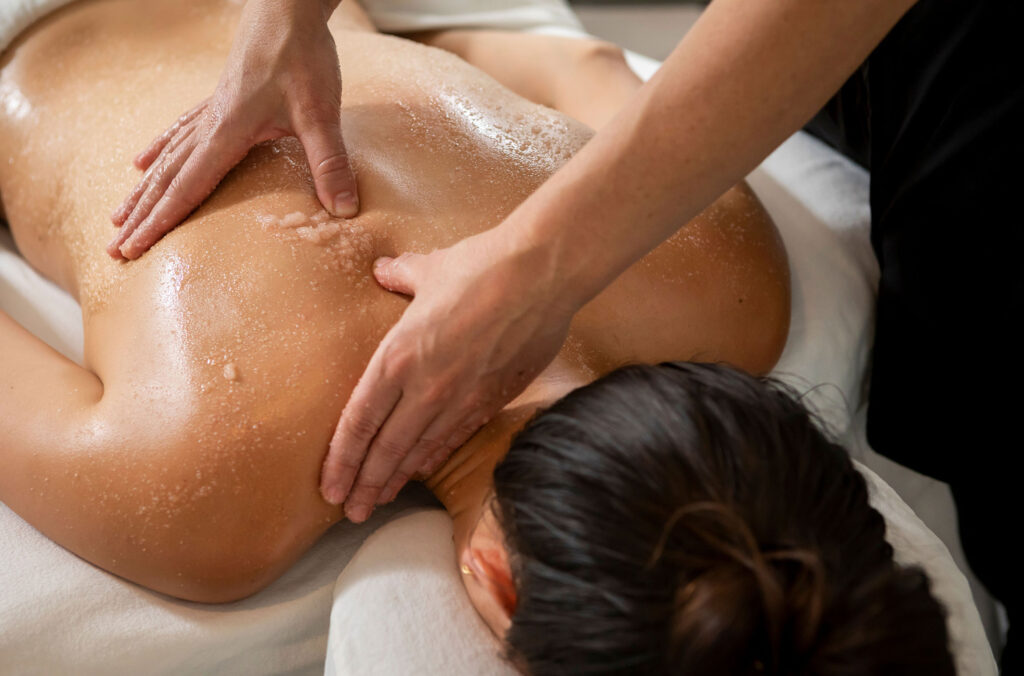 You might want to stay in your robe once you've got it on, so why not opt for room service or delivery this evening? Whistler Dine-In offers delivery from 13 restaurants, along with grocery and liquor drop-offs too. Take-out is another option, and Main Street is where to go as it has a plethora of grab-and-go options from Aussie pies to Thai noodles. There's nothing like dining in with a view of the mountains, the fireplace on and perhaps a glass of something locally produced.
Day 3: Splash in Muddy Puddles Adventure
Whistler is located in a lush, temperate rainforest, which means that in the fall the weather is typically on the wetter side of things. But don't let the H2O deter you, as long as you have the right clothing you can certainly have fun in the rain. That's why they like to dress you in head-to-toe wet, weather gear when you head out on a guided ATV, Mountain Buggy / RZR, or 4X4 adventure. This experience is all about finding muddy puddles and racing through them!
INSIDER TIP:
Be aware that Whistler Blackcomb's gondola system including the PEAK 2 PEAK Gondola closes on October 10, 2022, for yearly maintenance. However, you can still access Blackcomb Mountain via ATV and / or 4X4 tours. Check the
Hours of Operation page
for more information on which gondolas are open and when.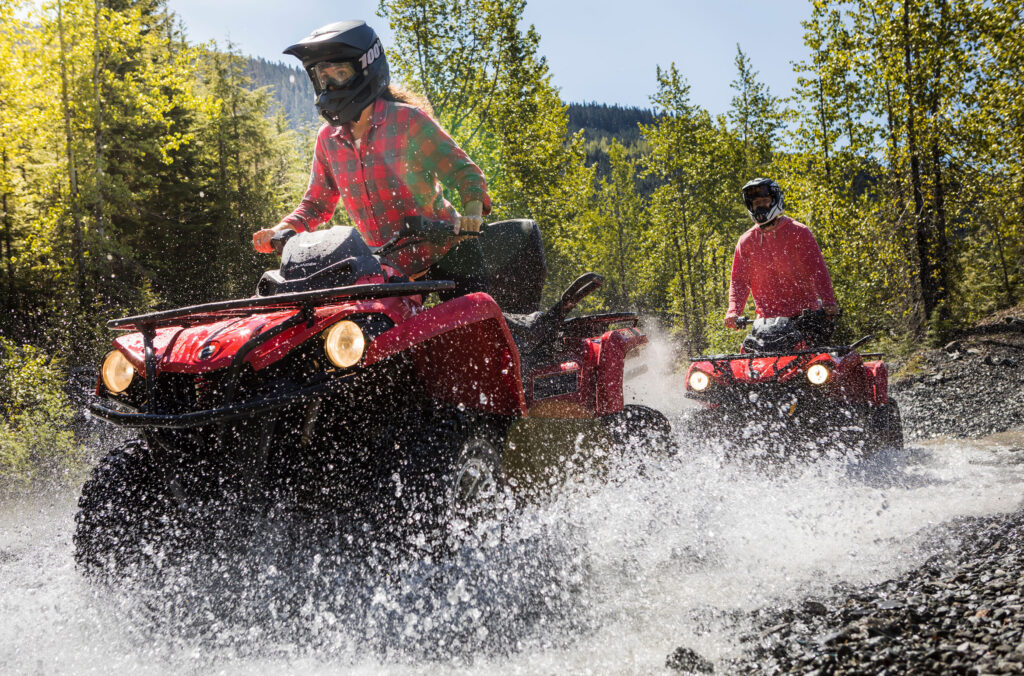 After your adventurous morning, we suggest slowing the pace by heading to the Scandinave Spa. This outdoor spa is located on the edges of Lost Lake and invites you to experience the regenerative benefits of hydrotherapy. The idea is to cycle through a process of heating and cooling the body, at least three times, using their cold plunge pools, hot baths, saunas and steam rooms, not to mention just relaxing in the solariums or on the deck next to a crackling fire.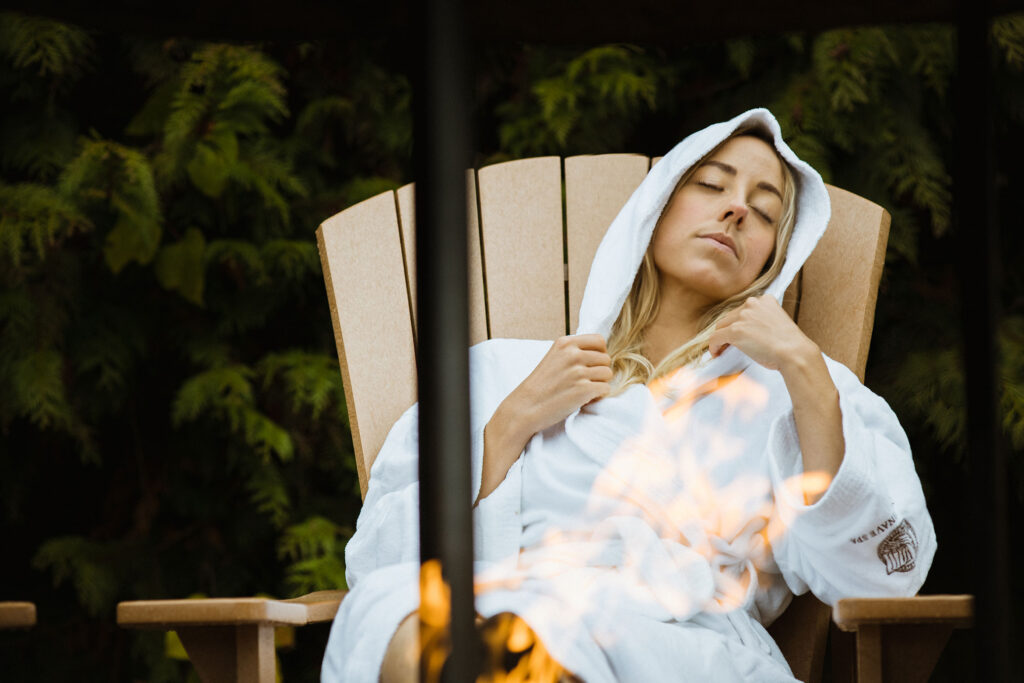 After you feel refreshed from the spa, we think it's time for one of Whistler's fine dining experiences. During the fall, a lot of local restaurants have special deals but make sure to reserve in advance if there's a place that takes your fancy as even in the fall popular days and times can book out. Some of our favourites include the Hy's Steakhouse, Bearfoot Bistro, Araxi and Il Caminetto, all found in Whistler Village, and the Rimrock Cafe and Red Door Bistro in Creekside.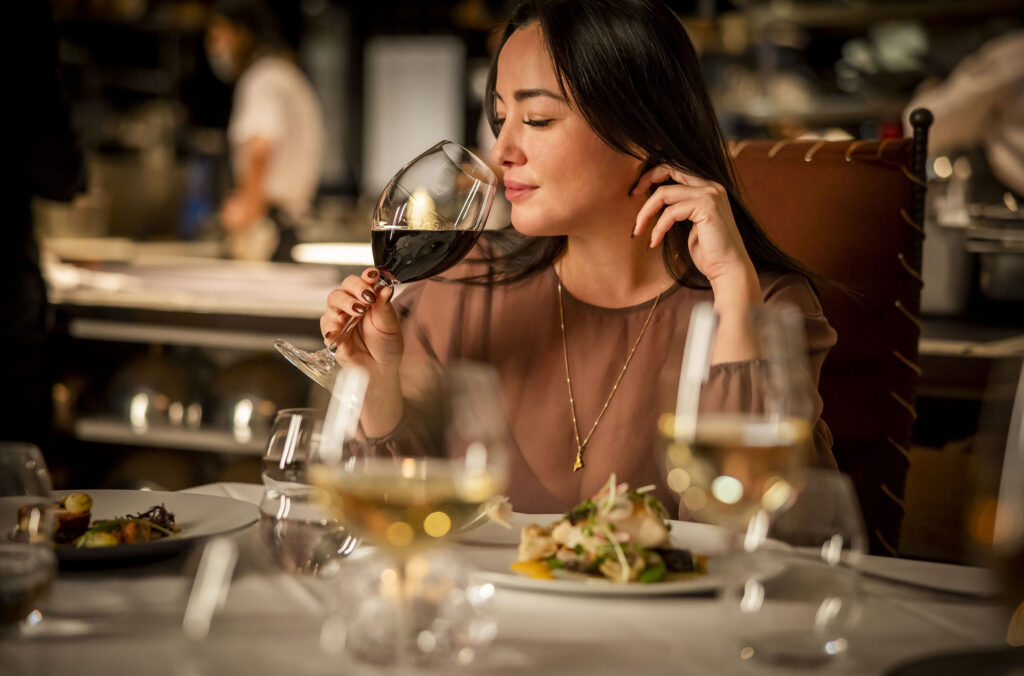 Day 4: Ancient Cedars & Cultural Connections
Located just north of Whistler Village in the Soo Valley, is the Ancient Cedars Trail. This hike is a mellow five-kilometre trip that is beautiful in the fall. You do need a vehicle to access it (4×4 recommended) unless you opt for a guided tour, so if you're looking for another option that's within walking distance of the Village then opt for the trails around Lost Lake Park.
After a morning of hiking, head to the Thunderbird Cafe inside the Squamish Lil'wat Cultural Centre (SLCC) for a warming bowl of salmon chowder or bison chili served with bannock bread (a must-try). Once you're refueled join one of the hourly tours, which includes a hand drum welcome song, a guided tour with a Cultural Ambassador and a 15-minute video. We'd also suggest leaving time to peruse the gift shop as it's full of beautiful keepsakes.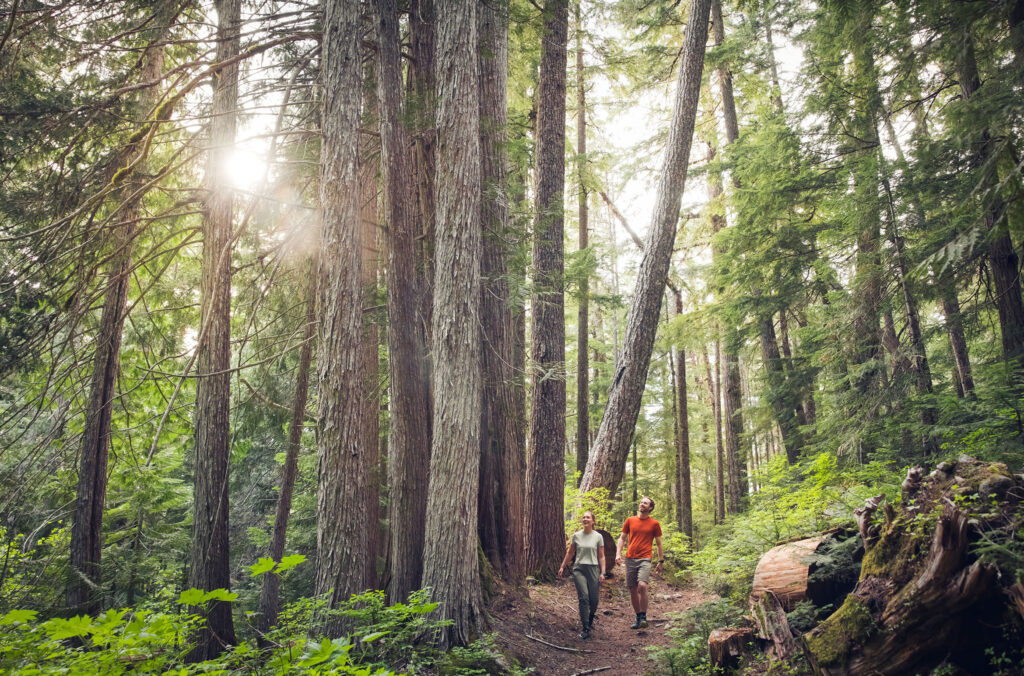 You are close to the Upper Village when you're at the SLCC, so if you fancy an afternoon tipple we suggest heading to the Braidwood Tavern inside the Four Seasons, which has an impressive array of local, craft beers, or The Mallard Lounge at the Fairmont Chateau Whistler for a cocktail. If you'd rather head back into Whistler Village then our choices for an afternoon libation would be Brickworks, which has an array of gins and The Raven Room, which does some of the most innovative cocktails in the mountains.
After you've had a shower and changed out of your hiking boots, we have a challenge for you before dinner. Did you know there's a pirate ship in Whistler? A fun way to start the evening is to puzzle your way out of one of five, imaginatively designed escape rooms. Then you could challenge your taste buds and opt for one of Whistler's international cuisine restaurants like The Mexican Corner, Teppan Village, Ohyama Ramen, Mongolie Grill, or Sushi Village.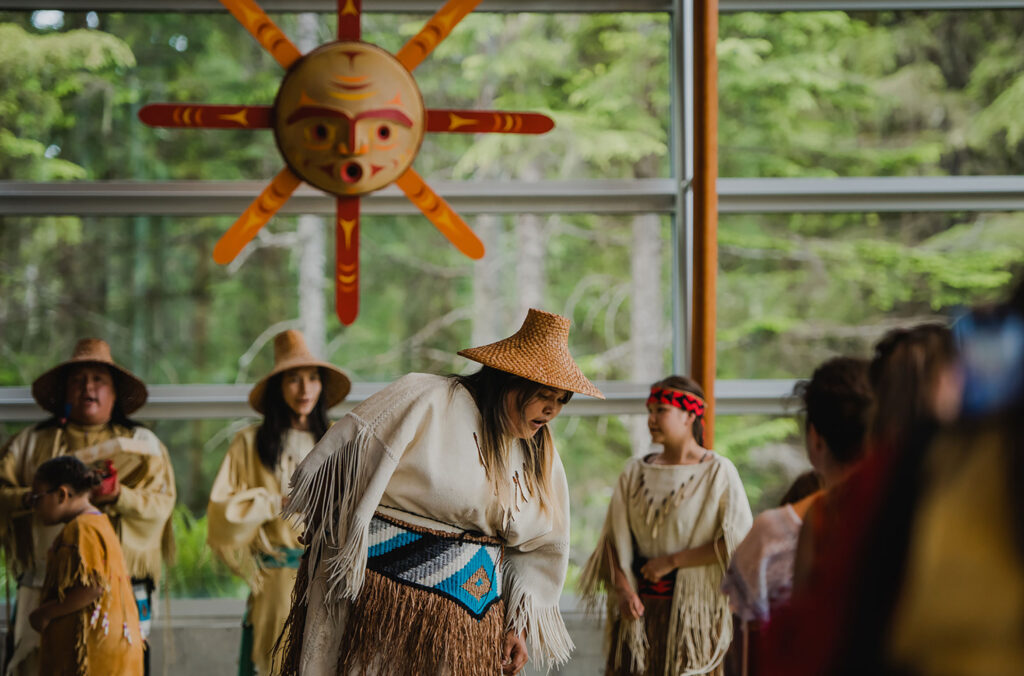 Whistler's art scene tends to ramp up this season so make sure you check our events calendar. You might find paint and comedy nights, wine walks, ski movie premieres, art exhibitions and speaker series are happening while you're visiting. Whistler also has three key festivals which happen in the fall and early winter, the Whistler Writers Festival (October), Cornucopia (November) and Whistler Film Festival (December). All three are events you could base a trip around.
Day 5: Fall Fishing
It's been an active few days, so maybe it's time for a lie-in. You could opt for breakfast in bed through in-room-dining (check out the photo from the Four Seasons decadent option below), send a willing party out to scout down fresh cinnamon buns and coffee, or head out for brunch.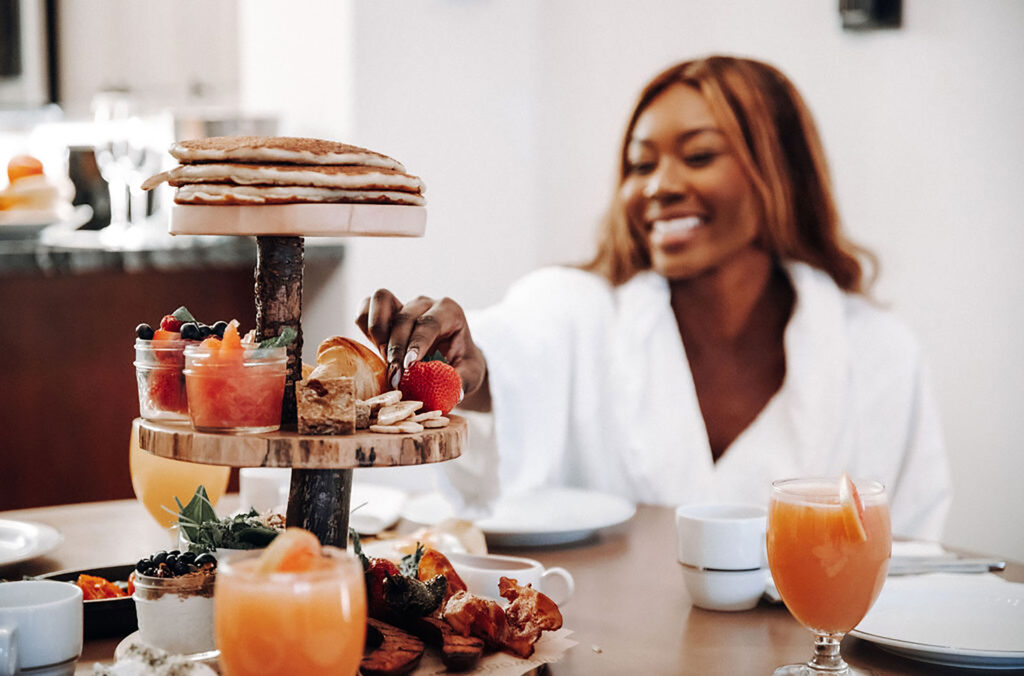 If you're located in Whistler Village, we suggest trying the cinnamon buns or flakey pastries from Hot Buns Bakery and purebread, whereas if you're in Creekside go to BReD or Fix Cafe, and in the Upper Village, Portobello. For a sit-down brunch experience, we'd go for Elements, Crepe Montagne (check for seasonal closures) and Hunter Gather, all on Main Street, or Stonesedge Kitchen, which is closer to the centre of Whistler Village.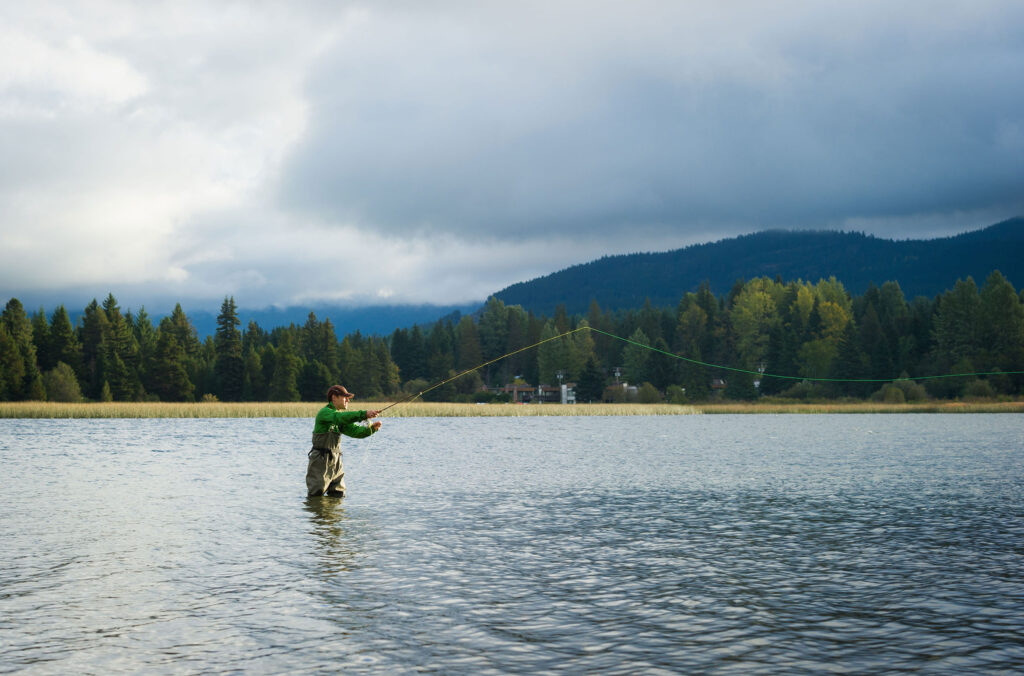 Now that you've had breakfast, let's talk about what you're going to catch for dinner. Salmon spawning season starts in early to mid-October in BC and this year it's expected to be what's called a dominant year (these occur every four years), which means if you're out fishing this season you might see some huge schools of salmon. The more year-round fish in the rivers and lakes around Whistler are different species of trout.
One of our insiders did a half-day trip with Valley Fishing Guides back in 2020 and the subsequent blog is a great read if you're considering some time in waders this fall.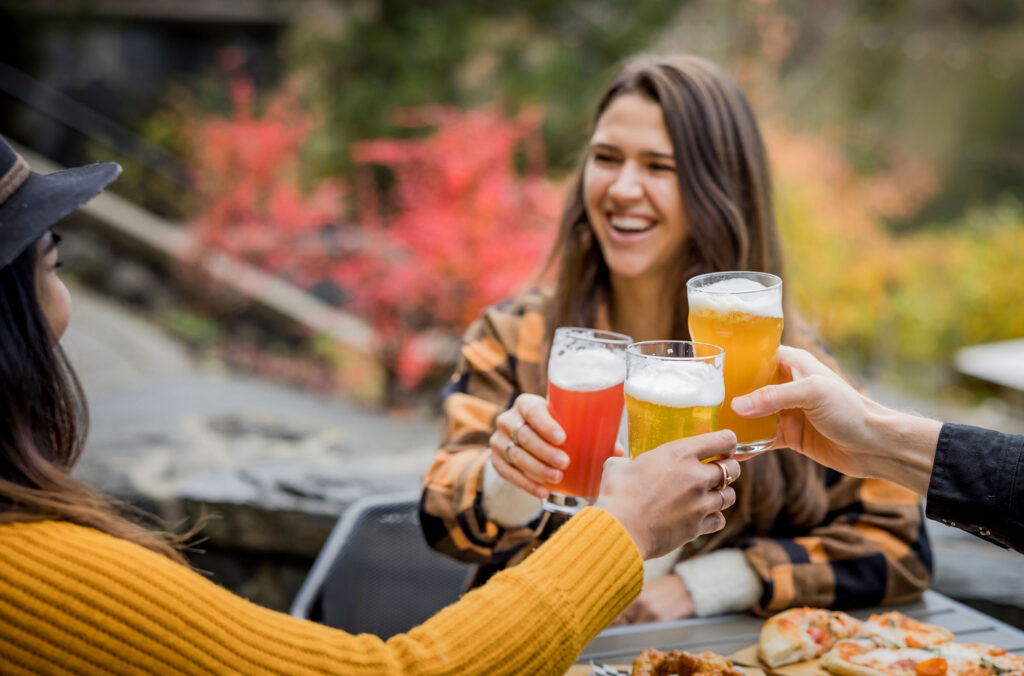 This 5-day itinerary only scratches the surface of what's on offer in Whistler during the fall. The team at Whistler.com are all locally-based, right in Whistler, so if you'd like help crafting your own fall getaway then give them a call. We hope to see you in the mountains before the snow starts to fly!