I look ahead at a steep, rocky, rooty incline. Normally when I'm on my bike this is when I'd double down and get ready for a thigh burn, but this time, with a bit of assisted pedal-power I fly up the hill – no sweat. The beauty of an e-bike.
I'm out with Drew Almost, of Canadian Wilderness Adventures (CWA) on the Great Canadian E-Bike Adventure tour. Originally from Woodstock, Ontario, Drew was drawn to the west coast for its mountains, ocean and all-round adventurous vibe. He's guiding me and my thrill-seeking, bubble buddies through a section of the Callaghan Valley, located a 20-minute drive south from Whistler Village. Our destination is Alexander Falls, a stunning 141-foot (43-metre) waterfall, but instead of the usual drive-up method, we're on e-bikes specifically designed to tackle cross-country terrain.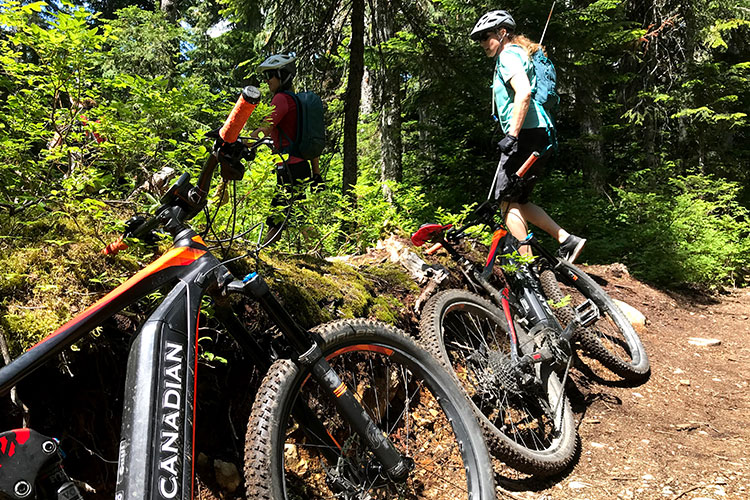 What's incredible about e-bikes is that they level the riding playing field. People who might not have ever considered getting out into the wilderness on a bike, now have the opportunity. That being said, we all need to play within our limits, but on this tour, you can push your comfort zone a bit, knowing you've got an experienced guide to help you out.
"We've had a lot of first time e-bike riders on the tour," comments Drew. "Families, couples and small groups looking to experience a wilderness bike ride, who might not necessarily have the skills or experience to go out on their own just yet. This is a fun way to explore, it's still physical, but not out of most people's ability range if they're competent at riding a bike at home."
The e-bikes on the tour are Class 1, pedal-assist, which means that when you pedal you get an extra boost of power, capping out at around 45 kilometres per hour in terms of speed (it doesn't kick in when you're not pedalling). The Giant Full-E+ model that CWA uses has double suspension, which makes it easier to get over the rocks, roots and muddier sections on the cross country trails. They've got a long battery life, around 200-kilometres worth, so you could ride all day and then some.
We met Drew at the CWA office, located on the stroll in Whistler Village and then jumped in a van (bring a face covering) for our trip to the Callaghan Valley. When you turn off the highway, you can see lush, old-growth forest stretching to the horizon. You truly are in the Canadian wilderness and this is what the experience is all about, a chance to actually get into it.
The bikes were waiting for us when we arrived at the CWA base, pristine and shining in the summer sun – they won't stay that way for long! Drew led us through how to operate them, explaining that they're exactly like normal bikes, just with extra juice. A small panel on the handlebars has a button for three different power modes, shows you how fast you're going, and displays battery life. Drew suggests the most powerful one, because heck, why not?
We head out for a short lap to get our bearings on the bikes. There are hoots and hollers coming from the whole group as we switch on the power and let the bike do its thing. Drew gives us a few riding tips (keep those pedals level) and then we head out on the trail that the CWA team has specifically built for these tours.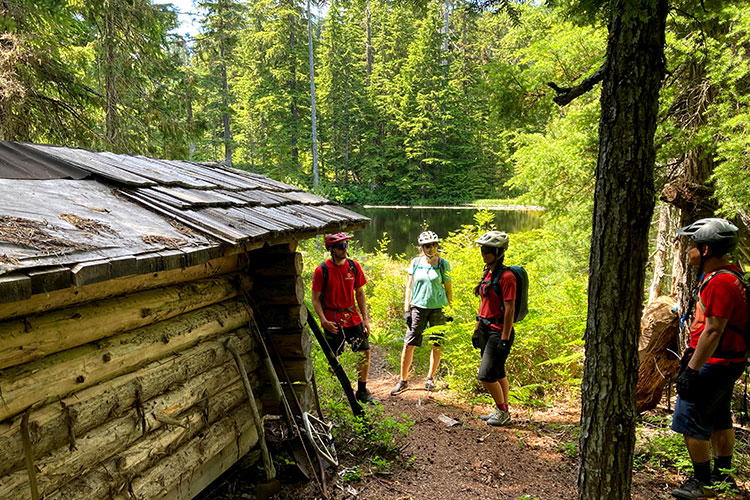 We stop at Totem Lake where they found an old trappers cabin, which they've lovingly restored to give people a feel for what it would have been like to explore and hunt in the area, cooking whatever you caught over a campfire. However, with the adrenaline pumping, we're itching to get back in our saddles.
Although the e-bikes make the trail accessible to all levels of riders, you do have to keep your wits about you and be ready for parts that might be challenging. At one point, we jump off our bikes and use the walk-assist button to push them up a section of trail that's waterlogged, the mud sucking at the tires and our shoes. This is all part of the experience, so leave your new sneakers at the hotel and bring your sense of adventure.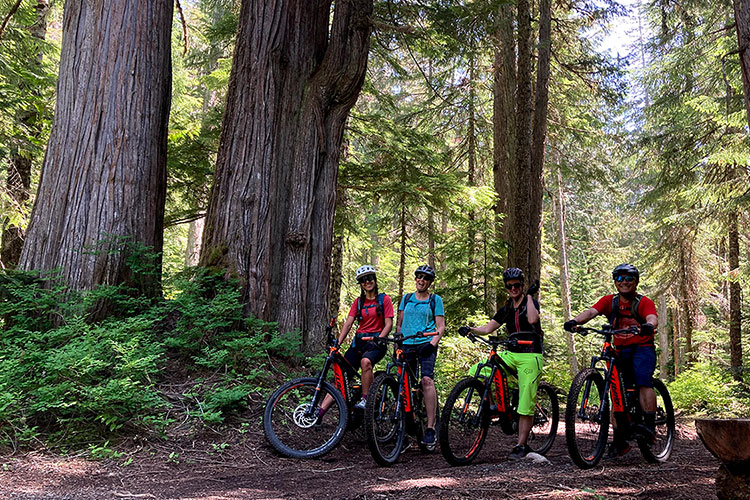 The forest is stunning. Cedar, hemlock and pine trees stretch to the sky and we stop to admire The Sisters, two red cedars that have likely been around for centuries. We then take a break at another a viewpoint and watch Madley Creek flow into Callaghan Creek, one clear and the other a chalky green colour, thanks to the rock flour it collects en route.
The tour is a juxtaposition of adrenaline-fuelled fun and nature-driven wonder. This is even more evident when we get to our destination – Alexander Falls. Water from Madeley Creek charges over three platforms, crashing 141-feet onto the rocks below. In the winter months, you can snowshoe down to the base (accessed through Whistler Olympic Park), but in the summer this viewpoint is the only place you can legally access it.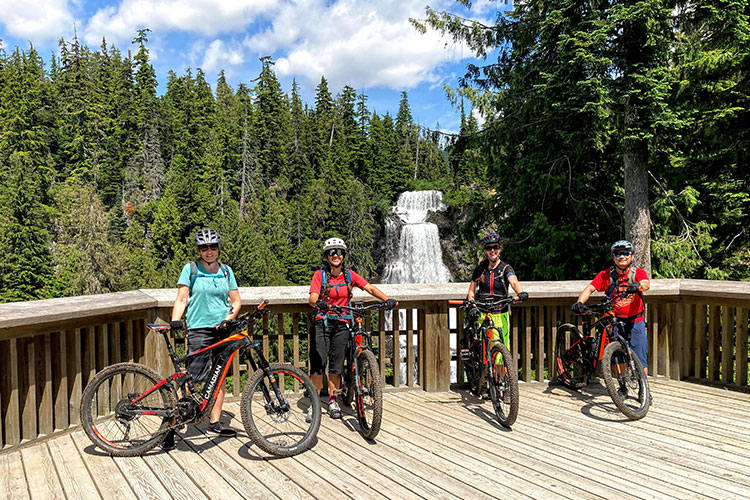 The ride back is mostly downhill, making for a fun, fast, flowy ride or a slow, cruisy one if you want to take in the sights once again. Back at the CWA base, as we wait for our ride back to Whistler Village, we throw axes (as you do) and relax in the sunshine.
If you're looking for some fun in the Canadian wilderness, with a great balance of physical exertion and a chance to see Whistler's natural beauty first hand, this is it.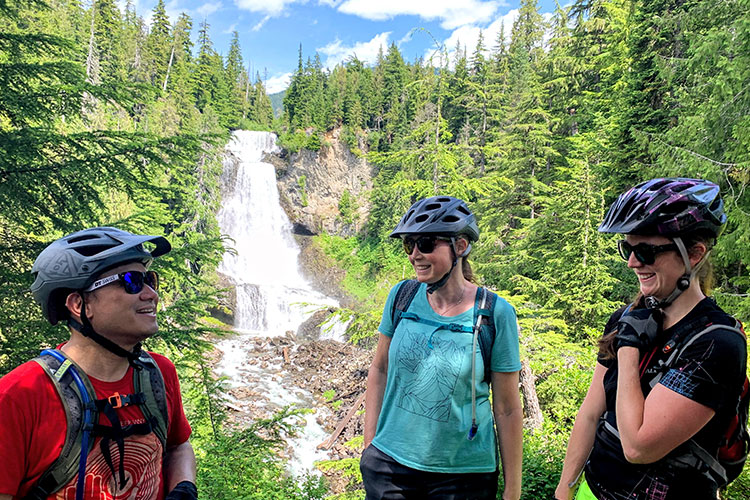 What to Wear and Bring
Dress for the weather. Wear clothes you can move around in easily and that you don't mind getting a bit mucky. I'd suggest a quick-dry sports top, long biking shorts (short, shorts might result in some chaffing issues) and packing some wet weather gear for when Mother Nature decides the forest needs a shower (CWA has rain gear if you need it).
Closed-toe shoes are a must, and if you have any with a flat sole those are the best for sticking to the pedals. Wear sunglasses or clear biking glasses (CWA has some) – mud or a bug in the eye is never fun.
You also need to wear a cycling helmet, which you can bring or they will give you one. Other items for your backpack:
Bug spray
Light rain jacket
Sunglasses
Water and granola bar
Bike gloves (a nice to have)
Camera
The Great Canadian Bike Tour is $139 per adult and a three-hour round-trip. You need to be at least 5'4″ and 14 years of age or older (max weight is 275 pounds). You need basic bike riding knowledge, like how to brake and change gears.
The tour is designed for novice riders, but there are some inclines and sections of uneven ground. You can always jump off and push the bike using the assist button (this makes it easy to push) to go around anything that you don't want to tackle on two-wheels. The guides are friendly, knowledgeable and make the whole experience a lot of fun.
If you're not looking for a full tour just yet, CWA also rents their Giant Full-E+ e-bikes from their Whistler Village location for day-use ($30 per hour). Be careful though, once you go e-bike, it's hard to go back!
If you are heading out on an e-bike, take a look at the riding etiquette to be respectful of other trail users and check which trails you're considering riding, as some have e-bike restrictions.
If you have any questions, the Ask Whistler Live Chat Service is available seven days a week from 8 AM to 9 PM PST via Facebook Messenger, WhatsApp, SMS and phone. Whistler.com also has a COVID information page for the latest updates and health advisories for Whistler.
Summer room rates with Whistler.com start at $93 and there are deals to be had on longer, midweek stays and activity bookings (free $50 adventure voucher when you book for three nights or more). If you're a BC resident, sign up to become a Whistler Rewards member (it's free) for more specials and savings. 
We hope to see you on the trails!