I didn't really know Chili Thom, aside from catching a glimpse of him DJing occasionally. The most contact I had with him was through his artworks, which are scattered indoors and out around Whistler. A talented artist and larger than life personality, Chili's influence on the communities in the Sea to Sky Corridor was unquestionable, as was the deep sadness that arose when he passed away from cancer in November 2016.
I have to confess I didn't have a huge 'wow' response to his paintings when I first came across them. They were colorful, lively mountain landscapes sure, but I distinctly remember looking at a painting of his signature snow laden trees (I think it was in Creekbread, in Whistler Creekside) and wondering why they left me out in the cold?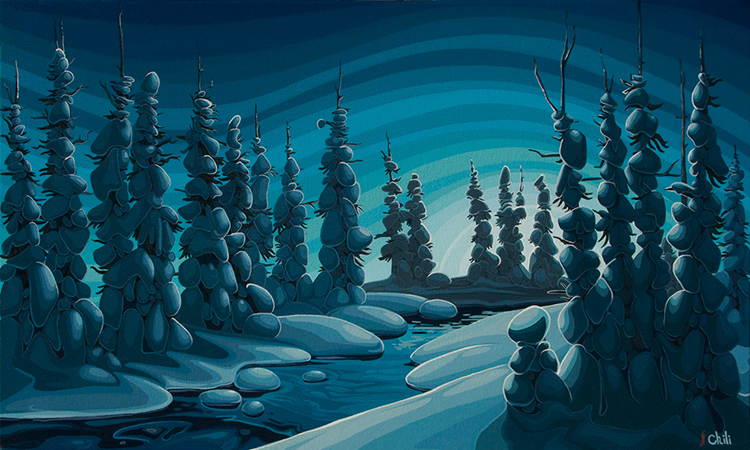 It was only after I'd spent a couple of years in the Coast Mountains (where Chili lived most of his life) that I started to understand his work. It took me biking through the rainforest, hiking through basalt formations and jumping into alpine lakes to be able to relate to the patterns, movement and monumental mountains depicted in his landscapes.
The big moment came one winter, carving the last late turns of the day on Whistler Mountain mid-winter. The sun was setting, shadows growing deep and blue while the peach/pink clouds threw purple highlights across the sparkling snow. I rounded a corner and bam! There before me was not one, but an entire forest of Chili's pillowy, snow laden trees, each one haloed in gold by the last rays of the sun.
It was a humbling moment. No fancy education or hours spent wandering famous art museums could help me connect to Chili's work. Only time in nature, in the snow and forests and wilderness of BC—these magical places that Chili himself loved to explore are what eventually gave me what I needed to understand his paintings and the depth of his talent.
I didn't know Chili. But I do know his trees.
For me, that experience illuminated the true power of art. Artists like Chili can reach out and touch our hearts by translating moments into paint-and-canvas messages which leap the barriers of language, time and space. It's a form of human-to-human communication beyond the world of words, connecting us with each other in a way that no conversation or social media algorithm will ever be able to do. Understanding another person through art is, perhaps, one of the most fulfilling, mysterious and deeply human things we can ever hope to do.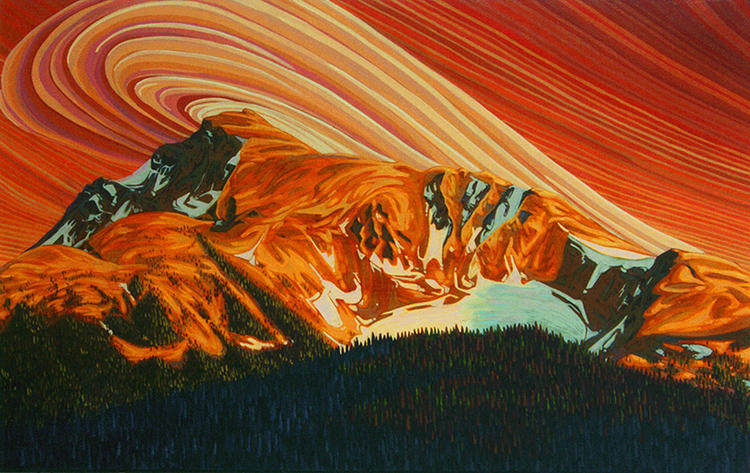 This June 2nd to 26th, 2017, Arts Whistler, Chili's friends and family are inviting everyone to  The Chili Thom Experience to celebrate his life's work as artist, performer, activist and champion of arts and culture. It's a deep dive that spans from a free exhibition of his greatest works at the Audain Art Museum to exhibitions, movie nights, workshops, student exhibitions and more across all the cultural venues in Whistler, with the grand opening June 2. The Audain Art Museum is a new wold-class facility in Whistler and this is an free opportunity to check it out while taking in the best work of a local artist who continues to inspire and influence people from around the world.
And while you are in town make time to step outside into the mountains and forests that inspired all those works in the gallery. Sit at a lake and watch the patterns of light on water as the sun sets. Stop on a trail and look up at the trees, run your fingers over their bark. Stay still long enough to watch the clouds race through the valley and write their own stories in the air. Chili is speaking across space and time, if we care to listen.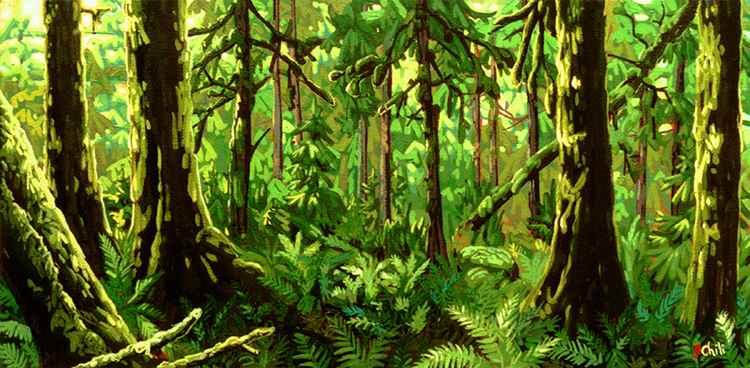 Arts Whistler presents The Chili Thom Experience
Here are the main exhibitions and events, and you can visit the Arts Whistler website for more Chili-inspired events happening through June.
The Chili Thom Experience Opening Event
Date: June 2, 2017
Location: Audain Art Museum
Time: 5:30 PM – 7:00 PM
Description: Kick off The Chili Thom Experience with an opening event at the Audain Art Museum to view His Masterpieces exhibit, mix and mingle with the community, and celebrate the Sea to Sky's favourite artist.
More Information.
His Masterpieces
Date: June 2 – 26, 2017
Location: Audain Art Museum
Description: From dreamy landscapes to mind-bending nature perspectives, this exhibition will feature the best of Chili's works showing his progression as an artist. In keeping with Chili Thom's generous and accessible spirit, entry to this exhibit will be free of charge.
More Information.
His Eclectic Soul
Date: June 2 – 26, 2017
Location: Maury Young Arts Centre
Description: Think you know Chili Thom? Think again. The home of Arts Whistler, The Arts Centre is a gallery where Chili's footsteps often tread. It's where the B-Grade Horrorfest made its debut and where Chili's originals once hung beside many of his peers and best friends. This exhibition will feature some of Chili's early works ranging from the eclectic to the unique to the downright bizarre.
More Information.
Inspired By Chili Thom
Date: June 2 – 26, 2017
Location: Squamish Lil'Wat Cultural Centre
Description: In his life Chili Thom collaborated with, advocated for, and found inspiration in both the artists of the Squamish and Lil'wat nations, and the youth of today. Whistler High School students are studying Chili Thom's body of work and in June the "Inspired By Chili Thom" show will open up at the Squamish Lil'wat Cultural Centre – showcasing the students' final pieces in their Chili Thom education and bridging the divide between two of our greatest cultural assets in Whistler.
More Information.
Little Chilis / Les mini-Chili
Date: June 2 – 26, 2017
Location: Whistler Public Library
Description: See Chili through the eyes of a child. Young students at Myrtle Philip Elementary School are looking at Chili Thom's body of work and learning about how their identity is influenced by living in Whistler. Using Chili's connection with nature as inspiration, these Little Chilis are showcasing their inspired talents at the Whistler Public Library. "Little Chilis" is being presented thanks to the generous support of the Morden family of Whistler, BC.
More Information.
Collecting Chili Thom
Date: June 2 – 26, 2017
Location: Whistler Museum
Description: Walk the everyday and epic moments of Chili Thom's life, from the early years in his namesake of Chiliwack, BC, to the elbow rubbing times as a keystone in the culture club of the Sushi Village waiting scene. See Chili as a television host and wilderness guide, while living the fuzzy chaps and tutu art gatherings of Function Junction's Creation Station. The Whistler Museum will help you better understand the celebrated landscape that influenced him, and share 40 years of his story.
More Information.
Find Chili's Art Online
You can view and purchase Chili's works online at chilithom.com.
Come to Whistler for the art, the people or the nature – but it's the combination of all three where the magic really happens. For more information on visiting our mountain town, visit Whistler.com.