The first non-indigenous settlement in what we refer to as Whistler was in fact an active mill town just north of today's Whistler Village, across the shores from Emerald Estates. Once the heartbeat of the area, Parkhurst is a special, yet rarely recognized, place that we, as mountain recreationists, owe homage to.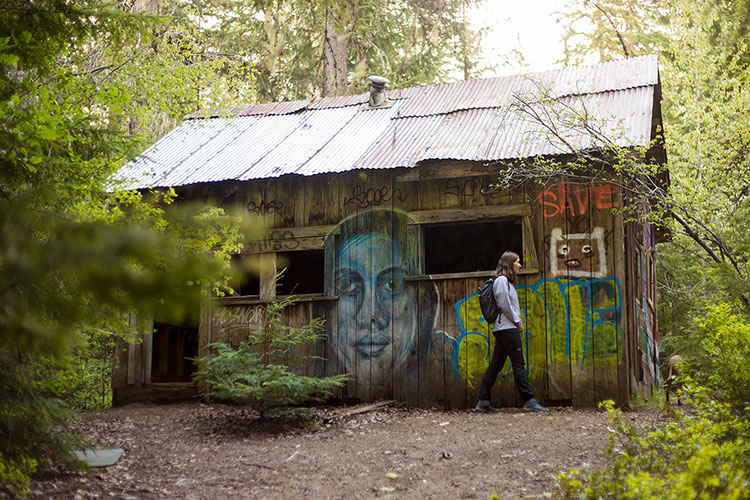 Beautiful forests, mesmerizing glimpses of the vibrant Green Lake and a connection to how our wonderful Whistler became what it is today; a hike to the old townsite offers a glimpse into Whistler's past and a new perspective of the surrounding landscape.
History of Parkhurst
In 1902, the Parkhurst family built a small home at the north end of Green Lake. Unfortunately, Mr. Parkhurst died in 1926 and the land was sold to the Barr brothers who were looking for a new source of lumber. The location was next to the same train tracks we see today, making it an ideal spot to host a sawmill and log sort for easy transportation.
View this post on Instagram
From 1926 to 1956, the mill changed hands a few times and encountered some setbacks including a fire in 1938. While logging settled the area, Parkhurst hosted more than just logging equipment. Imagine this, a cleared plateau of land perched above Green Lake with incredible unobstructed views of Rainbow Mountain, hosting lively homesteads with gardens and children running about.
While the mill officially closed in 1956, the home and buildings went on to live a second life – a sanctuary for ski bums. Have you seen the famous Toad Hall photo? That building was part of Parkhurst (if you haven't, head to the Whistler Museum.)
View this post on Instagram
Today, few structures remain. Old trucks, cars and tractors seem to have passed the test of time much better than the wooden structures, but you can still see three standing buildings, multiple vehicles and remnants of fallen buildings that help paint the picture for what the original townsite would have looked like over 100 years ago. 
Visiting Parkhurst Ghost Town

Length: 4.7 – 12 kilometres
Difficulty: Moderate
When: May – October
Driving Directions: From Whistler Village, head north on Highway 99 for 10.4 kilometres. Turn right at the Wedgemount Lake hiking sign. You cross the Green Lake River and encounter a T intersection. Turn right onto Riverside Drive for approximately 1.6 kilometres. Park in the clearing under the powerlines. Please note that AWD or four-wheel drive is recommended as there is approximately two kilometres of driving on a forest service road. 
Nestled into the north shoreline of Green Lake, hidden under the tree canopy, lie the enchanting remnants of the town of Parkhurst. Protected by the forest's cover, snow lingers longer in the area and it's best visited a few weeks after the snow has melted from Whistler's main valley areas; May onwards is a safe bet for a clear trail.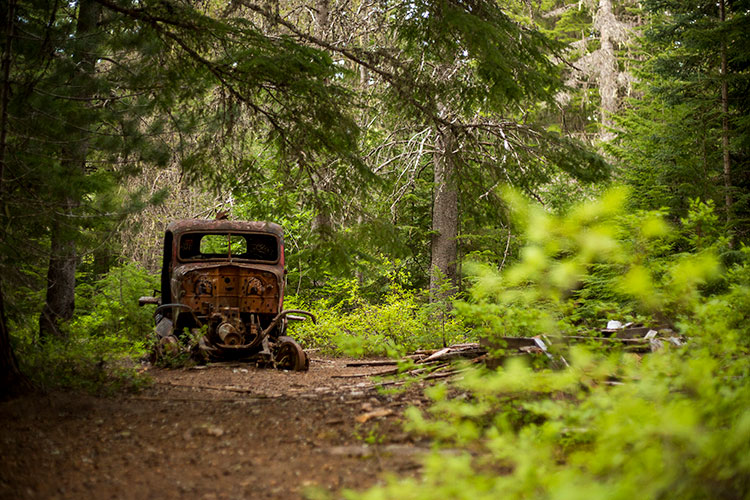 While the main trail is quite clear and wide, the loop is disorienting and requires active navigation skills. There is also a more adventurous, difficult, but direct trail option available for access to the townsite – please plan your route according to your own skill level as well as your groups. 
Hiking Parkhurst Ghost Town
The Green Lake Loop + Sea to Sky Trail (moderate)
From under the powerlines, you'll notice a sign that says Sea to Sky Trail; don't be discouraged as it looks like a road. The Sea to Sky Trail is new and doesn't span the whole distance, so there is some road walking involved. This road is called the Green Lake Loop.
To get a visual on this, check out Trail Forks prior to the hike. You'll walk roughly 1.7 kilometres between the Green Lake Loop Road and Sea to Sky Trail sections before you encounter Jeff's Trail on your left. At this point, continue on the Sea to Sky Trail and when it reaches the road, turn right followed by another quick left onto Parkhurst Main. This will guide you onto the Parkhurst Ghost Town Loop and back to where you came from for an out and back style trail, a total of 4.7 kilometres.
Parkhurst North (difficult)
A decommissioned bridge now blocks this route, but the savvy adventurer can make their way across on foot. Park at the same location as above, but instead of walking up towards the Sea to Sky Trail signs, head to the concrete barriers that mark the end of the road you drove in on.
Walking past them you'll be on an old road, Green Lake Access Road, that is no longer in use and you'll quickly see why. The old bridge has holes in it, which are not suitable for cars, children or the unseasoned hiker. Beyond the bridge, you'll continue on a trail that runs on the right (north) side of the train tracks. After just over one kilometre, you'll see a black diamond trail to the left called Parkhurst North.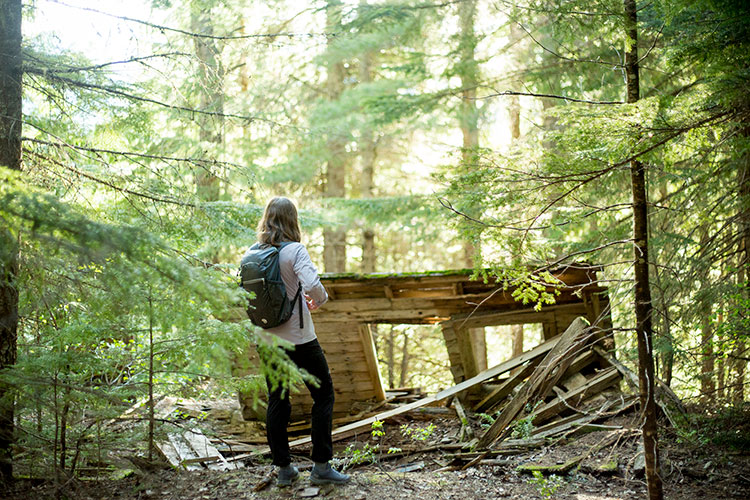 It is steep and not for the faint of heart, but rather the adrenaline seeker. The trail is 1.2 kilometres one way and will deliver you in the midst of the Parkhurst Ghost Town Loop Trail. It is important to note that this trail is better hiked up than down, and it is recommended that you return on the Green Lake Loop + Sea to Sky Trail rather than descend Parkhurst North. With variations, this version of the hike can be a 5.3 – 5.7 kilometre round trip.
Bike from Lost Lake
Bike to Lost Lake Park on a path of your choice to reach the Sea to Sky Trail at the north end of the network. There are so many options to access it, but if you'd like to keep things cruisey we'd recommend Lost Lake Loop to Beach Cut to Molly Hogan to Tommy Moore to Gandy Dancer to the Sea to Sky Trail.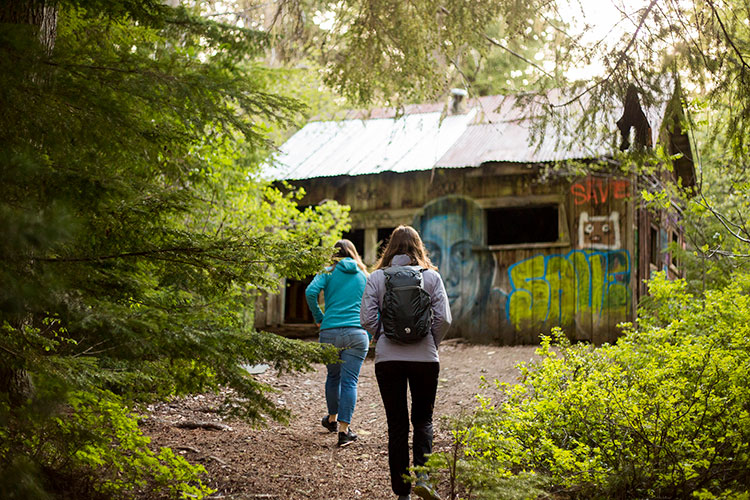 Once on the Sea to Sky Trail, you will only need to note a junction after the sign for Jeff's Trail (on the right when approaching) – stay left on the road here and reference Trail Forks to bike Parkhurst Main followed by Parkhurst Ghost Town Loop which is combined is 1.3 kilometres making this bike ride an approximate total of 12 kilometres.
BONUS: Stand Up Paddleboarding to Parkhurst Ghost Town
You don't have to get your hiking shoes on to see evidence of Parkhurst's past. Put a boat, kayak, paddleboard or canoe in at the Green Lake Boat Launch and you'll see a small, but strongly pronounced peninsula adjacent to the dock on the northeast shore. This peninsula is the past sawmill site for Parkhurst.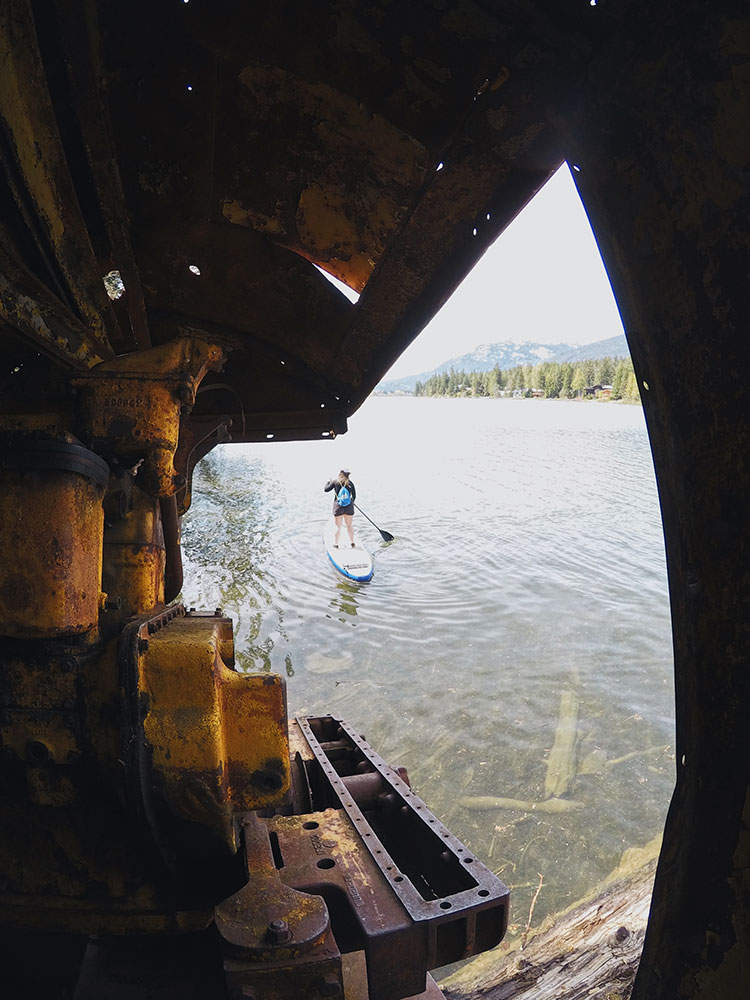 From the water, you will see an old yellow tractor that looks as though it's about to tip into the lake. Around the point of the shore, you'll see uniform logs jutting out of the water – a sign of an old pier for where logs were stored and sorted prior to export. A careful eye can capture more evidence of the town's existence along the small bay tucked around the corner. 
Tips for Visiting Parkhurst Ghost Town
Map out your visit. The designated trails are clearly marked, yet there are unmarked braided trails that can add confusion. Prepare a mental map and use an app like Trail Forks or FatMaps to guide you through your hike. 
There are no garbage cans or washrooms on this route, so make sure you pack out what you pack in.

Wear proper footwear. Relics of the past have found themselves across the forest and it is no place for exposed toes. 

Please don't touch. While not inside a museum, the artifacts from what remains of Parkhurst deserve the same respect. Don't enter buildings as they are not deemed secure and be aware that nails lie on the nearby forest floors. 

Take water. While not the long hike, the thick canopy can make the area feel extra toasty on a hot, summer day. 

Bring bear spray and stay bear smart. 

Want to soak up more Whistler history? Pop by the Whistler Museum for additional insight, or join one of their Valley of Dreams Walking Tours, which leave daily in September from the Visitors Centre at 11 AM (by donation).
Fall in Whistler also offers great value on accommodation with rooms from $129 CAD, plus a free $100 CAD Dining Voucher when you book a stay of 3 nights or more.