Update July 2022:  Some BC Parks, including Garibaldi Provincial Park (where Black Tusk is) require
Day Use passes
. Passes are free and can be reserved online.
Visibly different from its neighbouring peaks, Black Tusk has a unique aesthetic appeal and undeniable magnetism. The ancient volcano was once capped with glacial ice but after erupting, the piping hot magma melted much of the ice and exposed the magnificent basalt chamber that we see today. The jagged black peak is a stark contrast against the bright glaciated landscape and green forested mountains that surround it in Garibaldi Provincial Park. You can spot this iconic Whistler peak from the top of Whistler Mountain, the Callaghan Valley and on the Sea to Sky Highway, but what's better than just seeing it? Hiking it of course!
CULTURAL INSIGHT:
Black Tusk in the Sk̲wx̲wú7mesh language is t'ak't'ak mu'yin tl'a in7in'a'xe7en (Landing Place of the Thunderbird) and in the L̓il̓wat7úl language it is Q'elqámtensa ti Skenknápa (Place where the Thunder Rests). You can learn about the volcanic eruption and what it meant for the Sk̲wx̲wú7mesh Úxumixw and L̓il̓wat7úl from the
Squamish Lil'wat Cultural Centre
.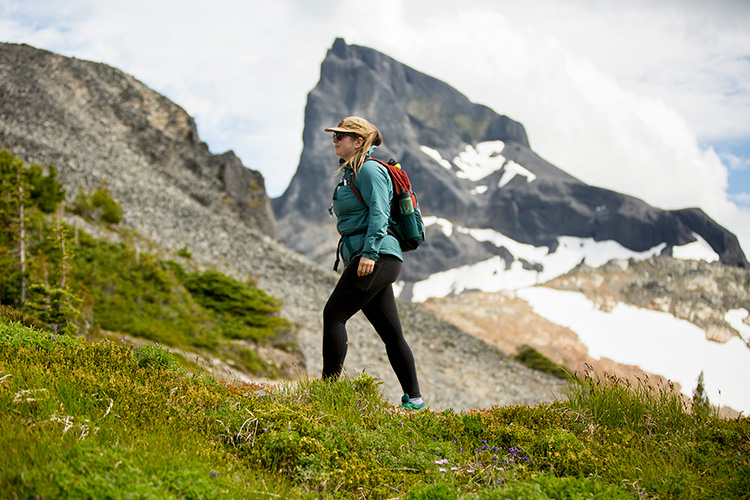 A rite of passage hike for Whistler locals and visitors alike, Black Tusk isn't a walk in the park, it's a demanding hike that comes with an epic reward. To ensure a smooth journey read our route planning tips and advice below.
Know Before You Go
There are two routes to hike in the Black Tusk area, the most popular is to approach from the west on the Rubble Creek route which passes the stunning blue Garibaldi Lake and leads you into Taylor Meadows. Via Taylor Meadows, there is also access to Panorama Ridge and cairns marking the designated scramble route to the summit of Black Tusk, although most take in the sights from the sub summit.
OUTSIDER CODE:
Only attempt the scramble if you are experienced and confident in your ability to do so safely. It is a Class 3 scramble and includes a chimney climb, exposure and loose rock. A helmet is needed. This is not maintained by BC Parks and they recommend against it due to loose and falling rock. Take a look at this video from
AdventureSmart BC
, which will give you an idea of what the trail is like.
The alternative approach starts from the Cheakamus Lake hiking trail and reaches Black Tusk from the north through Helm Creek. It should be mentioned that both trails are over 27 kilometres round-trip with substantial elevation gain, consider your fitness ability and hiking experience before tackling these routes.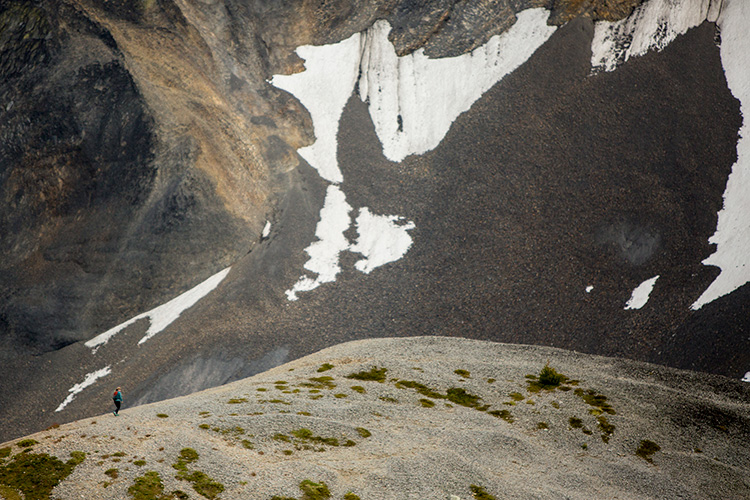 Hiking Black Tusk from Rubble Creek
Quick Stats: 27 kilometres round-trip | 1661 metres in elevation gain
Rubble Creek Trail Access
From Whistler, head south on Highway 99 for 19 kilometres. Once you drive over the Rubble Creek bridge turn right at the Garibaldi Provincial Park signs. The road is paved and approximately 2.5 kilometres long, it will lead you to a parking lot for Garibaldi Lake, the Rubble Creek via Taylor Meadows trail starts here. This parking lot can fill up fast, arrive early or hike mid-week if you can.
Rubble Creek Trail to Black Tusk
Be prepared for a steep, treed ascent for the first 6 kilometres. Your first junction will decipher how quickly you'll reach Black Tusk, both options will lead you there but with different perks.
After emerging from the treed canopy you'll see "The Barrier," a natural dam holding back the waters of Garibaldi Lake, a unique geological feature. The Rubble Creek Trail also offers multiple campgrounds, the option to explore the noteworthy views from Panorama Ridge, the magnificent Garibaldi Lake, and a very defined trail network.
To the right, you'll have a longer approach to your final destination but you will pass the shores of Garibaldi Lake and can easily stop for a swim on a hot summer day.
To the left, you'll reap the reward of a shorter hike. After seeing Garibaldi Lake from above, Black Tusk will come into view as you stroll the wildflower littered boardwalk through Taylor Meadows. It's important to pay attention to signage on this route as there are multiple junctions, each with its own allure and potential detour. Set your objectives and time markers, then check in on your energy levels to see what additions you are feeling up to. Note that this hike is approximately 27 kilometres round-trip with 1661 metres in elevation gain when done as direct as possible, so any longer routes will make for a much larger day.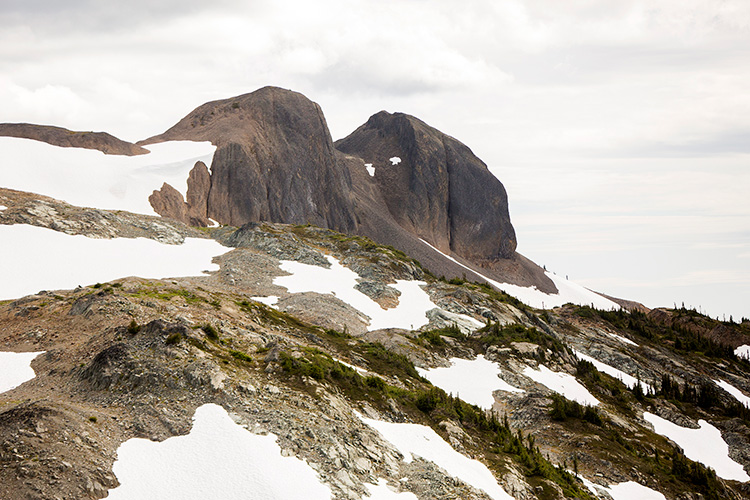 Hiking Black Tusk from Helm Creek
Quick Stats: 32 kilometres round-trip | 1400+ metres in elevation gain
Helm Creek Trail Access
When driving south on Highway 99, turn left into the community of Cheakamus (the last set of lights in Whistler). In 300 metres take another left onto the gravel Cheakamus Lake Forest Service Road. You'll stay left on the road for approximately 8 kilometres until you reach the Cheakamus Lake parking lot. The road is bumpy but manageable at low speeds.
Helm Creek Trail to Black Tusk
Begin hiking on the designated Cheakamus Lake Trail, after a cruisy 1.5 kilometres you'll spot a junction for Helm Creek. Take a right here, shortly after you'll cross over the Cheakamus River on a large bridge. From here on up the trail is very defined for the next 7 kilometres. Helm Creek Campground is your next point of interest on this route, stop here to make camp (details below) or press on up Helm Pass for more objectives.
Upon reaching the stunning Helm Pass you'll discover your options are slightly less defined but abundant. This route is best suited for navigation savvy hikers with a sense of adventure. Go for the summit of Black Tusk via a sparsely marked scramble, or up and over to Panorama Ridge. At a minimum, this hike is approximately 32 kilometres round-trip from the Cheakamus Lake parking lot to Black Tusk with over 1400 metres elevation gain. We suggest consulting a map and the trail condition report for BC Garibaldi Provincial Park prior to your departure. Please note that with proper planning you can link this trail network to the well-defined Rubble Creek trails for an "A to B" traverse style hike instead of "there and back" but this will require a car in each parking lot.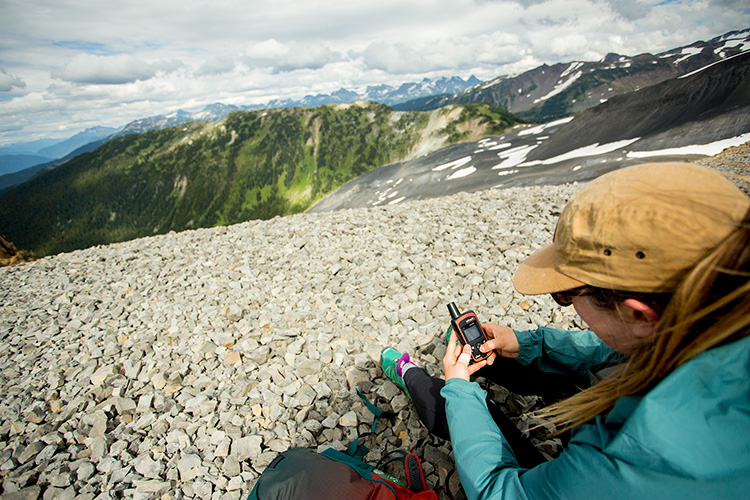 Highlights of this trail include; less traffic, the option for creative route planning and finding rarely seen views. The biggest commitments are navigation and time as it is a longer approach to Black Tusk proper. A sense of adventure, outdoor savviness and a love for the unknown are a must for the Helm Creek approach.
This route showcases the lava outflow from trail, bright green contrasting basins and a landscape that looks like it's from another planet. For those looking to make it a multi-day trip, dig out your topographic map, apply for a Wilderness Camping Permit and research the rarely seen Helm Glacier.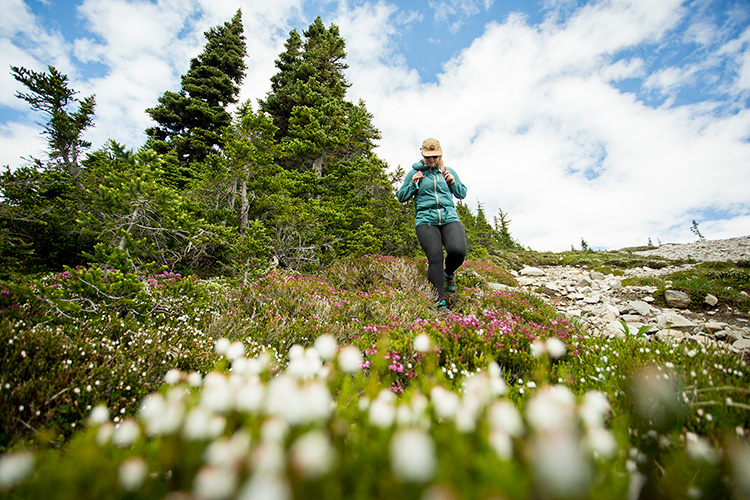 Camping Near Black Tusk
As you can imagine, breaking up a hike of this length is pretty tempting, especially when you see how scenic the campsites are. Remember with camping comes substantially more gear and a heavier pack, so weigh out your options and choose between a light pack and a cozy sleep in the heart of Whistler (maybe even a post-hike hot tub), or a bigger, heavier pack for camping and a multi-day adventure.
Depending on the route you take, you can either spend the night at Taylor Meadows Campground, Garibaldi Lake Campground or Helm Creek Campground, but all require a reservation through the BC Parks website prior to your arrival.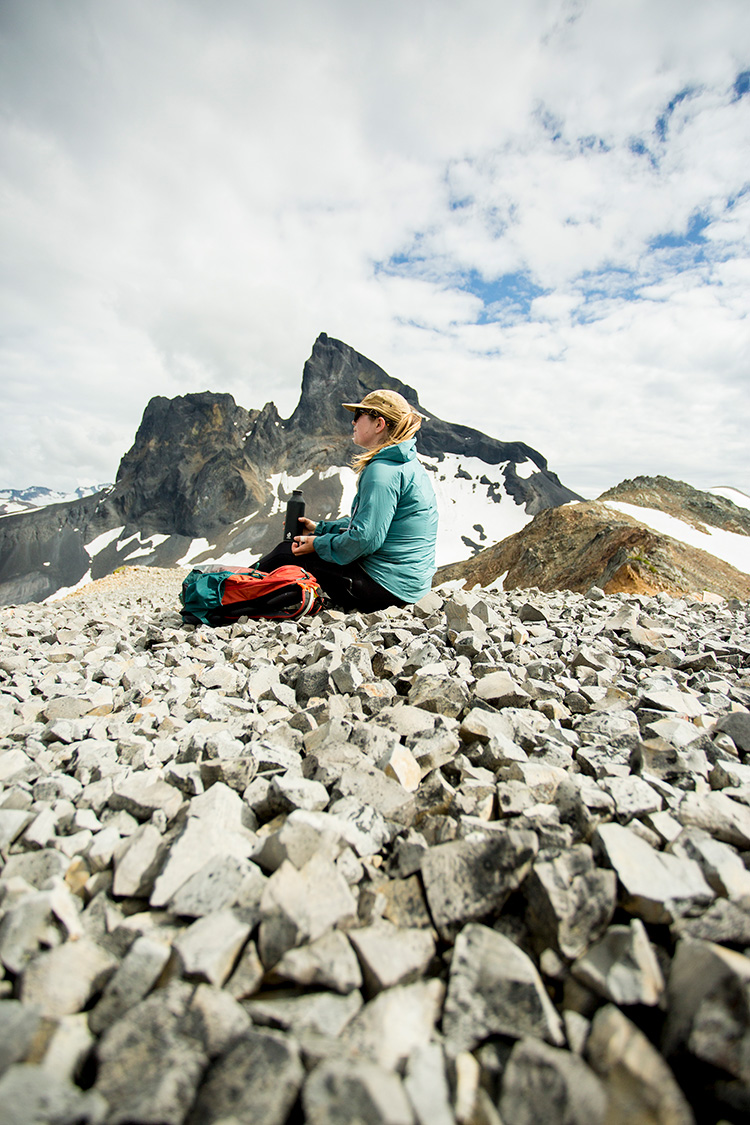 Tips for Visiting Black Tusk
Bring plenty of water. It's a steep and long one, you'll thank yourself (eventually) for packing the extra water weight. And you'll seriously love yourself (or your friends will) for bringing extra energy-boosting snacks.
Pack it out. There's no place for trash or recyclables on the trails, so please be responsible for your own waste.
If you're leaving a vehicle in the trailhead parking lot, make sure you lock any wildlife attractants (defined by the Whistler bylaw as food, seeds, oil, antifreeze and more) securely inside the vehicle
Hiking Black Tusk is no joke, it's a large hiking objective. Please check-in with you and your group's mental and physical state before starting out, and at various times during the hike. Welcome a premature turn around if necessary, the alternative of pushing through could be hazardous.
Be prepared for the backcountry and tell someone (not in your group) where you are going and when you plan on returning. Always carry a first aid kit and supplies to deal with blisters too! See this checklist for more essential items.
Carry bear spray and remember that domestic animals are not welcome in Garibaldi Provincial Park
Read and follow the Insider's Guide to Backcountry Etiquette
Black Tusk has many faces which makes for a mesmerizing approach and summit experience. Take it in, snap some photos and don't forget that another perspective is lurking around the corner.
If you plan to scramble or climb to the tippy top of Black Tusk make sure you start your research with a copy of Scrambles in Southwest British Columbia (available at Escape Route Whistler) and pack extra gear, including a rock climbing helmet, for the steep approach.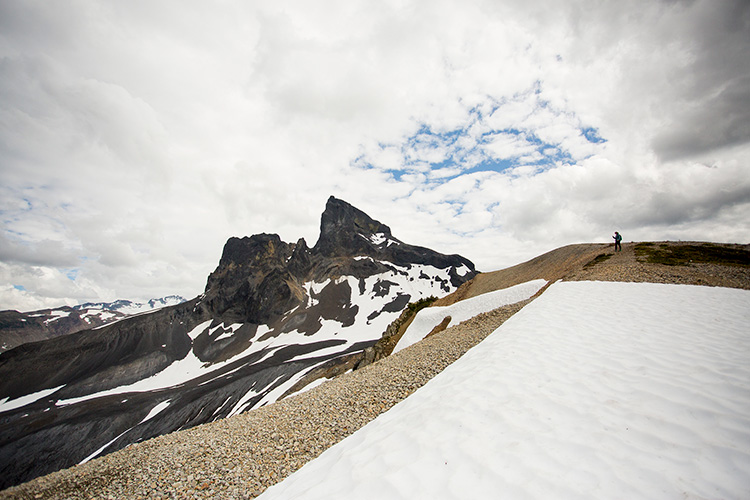 Hiking Black Tusk is truly a bucket-list-worthy experience An exposed magma chamber ripe for scrambling, glaciated landscapes, a massive alpine lake and 360-degree views, all a short jaunt from Whistler. It's a hike well worth the sweat equity, just be sure to properly prepare for the grand occasion.
Hiking Black Tusk will leave you hungry for more epic views, find more Whistler hiking ideas on Whistler.com or give your legs a break and check out the sights from the PEAK 2 PEAK 360 Experience.