Updated April 2023
Whistler is a hiker's paradise. The scenery is spectacular at every elevation, whether you're on a short stroll in the valley or on a long trek through the high alpine.
Part of Whistler's beauty is its wildness, but before you head into the wilds you need to be prepared. Take a good look at what you're getting into: the steepness and type of terrain, the number of kilometres, the typical time the hike takes, any wildlife alerts for the area (these may be posted at the start of the trail) and the weather you may encounter at each elevation. You'll need to be ready to face the sun, wind, rain and occasionally a bit of snow (yes, year-round).
A great resource for hikers and outdoor adventurers of all kinds is AdventureSmart BC, which has trip-planning tools, guides, workshops and equipment lists.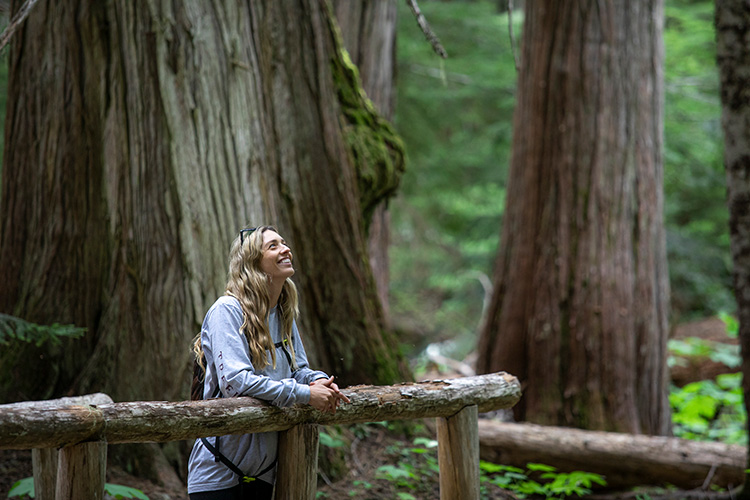 What to Wear Hiking
Starting at the toes (because happy feet are the best feet) and working up, you'll need:
Hiking boots or shoes:
Most of Whistler's hikes are rugged, steep, sometimes dusty and can get waterlogged, so leave your gym trainers at home. I picked up a pair of quality hiking shoes from Salomon a few years ago, and my feet have been comfortable and blister-free ever since. You'll want to choose hiking boots (over shoes) for ankle support on hikes that include uneven terrain like boulder fields.
Moisture-wicking hiking socks are optional but they will add to your foot comfort
Appropriate clothing:
To stay at the right temperature you'll need layers that wick sweat, retain your warmth and keep the weather out. Your outfit may need to cover several types of weather since alpine conditions can differ from the valley and change quickly. I wear a moisture-wicking t-shirt with a long-sleeved top over (your ski underlayer works great, same for the underlayer pants if it's cold!), pants that dry quickly, a light jacket or fleece, rainproof jacket and pants, gloves, a neck gaiter and a warm hat. If it's hot, add sunglasses, a sunhat and sunscreen.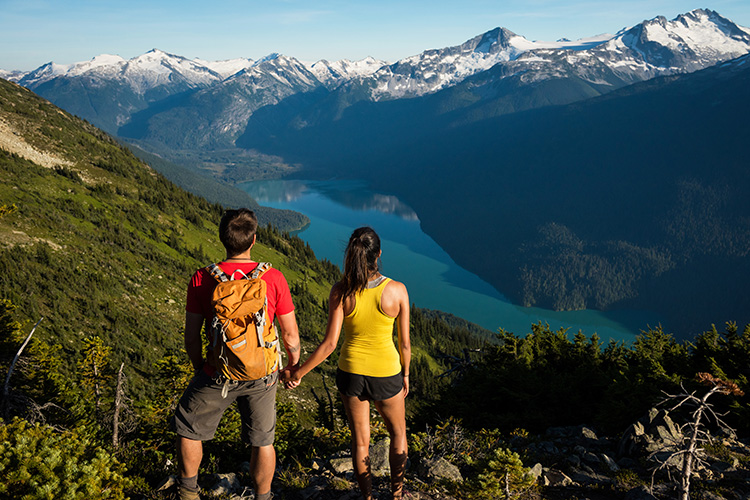 What to Pack for a Half-Day Hike
Okay, you've got your day backpack and you've checked it fits properly (check out MEC's guide for fit tips). Now, what should you put in it?
Food:
You'll be building up a good appetite, so bring a good meal (or meals) as well as additional snacks. On longer hikes, pack an additional day's worth of food in case you get injured, lost or delayed. Whistler has a bunch of eateries where you can grab pre-made sandwiches, wraps and more.
Water:
A good rule of thumb is to bring a half litre (2 cups) of water for every hour of hiking. Stash your water bottle in an easy-to-grab place on your bag or bring a water bladder to make it easy to stay hydrated (very important on warm summer days!). Consider packing a water filter or purification drops for longer hikes.
Navigation equipment:
A map, compass, or for a short stroll in the valley, you might just need a map app loaded on your phone. You can pick up a trail map at the Whistler Visitor Centre, find a map online, or purchase one at an outdoor supply store like Escape Route.
Bear bell and bear spray:
Whistler is bear country, the valley is home to over 50 black bears and a few grizzlies. Check bear and wildlife alerts before you head out.
A garbage and recycling bag to pack out anything you bring with you
First-aid supplies, an emergency blanket and moleskin for blisters
A camping knife or multi-tool
A flashlight or headlamp with extra batteries in case you get delayed
A communication device. Bear in mind that mobile / cell phones might not get reception far into the backcountry, so if you're travelling far consider a satellite device.
For more information on hiking essentials take a look at AdventureSmart BC's hiking page.
Optional Items
If your hike involves a lake, pack a swimsuit and a small quick-dry towel so you can take a dip!
Bug spray (I usually go for a strong one because mosquitoes find me delicious)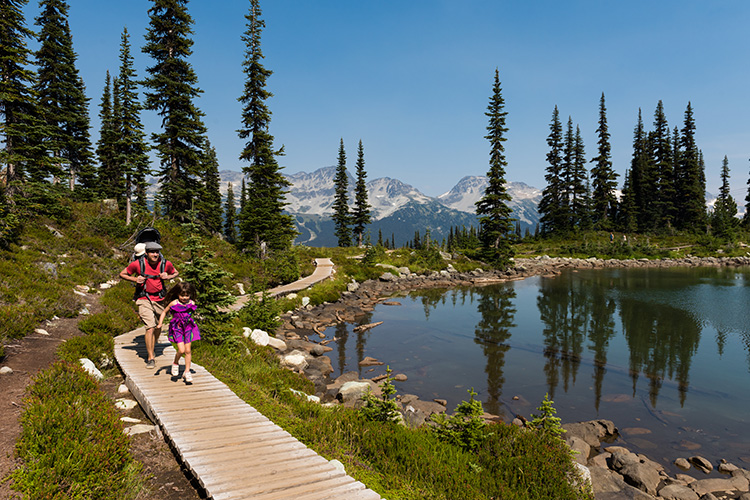 INSIDER TIP: If you have young kids with you, consider these as well:
Child carrier backpack, ideally with a sunshade

Warm clothing for your child because they won't be moving much while you carry them 

Sun protection (a hat and sunglasses they can't remove, and sunscreen)

A favourite toy attached to your backpack where your child can play with it

Your usual collection of kid essentials – you know the drill – snacks, sippy cup, diapers, spare clothes and a garbage bag in case there's a snack, sippy cup, or diaper spill . . . 
See our Insider's Guide to Hiking with Kids for more tips.
What to Add for a Full-Day Hike
Whistler has a number of full-day hikes that require significant preparation and a high level of fitness. In addition to the above, here are more items you'll need:
Fire-making kit – but be aware of Whistler's fire danger rating because fires are banned whenever it is "high" or "extreme" (which is most of the summer)
A whistle or mirror to signal with in case you get lost
Gear repair kit
Toilet paper and a sealable bag to pack your waste out in, or a trowel to bury it (packing it out is preferred), not all trails have outhouses. Hand sanitizer is a good idea too. If you're new to going to the bathroom outdoors, read REI's guide.
Optional Items
Trekking poles to help you balance on uneven terrain, if you have sensitive knees these will go a long way to reducing the impact on them
A change of clean clothes waiting for you in your vehicle (especially if you plan on going for après!)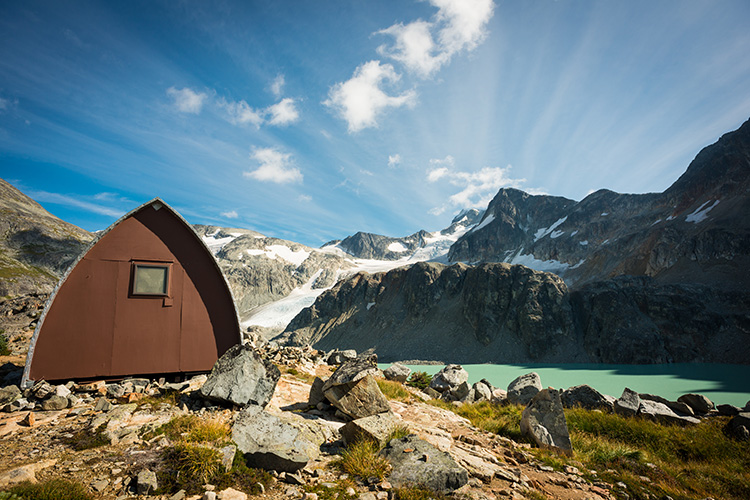 What to Pack for an Overnight Hike
All of the above with the addition of the items below, you'll need to size up your backpack to the 35 – 45-litre range.
A lightweight tent:
Even if you plan to sleep in a hut, you'll need a tent as backup accommodation if the hut is full. Bring a tent stake hammer if you'll be camping on hard ground.
Food:
Bring enough food to cover the meals you'll be out for plus extra in case anything happens. You can find dehydrated packaged meals at outdoor retailers in Whistler like Escape Route and ecologyst (formerly Sitka).
Rope and a dry bag to hang your food out of reach from bears, not all sites offer food lockers. Alternatively, you could use a bear canister to keep food secure.
An inflatable or folding sleeping pad
A backpacking sleeping bag (go for an extra warm rating if you're a chilly person), these pack down really small to take up less room in your pack
A compressible or inflatable camping pillow
A canister cooking stove and stove fuel
Eating pots and utensils
Overnight toiletries (toothbrush, biodegradable soap, etc)
Optional Items
Additional snacks or drinks for the evening
Entertainment such as a book, music speakers or cards
You'll also need a camping reservation for most overnight hikes in the Whistler area, you can book online through BC Parks.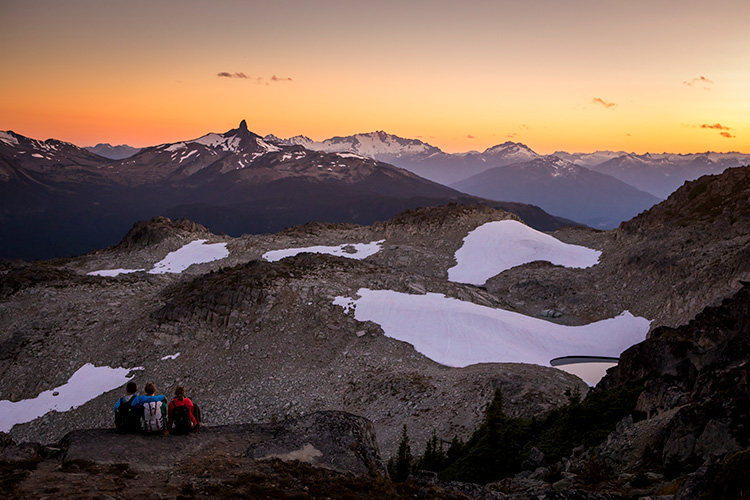 Don't worry if you're missing any of the above items, Whistler has many outdoor retailers where you can pick up hardy equipment from. Escape Route, evo Backcountry and The North Face are great places to start for all things hiking. You can also rent hiking and camping equipment from Escape Route. For footwear, try Salomon, and for outdoor clothing from infant to adult sizes, drop in at Patagonia.
Ready to take a hike? Start browsing our fantastic trails and available hiking tours on Whistler.com.