As far as hikes go, the trek up to Rainbow Lake is a Whistler classic. It's not too long (but not too short either) and has a good sustained elevation gain to keep the heart pumping. Varied terrain and bio-zones keep the eyes and mind stimulated and it all culminates in one of Whistler's most pristine lakes with stunning views for added payoff. Lace up those boots and get up there.
Rising about 850 metres (2789 feet) over 8 kilometres (one way) the Rainbow hike is not for the weak-kneed but the trail is maintained and marked well enough that nearly anyone can get there if they're willing to put in the effort. Average hikers should allow 5-6 hours for the round trip and probably more as you'll want to spend some time exploring the lake and enjoying the alpine solitude.

Marked with a large sign, the trailhead is located on Whistler's Westside road, in between Rainbow Park and the Alpine Meadows subdivision. There is parking right off the road with a larger lot down on the east side of the road if things are filling up. IMPORTANT NOTE: Rainbow Lake and the creek along the trail are part of Whistler's drinking water supply so DOGS ARE PROHIBITED on this hike. Swimming in Rainbow lake is also not encouraged (it's really cold anyhow) and camping at the lake is not allowed. This is a true day hike and you'll be thankful for the lighter pack anyhow.
Right from the start the trail cuts through classic rainforest and alongside Twenty-One Mile Creek, which rushes and roars quite nicely. A few hundred meters up, a short side trail leads to Rainbow Falls. Don't stress about which way to go, eventually all the trails reconnect at the Water Treatment facility before re-entering the forest and continuing the climb.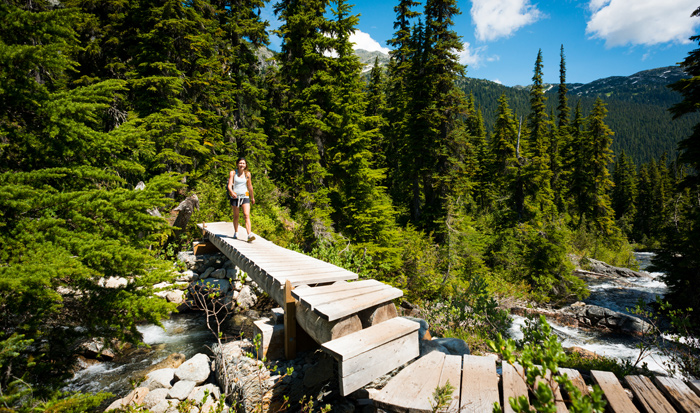 The trail continues to climb and meanders through forests, flowers and berry bushes, across creek bridges and boardwalks over marshlands before eventually popping over a ridge and into the Rainbow Lake basin. The views of Wedgemount and Blackcomb looking back from this side of the valley offer a perspective of Whistler only available to those willing to work for it.
Campers and keeners can continue around the lake and beyond, opting to push onward to nice camp spots at Hanging Lake (3 KM beyond rainbow) or Madeley Lake (9 KM). Take a map as the trail to these alpine gems is not marked as clearly.
On paper, hiking may seem a bit pointless –you go somewhere, you take a few photos, you turn around and return to the exact same place you started from—but it's actually one of the best wilderness activities. Hiking is about time in nature, achieving goals, facing challenges and connecting with the land and the people you walk beside. As with all of life, the value lies in the journey not the destination and the journey up to Rainbow Lake is one well worth embarking on.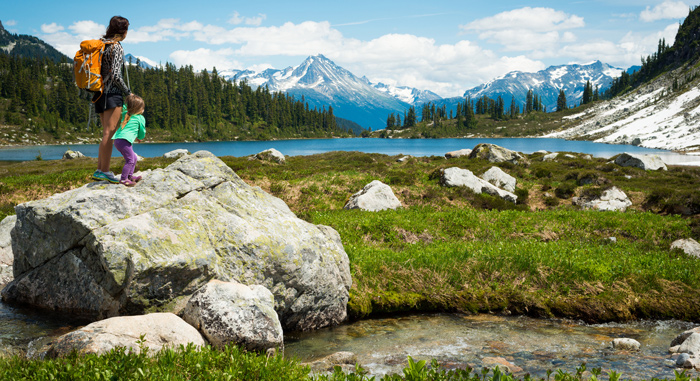 The Whistler Visitor Centre in Whistler Village has lots of maps and current hiking condition updates. Smart hikers will bring a warmer layer as temperatures at the alpine lake can be much cooler than at the trailhead. Depending on the time of year and wind conditions there can be a lot of bugs lurking on the shores of Rainbow and while cell phone coverage is decent along most of the trail it's always wise to bring emergency supplies and rain gear. Allow 5-6 hours for the 16 KM round-trip hike to Rainbow Lake and back. Most importantly, have fun. (And the hotel hot tub will feel that much better when you return to civilization).