Let's be honest, to have the opportunity to ski and snowboard in Whistler is a bit of a dream – to make a career out of it is an entirely different type of fantasy, hence the title of Teton Gravity Research's latest film, Make Believe. It explores the ethos of living the dream by following the path of those who have a deep affinity with the mountains and make it their life's purpose to revel in them.
For over twenty years, Teton Gravity Research (TGR) has been making ground-breaking films out of their home base in Jackson, Wyoming. While each movie offers a unique storyline, eye-popping snow stunts and an in-depth look at what it's like to be a professional skier or snowboarder, there's one thing that never seems to change – they always film a good chunk of their films in Whistler and the surrounding area.
And when they do, they bring along the local skiers who have cut their teeth in the Coast Mountain Range and honed their skills lapping the iconic slopes of Whistler Blackcomb. Make Believe features BC-based skiers and TGR stalwarts Ian McIntosh and Nick McNutt (both call Whistler Blackcomb their home ski hill), alongside newcomer Christina Lustenberger (Lusti), an Invermere local who splits her time between Revelstoke and Whistler.
While most ski and snowboard films stereotypically build-up to an Alaska segment as the peak of their action (typically for its jaw-dropping descents and ideal weather), this year was a little different. With the COVID-19 pandemic affecting travel for shooting, the film crew wasn't able to make it to Alaska during its prime weather window (April and early May), so, naturally, British Columbia's world-class terrain stole the show.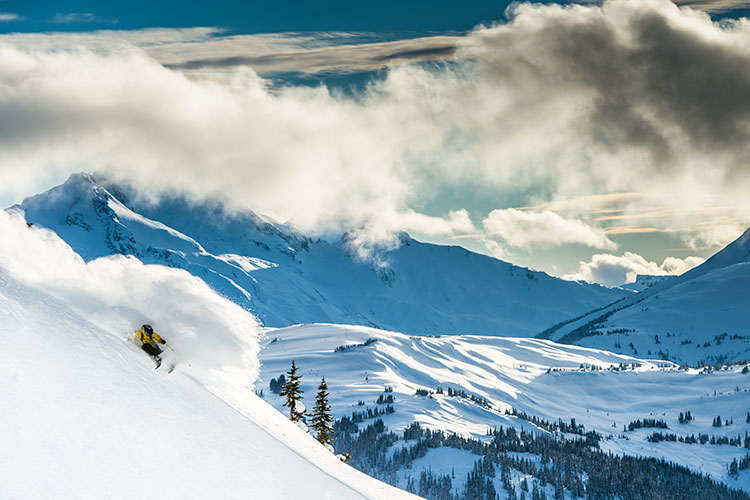 With huge swaths of snowy mountains to choose from it was an easy choice; arguably making the standby one of the stars of the movie. Nowhere is this more obvious than at the show-stopping end of the film, which sees our athletes tackle countless descents in prime Whistler spring conditions in a high-flying, must-see segment.
Why Whistler?
There's a reason that so many professional skiers flock to Whistler to earn a name for themselves and even settle down, so what is it about this mountain town that sucks them in?
"There's huge terrain here," says McIntosh, who has lived in the area for over twenty years, and now resides in Pemberton. "It's untamed, but it's accessible. I could do this for another twenty years and I'd still be saying – I wanna keep doing this."

View this post on Instagram
The most senior of the crew, McIntosh has been at it for a while and knows Whistler better than most. A world-class skier, McIntosh is a two-time winner of Line of the Year from Powder Magazine and consistently takes a starring role in TGR's award-winning movies.
After many years of riding the resort at Whistler Blackcomb, McIntosh always comes back for more because of its ability to test his mettle before he heads into the backcountry.
"After skiing Whistler Blackcomb for 19 seasons, I'm still finding new lines each winter, and that's just within resort," says Mcintosh.
As for his favourite place on the hill to ride, the vastness that he adores makes that answer a bit tough.
"It really depends on the day. I'd say I probably ski more Spanky's Ladder laps than anything else throughout the winter, so it must be Spanky's," he says. "That's a pretty general answer, considering there's probably a hundred different lines to ski off of Spanky's, but that's about as close as I can narrow it down to a favourite run."
McNutt, another Whistler Blackcomb local, has a unique relationship with the resort – both his parents are ski patrollers for the mountain. After growing up in Kimberly, McNutt moved west for the big terrain that could test his skills as a skier and a mountaineer.
"The amount of access we have here is nearly unmatched, coupled with a strong, coastal snowpack and lots of glaciers to make travel easy," says McNutt. "It's such an incredible place to grow as a skier – there's world-class terrain of every type, from park to big mountain, and no shortage of talent to draw inspiration from."

View this post on Instagram
For Lusti, a former Olympic ski racer turned backcountry enthusiast, climbing huge couloirs in the backcountry (imagine a completely untouched Saudan Couloir) is her personal preference.
"The crew is great and climbing big couloirs with them is definitely the best part about coming to the Whistler area," says Lustenberger.
Off the hill, it's the simplicity of Whistler Village that's most appealing to Lustenberger.
"Leaving your truck at home and biking to the village on the Valley Trail after a day of skiing is the best — it's part of what makes Whistler so special," says Lustenberger.
One of her favourite places to ride to is the Handlebar Café and Après, because she often runs into her ski buddies, including McIntosh, who also named Handlebar as his top après spot in the Village.
View this post on Instagram
For McNutt, the new guy in town, his go-to spot for après is just a few doors down from Handlebar at RMU Blackcomb; a combination café, ski shop and après bar with tasty food as the icing on the cake. When he's not on the hill, McNutt is just another avid Whistler local out riding his bike or rock climbing in the area.
View this post on Instagram
Or, if his buddy Ian can convince him to do an escape room (Ian's favourite off-hill haunt), then he might lock himself in a room with his big mountain comrade – but after plenty of time spent in the mountains together, that might be a bit too much of an ask.
No matter how many times you watch a ski movie, one thing never gets old – a good ol' fashioned 40 minutes of powder smashing is always a good way to get the winter stoke going. Make Believe premiered in Whistler at a drive-in event put on by theWhistler Film Festivalback in September, and we're still waiting for news as to when the online release date will be; watch this space.
Make your own magic happen and enter Teton Gravity's Make Believe Contest for a chance to win a trip to Whistler for five snowy days of mountain adventure next winter. Or, make the dream a reality and book with Whistler.com for the best deals, flexible cancellation and amazing service. See you on the slopes!