Updated November 2, 2020 with reservation explainer video.
Whistler Blackcomb came out with some exciting news last month that they'll be opening as usual on November 26 for the 2020/21 Ski and Snowboard Season, but with COVID-19 still looming large, they've implemented a new reservation system to make sure we all stay safe on the slopes this winter season.
It's another new-normal adjustment that takes a bit of time to wrap your head around, but hey, we all want to enjoy those epic pow days that we know are coming our way (Whistler has an average snowfall of 11.9 metres / 467 inches / 38.9 feet per year).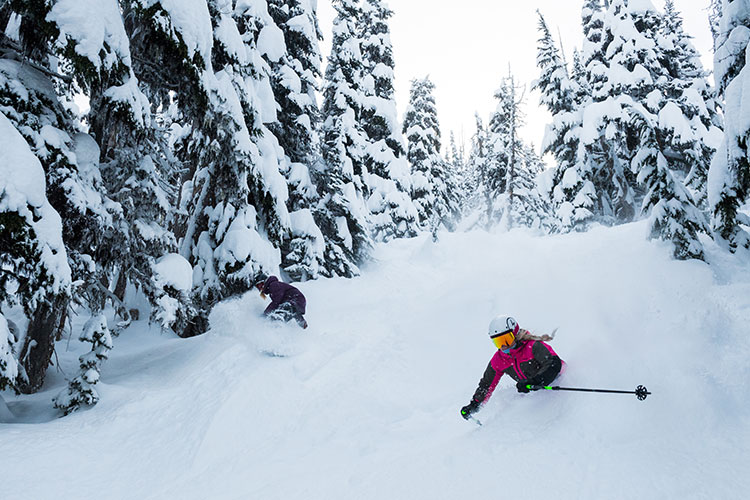 We knew that there would be changes for Whistler Blackcomb this season, but the fact that we still have the chance to ski and snowboard is incredible news, so it's with open minds, gratitude and a sense of responsibility that we take a look at how we can ski and ride while staying safe this winter.
Mountain Stats and Capacity in Perspective
Whistler Blackcomb is the largest ski resort in North America. Its 3,307 hectares (8,171 acres) are home to over 200 runs, serviced by 36 lifts, giving it an hourly lift capacity of 69,939 people. So, we have a lot of space. This is worth bearing in mind when we talk about the new reservation system, which is essentially a way of handling volume for safety reasons.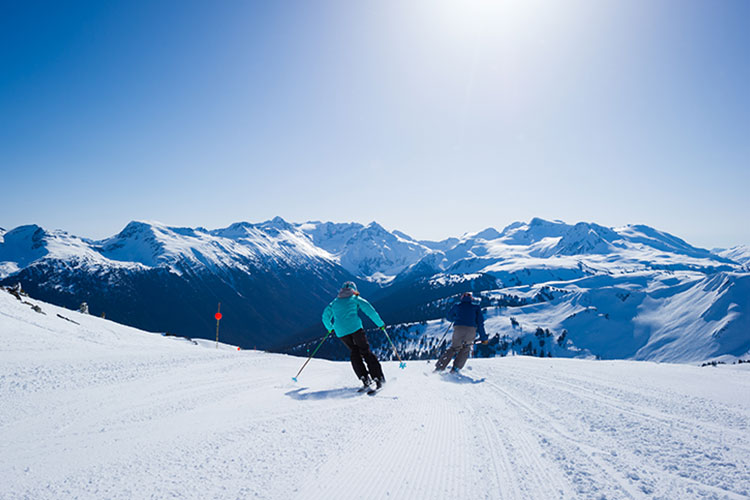 It's also worth noting that there's the potential for the border between the United States and Canada to remain closed, as well as restrictions staying in place for international travel. This could mean that the amount of people travelling to Whistler for the winter season will mostly be Canadian and heavily reduced. Therefore, we'll have the same amount of terrain and potentially fewer people – I'll leave you to do the math.
"For the vast majority of days during the season, we believe everyone who wants to get on our mountains will be able to. However, we are not planning for the majority of days, we are planning for every day of the season," said Vail Resorts CEO Rob Katz in a recent press release. "We want to provide assurance to our guests that we will do our very best to minimize crowds at all times – be it a holiday weekend or the unpredictable powder day. We believe this approach will help ensure a safe experience for everyone while prioritizing access for our pass holders."
What is mandatory for the 2020/21 ski season?
Wearing a face covering. This can be a face mask, scarf, neck warmer, or Buff, it just has to cover your nose and mouth – let's be honest, most of us sport these in the winter season anyway. You'll need one in lineups for, and when riding, chairlifts and gondolas, and inside all of Whistler Blackcomb's indoor facilities, like their restaurants and retail outlets. 
Physical distancing. There will be signs, floor markers, one-way systems and WB employees helping people to stay the required two metres (six feet) apart from people outside of their bubble. Where this isn't possible, face coverings must be worn at all times.
Chairlift and gondola grouping. Lift attendants will be making sure people head up the mountain in their bubble (no mixed groups). If you're riding solo, they will space you appropriately. Air high fives for the lifties!
Having a reservation. You need to think ahead this year, as you can't buy a day-of lift ticket when you get to Whistler and if you have a pass, you need to have reserved your day ahead of time. Let's dive into the details below.

Why does Whistler Blackcomb have a new reservation system?
COVID-19 is not on vacation. 
It doesn't care about pow days, how many runs you can do before lunch, or if you hit that booter this year. To manage high touch areas, keep on top of sanitizing and help people maintain the required distance from each other, Whistler Blackcomb has initiated a reservation system to help them manage volume. They are doing this to keep us safe.
How does the new reservation system work?
It's all done online and you have to have a pass. 
Pass holders have up to seven (or as many days as they have on their pass if less than seven) Priority Reservation Days and seven Week-Of Reservation Days that they can book in advance (on Wednesdays, all season long). 
For example, it might be your family tradition to ski on Christmas Day or during Spring Break, so you might apply some of your seven priority days over that period.
It's worth noting that exclusive pass holder access to Priority Reservation Days ends December 7, 2020. When you use a priority day, you get it back, meaning you can book another priority day – so, you always have seven priority days in the bank. Families can book reservations together if they are on the same pass holder account.
If you cannot get the Priority Reservation Days you want by December 7 and have not used your pass, you can get a refund with Epic Coverage.
On top of that, pass holders have seven week-of days they can reserve, so if you know you're not working next Tuesday you'd hop on the system and make a reservation for that day. You could make it a new Sunday evening ritual to go online and reserve the next seven days, just in case Mother Nature does a cheeky dump. You get these week-of days back as soon as you've used one (like the priority days).
For more information on the reservation system, visit Whistler.com. 
How to Make Reservations
From November 6 onward:
Sign in to your account on Whistlerblackcomb.com (make sure all of your family members have a profile)
Select Whistler Blackcomb as your resort
Pick the days you want (based on what your pass type allows)
Choose the pass holders in your account that are going with you
Enter your contact details and press complete reservation
Look out for an email confirmation letting you know your pass has been activated for those days (no need to print it).
When can I make my Priority Reservation Days?
Starting November 6, 2020.
What if something happens and I can't make my Priority Reservation or Week-Of Days?
If you no longer plan to use your reservation, you need to cancel before 12 AM on the day you reserved (if you can). If something happens, simply contact Whistler Blackcomb and they'll get you sorted, freeing up another reservation day for you to ski or ride. 
Ultimately, the goal is simply to keep the reservation system flowing. 
Can I change my Priority Reservation Days once I've reserved them?
Yes. From November 17 onwards you will be able to cancel and change your reservations. It can take up to 24 hours for the system to refresh and then you can book new days. 
If I book my accommodation now, but I can't book my Priority Days until November 6, can I cancel my accommodation if they don't align?
Chances are they will align (again, there's lots of capacity); however, to be sure, you'll need to check the policies when booking accommodation, or you could let the team at Whistler.com do that for you. They're working with all of Whistler's accommodation providers to work out this exact issue (read: let them do the hard work so you don't have to).
When can I buy a pass?
You can lock in the lowest price on passes from now until December 1, 2020, and if you are among those who received credit for last season's early closure, you must use that credit before September 17, 2020.
Then, on December 8, day-specific lift tickets will become available to buy online (no ticket window purchases) and only if there's remaining capacity after the pass holders have used their priority and week-of reservations. 
What's the difference between a pass and a lift ticket?
There's a very defined difference between a pass product (flexible dates, reservation ability, Epic Coverage, best deal) and a lift ticket (locked-in date and no coverage). 
The short of it is, buy a pass product (this can be just one day) if you want the best discount, flexibility on which day you use it, and the ability to reserve your day. Pass products require you to pre-commit, in advance of the season, by making your purchase now whereas you can buy a lift ticket any time before showing up at the hill, right up to your actual ski day; however, if you leave it to buying a lift ticket, you might not get it for the day you want, as priority is given to pass holders, and you will pay a significantly higher ticket price.
When is the next pass buying deadline?
December 1, 2020, to lock in the lowest price. Passes go off sale at the beginning of the ski / snowboard season, date TBA. But, don't miss the December 1 deadline if you want to get the best price. 
What are the main benefits of buying a pass?
Up to 50% in discounts when compared to lift ticket purchases, early season access, Epic Coverage (insurance) and priority and week-of reservation days.
What kind of passes are available for Whistler Blackcomb?
Epic Pass, Whistler Blackcomb Unlimited Pass, Whistler Blackcomb Day Pass (1-10 days), Edge Cards and Epic Military Passes. In addition, there are some locally-oriented passes like the Student Pass, Sea-to-Sky Pass, Spirit Pass and Founder's Pass. 
What has changed about the passes this year?
This year every pass product is covered by Epic Coverage, which is a game-changer for skiers and snowboarders. Vail Resorts (who owns Whistler Blackcomb) has committed to backing its passes with a full refund, should we experience another COVID-19 closure, but the coverage also extends to many other life events which would prevent you from using your pass, like an injury. 
What are Epic Mountain Rewards?
This is another big change, particularly for those who typically buy a Whistler Unlimited Pass. The Epic Pass now comes with its own set of discount rewards and they are different from those on the Unlimited Pass. It's worth comparing each set of rewards before purchasing to choose the one that gives you the most bang for your buck.
Can I buy a lift ticket at a ticket window in Whistler?
No. You need to buy online prior to heading up the hill. Lift tickets are only available after December 8, 2020, and it's suggested you book in advance to ensure there's availability. 
Can I get a lift ticket for early season riding?
No. Early season access (November 26 – December 7, 2020) is reserved for pass holders only.
Can I buy a lift ticket to ski or board at Whistler Blackcomb if I didn't get a pass?
Yes, starting December 8 you will be able to buy lift tickets for Whistler Blackcomb. You must purchase them in advance and online, and they'll be tied to specific dates. 
Priority is given to pass holders, so lift tickets will only be available if there's capacity. 
How far in advance do I need to book a lift ticket?
You can book online the same day; however, we suggest you book as far in advance as possible and certainly before you hit the road.
In order to ensure physical distancing, the mountain is actively managing capacity, which means there may not be tickets remaining if you simply show up with plans to purchase day-of.
How do I get my pass or lift ticket?
Whistler.com sells Whistler Blackcomb Day Passes, but for all other pass options, you will need to go through Whistler Blackcomb directly, and the same goes for lift tickets: 1-800-766-0449.
What about winter sightseeing tickets?
Guests who want to access the mountain without skiing or riding (for sightseeing) will be able to do so, but the details are still TBD at the moment.
What does Ski School look like this year?
Whistler Blackcomb will be offering both group and private lessons for adults and children; however, they're still working on the finer details of what this will look like.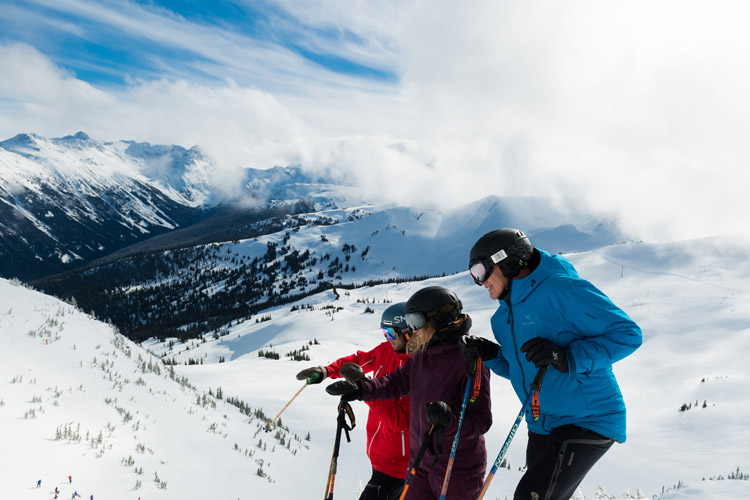 There will be limited class sizes (up to six) for physical distancing reasons, and they might add an online self-health screening prior to lessons, but that's still TBD, so stay tuned for more details. Note that a mountain access reservation is included with the purchase of a ski school lesson, so pass holders will not need to make a separate reservation for the days they have lessons.
What will dining and après look like?
Whistler Blackcomb hopes to open most of its on-mountain restaurants this season. To allow for physical distancing, they'll be managing the number of people, monitoring guests coming in and out, spacing tables and increasing outdoor seating options.
The approach to each restaurant will be a little different, depending on the layout and flow of each facility, with things like single line routes being implemented. Food options will be more limited this season, with just a handful of ready-to-go hot and cold options and no custom or special orders available.  
Any recommendations for eating then?
Given the limitations this season, we recommend you consider dining earlier or later than normal (before noon or after 2 PM). We'd also suggest bringing your own water and snacks, and potentially heading down into Whistler Village for more dining options. 
Still a bit confused?
Give the team at Whistler.com a shout, they're local to Whistler, know their stuff and are happy to spend time talking through your options.
Recap of Important Dates
Get these on the calendar and set some alerts!
November 6, 2020: When you can start making your Priority Reservation Days.
December 1, 2020: Deadline for the best deal accommodation and ski & stay packages for the 2020/21 winter season.
December 7, 2020: When exclusive pass holder booking for Priority Reservation Days ends.
December 8, 2020: When you can buy lift tickets if you don't have a pass.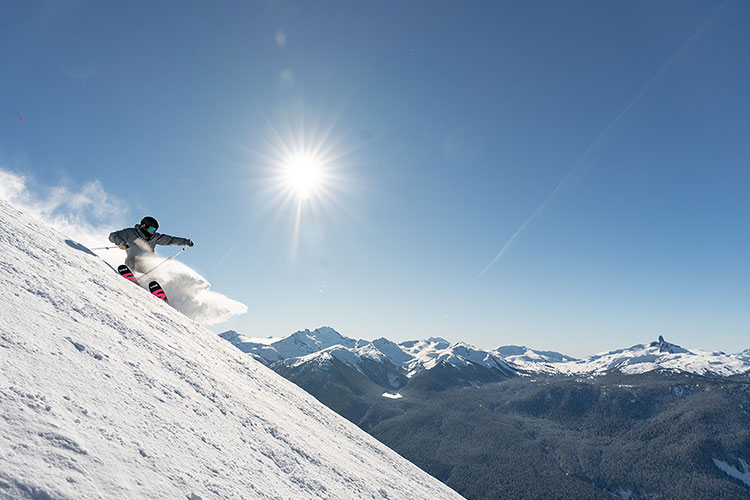 As Whistler Blackcomb creates the new normal for this coming ski season, we will have to be on our toes, ready to roll with the changes. Safety is their top priority, and they're working as hard as they can to figure out the best way to get us all up the hill playing in the mountains.
We anticipate more information coming down the line as they work on their operation plans, so stay tuned and sign up for our newsletter to get this info delivered straight to your inbox.
You can save up to 50% on lift tickets and 40% on accommodation by booking through Whistler.com by December 1, 2020. Ask them about how you can get free transfers, rentals and activities for the little ones with their Kids Play Free program. Book with confidence with a flexible cancellation policy and a best price guarantee.