Everyone Can Slide Like an Olympian
When Whistler hosted the 2010 Winter Olympic and Paralympic Games, Canada made Olympic history in the sliding sports category with bobsledders from the same nation winning gold and silver in women's bobsled. Men's skeleton athlete, Jon Montgomery, also snagged a gold medal, making it a great year for Canadians. So, surely you'd need a bit of training to tackle the tracks? Nope. You need no prior experience, just a sense of adventure.
Since 2011, the team at the Whistler Sliding Centre have welcomed thousands of people who have conquered the ice. This is definitely a bucket list experience and one you should consider ticking off on your trip to Whistler.
Here's how it went down for both myself and our web editor, Kristen Wint.
Passenger Bobsleigh
Whistler Insider: Kristen Wint
I saw the Sliding Centre as it was being built for the 2010 Winter Olympics and later stood trackside, watching in awe, as Olympic athletes flew down it at insane speeds, but I never pictured myself on said track until recently. I must have been feeling adventurous the day I signed up, because when I found myself standing right beside the track as I waited to be shuttled to the top, I wondered what the heck I was thinking! The structure is impressive and intimidating, but the thing to remember is that the passenger bobsleigh experience was made for regular people who want a little taste of the sport. It's done safely and at much saner speeds than the pros reach.
After a thorough orientation session, I had some serious, last minute jitters. They were quickly calmed by chatting with the helpful staff who suggested I sit in the "Champagne" seat (the second position directly behind the pilot) as it's the "smoothest" ride in the bobsled apart from the pilot's spot. The "bob" seats four people – one pilot and three passengers.
Our group was driven up to the Corner 7 starting point (about two thirds of the way up the track) where the thrill of anticipation began to overtake the stressed-out butterflies in my gut. We were fitted with helmets, watched a quick video and then were introduced to our pilot, Ryan Taal. Ryan was a competitive sliding athlete in both skeleton and bobsleigh and is now Head Coach of Bobsleigh at Whistler Sport Legacies. He was friendly and incredibly experienced (which further put me at ease), so I asked him for a few last minute pointers. The basic gist was to sit upright, keep your back straight and do your best "Hulk" impression. As soon as the G-forces really kick in (mostly at the notable Thunderbird Corner), you may find your head pulling from side to side. You can avoid this by hunching your shoulders up and keeping your head locked down in between them. I held Ryan's last words of wisdom in my mind, tightened the chin strap on my helmet and waited as the rest of the passengers positioned themselves in the bobsled.
The rest was history after we set off with a very small push and some cheering from onlookers. I held on for the ride of my life, feeling happy that I hadn't chickened out. As staff had said in our info session, just when you really start to feel the G-forces kicking in and you're wondering how much more you can take, you are almost at the end of the track and it's done. If you listen carefully, you can hear me screaming in exhilaration at the end of the video. Our top speed that day was 124 kilometres per hour, but that's nothing compared to the pros who can clock speeds of up to 150 km/hour. The passenger bobsleigh experience is an incredible rush and definitely a once-in-a-lifetime adventure. If you're sitting on the fence, all I have to say is . . . you can do it!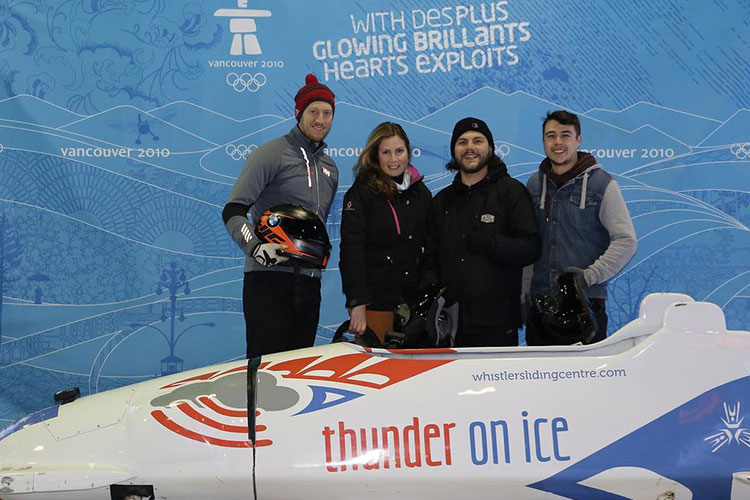 Key Information: Bobsleigh
You need to be at least 14-years-old (14 and 15 year-olds are positioned in front of a parent or guardian in the sled – they can't go on their own)
You need to weigh between 90 lbs (41 kg) – 285 lbs (129 kg) in full winter clothing
You need to be between 4'6" (137 cm) and 6'8" (203 cm) in height
A guardian needs to sign the waiver for anyone under 19 and kids need government-issued ID to prove their age
Public Skeleton
Whistler Insider: Dee Raffo
INSIDER TIP: Take a note of your top speed for bragging rights and make sure you pick up your free diploma — definitely one for your mantelpiece.
A sack of potatoes. That's what I was told to emulate as I hurtled down the Whistler Sliding Centre track headfirst at up to 100 kilometres per hour. Think like a potato – mellow, grounded, not phased by the walls of ice and G-force pressure.
I have never had a need for speed, so winding my way around six bends of an icy track on what looks like a dinner tray was definitely something that took me out of my comfort zone. In a giddy haze of excitement and well, primal fear, I listened to the safety talk. Why were they talking about potatoes and chickens? That's mostly what I remembered as we made our way to the track. As I took my place at the top of the Maple Leaf start (a third of the way up the Olympic track) I'm glad they had used such visual analogies.
Distribution of weight on the tray, I mean sled, is key. If you lift your shoulders up it's going to take the weight off the front of the sled, which gives it the freedom to start wobbling around. This little movement creates a ricochet effect that can make the sled bang into the sides of the track. This leads to the chicken analogy. You don't want your elbows taking the brunt of the wobbling, so you don't want your elbows out like "chicken wings", you keep your arms firmly tucked in at your sides.
So, armed with this poultry advice I lay on the sled. A member of staff gives you a push, so there's no run and jump involved (this would involve way too much speed and accuracy) and then you're off. Human instinct made me want to lift my head to see where I was going, but I tried to connect with my inner potato and focused my line-of-sight just a touch off the track, directly in front of me. The ice is whizzing by only inches from your face, which is a little disconcerting. The banking started to intensify as I made it around the bends, and then at the final corner aptly named "Thunderbird Corner", there was a distinct feeling of the G-forces kicking in, pushing me farther into the sled. I don't remember it being difficult to hold my head up, but I certainly felt the pressure change. Then I was coming into the finish corral and gravity kicked in as I started to go uphill.
The whole thing lasted around 30 seconds. It was so fast. With legs like jelly I stepped off the ice as they helped lift my sled off the track. I didn't know whether to laugh or cry. You have to put this into perspective as I'm one of those people who tends to shed a few after tackling a gnarly bike or ski run. I think I did a bit of both, a manic laughter and tears combo. Then you get to do it again on run number two! Beware, the competitive nature of this sport is catching. My tip – get your speed suit on by taking a few of those bulkier layers off to improve your time!
Key Information: Skeleton
You need to be at least 16-years-old
You need to weigh between 90lbs (41 kg) – 220lbs (100 kg) in full winter clothing
You need to be between 4'6" (137 cm) and 6'6" (198 cm) in height
A guardian needs to sign the waiver for anyone under 19 and kids need Government issued ID to prove their age
The Public Skeleton and Passenger Bobsleigh run from December 20, 2019 until March 29, 2020 and they go whatever the weather! Wear warm winter clothing (try to avoid anything too puffy), warm gloves and winter boots with good grip. Spectators are permitted, so give them your camera as you can't have anything dangling off you as you slide (including hair and jewellery).
CAUTION: Due to the nature of these activities, they're not advised if you're pregnant, have a chronic heart condition, osteoporosis or any recent head, neck or back injuries.
How to Get to the Track
You can drive to the Sliding Centre (it's on Blackcomb Mountain) and park right next to their Guest Relations building, or in the adjacent Lot 7 (both free). You can also catch the BC Transit bus "Staff Housing"/Route 7, and then walk uphill until you see the sign for the centre on your right.
However, the most fun way to travel though is via the Excalibur Gondola at the base of Whistler Mountain (check to see if it's running first). You don't need a ticket as long as you don't have your ski or snowboard gear with you. Jump off at Blackcomb Base II, walk across the ski slope (watch out for skiers) and through parking Lot 7, then turn left uphill and look out for the sign on your right.
Whistler is a thrill-seekers playground. Learn more about what you can get up to in Whistler with the team at Whistler.com – they've got adventure covered.