Updated June 2022.
You don't need to be a skier or snowboarder to spend time in the mountains. One thing Whistler's got in abundance is activities that utilize its vast, wide-open terrain and they do this in lots of different ways.
It's hard to squeeze them all into one trip, so we'd suggest setting up camp and opting for a longer stay (there are deals to be had), so you can take a real crack at some mountain adventures.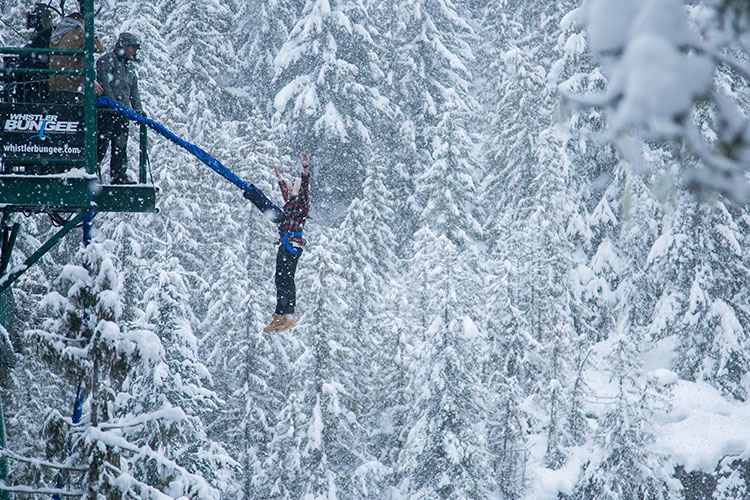 From soaring over them to scaling them and journeying through them, here is some inspiration for what you can do off the slopes in the mountains this winter.
INSIDER TIP: If you're in Whistler at peak times, like festive or during school holidays, or over the weekends, consider booking ahead as tours do sell out (it happened this summer).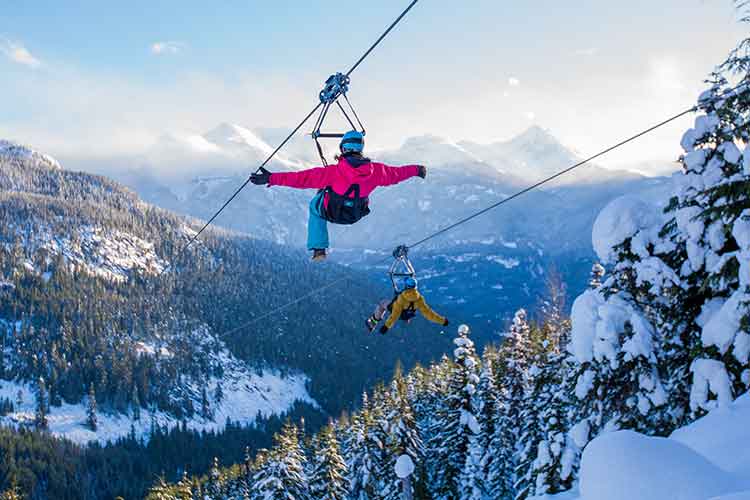 Soaring Over It
Seeing the mountains from a birds-eye view is spectacular as you grasp just how vast the valley is, with white-covered trees and craggy mountain tops stretching to the horizon. There are varying levels in which one can make like a bird in Whistler, one of which is to attempt to imitate a diving peregrine falcon (the fastest bird in the world) as you launch into thin air over the glacially-fed Cheekye River with Whistler Bungee. Read about what it's like to take a dive in Whistler Bungee Jumping: On Fear, Gravity and Getting Old.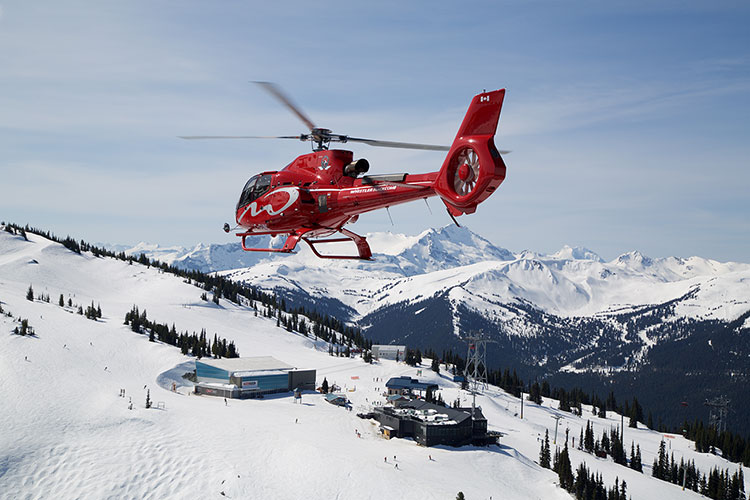 Scale that back a touch with ziplining, with options for tackling three to five lines as you flit around the mountains taking in the views with the wind in your hair. Or maybe you want to get more intimately acquainted with some of Whistler's ancient volcanoes and glaciers? You'll need a big bird for that. Whistler has a range of helicopter tours from short, scenic flights to ice cave adventures. Read more about those in Rock Flour, Ice Caves and the Meaning of Time.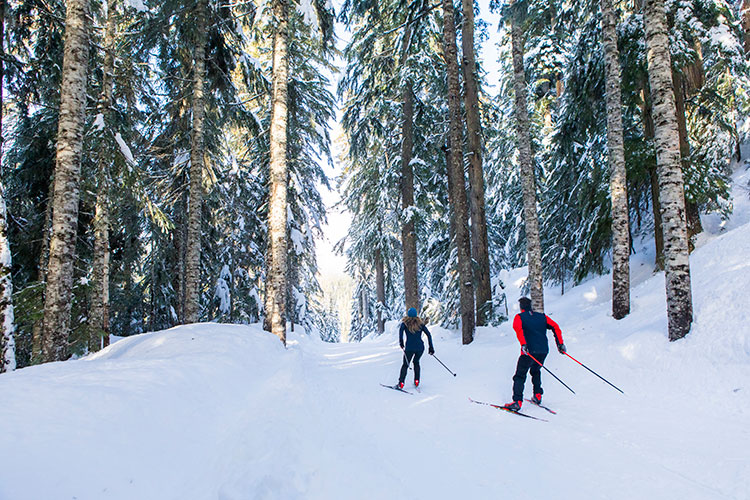 Journeying Through It
If you're looking for something that breaks a sweat, Whistler has 90 kilometres of cross-country ski trails for you to tackle out at Whistler Olympic Park and 30 kilometres at Lost Lake Park, located right in Whistler Village (this location also has night skiing). If you're bringing little ones, take a read of Fam Jam at Whistler Olympic Park: XC Skiing with Young Kids for some tips.
Snowshoeing is another activity that can be a thigh burner or a peaceful, relaxing experience in the surrounding old-growth forest perfect to relax the mind, especially if you take a plunge in the cold pools at the Scandinave Spa afterwards. New this year are snowshoe tours on the Ancient Cedars trail, which take you to an incredible grove of old-growth forest on Cougar Mountain and another that includes a campfire cookout with s'mores. For more ideas on where to snowshoe in Whistler read our Insider's Guide to Snowshoeing in Whistler.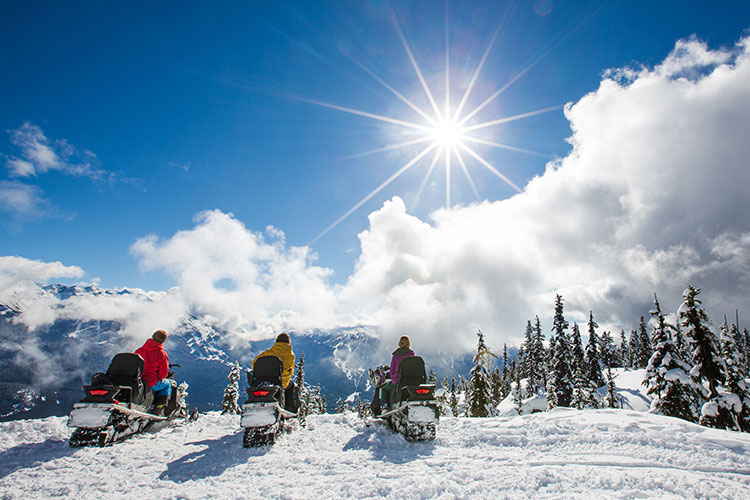 Whistler has vast backcountry terrain and one way to get out into the depths is via a snowmobile. With tours for beginners to expert riders, exploring Whistler's wild tundra is fun when you get to fire a throttle. You can even wind your way up to a backcountry cabin for steak under the stars, read what that's like in Snowmobiles, Steak and Starlight. Or, opt for fresh tracks by being the first out there on the Yukon Breakfast Tour.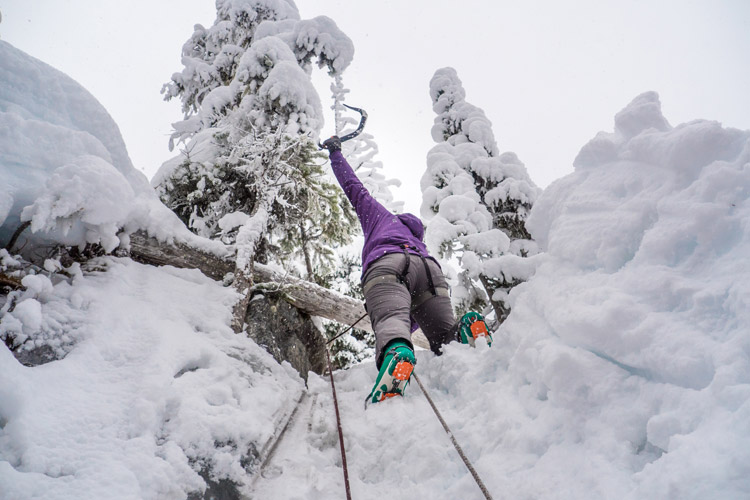 When it starts to get dark in the late afternoon it's time to head to the forest. Vallea Lumina is a multimedia, storified light show where you walk a winding one-kilometre path through the forest at the base of Cougar Mountain (it takes about 45 minutes). This is definitely a must-do while you're here in Whistler, read more in Magic in the Mountains: Winter Vallea Lumina.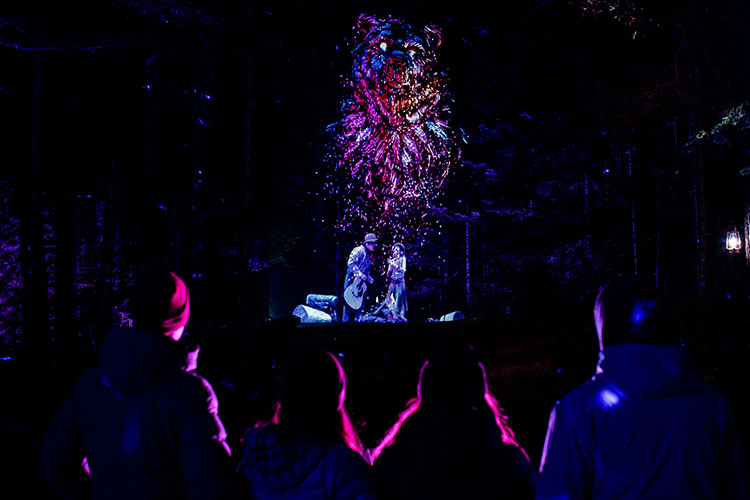 Scaling It
A very literal scale, ice climbing tours take place on Blackcomb Mountain. No experience is necessary, but you might need to dig deep and bring your brave face, read more in Bucket List Mission: Ice Climbing in Whistler.
The saying goes, what goes up must come down, and in Whistler why not take the Olympic route for your descent? The Whistler Sliding Centre offers Passenger Bobsleigh and Public Skeleton on the same track the Olympians use (you just start a little lower down). For what this ride feels like, take a read of How to Skeleton and Bobsleigh in Whistler.
Soaking In It
An outdoor spa in Whistler, in the winter, what? The Scandinave Spa is a tranquil oasis that's found on the edge of Lost Lake's forest. Encouraging you to invigorate your body with hydrotherapy (going from hot to cold), this spa has open-air baths, Swedish dry saunas, eucalyptus-infused steam rooms and relaxing solariums, all set in the beauty of nature.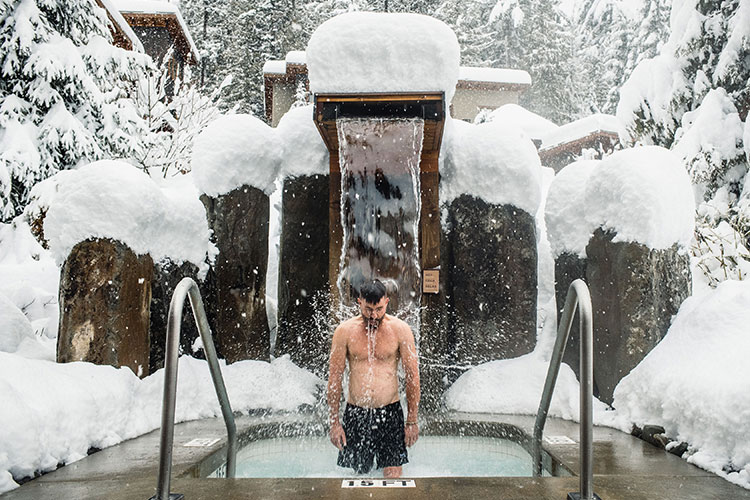 There is so much to do in Whistler, I've been here for fifteen years now and have only just scratched the surface. I am also still building up the courage to try ice climbing! For even more inspiration, flick through some of Whistler.com's winter activity itineraries.
Fall in Whistler means more, like great value on accommodation with rooms from $135 CAD per night, plus a free $100 CAD Dining Voucher when you book a stay of 3-plus nights. Book in confidence with Whistler.com for Flexible Cancellation and a Price Match Guarantee. If you're dreaming of a trip to Whistler, enter our Find Your Altitude contest for a chance to win a six-night vacation with flights, accommodation and activities (including a heli trip) all covered.