Updated December 2019
As the sun rises on fresh snow in Whistler we're close to the winter equinox, where the daylight is limited but the nights are bright with holiday lights, sparkling snowflakes and good cheer.To finish our four seasons of Canadian essentials (add Spring, Summer and Fall to your reading list) we present the top things to see in do this winter in Whistler, BC, Canada: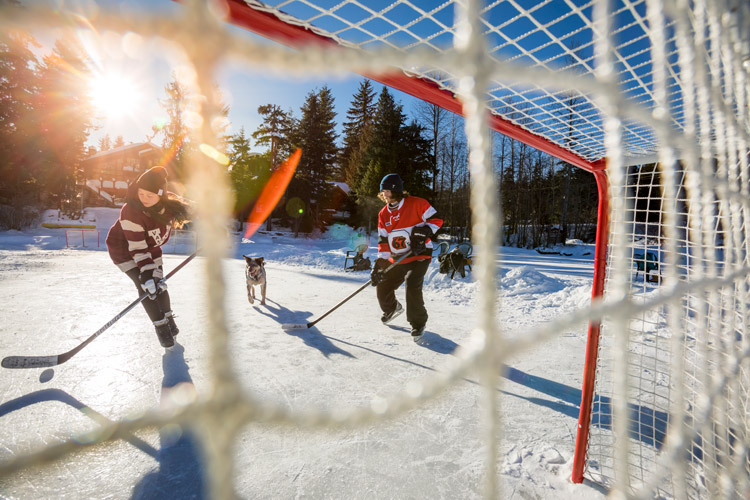 1. Yell at a Hockey Game
Ice hockey (or in Canada, hockey) is without doubt a sport woven deep into the Canadian psyche. It's evident from the amount of games crammed into each season of the NHL, and the fact the minute the lakes are safe to skate a plethora of pucks, sticks and jerseys will appear. If you're interested in experiencing the national sport firsthand, hockey tours run from Whistler to Vancouver during winter so you can catch the Vancouver Canucks play in real life. Option B – check out the lakes, when the ice is thick enough to skate safely. Option C? Catch a game at one of Whistler's fine bars.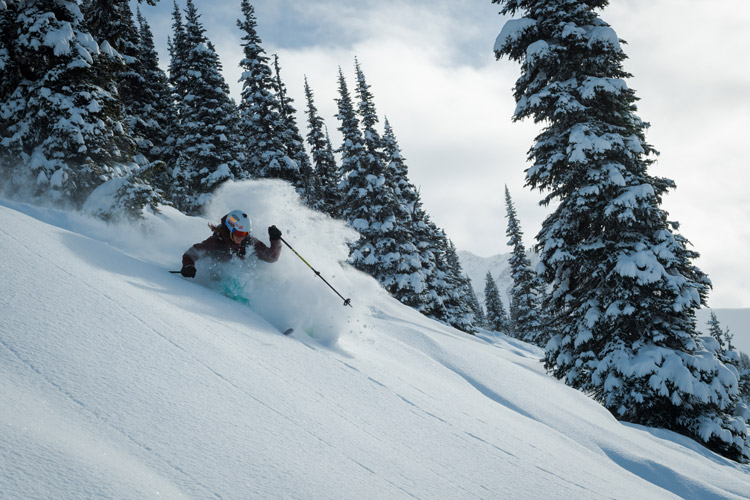 2. Ski or Snowboard. A lot.
All this snow has got to be good for something, eh? Canadians take sliding on snow seriously, devoting large portions of the winter to exploring peaks and powder. Some charge hard and ride Fresh Tracks to last chair, others prefer to cruise from ski run to ski run. The important thing is to get good gear, learn good technique and go up in all weather to really get the feel for the slopes.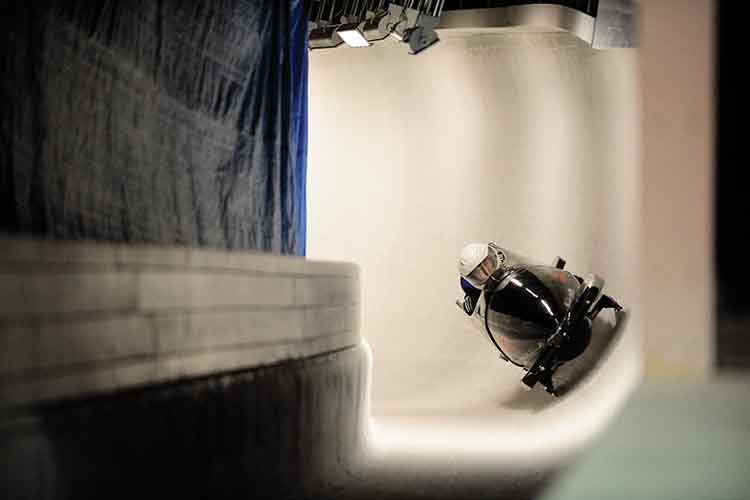 3. More Sliding
With a winter full of snow and ice, it makes sense to capitalize on all sliding opportunities. Tobogganing is the ultimate family fun day out, where parents can be seen careening down the slopes having just as much fun as the kids. There's dedicated zones in Whistler Olympic Plaza in Whistler Village, as well as a tobogganing area in the Callaghan Valley at Whistler Olympic Park. Adults, want to knock it up a notch? Go bobsledding or try skeleton at the Whistler Sliding Centre, following in the tracks of Canadian gold medalists.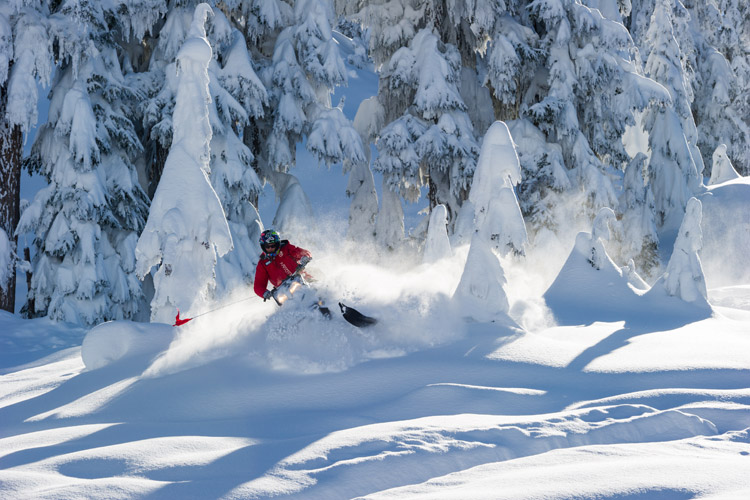 4. Snowmobile Up a Mountain
Some Canadians prefer to get into the mountains by sled rather than chairlift, and there's a range of snowmobile tours to tap into around Whistler that will let you experience this motorised pastime. The benefit of using a motor? Go further, faster and get a taste of the real Canadian wilderness. Take a night tour to see the northern stars or add in a Yukon breakfast (potatoes, pancakes and maple syrup, coffee) in a backcountry cabin for a little taste of Canada on the side.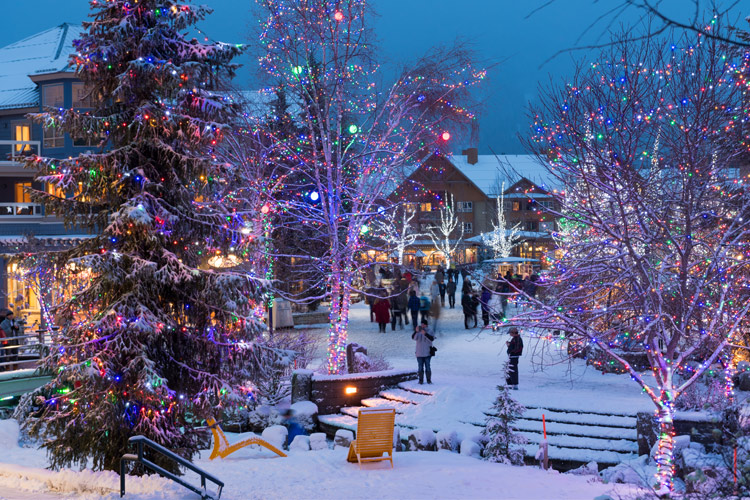 5. Catch the Holiday Light Displays
By the time the winter equinox rolls around, we've got some pretty long nights to contend with. Carefully created light displays set up along the Village Stroll, through hotels and along the streets in Whistler transform dark nights into sparkling wonderlands full of magic. And when the snow falls? Pure magic.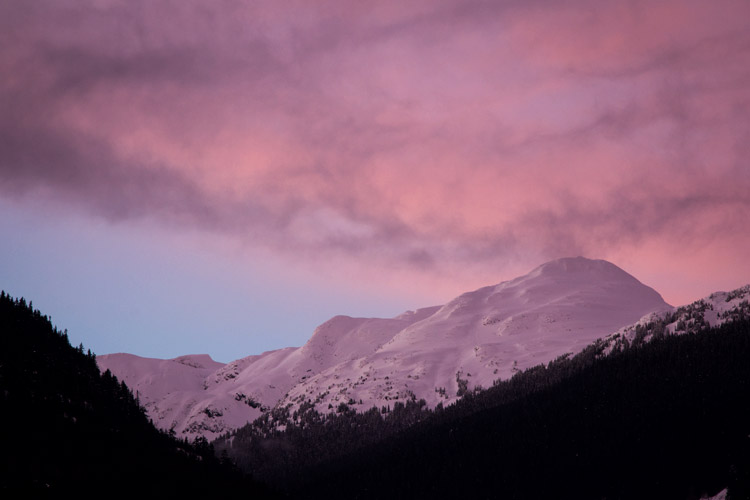 6. Watch the Alpenglow
On clear days, the first and last rays of the sun slide through the atmosphere turning the snow covered peaks brilliant shades of pink and orange against blue and purple skies, a phenomenon known as alpenglow. It's worth taking a winter walk out to Rainbow Lake to see the peaks shine across the waters (or ice) of Alta Lake. Be sure to watch from start to finish, as the colors change minute by minute.
7. Have a Chairlift Conversation
That old thing about Canadians being polite? It's true. They're also a friendly and helpful bunch, so it's worth kicking up a conversation on a chairlift and making new friends. You might just learn the guy next to you has been riding these mountains since before you were born, and has a few tips on the next best run, or the best spot for a post-ski beer.
8. Meet the Hounds
Dog sledding was a traditional way to get around in winter in Canada, originating around 4, 000 years ago.  Meet the specially bred and trained dogs and learn how to harness them, stage them ready for run and the basics of handling a sled. A full immersion, educational experience, you'll spend plenty of time getting to know the dogs before heading out on a ride through the snow-covered forest.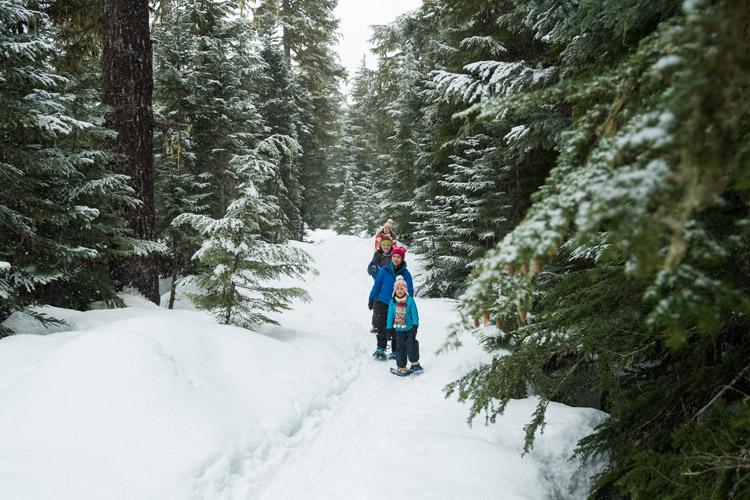 9. Hike through a real winter wonderland
There's nothing quite like the Coastal forests of British Columbia, Canada, and in deep winter when the snow lies thick on the ground and the trees the forest is a peaceful, powerful place to be. Throw on a set of snowshoes and you can get out among the trees to discover frozen waterfalls, ancient glades and hidden viewpoints. Lost Lake Park and the Callaghan Valley have dedicated snowshoe paths, or you can hit up the various trails around the Whistler Valley (note aside from the paved Valley Trail these are not maintained or signed). Pack a winter picnic to go full Canadian.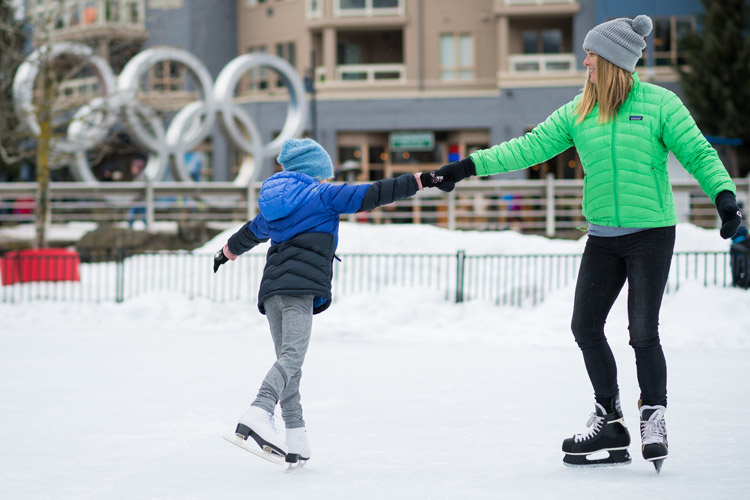 10. Go Ice Skating
It's a national pastime and with a special pop-up rink in Whistler Village and one out at Meadow Park there's plenty of places to lace 'em up. Just be aware that most Canadians learn to skate young, so if you're an older learner prepare to have teeny tiny kids skating elegant circles around you. Skating on lakes around Whistler is possible when conditions are right, but it's important to never go on the ice unless you're absolutely sure it's safe. If in doubt, stay on the shore.
11. Heat Up in a Hot Tub
It's hard to beat the feeling of immersing oneself in warm water after a day on the slopes, sled or snowshoes. Hot tubs not only provide ideal conditions for recovery, they're a great spot to make new friends as well. If you're lucky you'll have one all to yourself in your accommodation, or you can check out your hotel or the nearest spa. The Scandinave Spa is a standalone outdoor bath experience which offers hot and cold baths along with saunas but socialisers take note – there's no talking allowed.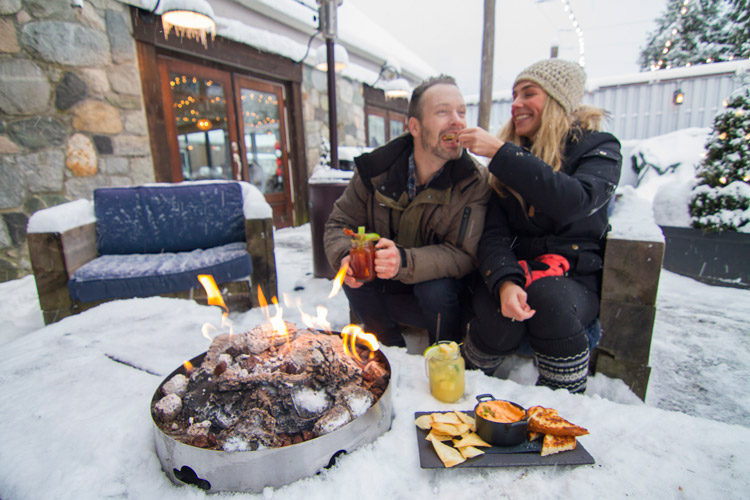 12. Après-Ski 1 – Chill Out by a Firepit
Dotted throughout Whistler on patios and in public spaces you'll find firepits – welcoming places to gather with friends, warm up and enjoy being outdoors even on cold winter days. A firepit session is often accompanied by a beverage. May we suggest coffee with Cabot Trail Maple Cream, a Caesar, a beer from our three local breweries or a nice Fort Berens red wine?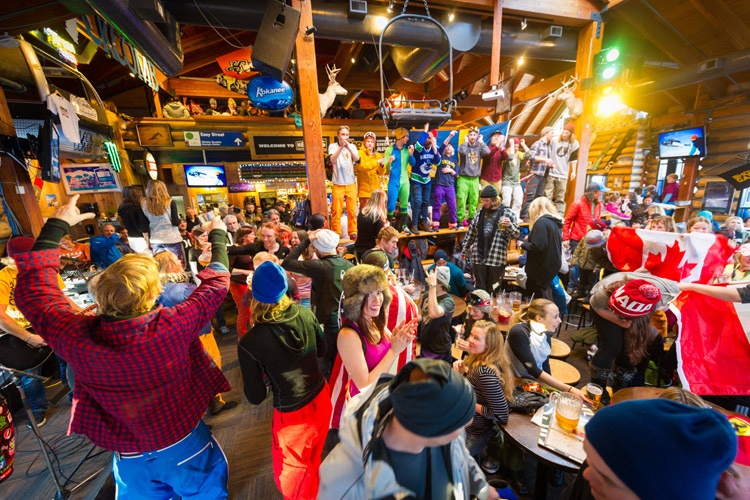 13. Après-Ski 2 – Dance in Your Ski Boots
On the other side of the spectrum, après can be quite the party. After a day in the snow there's no better way to celebrate being alive than grabbing a drink with friends. Be warned, once the live music starts it's hard to leave, and wearing ski boots has never stopped a Canadian dancing at après -ski. Go hard or go home!
14. Catch a Glimpse of the Northern Lights
While not as spectacular a display as in the far north, on the odd occasion the aurora is visible from Whistler and dark winter nights offer some of the best viewing conditions out there. Keep an eye on the Aurora Watch website and be dressed ready to spend a couple hours in the cold – just know that when the lights dance across the sky you'll be well rewarded for your patience.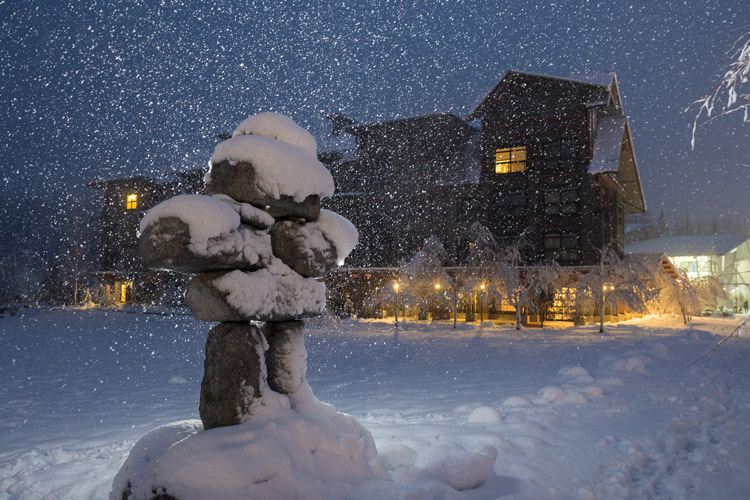 15. Watch the Snow Fall
Even the most hardened Canadian would agree, snow is an absolute miracle. Make time to appreciate it – slip into your favourite plaid, a toque and a hoodie and simply watch it fall for an hour or two. Life's too short to rush moments like these.
If we've inspired you to try a little Canadian culture for yourself, check in with the team at Whistler.com. They've been wearing plaid and rocking toques for years and know all about making your vacation a Canadian special.