In the moment, or momentarily distracted? Left: MIKE CRANE PHOTO Right: Whistler.com team PHOTO
Call me old-school but I think when you're on the ski hill your cell phone should stay in your pocket. Out here amongst these millions of sparkling snowy trees and an endless sea of stoic peaks and swirling weather, it baffles me that anyone would prefer to spend their time on a chairlift staring at a tiny screen in their lap.
Having said that, it's certainly fine to text some buddies in hopes of hooking up to rip some pow together and I'm sure numerous lives have been saved by lost adventurers still having enough reception to call for help, but anyone ignoring the great outdoors for the endless scrolling time-kill of social media is, to me, missing out on more than just the views.
There is plenty of science to support the mental and physical benefits of unplugging from our technology. And even though I realize that there are more ski and snowboard tracking apps than ever these days, I stand by the fact that there are way better things to be doing on a chairlift or in a gondola than constantly checking in with the robot in your pocket.
In fact, here are five of them:
1. Make New Friends
The most important one goes on top. Skiing and snowboarding are awesome ways to spend your time and they attract some pretty incredible people. A chairlift ride puts you in close proximity with strangers for a just long enough to get to know them. At the top, you can go your way and never see each other again, or you can spin a lap together and see what happens. Could there be a better circumstance for meeting people?

Nothing like a smile to kickstart a new friendship. Left: MIKE CRANE PHOTO Right: Whistler.com team PHOTO
Local Bartender Aaron Peart broke it down quite nicely in a post earlier this winter: "I recently visited Portland, OR, because I started talking to someone 5 years ago on a gondola who didn't have anyone to go skiing with the next day. He met up with us the next morning and ended up having the 2nd best day of his life (after heli-skiing). A half-decade later and I'm a guest in his city and loving it."
2. Enjoy the Views
This one seems simple because it is: take a look around, this place is beautiful. The Coast Mountains of British Columbia are home to giant trees, a number of extinct volcanoes, and the largest temperate-latitude icecaps in the world. Even in a snowstorm there is constantly something cool to see. Soak it in.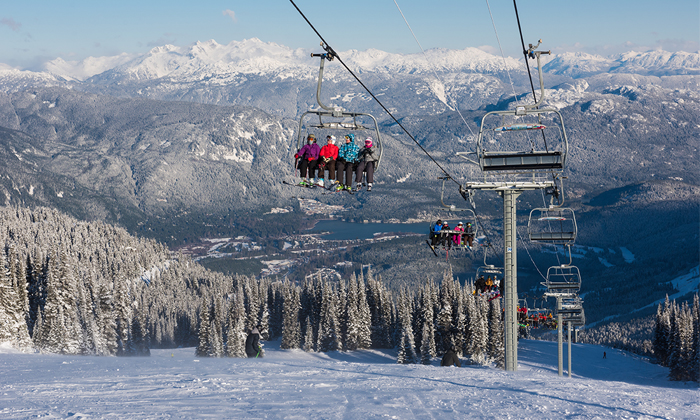 The best thing is, every chairlift has a different view. MIKE CRANE PHOTO
3. Figure Out Where To Go
Whistler Blackcomb is big, the largest ski in North America actually, so there is a good chance you haven't experienced it all yet. Many chairlifts have maps built into the safety bar or you can find pocket versions all over either hill; use them. Take a look at the terrain, chart a new path, ask the people sitting next to you where they've been and how it was. Or just point anywhere on the map and go for a rip. (Stay in bounds though!!)
4. Refuel
Here's a real Insider tip: on a big pow day always keep an energy bar, cookie, half-crushed panini or whatever food you like in your pocket. Being able to bypass or prolong a lunch break can make a big difference in your overall pow-slaying so don't be afraid to use those chairlift and gondola lulls to refuel for the next epic lap. The good thing is you can do this one while still enjoying the scenery or making new friends (just don't talk with your mouth full).

Work schmork. Is anything more important than your next faceshot? Get your head in the game! Left: Whistler.com team PHOTO Right: MIKE CRANE PHOTO
5. Have A Nap
Don't laugh, I do it all the time. Sure it's almost as anti-social as messing around on your phone but the fact remains that if you are actually able to fall asleep on a moving chairlift no one will begrudge you—you obviously need the rest. Having said that, you'd be surprised how much 4-minutes of shut-eye can help extend an epic afternoon of ripping. If anyone does give you a hard time just point out that wolves in the Canadian arctic do this to keep close to the moving herds of caribou— they sleep just 5-10 minutes of each hour and are then able to follow the herd non-stop for days on end.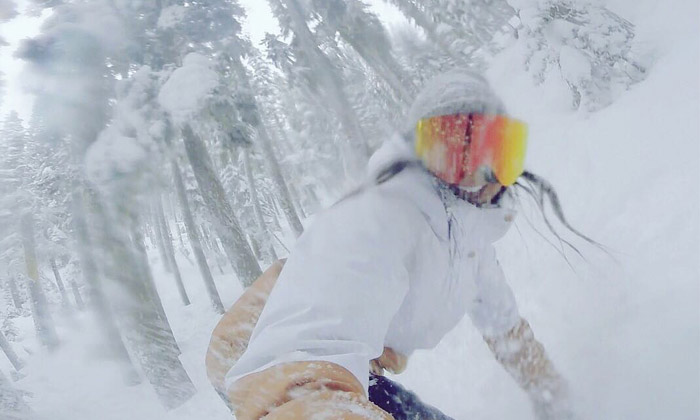 Shredding selfies are acceptable. TAYLOR GODBER PHOTO
6. Bonus: Take a Picture
Sure, this will usually require use of your phone but there's a big difference between zombie-instagram trolling and simply snapping a fun photo of some new friends then putting the phone away. The general rule is: Shoot on the mountain, upload and brag at après. And if you phone has one of those fancy waterproof/fisheye covers (Hitcase is a local company that makes them), it's perfectly acceptable to take it out mid run for shots like this. Rock on!
Thanks to the Whistler.com team for providing a few photos. When they're not out testing snow quality they're busy helping people plan their trips to Whistler – they live it, they love it and they're humans, not robots so hit 'em up for local advice.
Cameron Hunter's entry for Deep Winter 2014 pokes fun at our phone mad culture.