Words & Photos: Hailey Elise  Video: Ollie Jones Photography
Where to go for food can often lead to a heated discussion, and as the "hanger" builds so does the determination for getting whatever your belly's craving. To satisfy your taste buds and your tummy at anytime of the day, there's always pizza and poutine.
But how do you choose between them?
Pizza is a delicious traditional classic known around the world, whereas poutine is more of a Canadian delicacy which sees lashings of gravy poured over fries with cheese curds added in for melty goodness. Whistler has no shortage of places to get these ooey gooey, and oh so sinful, foods. Do your cravings lead you in the direction of crispy potatoes slathered in sauce, and or do you waiver at the mere smell of pepperoni and mushrooms?
We wish we could say that we're about to make the dilemma of pizza versus poutine easier, but in reality, we're probably just going to cloud your already muddled minds with cheese curds and toppings of all varieties!
LUNCH
For the pizza lover…
Pasta Lupino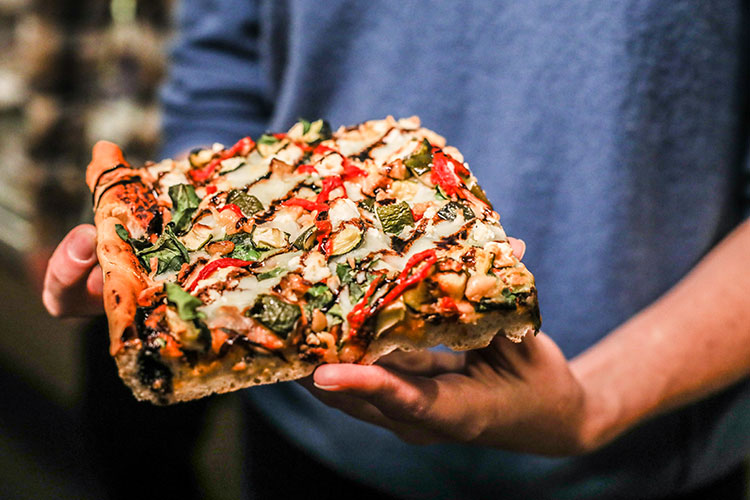 If you're breaking from activities for a feed, a favourite stop among the locals is Pasta Lupino. Famous for their authentic pasta, they also have a taste-bud tantalizing pizza offered on their lunch menu that can be in your hands and then into your mouth as fast as you can order it. The combination of roasted vegetables, garlic, goat's cheese, and balsamic vinegar is a dance of flavours that will keep you coming back again and again.
Other places to go for a slice at lunch: Gnarly Roots Pizza and Café
For the poutine lover…
Hunter Gather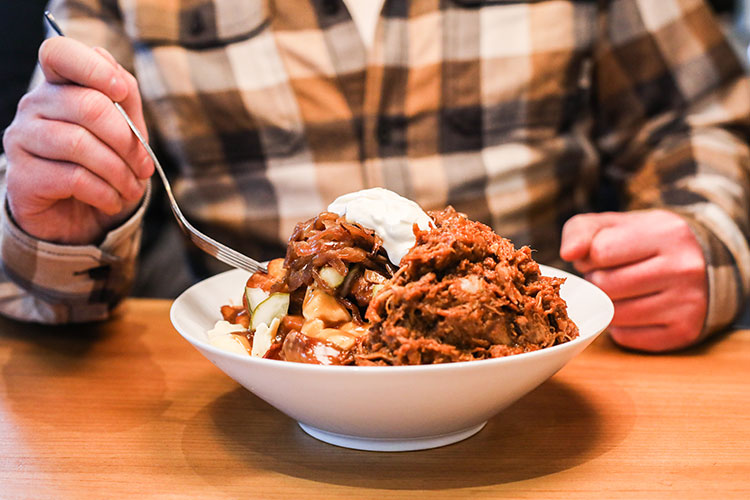 Hunter Gather is a funky, relaxed, no reservations needed place where locals flock for not only their poutine, but their slow-cooked ribs, brisket, and rotating craft beers on tap. The blend of flavours that accompanies their poutine with pulled pork has us at a loss for words. Perfectly sautéed onions, a healthy dollop of sour cream for a cool welcome back to reality, and pickles in the gravy to transport you right back out again. If poutine were heaven, you just found the pearly gates.
Other places to grab poutine for lunch: Splitz Grill or The Brickworks Public House
GOURMET
For the pizza lover…
Stonesedge Kitchen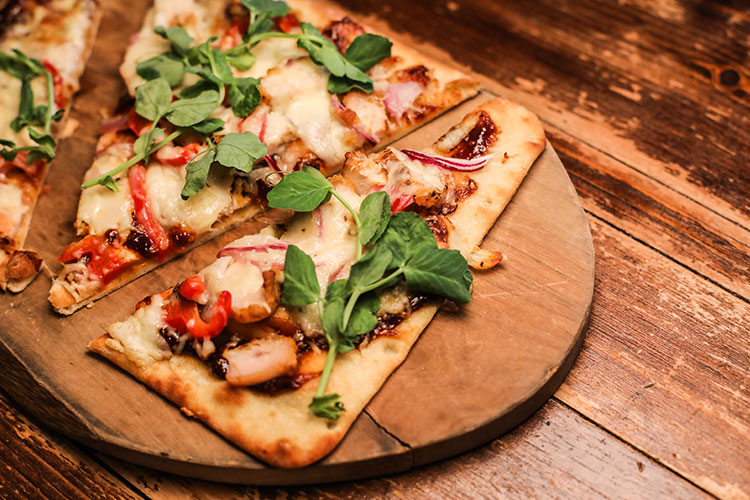 Stonesedge is known for its great brunches and delicious cocktails. They have a great patio for aprés action, and their late night menu is served until 1 PM. Their flatbreads are a new feature on their aprés menu, and you can't go wrong with the Cloud Nine Flatbread (named after the ski run) that boasts a mouth watering lager-infused BBQ sauce base, succulent grilled chicken, flavourful red onion, a kick of cilantro, and a rich three-cheese mix. The combination will have you deciding whether or not to keep skiing or keep eating!
Other places to go for gourmet pizza: Pizzeria Antico
For poutine lovers…
Bearfoot Bistro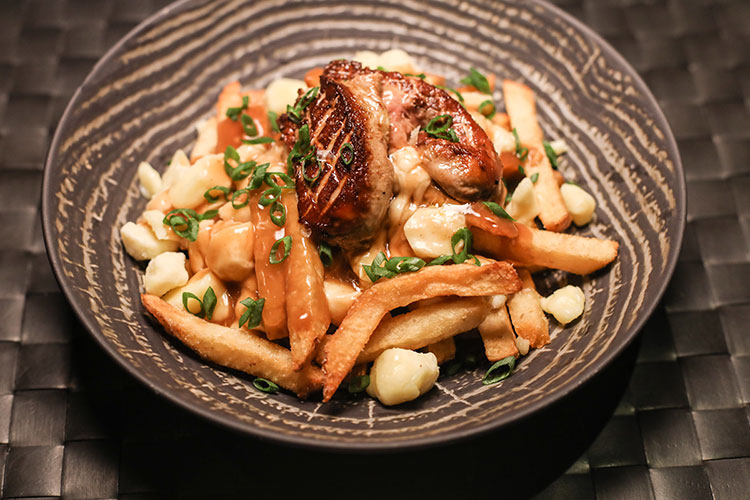 Bearfoot Bistro is a fine dining establishment known for its phenomenal service and the culinary journey that it takes guests on. Their extensive wine cellar, Ketel One Vodka Ice Room, and the perfected cuisine created by Executive Chef Melissa Craig all come together for an incredible Whistler dining experience. While not on their main menu, take care to experience a perfectly paired glass of wine with the Foie Gras Poutine found on their bar menu. It features delicately placed seared foie gras on a bed of kennebec potatoes, porcini mushroom infused gravy, and Golden Ears cheese curds. The textures and tastes will travel up and down your palette, caressing it in a way that poutine has never done before!
LATE NIGHT
For the pizza lover…
Misty Mountain Pizza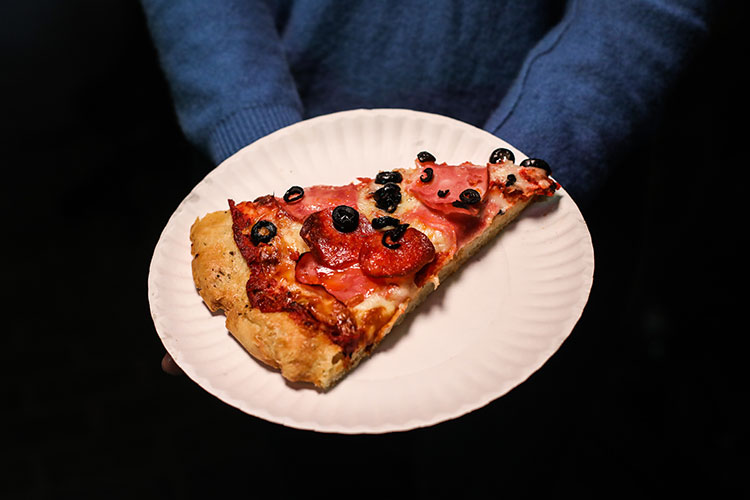 A night out in the Village will make you work up an appetite. Head over to Misty Mountain Pizza, right in the heart of the Village to get their take on a classic slice. Here, you'll find topping combinations that are out of this world such as beef, blue cheese and ranch or BBQ chicken, pulled pork and bacon. Even their traditional has olives for a little something extra that will make your taste buds do a jig that's not even on the dance floor. Fresh ingredients cooked to perfection, hot, and dripping with cheesy goodness. Forget going back to the bar, you've just found your soulmate.
Other places to go for pizza late night: Fat Tony's Pizza or Avalanche Pizza
For the poutine lover…
Zog's Dogs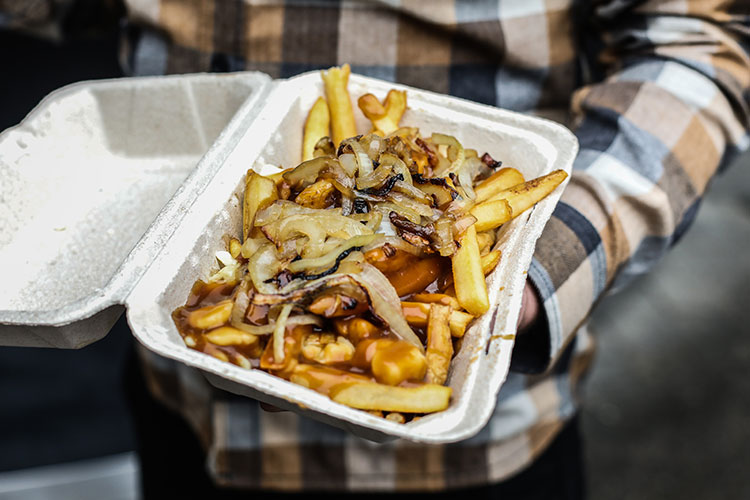 Hot dogs, fish and chips, and of course poutine! Zog's has a wide-range of warm and scrumptious menu items that are perfect for grabbing while strolling through the Village, on your way to the mountain, or after hitting up one of the local night-clubs. With so much to choose from, it can be hard to narrow down a choice. Definitely consider adding mouth-watering, freshly sautéed onions to the Classic Poutine. The amorous union of gravy, cheese curds and fries is such, we nearly have to look away!
Other places to go for poutine late night: El Furniture Warehouse 
From lunch, to gourmet, to after hours, there is no shortage of poutine and pizza in Whistler, adding to the wide-range of culinary options found here – just check out this dining guide to see what we mean. We invite you to try them all and if you can, even share!