Updated November 2020: 38 kilometres of the 46 kilometre Valley Trail is snow-cleared in the winter. 
Want to get to know Whistler beyond the hustle-bustle of the village? Set off on foot into a winter wonderland, no car necessary. Thanks to the sustainability-minded Resort Municipality of Whistler (RMOW) we have the snow-cleared Valley Trail system, over 38 kilometers of paved trail and boardwalks free or motorized vehicles that connect the major hubs, neighbourhoods, lakes and parks. An alternative to the Valley Trail is the non-winter maintained, off the beaten path Sea to Sky Trail which starts at Bayly Park and goes south to Brandywine Falls Provincial Park. As John Muir (#1 fan of walking) reminds us:
"In every walk with nature one receives far more than he seeks."
Not only is spending time outdoors good for us but the pace and peaceful nature of walking is sure to put you in vacation mode ASAP. It's also a great activity if you're from a different time zone, need daylight to adjust to the time change and don't have the energy for something more strenuous.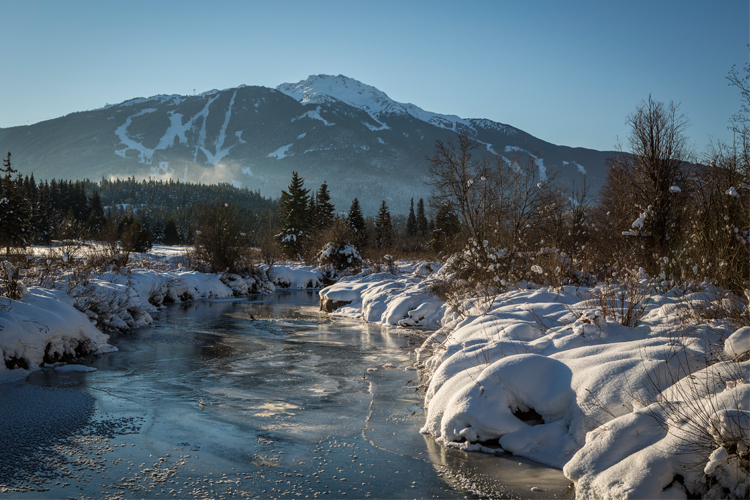 Winter Conditions on the Valley Trail
The RMOW clears snow from most sections of the Valley Trail over winter, with the exception of areas that are groomed for multi-use activities like cross country skiing. You can check the RMOW website to check which trails will likely be cleared – keep in mind that with multiple kilometers of trail to clear it may not happen immediately each morning, particularly after a heavy snowfall. The Sea to Sky Trail is not winter maintained.
Your best bet is to be prepared for any conditions from snow to ice – see our list below for recommended outerwear and boots. With plenty of helpful way-finding signs and maps you really can't go wrong but we do have a few favourite routes which we've shared with you, below.
Suggested Walking Routes
Explore a few of our favourite sections along the Valley Trail:
Creekside to Function Junction, Views & Brews
Distance: 4.1km + choose your own adventure (one way)
This one is for the craft beer lovers who think a little adventure makes the beer taste all the bitter (sorry, I had to).
Directions:
When you've reached Function Junction the Whistler Brewing Company and Coast Mountain Brewing will be waiting for you with their iconic beverages on tap! The first is on Millar Creek Rd and the second on Alpha Lake Rd with about a blocks distance between them. If you partake in a little too much of their delicious brews or simply want to get back faster you can take the 10 Valley Connector North bus back to Creekside or Whistler Village.
Whistory: The Cheakamus River's name comes from the Squamish Nation word Ch'iyáḵmesh meaning fish weir place.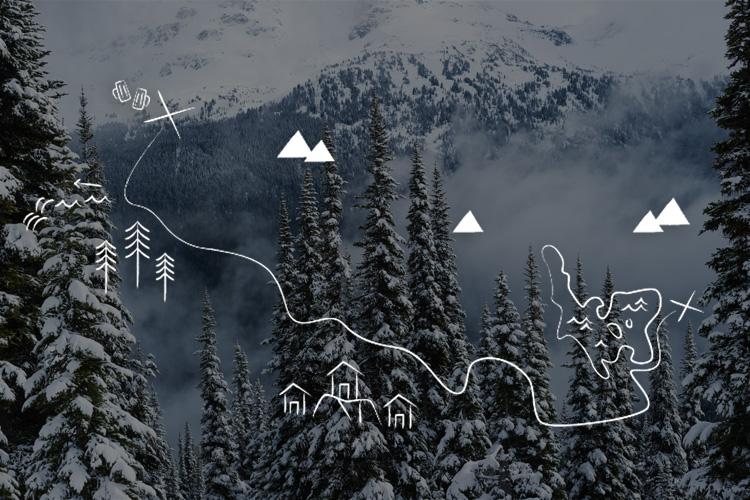 3 Lake Highlight from Creekside
Distance: 2.7 km (one way)
This dog-friendly route lets you explore the scenic nooks and crannies tucked away along lake shores.
Directions:
If your destination is the village you can keep going another 2 km or turn around and head back to Creekside for a hot drink at the Fix or a fireside glass of wine at Cure (both located at Nita Lake Lodge).
Whistory: In the summer of '69 two Whistler residents decided to build and live on a raft near where Wayside Park is today, they even had a toilet.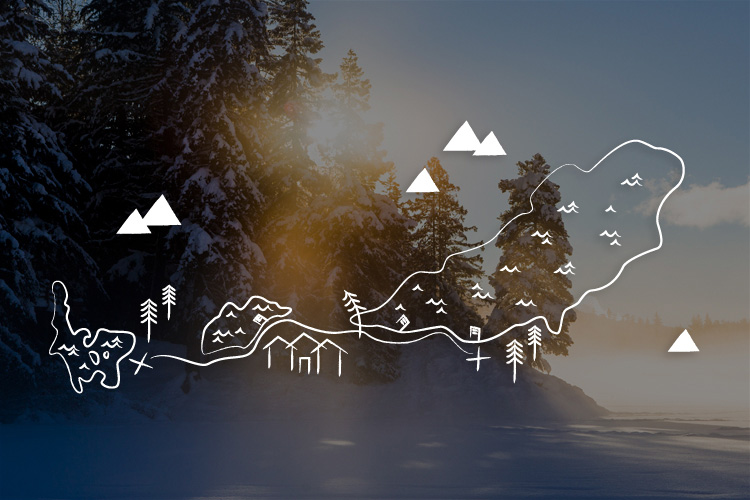 Alta Lake Loop from the Village
Distance: 8.9 km (return)
The longest of the bunch, this loop is for people who aren't fussed about the destination and enjoy the quiet magic of walking for the sake of it.
Directions:
As you enter back into the village we recommend a stop at Stonesedge Kitchen Whistler to warm up around the fire and enjoy some wholesome comfort food.
Whistory:  Alta Lake is the home of Whistler's original accommodation offering – the Rainbow Lodge – run by Myrtle Phillip, one of the town's pioneers. They used to harvest ice from the lake, cutting out and hauling big blocks of ice to keep the guest's food from spoiling. Talk about customer service!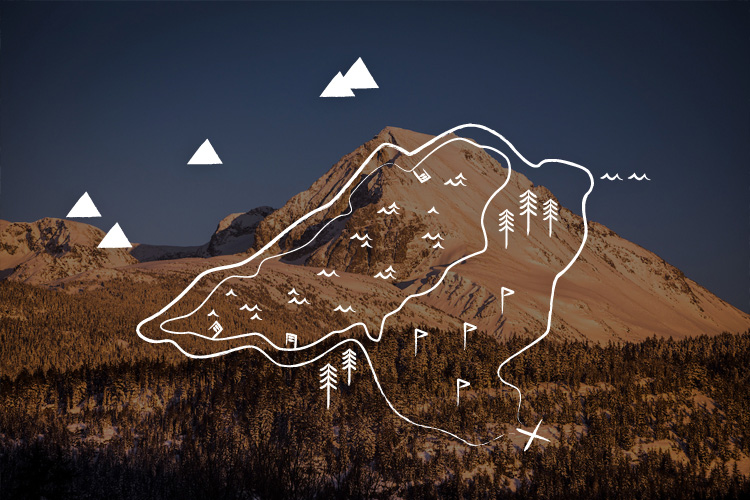 Meadow Park to Green Lake, Frozen Dreams
Distance: 2km (one way)
A quick trip, this walk will take you away from the crowds and treats you to some of Whistler's most memorable but often missed sights.
Directions:
When you're ready, retrace your steps to Table Nineteen at Nicklaus North Golf Course for a fondue. From here you can reach the village by following the Valley Trail south or take the 10 Valley Connector South).
Whistory:  Overlooking the opposite shores of Green Lake lays the Parkhurst ghost town, an abandoned forestry camp from 1926.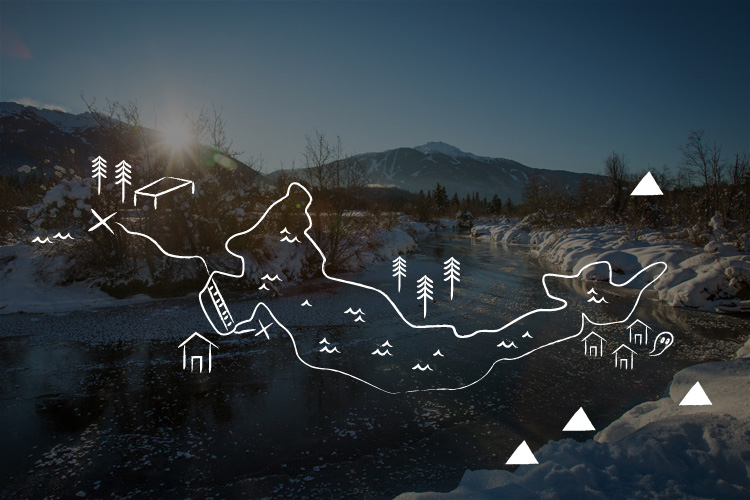 Winter Walking Checklist
Feet – warm socks, winter boots with a good tread, slip on ice-traction devices over your boots if it's icy
Hands – ski gloves; take along some hand-warmers just in case
Layers – A couple removable underlayers in case you warm up, plus a good winter jacket
Noggin – toque, a Whistler staple
Head torch – Depending on the time of year and weather the light can fade quickly at the end of the day, and not all sections of trail have lights. Be prepared with a lamp or phone flashlight.
For your confidence – take walking or ski poles out with you if you're worried about your balance
For your safety – It's cold out there! Always let someone know where you are going and approximate time you'll be back. And make sure you check in when you return.
Whistler is a great place to discover the beauty of winter, with plenty of options for those who don't ski. Whistler.com is a top spot for discovering all the activities on offer.