Whistler Sled Tours: Powder Surfing on a Backcountry Storm Day
Guest Author: Hailey Elise
Imagine the wind at your back, a powerful machine underneath you and the pristine Whistler backcountry tantalizing your senses with sights and smells never before experienced. Now add in thrilling terrain, a true backwoods cabin to warm up in along with a mouth-watering lunch and you have a Canadian Wilderness Adventures Backcountry X Snowmobile Tour. There are a few adventures in Whistler that are not for the faint of heart. Jam-packed with adrenaline and necessitating previous skill, this tour is one of them.
We took our advanced tour in February after a large amount of snow had fallen. All of our group had previous experience on a snowmobile, which meant we wasted no time chatting about who was going to get the most powder and face shots! The start of our adventure landed us at the Carleton Lodge to sign waivers and then we were whisked away in a shuttle that took us straight to one of the Canadian Wilderness Adventures bases.
Friendly dogs greeted us as we got out of the shuttle and walked into the base. The characteristic smell of a ski lodge and busy chitchat permeated the room as our guide Chris immediately welcomed us in with an inviting smile. There was no time wasted in gearing the group up to tackle the backcountry. With the assistance of other guides, helmets, gloves (the finger variety, no mittens!), and goggles were fitted to each of member. Packed lunches were then handed out and stuffed into backpacks that were also provided. You better believe there were a few comments made that sounded vaguely like, "Can I eat this now?" – but it definitely was lunchtime and we weren't finished getting ready yet.
Each member of the group was given a a probe, shovel and an avalanche beacon- one of the most essential pieces of equipment for backcountry travel. An avalanche beacon is specialized for finding people or objects in the snow, should a slide happen. After a quick crash course on how to use it, we were on our way.
The fresh winter air nipped at our cheeks as we strolled out to become acquainted with our snowmobiles for the day. Since every machine is different, a quick how-to was given as well as the game plan for the adventure. The weather was stormy and the visibility was limited. This prevented safe travel in a number of areas. As a group, we decided to ride up through the Staircase (an infamous steep angled trail) to reach a cabin where we would stop for lunch and from there, enjoy powder surfing in the surrounding area.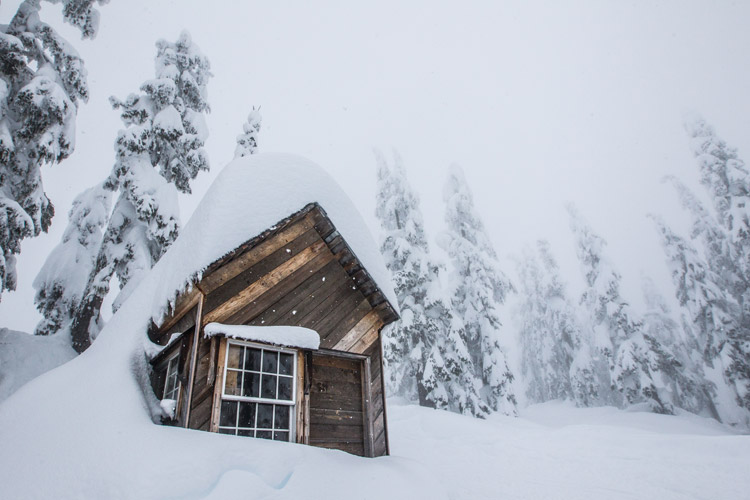 BRRAAP BRRAAP, we took off on a cat track and began our ascent into the alpine. As we rose higher, it was clear that there was abundant terrain to explore and best of all-abundant powder! Our prior experience came in handy as we twisted and turned our way to the Staircase. When we neared, our guide Chris asked us to come to a stop where he checked in and gave a few quick pointers on how to ascend safely. The Staircase curls upon itself, winding upwards through serious of pitches and finally levelling out. As the trail came to a crest, a cabin fell into view and that meant lunch was not far off.
The cabin is surrounded by views of the neighbouring mountains but the storm blocked us from seeing much outside of the softly falling snow around us. We ducked into the cabin, peeled off our gear, and set out to eat. Sitting around the table and conversing with other tour groups was a welcome break from the strenuous but seriously fun activity. Before the last bite of cookie was taken, some of us were already gearing back up to get outside.
Now, it's said that your not riding hard unless you're getting stuck. We proved the theory to be true after our bite to eat. Luckily, no shovels were needed to get out. But, there were plenty of laughs…and snowballs as a few of us watched the unlucky ones fumble with getting the heavy machines unstuck in the deep snow.
The light waned signalling it was time to head back down to the base. Riding down hill can be just as challenging as going up. It requires speed control, diligent braking, and a wide berth from your fellow sledders. With the help of gravity, it's over much sooner that you'd wish and quickly, we were back where our adventure all began.
High fives and even hugs were exchanged all around. Buzzing from the adrenaline of the day, we handed back our equipment and loaded on to the shuttle to relive our experience and continue the argument of who got the most powder. It seems the only way to settle it would be to do it all over again.
Learn more about Whistler's guided snowmobile tours for everyone from the absolute newbie to the advanced rider. There's plenty of terrain out there to explore by sled and by skis – hit up Whistler.com for more info on other backcountry tours.