Guest Author: Amber Turnau
All hail The Caesar (the drink, not the salad). This quintessential Canadian cocktail is revered by patriots from coast to coast – so much so, that there is even a celebratory #NationalCaesarDay, which takes place on the Thursday before Victoria Day long weekend in May each year. But, there's no better time to celebrate one of our nation's most beloved beverages than on Canada Day!
This Northern cousin of the Bloody Mary was invented in 1969 by Calgary restaurateur Walter Chell, who was inspired by the dish spaghetti alle vongole in rosso (spaghetti with clams and tomato). Nearly 50 years later, an estimated 350 million Caesars are consumed every year – that's more than nine times the population of Canada!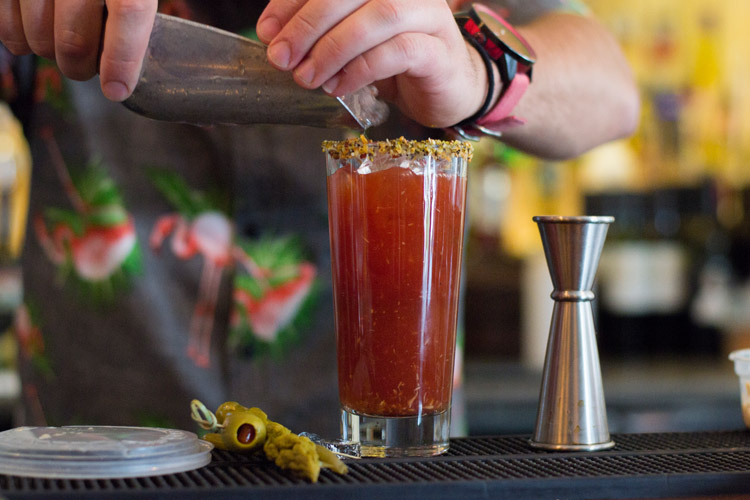 What's in a Caesar?
A mixologist's dream, The Caesar is a canvas for unlimited culinary creativity. While there are many variations out there, a typical recipe consists of a either vodka, gin or tequila, Clamato (a blend of tomato and clam juice), Worcestershire sauce, and a spice mix (which may include horseradish, hot sauce and other spices).
The Caesar is topped with a spice rim and garnished with an assortment of accoutrements, including, but not limited to: bacon, jerky, celery, and something pickled (pickle, onion, asparagus, or bean). For the very daring, Caesars may even be topped with a spear of pub fare items like onion rings or even burgers!
Where to get a Caesar in Whistler
With dozens of bars and restaurants, Whistler is a prime hotbed for this delectable drink. We took a week and went on a Tour De Caesar to unearth noteworthy Caesars in the Upper Village, Whistler Village and Creekside.
Here are just a few of the delicious Caesar options offered about town, ready for summer sipping:
Fitzsimmons Pub
Location: Upper Village
With a cozy and intimate interior tucked away in the Upper Village, the Fitzsimmons Pub is a local's favourite. The sun-drenched patio is perfect for summer sipping, while on the cooler days, board games and banter with the friendly servers is a great way to pass the afternoon.
"Fitz Pub", as it is affectionately referred to by locals, offers up a flavour-packed Caesar topped with housemade ingredients and curated garnishes from BC's finest artisan food producers. Check out Caesar Sunday every week for extra value.
Tasting Notes:
Housemade salt rim with Peri Peri and Montreal Steak Spice
Splash of pickle juice and horseradish
Garnished with a pickled bean, with option to add a delicious slice of Island Jerky from Sidney Smokehouse
Caesar Alternative: Sample from a rotating menu of BC craft breweries and a wide selection of top local Whiskey and Bourbon.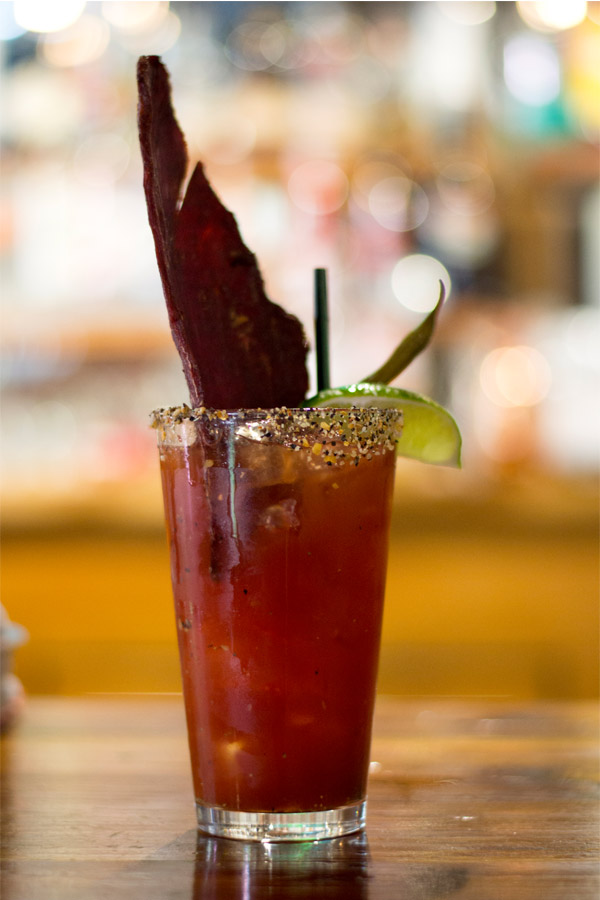 Handlebar Cafe and Apres
Location: Upper Village
With a contemporary aesthetic, Handlebar offers up a casual atmosphere, set against the backdrop of Blackcomb Mountain. The food menu is inspired by Germanic street food – perfect for pairing with a tasty Caesar in the heat of the afternoon.
Handlebar has also introduced biodegradable straws, which is a growing trend with many restaurants and bars in Whistler.
Tasting Notes:
Secret homemade spice mixer
Garnished with aged cheddar, salami and a dill spear
Cesar Alternative: Don't miss Handlebar's rotating taps with BC craft beer and ciders, plus a top notch whiskey selection.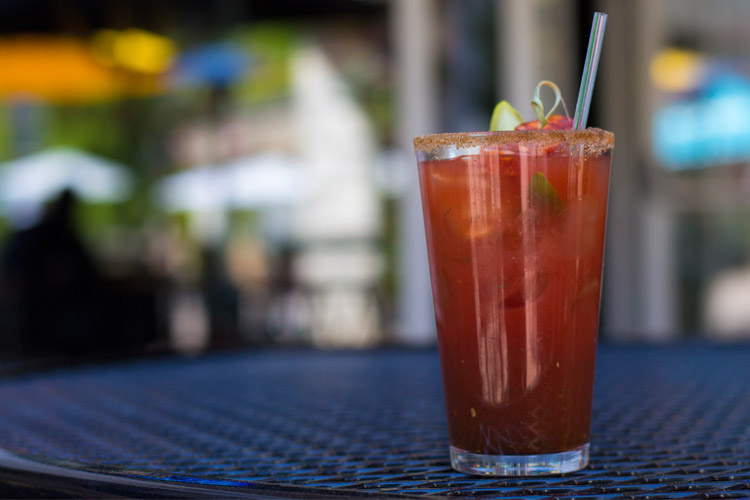 The Keg Steakhouse + Bar
Location: Whistler Village
This popular restaurant offers a selection of decadent steak and seafood dishes, so it's no wonder they've perfected their own Famous Keg Caesar. They've created a Caesar cocktail spice mix so good, they bottle it up and sell it! While every day is Caesar day at The Keg, stop by their cocktail hour from 3-6pm daily for added value.
Tasting Notes:
Polar Ice Vodka
Housemade salt rim and mixer
Garnished with 3 olives and a dill spear
Caesar Alternative: Indulge in the red or white sangria for a fresh, fruity taste of summer.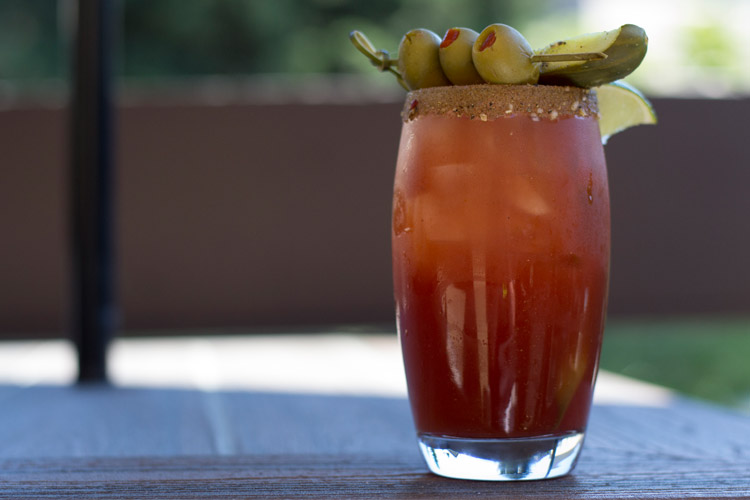 Stonesedge Kitchen – Whistler
Location: Whistler Village
Tucked in Whistler Village, Stonesedge boasts trendy decor, a fantastic patio vibe, and Pacific Northwest gastropub fare. Their Caesar is packed with flavour – and spice. Opt for the chili-infused Tequila for an extra punch. They're always changing up their Caesar recipe, so keep checking back for new flavour profiles and garnishes. The team at Stonesedge is also moving towards reducing their straw usage by moving to paper straws, or leaving them out all together.
Tasting Notes:
Housemade mix and spicy salt rim
Chili infused Olmeca tequila
Garnished with a pickled bean and asparagus, salami and an olive
Caesar Alt: Keeping on with the theme of chili-infused Tequila, try the Chili Spice Margarita with orange liqueur, lime and pineapple.
Dusty's Bar and BBQ
Location: Creekside
As the home of the BBQ Championships, it's only natural that Dusty's offers three smokin' Caesars to choose from: The Dusty's Legendary Caesar, the Horse With No Shame, and The Smokepit Caesar.  Located at Creekside Base, a feeder to the Whistler Mountain Bike Park in the summer, and perfect for après-ski during winter and spring. At this stop, we sampled The Smokepit Caesar.
As part of Whistler Blackcomb's initiative to reduce its environmental impact, Dusty's no longer offers straws with its drinks and when they do, they offer a biodegradable option. As one of the largest food and beverage operations in Whistler, this results in a reduction of 98,000 straws or 20km (12 miles) worth of plastic waste per season.
Tasting Notes:
Salt Steak Rim
Garnished with beef brisket, pepperoncini, and celery
Caesar Alt: Sip on the summery Green Tea Mojito, featuring white rum muddled with fresh lime, mint and sugar and topped with fresh green tea and soda.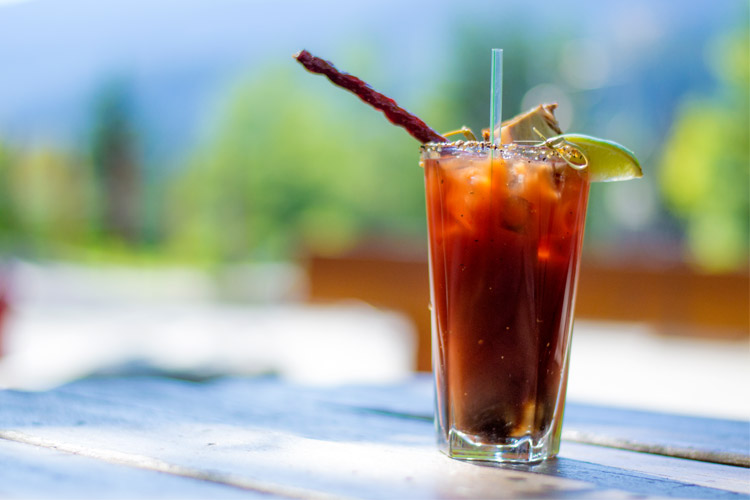 Cure Lounge and Patio at Nita Lake Lodge
Location: Creekside
The patio at Cure Lounge is arguably one of the most peaceful and pristine places to drink a Caesar in Whistler. With stunning views overlooking Nita Lake, you'll never want to get to the bottom of your cocktail. The Cure Caesar is subtle, like its surroundings, without the punch and spice of some of the others in town. But, all in all a very pleasant summer sip.
Tasting Notes:
Housemade spice mix
Garnished with a colourful assortment of cheddar, pickled onion, dill, celery and olive
Caesar Alt: If you have a palate for punchy flavours, try the "Smoke & Spice on Ice" cocktails, featuring smoky mezcals, spiced rums and spices like ginger and cayenne.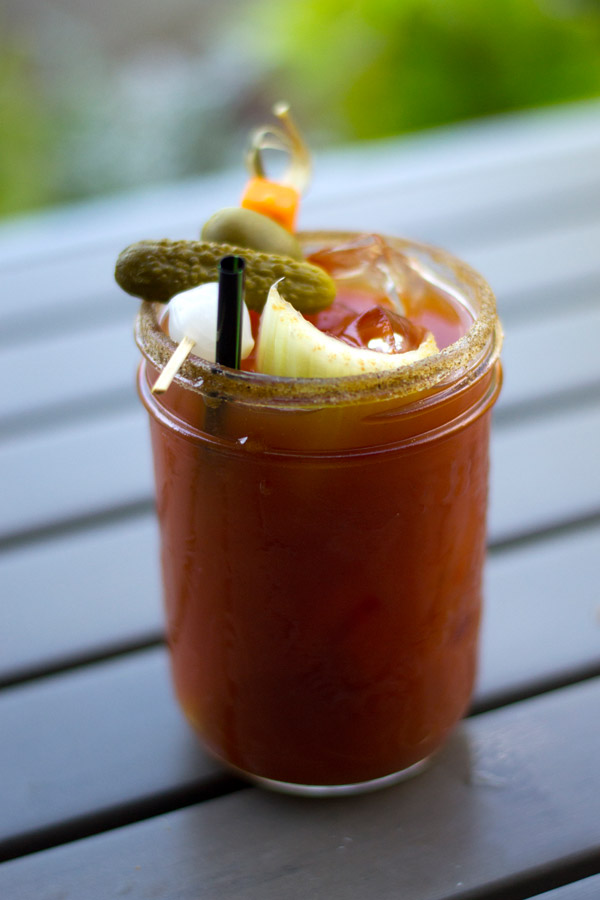 So, there you have it! A starting list for your very own Whistler Tour de Caesar – if you have a favourite in Whistler we didn't cover, let us know in the comments below!
Get out there, have fun and enjoy a great Canadian cocktail this Canada Day.
Pro Caesar Tips
Drink responsibly – hiking and hangovers don't mix. Make sure you have a safe way to get home if you're getting your Caesar on.
Ask for your Caesar without the straw. Not only is it a great way to save the environment, but you can also indulge in the salt rim. Many establishments are now offering biodegradable or paper straws as an alternative.
Learn the lingo! Do you like your Caesar "muddy" with Worcestershire sauce, or "extra spicy" with extra horseradish or hot sauce?
Ask the bartender if they have any experimental Caesar recipes they've been working on. You might be surprised and delighted by what they produce.