Updated: October 2018

The old saying is, "Good things come to those who wait" but when it comes to Christmas holidays in Whistler, it should probably be modified to "Good times wait for those who plan ahead."
So as the snow begins to creep down the mountains, The Insider is starting to think about Christmas holidays, or more specifically, we think you should start thinking about them. Plan now, relax later– here are six things to start thinking about for your perfect Canadian white Christmas and ski vacation:
1. Book early and save.
The Christmas holidays are the busiest two weeks on Whistler's calendar and thanks to supply-and-demand they're highly valued. If you book with Whistler.com before November 15, 2018 you can get the best choice of accommodation, beat the rush and can save up to 35% off regular holiday pricing (includes accommodation-only deals for our new Epic Passholders). Egg nog for all!
2. Transportation
Whistler Village is pedestrian-only and built right at the base of both ski hills. Add in a great transit system with a free loop around the village and complimentary shuttles at many hotels (ask when you book) and you'll find most visitors don't need a vehicle once they arrive.
Shuttle or bus transport into Whistler is a great option, and you can also charter a private vehicle with driver rather than renting a car. Winter driving conditions can be dodgy if you aren't used to the snow so why start your holiday with a white knuckle drive in an unfamiliar car with no snow tires when you can relax in the shuttle and enjoy the view (Or take a heli-jet for ultra wow-factor)? We've got a guide to getting to Whistler if you need more help weighing the options.

3. Christmas Dinner
Throwing together a turkey dinner in a hotel room can be a challenge so a number of Whistler restaurants offer dine-in, pick-up, or even cook-your-own turkey dinners for Christmas night. Check out our dining page for an overview of Whistler restaurants. If you see something that suits your needs, call them up and reserve a table or a take-out dinner sooner rather than later.
4. Lessons, Rentals, Activities: Plan Ahead
Thinking about a snowmobile ride on Christmas eve? How about ziplining through snow-covered trees? Snowshoeing on Boxing Day? Whistler has no shortage of awesome activities but there is also no shortage of people who want to do them, especially over the holidays. Book ahead and ensure you get to do what you want, when you want (and if you don't know what you want our itineraries might help). There are often a few activity deals floating around for smart early bookers as well.
Same goes for ski lessons and high performance rentals, the more you can deal with now, the easier it will be when you get here. (Insider Tip: Kids 12 and under rent free with a paying adult, and kids six and under get free lift tickets – get the fine details here).

5. Free Fun
The most enjoyable holiday activities are the ones that bring the family together and often these don't cost anything at all. The free outdoor ice skating rink in Whistler Olympic Plaza is always good times, so is the Sunday night Fire and Ice show at the base of the gondolas. There are also bonfire nights, Christmas carols, crafts, wandering the Stroll and taking in the holiday light displays and more. The Whistler Holiday Experience is kid-wonderland of bouncy castles and games that is open every day throughout the holidays. Check out these event listings and don't forget, skiing on Christmas Day is a Whistler Local tradition.
6. Christmas Shopping
Certainly, you can do it before you arrive and pack all the gifts into your luggage but Whistler has plenty of places to shop as well. The Insider has already written a few blogs on experience-based gifts and local snowsport brands but part of the fun of shopping in Whistler is just wandering the Village and seeing where you end up. Of course, if you're not into shopping Whistler Gift Certificates are the gift that keeps on giving because it means you have to come back here and enjoy it all over again.

7. (Bonus!) Hang Around for New Year's
New Year's Eve in Whistler is unlike anywhere else and it's designed for the families. Certainly, every bar, pub and restaurant in the Village has their own shaker going on for those who want to ring the new year in with an alcoholic beverage (or several) but on the strolls and plazas it's six hours of family fun with three stages of entertainment and music, crafts, games, a special Fire & Ice Show, fireworks and more. (Insider Tip: New Year's Day is also an excellent day to hit the ski hill early while everyone else sleeps off last night's festivities.)
The take home message is the more you prepare now, the better your Christmas in Whistler will be. We're loving summer but getting excited for winter – see you when the snow flies!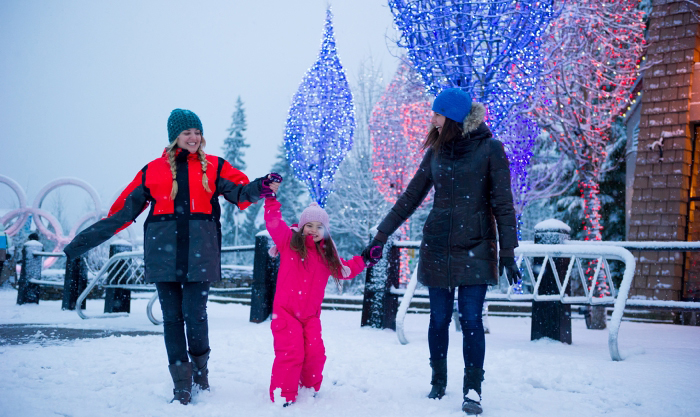 We hope this guide has given you useful information to kick start your Whistler winter vacation planning. Nothing beats the human touch, however, so if you need more local knowledge get in contact with the good folks of Whistler.com Central Reservations in their Whistler Village office.