Public health officials have ordered the closure of Whistler Blackcomb through to April 19, 2021 to prevent community spread of COVID-19 related to non-essential travel.
Like you, we hear the call of adventure, but now is not the time for personal, non-essential travel.  We look forward to welcoming you back to Whistler soon, so keep dreaming and planning for tomorrow. Information and resources for travellers are available at whistler.com/covid.
We all know and understand that this winter is going to be different, but Whistler is open and ready. With gratitude, patience and grace we're looking forward to an incredible winter season that's still got all the components we love, just adjusted.
Whistler Blackcomb is scheduled to open on November 26 and there are quite a few changes for this season, so even if you've been coming for years, you'll want to read this guide so you know what to expect.
Note from the Editor: Things may change quickly this season as Whistler adjusts to new health advisories as they come out. We will aim to update this post as quickly as possible to keep it a relevant and useful planning tool for you this winter.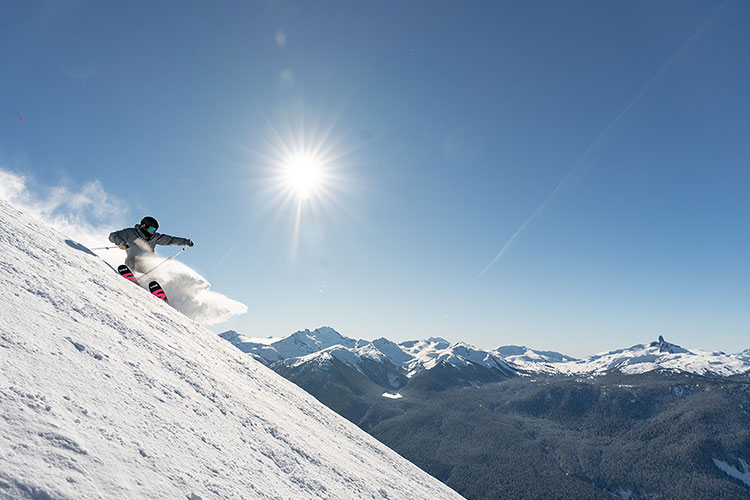 Skiing and Snowboarding – Whistler Blackcomb
The four key things you need to know about Whistler Blackcomb this season are:
You will need a reservation to ski or board
Face coverings are mandatory
Bring snacks and water
Make a table booking for lunch
The reservation system is new for this year and designed to help manage volume on the mountain for safety reasons. Essentially, you need to pre-book your ski day before you arrive.
Pass holders have up to seven (or as many days as they have on their pass if less than seven) Priority Reservation Days and seven Week-Of Reservation Days that they can book in advance. If you don't have a pass and opt for a lift ticket instead, it will be for a specific date and there is no need to make a reservation. We dive into the details in What's New at Whistler Blackcomb for Winter 2020/21.

On-Mountain Dining
Whistler Blackcomb is opening most of its dining locations – wahoo! – however, there are some changes you need to know and prepare for, with three main food and drink-related changes:
Again, wearing masks is mandatory at all Whistler Blackcomb facilities, except when actually eating and drinking
To sit down and eat at one of the on-mountain lodges you need a table booking (more on this below)
Espresso-style beverages (lattes, cappuccinos, etc.) are not available on the mountain this season (you'll notice the espresso bars in the lodges are closed). However, they will be serving hot drinks like drip coffee, hot chocolate and tea.
All alcohol purchases are packaged beer and wine, except for limited alcoholic drink service provided by servers in Christine's and Steeps. The full-service bars are closed this season (Umbrella Bar and Seppo's).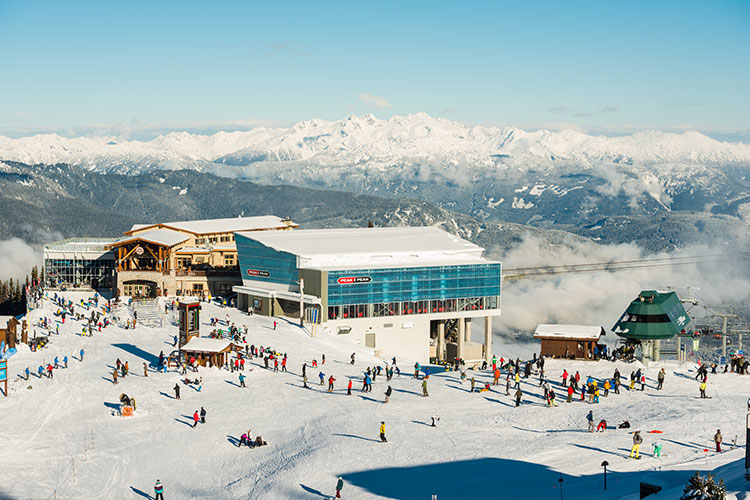 Lodges: Day-Of Bookings
For the three main lodges, The Roundhouse Lodge on Whistler Mountain, and Rendezvous Lodge and Glacier Creek Lodge on Blackcomb Mountain, you must book a table to dine there. Bookings can be made the day-of starting at 7 AM (PST) via Time to Dine on the EpicMix App or online. It's simple, easy and means you know exactly when you can head inside to warm up, use the washroom and tuck into some grub.
This means you can't just rock up when your tummy starts to growl, so be prepared, make a booking, brings snacks, or plan to head down into the Village.
There will be hosts stationed at the doors to check bookings and help guide people to their tables. You'll notice spaced tables and that there's no bar service or self-serve dining like in years past – you stay seated unless you're going to the washroom. There is a maximum of six people per table, limited menus (hot and cold options) and a time limit of 45 minutes. There's a 5- to 10-minute window if you're running late for your booking, as they understand sometimes mountain timing can be a little off (darn that surprise mogul run), but please aim to be on time.
Whistler Blackcomb asks its guests to be considerate of others and leave the table when they've finished eating to make room for other groups trying to find a warm place to have their food. Take this time to use the washroom, get those hands and feet warm and fill that belly!
Bringing Your Own Lunch
If you're bringing your own food and drinks with you (no alcohol), you will be able to eat inside one of the lodges by making a  day-of booking (starting at 7 AM PST) via Time to Dine on the EpicMix App or online. Whistler Blackcomb asks that you be considerate of other people and use the table for eating only, then head back out on the mountain when you're done.
Water bottle filling stations will be available, but no cups. We'd suggest bringing your own, full water bottle / hydration pack for your time on the mountain.
Huts & Grills: Quick Service (Not Bookable)
For mountain huts and grills, it's ready-to-go options only with no indoor dining and minimal outdoor seating, if any. The idea is that you take your food and find a safe, distanced spot on the hill (make sure people above you can see you clearly, no parking up just over a hill).
The menus include hot and cold items that can be consumed easily without having to sit down, like sandwiches, soups and granola bars. The idea is to keep you fueled for mountain fun and to get people in and out as quickly as possible.
Quick Service (Grab n' Go Menu Options)
Whistler Mountain
Chic Pea
Lower Harmony Hut
Ollie's Grilled Cheese Shack
Raven's Nest *still a veggie-friendly destination
Blackcomb Mountain
Crystal Hut (unfortunaltey no waffles, but we have found an alternative waffle location at ecologyst Cafe in Whistler Village)
Horstman Hut
Valley
Garbo's Grill (base of Whistler Mountain)
Wizard Grill (Upper Village)
Dusty's Backside (Creekside)
Starbucks Creekside *serving espresso (Creekside)
Valley Restaurants: Book in Advance
The Garibaldi Lift Co. (GLC), Merlin's and Dusty's will open at 11 AM for service (food required when ordering) and close at 5 PM. They are bookable in advance via the EpicMix app. Note that it's packaged beer and wine only, which changes these places from being après focused to more of a restaurant-style atmosphere.
Fine Dining at Christine's and Steeps: Book in Advance
Fine dining options at Christine's on Blackcomb Mountain and Steeps on Whistler Mountain, will be open with limited capacity but the same amazing food choices. Book these locations in advance via the EpicMixx app or by calling ahead.
Fresh Tracks
Unfortunately, there will be no Fresh Tracks this season, boo; however, there are some great suggestions in 8 Grab & Go Dining Favourites From Whistler's Main Street and Insider's Guide: Coffee Shops and Cafes in Whistler. Hundo-P The Smoothie Bar and Naked Sprout also have quick, filling, healthy menu options.
Our Advice
Have a good breakfast to set you up for the day. Consider bringing your own drinks (non-alcoholic) and snacks, and head down into Whistler Village for more food options for lunch and après.
Using the Facilities: Washrooms
When Mother Nature calls, don't leave it until you're desperate as there could be a wait. Washrooms will be available at all dining locations, with a separate line to that of the dining area. They will also be adding additional washroom facilities at the Roundhouse,  mid-station on Whistler and Rendezvous on Blackcomb.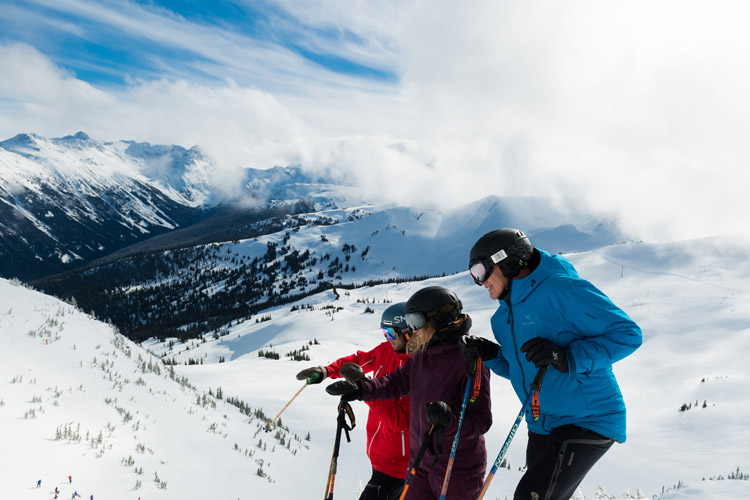 Ski and Snowboard School
Ski and snowboard school is available for adults and children aged seven and up but in a reduced capacity. Groups are limited to six people and there will be online self-screening in place.
Whistler Blackcomb Equipment Rentals
You can book Epic Mountain Rentals online and choose to pick them up in-store at the location closest to you (you can pick them up from noon onwards the day before – remember to wear your mask) or have them delivered (you need to book a full day in advance for this option).
One change is that Whistler Blackcomb is no longer doing clothing rentals, for pants, jackets, gloves, helmets and goggles, but they are working with Kit Lender to make sure people can get the gear they need.
Terrain Park News
The Whistler Terrain Park will not open this season, but the larger, Blackcomb Terrain Park will be up and running as per usual.
Magic Castle
Magic Castle, Tree Fort and Adventure Zone (on-mountain kids and family play areas) are all closed this season.
Sightseeing on Whistler Blackcomb
For non-skiers, limited capacity sightseeing will be available this winter season.
Whistler Blackcomb Fire & Ice Show
The Fire & Ice Shows, which usually happen every Sunday, will not happen this winter. If you are looking for something to do with the family in the evenings, we suggest Vallea Lumina as a great alternative, read more in Magic in the Mountains: Winter Vallea Lumina.
Whistler Heli-Skiing
Whistler Heli-Skiing is operating but only for privates and group privates this winter (your bubble).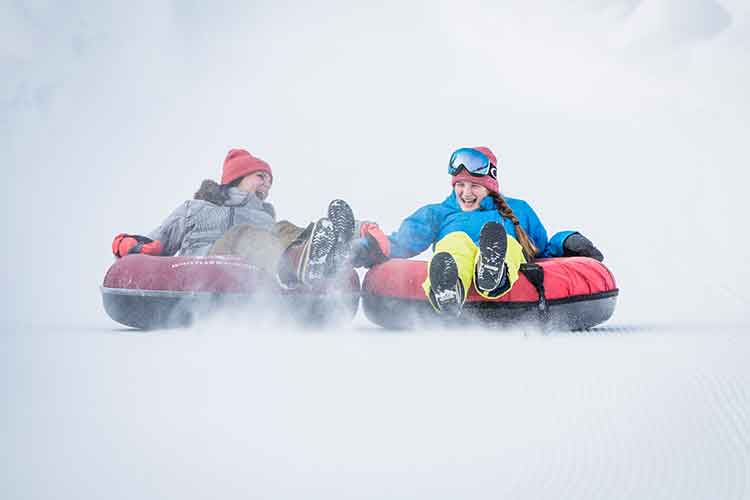 bubly Tube Park
The family-favourite bubly tube park opens on December 12 with limited capacity. Tickets can only be purchased at the park, day-of. It's open every day (weather permitting) from 11 AM – 6 PM weekdays and 10 AM – 6 PM at the weekend. The last day of operations will be April 18, 2021.
Key Dates to Know for This Season
November 6, 2020: When you can start to book your Priority Reservation Days for Whistler Blackcomb
November 26, 2020: Whistler Blackcomb opens for the ski and snowboard season
December 1, 2020: Deadline for the best deals on accommodation, and ski and stay packages for the 2020/21 winter season
December 7, 2020: Deadline for booking your Priority Reservation Days (you must buy your pass first)
December 8, 2020: When you can buy lift tickets if you don't have a pass
Take a look at our dedicated COVID-19 page and our Doors Open Directory, which highlights businesses that are open and safety protocols they have in place, so you know what to expect when you head up here. We're excited about the start of the winter season and hope you are too. If you're coming to Whistler this winter, please bring your face mask, your travel manners and as always, your sense of adventure.