The Longest Race of its Kind in the World
You're stood at the top of The Saddle on Whistler Mountain, a groomed, black diamond run. You're wearing a race bib, which flaps in the high, alpine wind. The racer in front of you disappears over the lip, which means you've got 60 seconds before it's you navigating the gates on this infamous, thigh-burning course.
Your heart's racing. Why did you sign up? Have you done enough squats? Can anyone do enough squats for this race? You look out over the Coast Mountains, their grandeur is breathtaking, a view that never gets old.
You feel alive, adrenaline coursing through your veins. You're not doing this for the speed clock, but for you, for fun, to get just a taste of what the Olympians must feel when they charge down a course. For anywhere between five minutes and half an hour, this course is all you have to focus on. And before you know it, to a jangle of cowbells and whoops from the supporters, you take your spot at the starting line.
Remember to enjoy the journey, 'cos it's a long one.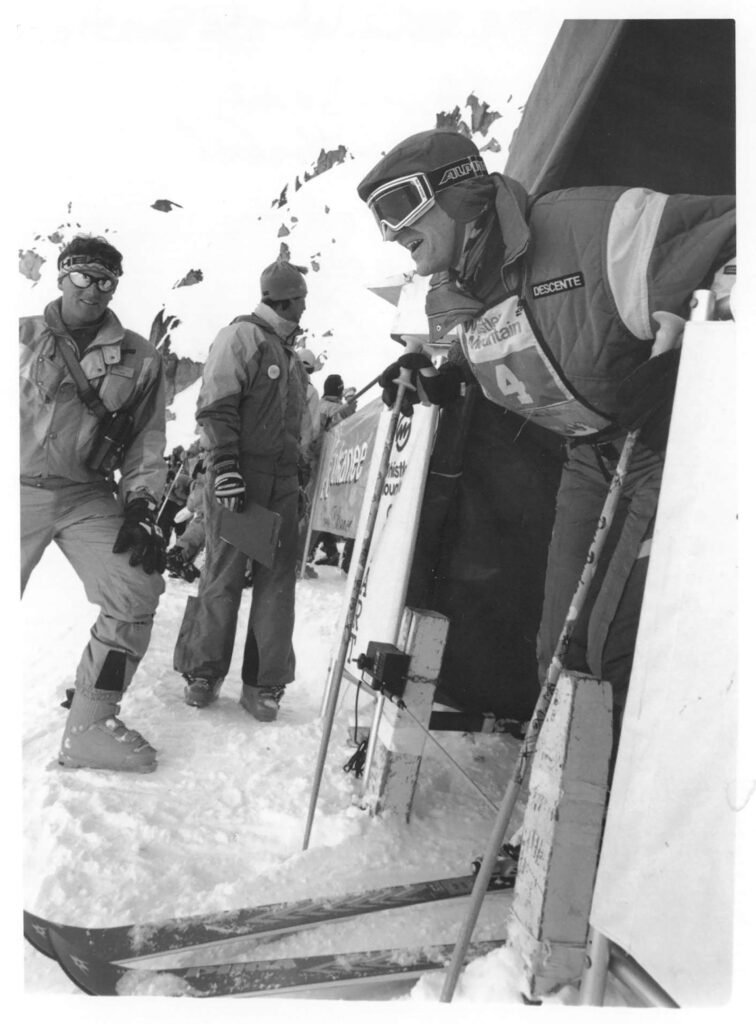 Peak to Valley Race Presented by Jackson Triggs
The Peak to Valley Race is the longest race of its kind in the world, with 5.6 kilometres (1,400 metres) of vertical that involves steeps, flats, rollers and close to 180 gates, with racers reaching speeds of 70 kilometres per hour. To put this in perspective, a World Cup Giant Slalom course can be no more than 450 vertical metres, with a maximum of 70 gates.
All that being said, this a doable challenge for intermediate and advanced skiers looking to push their boundaries a bit. Skiers have come from all over the globe to complete the longest course on the globe, just getting to the finish line is an achievement in itself.
It might come as no surprise that a race such as this was the brainchild of ski legend Dave Murray (who sadly passed away in 1990), one of the Crazy Canucks who later went on to become the Director of Skiing for Whistler Mountain. Along with showing off Whistler's incredible amount of vert, the race was designed to bring ski racing to the masses. Murray's vision has definitely been vindicated given that the race is in its 37th year and typically sells out each event.
"I first started competing in the Peak to Valley race in 1999," says long time Whistler resident, Marke Crawford. "It is a race like no other, there's nowhere else in the world you can compete in a GS-type race with 180 gates over 5.6 kilometres – I've done it 15 times.

I can still remember that time standing at the start feeling my throat in my stomach and just saying to myself – just make those first three gates. My friend yelled out – just have fun!

And man, that was the most fun one can have with their clothes on!!! I was hooked, so I started to put together teams from that point onwards. So far, the teams have won three bronze and three silver medals for our age group, I'm still striving for a gold!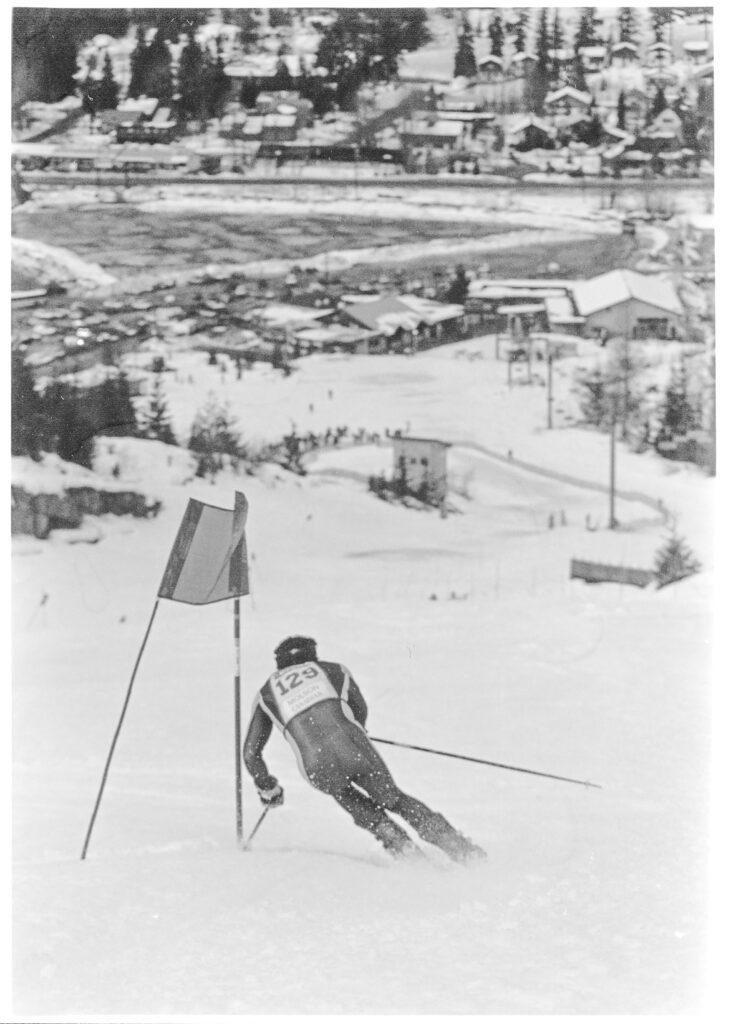 The course weaves its way from Little Whistler Peak, which sits at 2,115 metres (6,939 feet) of elevation to its finish on the valley floor in Creekside, handily within wobbling distance to Dusty's Bar & Grill. Michelle Dehne, a colleague of mine and an ex-ski racer who originally hails from Ontario, has done the race twice.
"Your quads are screaming. You may want to barf. But the beer tastes so good when you're done and the sense of camaraderie is just incredible. It's such an achievement to tackle this race. It's also an honour to be part of a tradition that's so connected to Whistler's history and to some of its biggest, ski legends. You're part of that history too."
When asked for some advice for racers she said:
"If you're one of the Saturday racers don't get tempted to go too hard in Dusty's on the Friday night. Not only are you going to feel it on race day, but you need to save some energy for the gala event. Skiers party hard."
You've been warned.
Holding the Top Spot
The top time for the Peak to Valley Race has been held by the same person for over two decades. Chris Kent, who made Canada's national team in the 80s, fired down the course with a time of 4:52.03 in 2000, at that time he would have been in his late 30s. The only other person to come close to this time was Olympian, Jack Crawford in 2020 with a time of 4:53.62.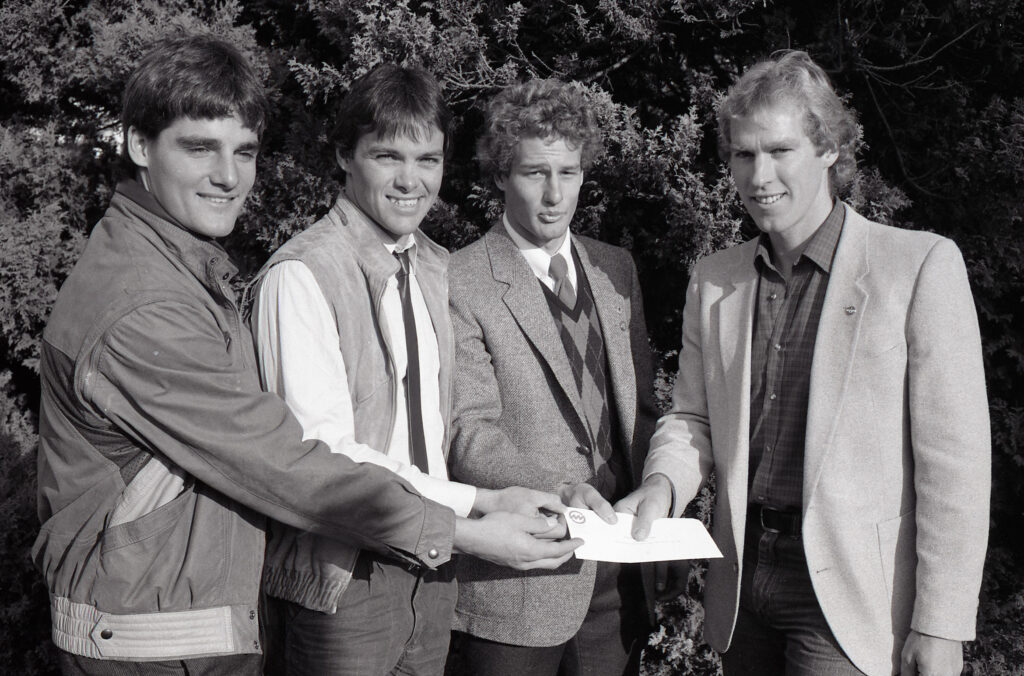 The slowest time recorded so far is 29:03.50, which is held by Rita Pollack. In a feature story published in the Pique Newsmagazine (Whistler's local newspaper) back in 2004 (when the race celebrated 20 years), writer G.D. Maxwell goes into some of the details of Rita's run.
"…rumour has it (Rita) stopped part way down the course for a few revitalizing swallows of some mysterious liquid sloshing around in a wineskin."
But whether you're in the electrolyte or wineskin camp, the Peak to Valley Race is a destination race that's a doable challenge. The teams are in categories based on the cumulative age of the team, with the youngsters typically getting the ruts on the second day.
INSIDER TIP:
The
Pique feature
mentions Chris Kent's tactics for the race, so if you're looking for some pointers take a read.
Rob Boyd Day
This year's Peak to Valley Race actually coincides with the story of another ski legend, Rob Boyd. Boyd claimed Canada's first World Cup Downhill gold on Canadian soil back on February 25, 1989.
To celebrate this anniversary, he's taking to the slopes and racing in the Peak to Valley Race.
"I hadn't actually realized the race was on the same day, that was just happenstance," said Boyd, who now works in real estate with his wife for Engel and Vöklers. "Our race name is Boyd Team, the same name we chose for our real estate business."
Boyd has participated in the Peak to Valley Race five times, but has also been a forerunner and even set a section of the course one year. This is definitely a race that is embedded in Whistler culture, a rite of passage for ski racers from far and wide.
"It's one of those races where everyone can commiserate at the end," laughs Rob. "You talk about the tough turns and the deep ruts, about the perils of overtaking people or being overtaken yourself."
I'm pretty sure no one has ever overtaken Boyd, who says it's fun to strategize as a team.
"You need to pace yourself. Know when you can hold back a bit so you've got the stamina for the whole course. You can make up some good time in the lower section, just giv'er. But where you really let it go is at the gala event at the Roundhouse. Everyone's sharing stories and maybe you get to stand on the stage with your team, which is really fun."
Whistler Insider, Feet Banks caught up with Boyd back in 2016, when he celebrated his 50th birthday. Read more about him in Whistler Reflections with Ski Legend Rob Boyd.
Have You got the Thighs?
"The Peak to Creek is definitely aimed at intermediate skiers and above. The mix of participants is one of the best parts of the race," explains Mitch Collins, Events Supervisor ar Whistler Blackcomb. "Teams are built with long-term, die-hard locals who have been racing for decades to first-timers, and even the odd Olympian!"
If this has ignited your competitive spirit, you could sign up for the Kokanee Valley Race Series. There's a series event on Thursday, February 16 which would make for great training. Whistler Blackcomb is also holding a Peak to Valley Warm-Up on February 18.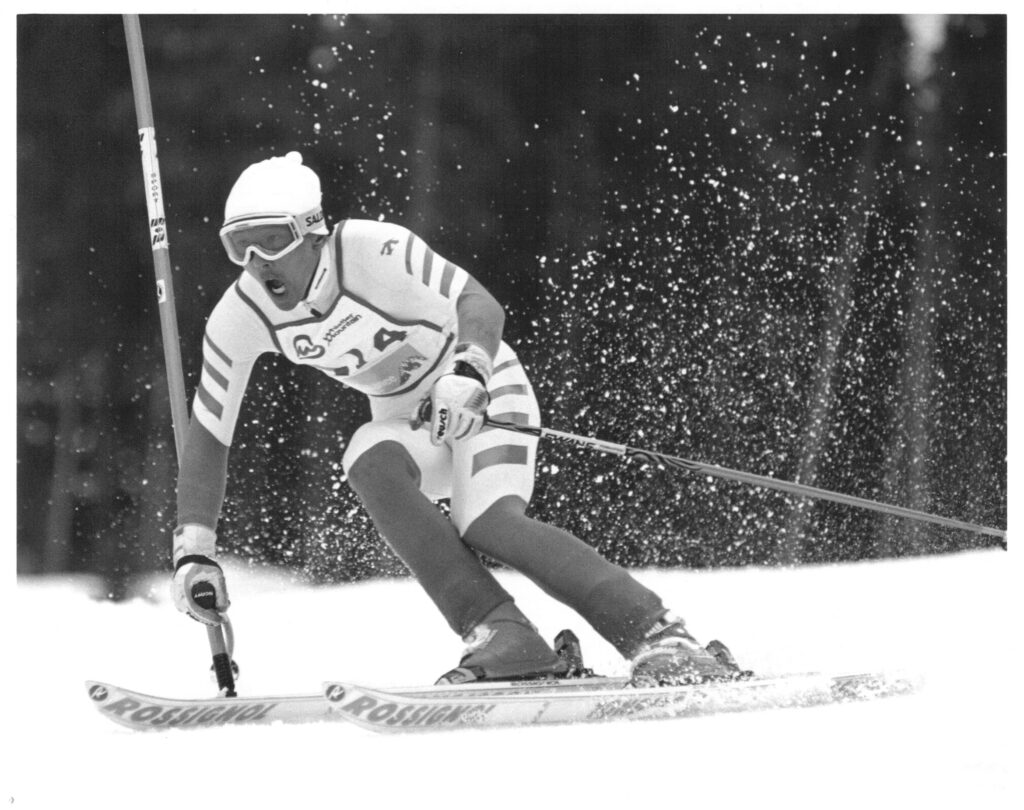 Legendary Awards Gala
The race might be the maker of legends, but the after-race party is also pretty legendary. Why? Because skiers know how to party.
Held at the Roundhouse Lodge on Whistler Mountain there are awards handed out for 1st, 2nd, and 3rd place in six different age classes, as well fastest overall male / female for both days. The Stefan Ples trophy goes to the fastest team overall and The Dave Murray trophy goes to the fastest, oldest team.
This year, they have the first The Owen Owens and Grace Oaks Inspirational Racers Award, which will go to the most experienced (oldest) male and female racers.
"There will be over 50 draw prizes from Atomic Skis, Helly Hansen, Oakley and more," says Collins. "We are also fortunate to partner with Jackson Triggs Winery who have generously provided a grand prize for the evening. Along with the gala dinner and prizes there will be live music for racers to dance the night away if their thighs can take it!"
Erik Van Meerburgen's Big Love will be providing the live music and Whistler Blackcomb's Executive Chef Wolfgang Sterr is on the dinner. And of course, the Jackson Triggs will be flowing.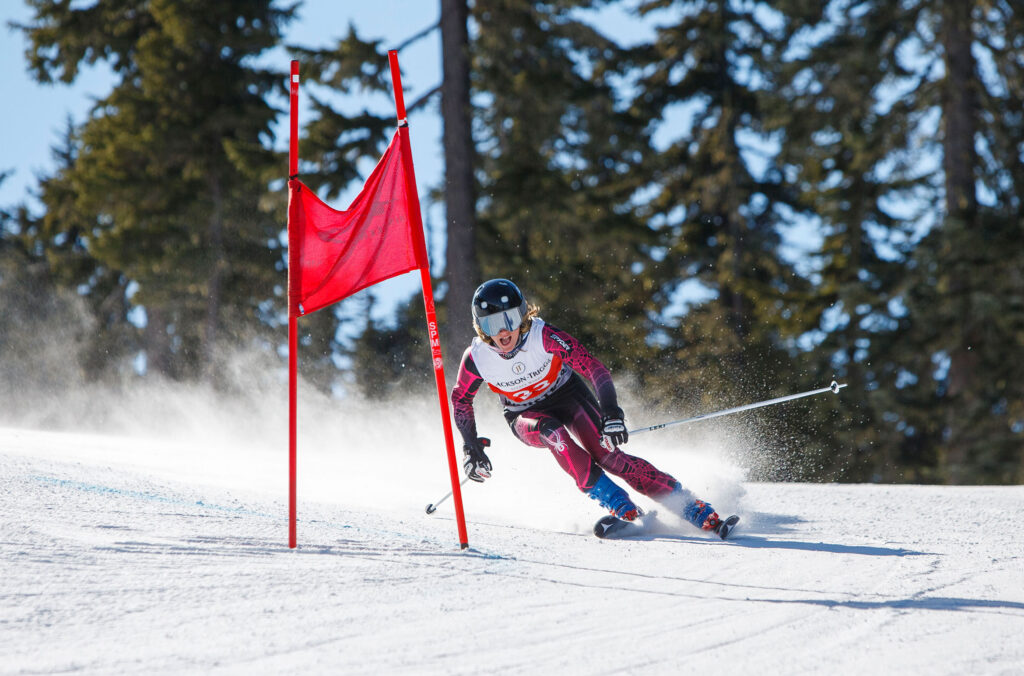 Peak to Valley Race: Quick Facts
The Peak to Valley Race is happening on February 24 and 25, 2023 and registration is open until February 17, or until it sells out (which happens, so register now!)
You have to be 19 years or over
Teams are made up of four people and they have to be co-ed (a mix of male and female)
Two racers tackle the course on Friday and the other two on Saturday. Your times are added together for a combined, team-time, with the shortest time being the winner. It's good to note that the course is reset overnight, so the next day isn't the exact, same course as the day before.
The course can sometimes be changed due to weather conditions and this communication will come to your Team Captain from Whistler Blackcomb's events team
It's $660 CAD per team, which includes four racer entries, four limited-edition t-shirts and four tickets to the gala event (you can purchase more gala tickets for supporters). Note that the race entry doesn't include a lift pass, but athletes can purchase one for $75 per day.
"Probably the strangest experience I have had is when I hooked a fellow competitor's goggles in the toe piece of my downhill ski while going around a gate in Upper Franz," reminisces Marke. "His goggles had come off his helmet when he tried to clear them. It took two gates before the strap broke and the goggles came off my ski. The Peak to Valley race is definitely an experience of a lifetime and the team event makes for great friendships and incredible memories."
For the best rates on accommodation for the late spring and summer, plan a longer stay or consider staying midweek. Stay 3+ nights to receive a free $100 Activity Voucher and up to 25% off. It's easy to book your vacation when you have the freedom of Whistler.com's Flexible Cancellation options backed by their Book With Confidence program.