From November 29 to December 3, Whistler sees an influx of movie lovers, film industry big wigs and up-and-coming talent. High heels and leather loafers mingle with ski boots, as the mountains ready the red carpet for Canada's coolest film fest, Whistler Film Festival (WFF23).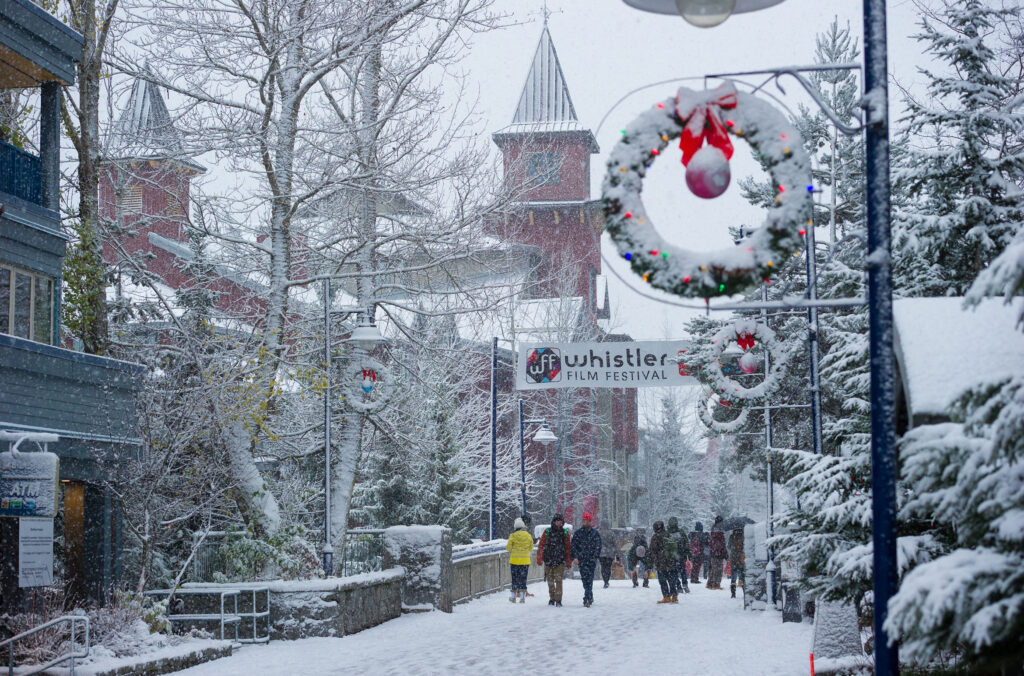 In total, the Whistler Film Festival will showcase 35 features and 6 short programs, including award-season contenders, breakthrough Canadian features, heart-stopping extreme adventure films, and previously unseen projects from around the globe. Take a look at the full film lineup and grab some tickets!
The intimate setting also allows movie buffs to peer behind the camera with events like the live Power Pitch competition giving you insight into how the industry works. Yet another reason to come to the coolest film festival in Canada this winter.
INSIDER TIP: If you're unable to make it in person, WFF23 also features online programming for audiences across Canada from December 4 to 17, streaming a selection of the festival's best titles.
5 Must-Sees at Whistler Film Festival 2023
The 2023 lineup includes the star power of Natalie Portman, Julianne Moore, Bradley Cooper, Carey Mulligan and Jeffrey Wright, to name a few.
"If you want to see this year's likely major award winners, then Whistler is the place to be," says Paul Gratton, Director of Programming at WFF. "Add in six World premieres, including two 'sneak previews' of major upcoming films, and this year's Whistler Film Festival is poised to contend for the crown as the best WFF ever."
MAESTRO
The festival kicks off with a love story on Wednesday, November 29 with the Canadian Premiere of MAESTRO, directed by Bradley Cooper. The film chronicles the lifelong relationship of enigmatic conductor-composer Leonard Bernstein (Bradley Cooper) and Felicia Montealegre Cohn Bernstein (Carey Mulligan).
Rolling Stone has called the film a marvel and one of the finest films of the year, and the BBC raved about Mulligan's performance calling it a tour de force. This is definitely one to watch!
500 DAYS IN THE WILD
WFF2023 has the world premiere of the Paramount+ Original documentary
500 DAYS IN THE WILD
by indie filmmaker Dianne Whelan, produced by Betsy Carson. On this six-year journey, Whelan became the first person to travel 24,000 kilometres over land and water on the Trans Canada Trail – the longest trail in the world.
"We are thrilled to host the world premiere of this inspiring film by a true talent and epic storyteller," says Angela Heck, WFF Executive Director. "The poignancy and adventure captured in 500 DAYS IN THE WILD and Dianne's story of resilience and discovery is a perfect fit for our audiences and reflects our commitment to sharing strong, inclusive stories on screen."
The film weaves together adventure, personal reflections, stunning wildlife and landscapes to document a unique ecological pilgrimage and journey toward reconciliation. Just as Dianne was profoundly changed by her experience, 500 DAYS IN THE WILD gives audiences of all ages and walks of life a window into their own possibilities in life.
In addition to the screenings (on December 1 and 2), Whelan takes to the stage in the Women in Focus Keynote Luncheon on Friday, December 2 as part of WFF's Signature Series, talking about the trials and tribulations she faced to produce her film.
AMERICAN FICTION
A smart, comedic satire, AMERICAN FICTION is Cord Jefferson's directorial debut, which confronts our culture's obsession with reducing people to outrageous stereotypes. Variety said the film was so funny it could be this year's best picture winner at the Oscars.
Jeffrey Wright stars as Monk, a frustrated novelist who is fed up with the establishment profiting from "Black" entertainment that relies on tired and offensive tropes. To prove his point, Monk uses a pen name to write an outlandish "Black" book of his own, a book that propels him to the heart of the hypocrisy he claims to disdain.
Two of the most anticipated and successful films of the year are also coming to Whistler, with screenings of BARBIE (directed by Greta Gerwig and starring Margot Robbie and Ryan Gosling) and OPPENHEIMER (directed by Christopher Nolan and starring Cillian Murphy and Florence Pugh).
MAY DECEMBER
Like a bit of scandal? Director Todd Haynes' MAY DECEMBER, starring Natalie Portman and Julianne Moore, will make its English Canadian Festival Premiere at WFF. Twenty years after their notorious tabloid romance gripped the nation, a married couple buckles under the pressure when an actress arrives to do research for a film about their past in this dark comedy-drama.
The film plays on society's obsession with scandal, and how we never truly know what motivates others to do the things they do. This is a film that deserves some personal unpacking.
THE BURNING SEASON
One of the entries for the Borsos Competition, THE BURNING SEASON begins at the end with, you guessed it, things burning to the ground. Viewers are taken back in time over seven sexy summers, each one revealing more about the mysterious connection between JB and Alena, who are having a secret affair.
The film challenges our preconceived ideas about the characters with a surprise revelation that turns what we know on its head. If you like an intense, sexy, tragic love story this one's for you.
Local Films and Mountain Culture Films
Check out some local talent by getting tickets to the BC Student Shorts, and make that hyper-local by attending the Sea to Sky Showcase.  The showcase is about discovering great stories from Horseshoe Bay through Squamish and Whistler to the Pemberton Valley inclusive of Birken and D'Arcy. Up to 10 finalists from the Sea to Sky region will be selected to show a 3-10 minute short film on Wednesday, November 8th, at Buffalo Bills.
On the night, eventgoers get to pick their favourite film for the Audience Award (prize of $500) and the winner, selected by judges, will be revealed ($2,000 cash prize).
It's also worth noting that the festival celebrates its mountain locale by bringing films that focus on mountain culture, like Mountain Culture Shorts 1 and Mountain Culture Shorts 2. There are also the Weak Layers and Human X film screenings that fall into this category.
Five British Columbia Titles
Support BC's creators by buying tickets to one of their films. There are five features from British Columbia-based directors at this year's festival, including three world premieres. Three of these five will be considered for the prestigious Borsos Competition for Best Canadian Feature, which comes with a $35,000 prize package.
ADAPTATION 2023 | Canada | Western Canada Premiere | Directed by Jake Thomas
ALTONA 2023 | Canada | World Premiere | Directed by The Affolter Brothers 

WITH LOVE AND A MAJOR ORGAN 2023 | Canada | British Columbia Premiere | Directed by Kim Albright (*WFF19 Screenwriters Lab project)
ZOE.MP4 2023 | Canada | World Premiere | Directed by Jeremy Lutter

SHE TALKS TO STRANGERS 2023 | Canada | World Premiere | Directed by Bruce Sweeney
With over 35 feature films plus six short programs, there's a lot to choose from. View the full run down on the festival website.
What To Do When You're Not Watching a Movie
Stretch Those Legs
After sitting still, enraptured in the latest release you might want to stretch it out on a winter walk. Depending on snowfall, you could try one of the routes suggested in our Walking in Whistler's Winter Wonderland blog, opt for a snowshoe or cross-country ski, ice skate in Olympic Plaza, or of course get a few ski laps on Whistler Blackcomb.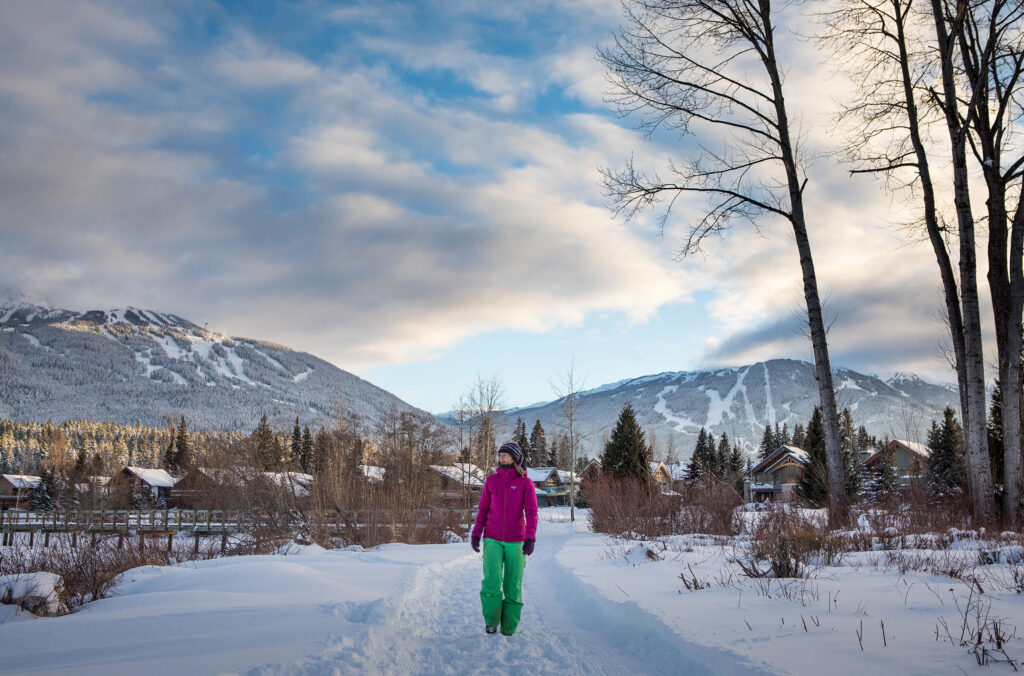 More Culture
Visit the Audain Art Museum and take in their permanent collection featuring works from BC artists like Emily Carr, as well as their current exhibition, Karin Bubaš: Garden of Shadows, featuring enigmatic photographs of women in remote outdoor settings, alongside her innovative photographic sculptures that layer images to depict West Coast forests and floral arrangements. There's even a photograph that evokes the eeriness of an Alfred Hitchcock film.
A trip to the Squamish Lil'wat Cultural Centre is always something we suggest. Connecting with the Cultural Ambassadors as they guide you through the centre is a great way to learn about the richness of First Nation's traditions and culture in the Sea to Sky.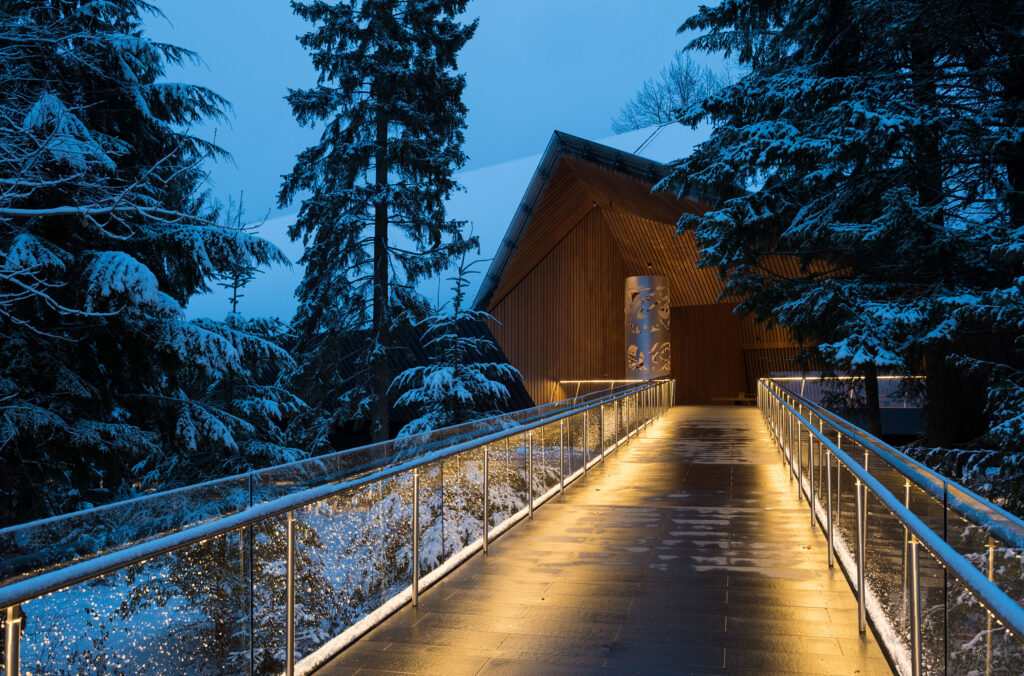 Relax
Another way to enjoy the mountains is to relax in them. Head to the Scandinave Spa for a few rounds of hydrotherapy and a soothing massage. Before the gala event, you could treat yourself to a body wrap, facial, manicure, or pedicure at one of Whistler's spas.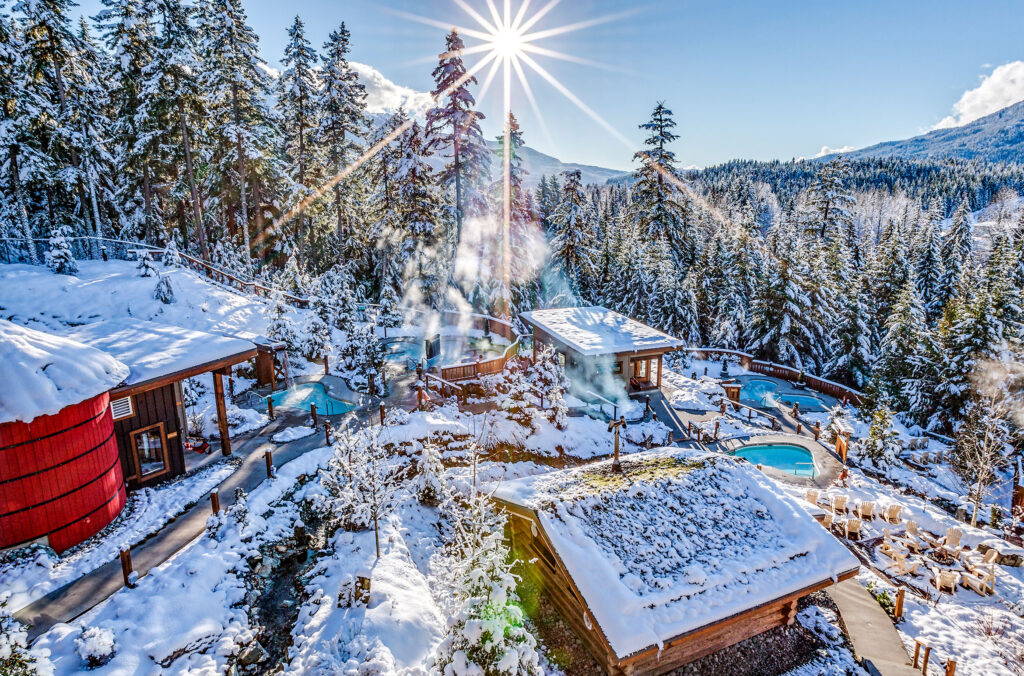 Dine
If you're heading out for dinner pre- or -post-movie, then you have a lot of options near the Whistler Conference Centre, the hub of the festival. For fine dining, there's Araxi, Bearfoot Bistro, Il Cammineto and the new, Wild Blue. And for a more relaxed vibe, there's Mexican Corner, Sushi Village, Stonesedge Kitchen and Earls.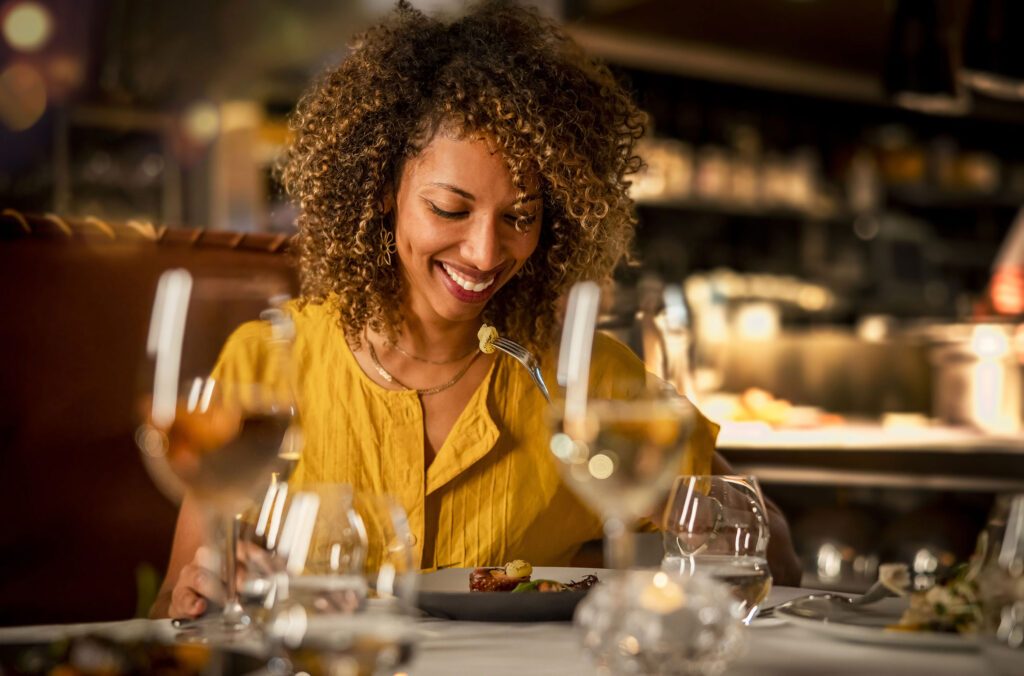 If you're looking for coffee or lunch in-between flicks then head to Gone Bakery or Moguls Coffee House. And for a casual place to compare movie notes, do that over a beer or glass of wine at The Beacon or Dubh Linn Gate. Take a look at our dining guide for more ideas.
INSIDER TIP:
Looking to balance the mountains and the movies? Make sure you
book accommodation
close to the Whistler Conference Centre in the heart of Whistler Village as that's where the action is taking place. Crystal Lodge, Sundial, Pan Pacific and Listel are all within a two-minute stroll.
Book 3+ Nights and Receive a free $100 CAD Whistler Shopping Voucher
WFF23 passes are on sale now. Rooms start at $195 CAD per night during the Whistler Film Festival, and if you stay for three or more you receive a free $100 shopping voucher when you book with Whistler.com.