For over twenty years, musical duo, The Hairfarmers have been helping people from all over the world to celebrate in Whistler. They're there at the end of your epic pow day, when you rip it in the bike park, get some good thigh burn on a lengthy hike, breathe deeply after a dip in our glacially-fed lakes and everything in between. They literally embody Whistler's celebratory spirit.
They were also there when all that stopped.
Back in March, when Canada went into lockdown, The Hairfarmers helped raise two hundred thousand dollars for food banks throughout the Sea to Sky. They played a series of virtual après sessions from a garage in Whistler, with people tuning in from all over the world for their uplifting mountain sounds.
And Whistler wanted to say thank you. But, being Whistler, thank you meant a day of epic mountain adventures. The teams at Canadian Wilderness Adventures, Blackcomb Helicopters, Forged Axe Throwing and Coast Mountain Brewing put together a wild itinerary and the Insider got to tag along with camera in hand.
Here's how we said thank you to two local legends who embody Whistler's celebratory community spirit, keeping it burning when times got tough.
Meet The Hairfarmers
In between adventures, I spent time with Greg Reamsbottom (Grateful Greg) and Doug Craig (Guitar Doug) and I have to say it was hilarious, illuminating and a real honour. We talked Braveheart, pixie dust and then a whisky jack landed on Doug's hand.
They really are Whistler rock stars, with stories about naked conga lines at sushi restaurants, getting 60 laps of fresh powder fun while heli-skiing with the Austrian ski team and being asked for a business card from a British filmmaker who flew them to London to play Oasis. Legends.
What's the history of The Hairfarmers?
Greg – Doug and I met at a wedding up at Birkenhead Lake. He'd been hired with another guy he played with back then to play a wedding and I knew the bride and groom from a different circle of people. I was still living in Vancouver at the time. They didn't tell either of us that they'd hired another band and that can go either way, but we ended up jamming until six in the morning. It was a hilarious wedding and a really good time.
It so happens that I met a girl from Whistler a year later, moved up here, and started sitting in a few of the gigs Doug was playing around town. Before you know it the bar manager was like, hey, how much would it be for both of you to play? And it went from there.
Was it love at first jam?
Doug – He's my brother, he's got my back always. I love him. He taught me how to love myself and he's a really, really important person in my life. I'm really lucky.
Greg – You know when you hear what you've been looking for. I heard a guy have a level of attack on acoustic guitar that's not usually humanly possible. And he heard somebody sing a harmony he'd been waiting to hear for forever, so it was a no brainer, we were kinda like, wait a second – there's the guy.
You know when you know. Then it's a question of can you work together because you can obviously play together. Twenty years down the road, we must have done something right 'cause we're still kicking butt and having fun. We travel the world together, sometimes we're stuck together like glue for days on end and the fact we have straight noses and no black eyes means we're doing it right.
Where does the name The Hairfarmers come from?
Greg – West Coast slang for hippies! Look at those hair farmers, they've got so much hair! We were on the road somewhere, might have been Vancouver Island, and we'd sleep in our trucks. Doug had this old Norwegian ski sweater and it had hair stuck to it everywhere. How do you get so much hair stuck to something? You must be a hair farmer. It was a light bulb moment.
Why music?
Doug – My grandmother was a child prodigy concert violinist. While I was in my mother's womb, I was exposed to a lot of timbre and when I was born I was surrounded by musicians. My grandfather had a concert grand piano in his living room and we had the same Russian piano teacher.
My grandmother was a fan of the piano, but she had no idea my grandfather could play, he was taking lessons secretly on his lunch breaks in downtown Montreal. Our teacher called him one day and said, there's a Steinway & Sons piano someone's giving away. He had a crane remove the front window of their house so they could get it in. My grandmother came back from golf and he was playing a Rachmaninoff concerto much to her surprise. It was pretty inspiring. He was my first introduction to real music, with scales and reading music.
When I got to high school I pretty much drove everyone insane by breaking into the music room and having my own little rock concerts. I'm a musical omnivore, I listen to every type of music you could possibly think of. That's my story.
Greg – Both my parents could not sing their way out of a wet paper bag, but they loved music. They had this killer good, old school 70s stereo system and a really good record collection, a lot of Johnny Mathis and Elvis and stuff like that from my dad, and my mum was really into R&B, a lot of Teddy Pendergrass, Al Green, Marvin Gaye, The Supremes, Donna Summer and Prince.
My grandmother was the piano player and vocalist at her Baptist Church and I had to go to Sunday school every week and watch grandma play the piano. She'd be the one leading the hymns. Then in elementary school, I was in the choir, it wasn't dorky back then, just something you did, it was cool. I just loved music, but I never had any formal training. I took the guitar in eighth grade, stuff like that, but it was just always a passion. I would sing along to the radio, the CD player, at parties at high school.
Everyone's got the Doobie Brother's cranked and I'd sing along and people would say, hey, you sound like the record. It kept happening, and eventually when we were old enough to sneak into bars, there was a band on stage and my brother goes up to the lead singer, unbeknownst to me, and tells him I can sing a better Led Zeppelin. The guy called my brother's bluff and a wireless mic was stuck in my face and I went for it. The place went nuts. It went from there.
There are plenty of people who can play what we play; there are plenty of people who are probably technically better musicians. But then there's that other thing that happens when certain people come together, whether it's for sports or computer programming, it's probably the same for any industry if that little bit of extra pixie dust is in there, it works. Pixie dust can be anywhere, but there's extra pixie dust in Whistler.
Music and the Whistler Community
What is it about music that brings people together?
Doug – It transcends barriers. It transcends economic barriers, language barriers, race barriers. Music has the ability to heal; it's a very positive force. The way the message gets through is important. So, if you have harmony, balance and form, the way a song is put together, it's really inviting. It resonates a higher frequency in people because we're here to evolve, to love, to move away from fear and anger, and music is the movement of that energy.
View this post on Instagram
Greg – It brings people to a memory too, just like certain smells from your childhood. You'll hear a certain song and it'll take you right back to a time and place, and you'll remember who you were with and what you were doing. People play songs for a million different reasons, sometimes it's a sad memory, sometimes it's a super happy one. A good song can also be a proper time warp.
What's it been like being part of Whistler's après scene for twenty years? What's changed?
Greg – I moved up here in 1999 and Doug was here in 86/87. Back in the day, minors were not allowed in most of the bars. It was pretty rowdy. There was a lot more nudity. No one had phones with cameras, so anything you did in the bar was forgotten about three hours later when they'd had enough beer.
These days, you can't get away with that without it being up on social media within two minutes. It's morphed with the addition of minors being allowed in until 10 PM, but it's cool. There are seven-year-olds in ski boots dancing and it's so cool. Change is incremental and seems natural. The heart and soul of Whistler is still here. 
View this post on Instagram
What is the heart and soul of Whistler?
Greg – A bunch of likeminded people in a beautiful place. It's not an easy place to live. It's expensive, there are other challenges, but it's one of those rare spots on the planet where you can walk out your back door and into some of the most beautiful terrain in the world. It's hard to argue with that.
What do you love about living in the mountains? What about Whistler means home?
Doug – Fresh air, a real sense of community, my kids were made here. There's a sense of magnanimity. There's a real magnetism in the mountains, they have an energy. When you get up and you have those smells and that fresh air and you really feel energized and you look down the valley and it really renews everything.
When you're not on stage, what are you up to?
Greg – In the winter, we're looking for powder days. On rainy days, you know, you've got to do laundry, play with your cat. Any day you can get outside – hiking, biking, motorcycling. We have hobbies like working on motorcycles and cars. We're normal people, nothing overly crazy.
View this post on Instagram
Celebrating in Whistler
What's it like to be part of people's celebrations?
Greg – If your whole job is to be around happy people and you try to make them happier, it's a pretty darn good job. Our audiences show up already in a great mood, even a bad day skiing is better than a good day at the office; they're already having a good time.
Our job is to throw gas on the fire and see if we can get them to go faster. For us, it's addictive in a lot of ways because that energy is already in the room and then you get up there and add to it, you put it out there and it comes back to you.
How do you choose the music to get people's ski boots knocking?
Greg – Doug's the master of picking the right song for the right moment. He's really good at reading the audience. If we hear a whole bunch of people from the UK or from Sweden or New York, we'll start peppering in songs that are in their wheelhouse. Reading the audience is an art form and it comes with experience, but in Whistler, it's like shooting fish in a barrel, everyone's ready to party.
Using that fishing analogy, if you put out a mosquito and they don't bite you try a leech. Fortunate for us is that we've been playing for 20 years and we've got thousands of songs we can play together. So, if there's a bunch of people from Texas we can play country for three hours if we want to. If there's a bunch of people from Jamaica we could play reggae, although playing reggae in front of Jamaican's is dangerous, they usually get up and show you how to do it properly. We actually went to Jamaica with Appleton Rum, we're so lucky we get these opportunities.
Last year we went to Italy for a wedding in Tuscany and it was insane. We said, well, we're here now, let's stay and we went to Florence, got a villa in the Chianti region. We just had the best time, it was really cool.
View this post on Instagram
How do you learn to read a room?
Doug – It's a real subtle energy you pick up from the audience. There are a lot of visual cues. There's also a dynamic to the volume when we walk into a room. Sometimes it's crackling and really loud, other times it can be sombre or quiet if something heavy just happened like an accident on the mountain or could be some horrible thing that happened in the world, you pick up on it and play happy songs, pull people up.
If they're really partying, like there's a bunch of gold medals being handed out and they're really stoked, then we'll pull out the nitrous bottle and we'll light the whole place on fire and burn it to the ground. Push all the lemmings off the ledge, and then you're left with, well, the cast of Braveheart and it's freedom time.
COVID Times
Where would you be right now if COVID hadn't happened?
Greg – Scotland, Burning Man, Mexico, doing weddings, corporate events, private parties – we were booked solid through the summer until mid-October and then it all got cut off. We're doing about ten per cent of what we normally do, our business will be the last one to go back to normal.
What's it like playing music during COVID?
Doug – It's given people a chance to connect with what's important to them and connect with their priorities. So, when it comes down to music, we've just been playing what makes us feel good and then people feel that energy.
We always throw out the request lines and it's nice to see what people are requesting. But for the most part, for these virtual shows and fundraisers, they've not been heavy at all, just been really lighthearted and happy. There's a lot of beautiful songs we can play, normally we wouldn't put them into one set, but now they have a nice flow to them.
Have you noticed a change in the Whistler community since COVID?
Doug – Within our community people are always reaching out and seeing how we're doing. It's just nice when people in your circles, that you wouldn't expect to call, reach out, just to check-in.
Greg – People have slowed down a bit. We know some pretty high-octane, high roller, business type guys who are in the middle of a conversation with you and their brains are already onto the next thing. Now they're like so, I spent half an hour with my cat today, they're talking slower, they're moving slower, kind of more reflective. I think it's forced the world to slow down a bit, which is not a bad thing. Everybody's taken it out of sixth gear and put it back into fourth.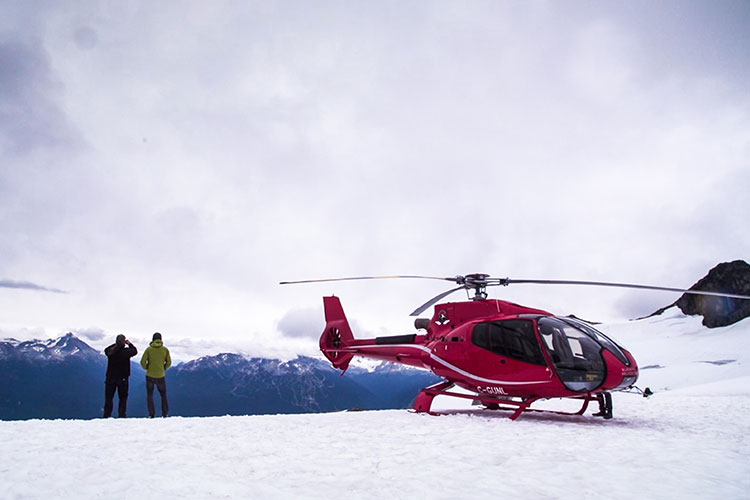 Whose idea was it to do the virtual fundraising concerts?
Greg – The idea actually hatched from a social post we did about having to cancel our shows due to COVID and someone from Whistler Live responded in the comments saying, why don't we do a live stream? Doug and I were like, yeah that's a great idea. This is a way we can stay connected with our audience and maybe help spread a bit of joy without any safety issues.
It was a really cool way to stay connected and keep our finger on the pulse and then it turned into a charity thing. We asked, where's the need right now? The food banks were getting swamped, well, let's make it something for the food bank. We thought we'd maybe raise five thousand dollars, and then when the first one, with Whistler Blackcomb (Foundation) matching, made over $50K we were like, wow, we can actually do some real good here.
It was also like everyone was so ready for some form of normalcy, even new normalcy, just to bring them back to a feeling of community, even if they're not in the same room, they're all watching the same thing, and the comments were just coming in like crazy. People were sending videos with people dancing with their babies in their living room with their laptops on their kitchen island. It was really neat. It really had a community feel to it and it took on a life of its own.
View this post on Instagram
The Hairfarmers are Whistler legends, dedicated to making people feel happy after a day spent exploring the mountains. In their words, a day on the ski hill is always better than a day in the office, so why not join us up here. We hope to see you dancing in your ski boots soon.
Hats off to videographers Ollie Jones and Hailey Elise for making this story come to life.